I think we all have heard the story. Cinderella, her step-sisters, her fairy Godmother and the pumpkin carriage. To be able to transform into the most glamorous carriage, I couldn't love the pumpkin more!  But I literally couldn't love it more than that. My parents love pumpkin and so do my children (how?). I couldn't get past the mushy texture. As a colour-driven individual I love the way it looks and so last year, I made a few genuine attempts to start cooking with it. I did not fall in love. Nope. I know my readers love it too, gauging by the responses to my posts in the past. And since I love my readers, I decided to lock my eyes with pumpkin again. This time around I thought I would add it to recipes that are big on flavours and pumpkin is an addition. Non-pumpkin loving souls (if you exist?) could benefit from removing them, enjoying the rest of the dish if they wanted to. As it turned out, I actually liked the dish, along with the pumpkin. I did not have to remove any.
The stew is inspired by an Indian dish from my childhood.,'Rajma Masala'. The red kidney bean is the star here. We moms have a natural tendency to add 'things' to the meals we feed our children, so the addition of pumpkin is a no-brainer. What is great however, is the way the ingredients work together! The contrast in textures and flavours, makes the stew really delicious. And filling. A quick and hearty weeknight meal. Whilst being equally healthy.
Feel free to increase the heat in the stew by adding either a teaspoon of cayenne pepper, powdered chilli or chopped green chillies.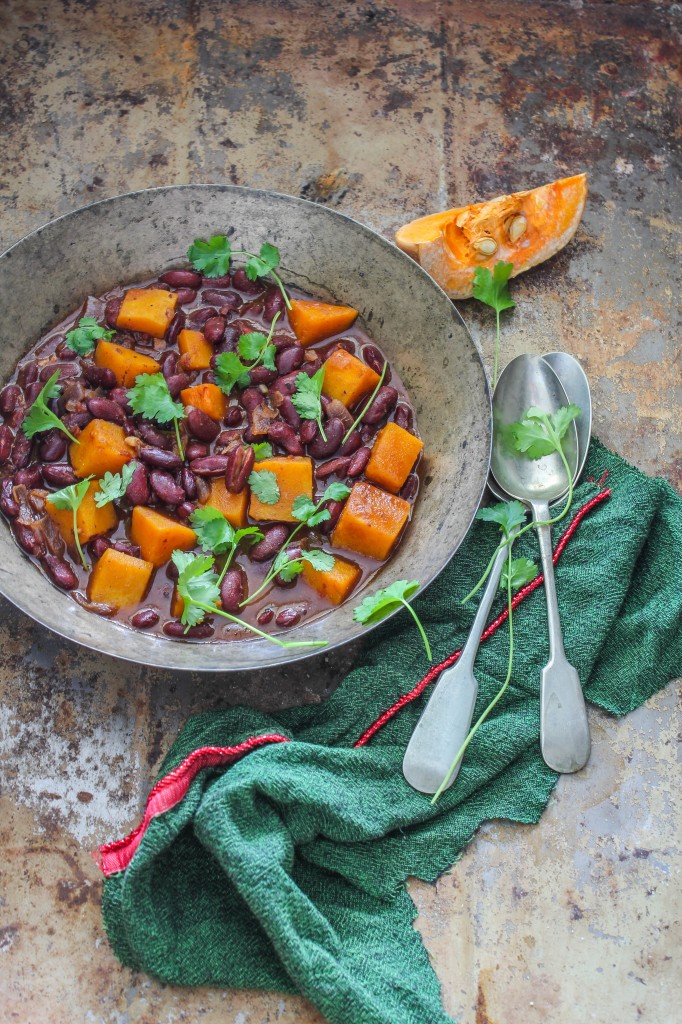 Red Kidney Bean and Pumpkin Stew
Serves 4
1 tbsp. olive oil
1 tsp cumin seeds
1 red onion, finely chopped
2 cloves garlic
1/2 inch ginger, finely chopped
11/2 tsp ground cumin
1 tsp ground coriander
3/4 cup canned, diced tomatoes
3/4 cup vegetable stock/chicken stock
1 can red kidney beans (400 g)
400 g butternut pumpkin, chopped into 3 cm cubes
salt, to season
fresh sprigs coriander, leaves picked, for garnish
Heat the oil in a large saucepan over medium heat. Add the cumin seeds and wait for 30 seconds. Cook the onion, stirring, for 2-3 mins or until softened. Add the garlic, ginger and spices. Cook, stirring, for 1 min or until fragrant.
Add the tomato and stock. Bring to the boil. Reduce heat and simmer, uncovered, for 10 mins. Add red kidney beans and simmer a further 10 mins or until pumpkin is just tender. Season with salt. Garnish with coriander. Serve warm