The best weekends for me are those that I wake up with more than one recipe in mind and run around my kitchen with chocolate on my clothes and fingers. Is there ever a thing called chocolate stain? Chocolate doesn't stain. It's too special. It glorifies, it dignifies..the Midas touch, perhaps?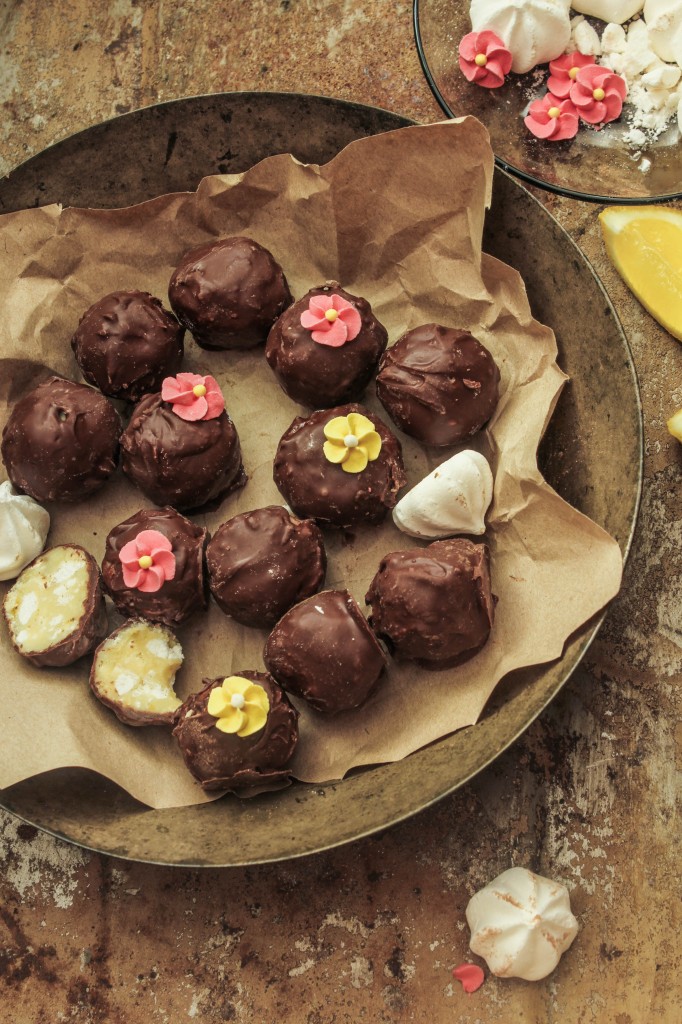 I have had plenty of fun with chocolate recently and have come up with a few creations that make me love it all the more. This one has a double dose of chocolate. I have used white chocolate and crushed meringues (you know how much I love meringue) in the filling along with some lemon zest. To complement the sweetness and slight tangy citrus flavour, there is bittersweet dark chocolate. These truffle balls are big on flavour and texture. A complete blow-away treat that doesn't need a lot of time or effort and they look so festive. You can use home-made meringues or store-bought. It would not really matter as you are crushing them anyway. However do make sure to crush them gently so you are left with big and small pieces. I was bit worried if they would turn out too sweet but the bittersweet dark chocolate took care of the required balance. Needless to say, using a good quality dark chocolate is important here.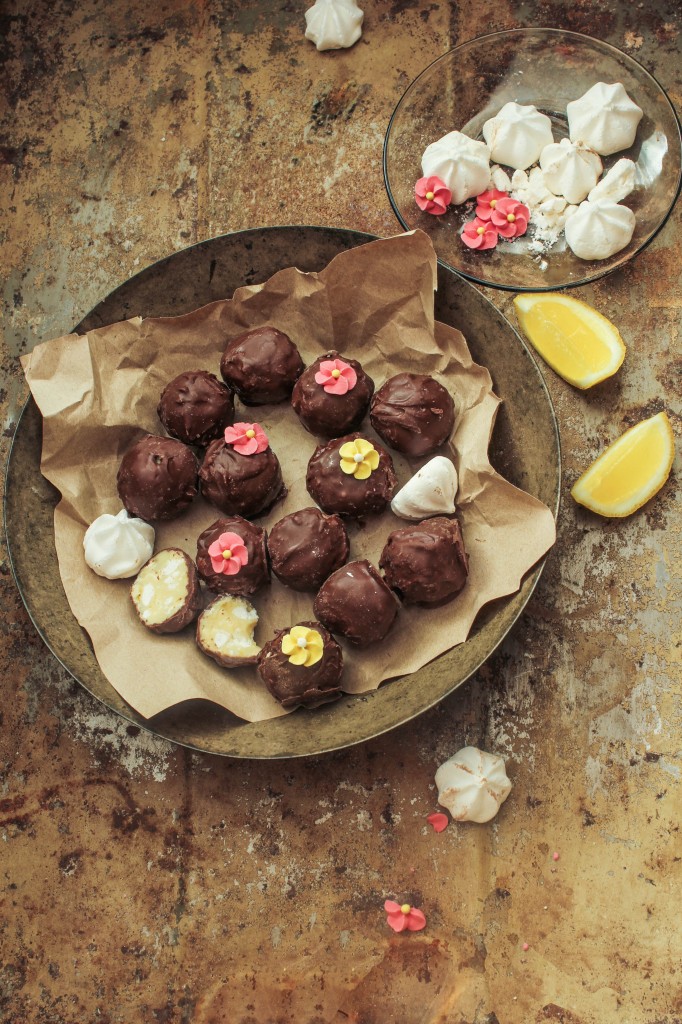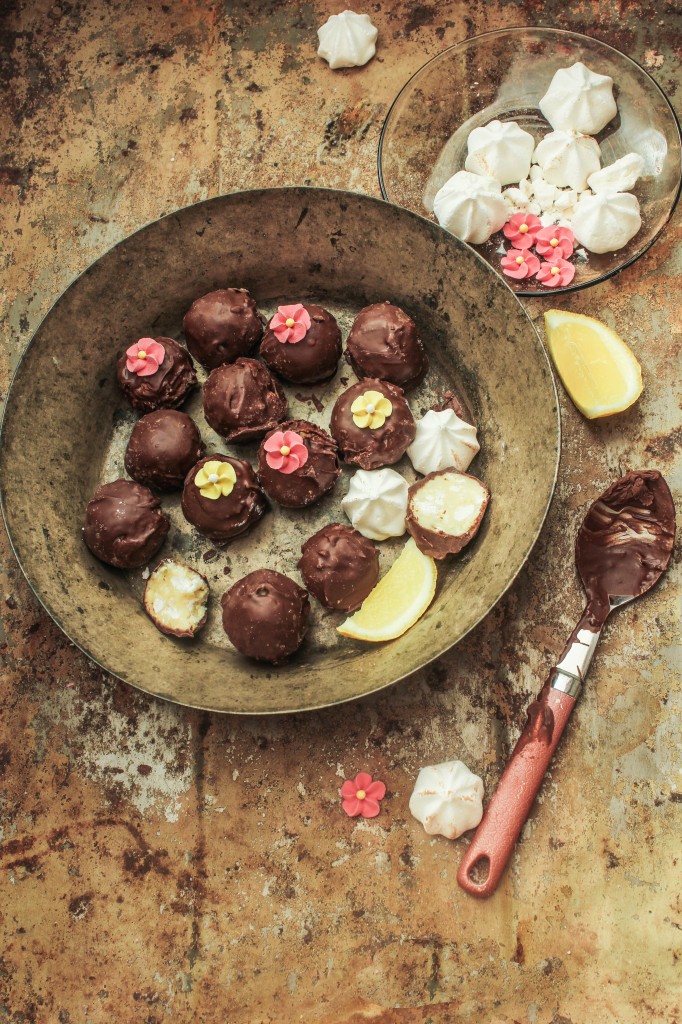 I am already thinking of the holidays and cookie and truffle season. I guess, since chocolate overrides the seasons, why wait till the end of the year!
Our long weekend is still not over and I have another favourite ingredient to work with. Beetroot and chocolate!
Please excuse this short and impromptu appearance. Short and sweet! I was a bit too excited to share this treat with you.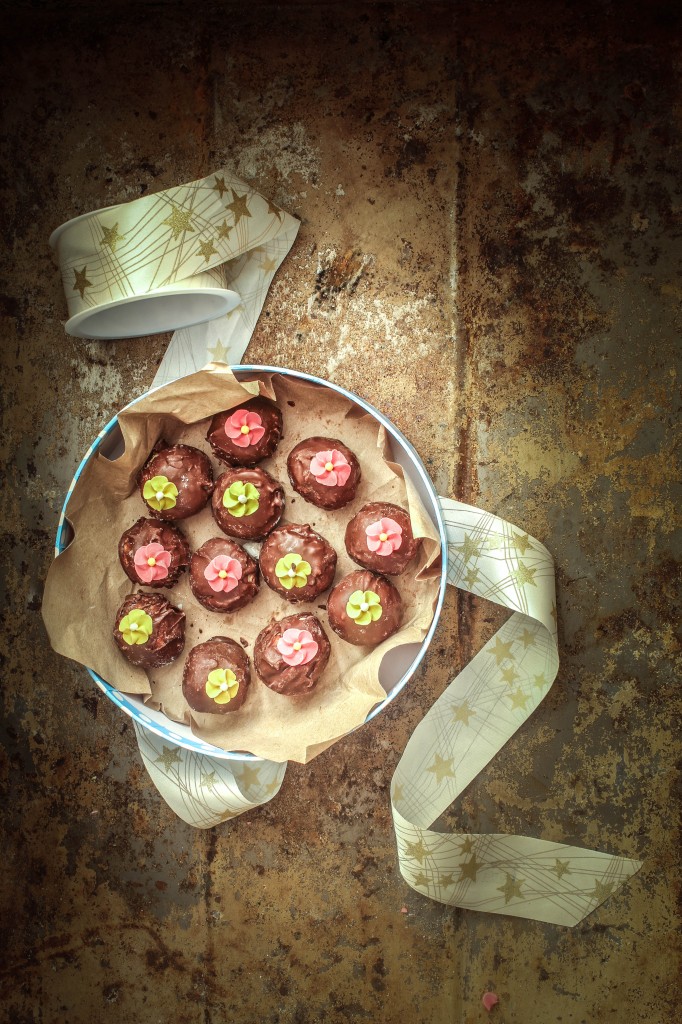 Chocolate Covered lemon Meringue Truffles
Yields 12 medium-sized truffles
250 g white chocolate (roughly chopped)
1/3 cup thickened/heavy cream
1 tbsp finely grated lemon zest
1/2 cup meringue (home-made or store-bought), crushed
200 g good quality dark chocolate (Lindt 85% cocoa), roughly chopped
sugar flowers/sprinkles to decorate.
Place the white chocolate and cream in a medium heatproof bowl that is placed over a saucepan of simmering water (make sure the bowl doesn't touch the water over medium heat). Use a metal spoon to stir the mixture gently till the white chocolate has melted and the mixture is smooth..
Carefully remove the bowl from the pan and stir in the lemon rind. Let the mixture cool down to luke warm before adding in the crushed meringue. (If the mixture starts to set before adding the meringue, put it back on the saucepan to warm up and loosen slightly). Stir to mix. Cover with plastic wrap and place in the fridge for 30 minutes to chill.
Line a tray with baking paper. Remove the lemon-meringue mixture from fridge and scoop out balls with the help of a teaspoon and then quickly and gently roll out between the palms of your hands. (You will need to do it swiftly as the warmth from your hands could melt the chocolate). Place the truffle balls on the baking paper. Refrigerate again for 30 minutes.
Melt the dark chocolate in a heatproof bowl over a saucepan of simmering water. Remove from heat and leave aside to cool slightly. Dip the lemon-meringue truffle balls in dark chocolate (allowing the excess to drip off) and place them quickly back on the tray lined with baking paper. Place the sugar flowers or coat them again in sprinkles. Refrigerate till chocolate is set.