I believe that names of most (if not all) people have a meaning. Most likely in their own language. When I found out that I was expecting twins I was faced with the exciting but quite complicated task of finding names for them. For a first time Mum, it can be quite daunting going through the multiple permutations and combinations. Two little personalities you are just starting to know and you are about to give them an identity for life. My children were born in my native land, India, where sex determination is a crime. So you can imagine my plight when I was in the dark till the very last-minute if they were going to girls, boys or one of each. I had 3 spreadsheets worth of names on my laptop that I continued to update as days came closer. Finally when they were born, quite premature I did not even look at those spreadsheets that I had been filling up so religiously. I did not have the time nor the stamina. Their names just happened. My own name has no meaning in the English language but going back to my roots, it means golden.
In real life I have no yearning for gold…neither literally nor figuratively. However, when it come to food, golden to me spells 'delicious'. Whether a golden brown crust, gold dust on a cake or dessert, liquid forms like caramel, dulce de leche, honey or just golden syrup, the lustre in my eyes go up by 10 folds.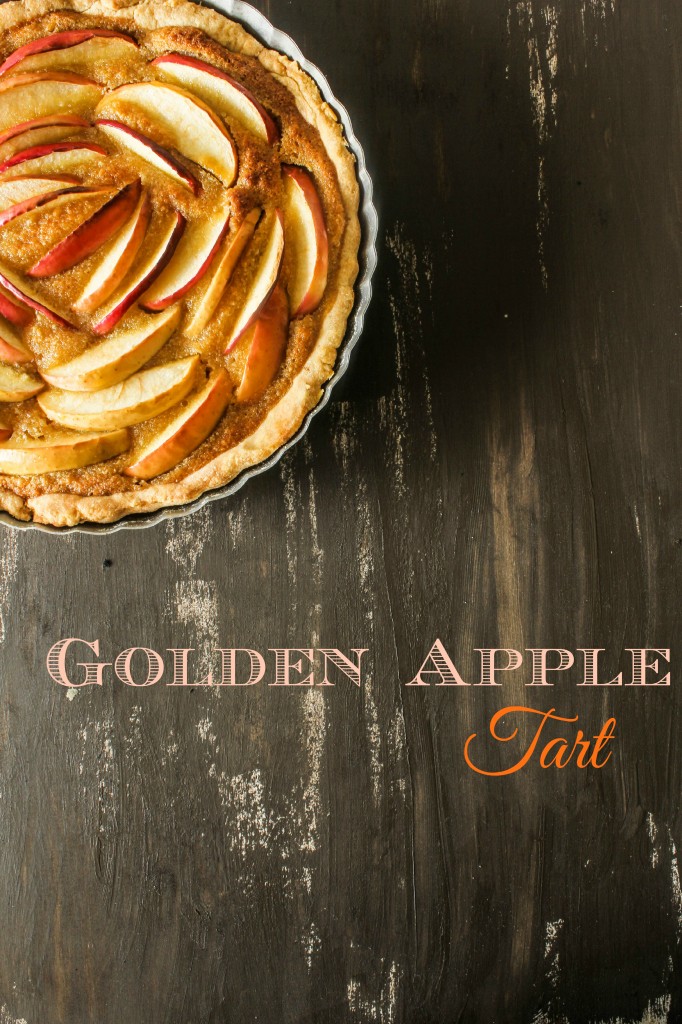 Remember my Chocolate Treacle Tart? Apparently, you guys loved it and so did I. So it was time to recreate the magic whilst tweaking things a little bit. This one has the golden syrup again with a hint of spice and fresh apples to adorn the top. In the filling, I have used breadcrumbs, almond meal, dessicated coconut along with golden syrup. The amazing thing about the filling is that it tastes quite like frangipane, actually better but is easier to put together. The flavours are lovely, almost like toffee apple. If you have used golden syrup before you know what I mean. If you haven't, I highly recommend giving it a try. You may fall in love with it like me. If you ask me, it is quite easy to put together a gorgeous tasting dessert with golden syrup if you (partly or wholly) substitute it for sugar in a recipe. The pastry has a bit of nutmeg added to it so you can smell all those warm comforting flavours as the tart is baking.
So tell me now, do you believe that names have anything to do with one's personality? Did you ever wish you could change your name or are you pleased with it?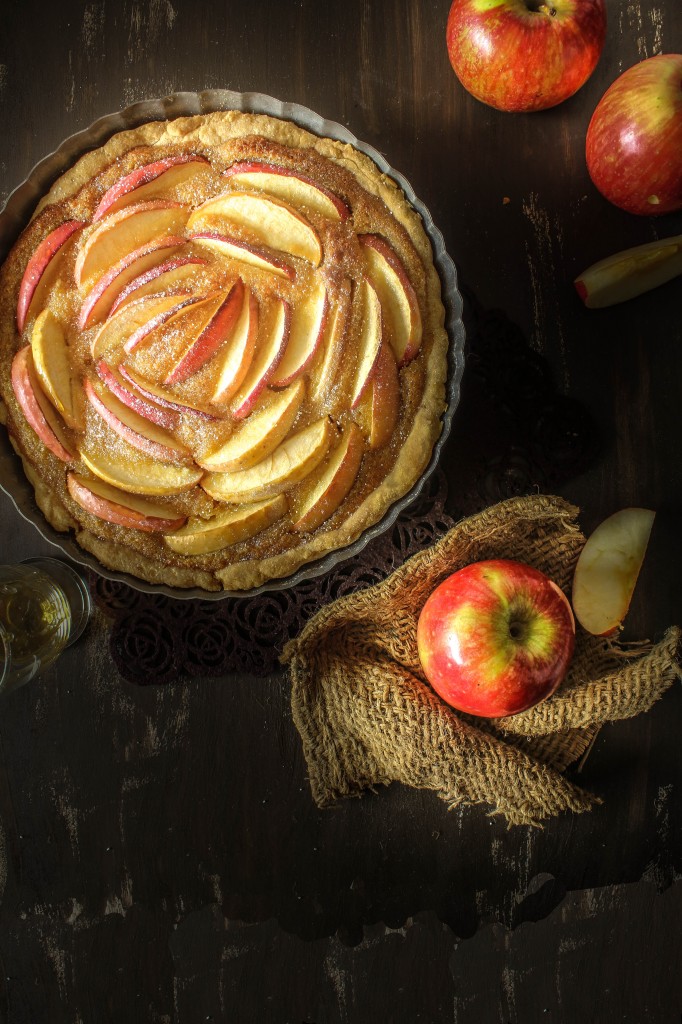 Golden Apple Tart (slightly adapted from here)
Serves 8-10
For the pastry
1 2/3 cups plain flour
1 tsp ground nutmeg
1/4 cup icing sugar, sifted, plus extra, to dust
125 g cold unsalted butter, finely chopped

For the tart filling
400 g golden syrup
Grated zest and juice of 1 lemon
150 g fresh white breadcrumbs (about 4 slices of bread)
1/2 cup almond meal (ground almonds)
1/4 cup desiccated coconut
1 tsp cinnamon
3 
Place flour, nutmeg, sugar, butter and a pinch of salt in the bowl of your food processor and process until mixture resembles breadcrumbs. Add egg and 1 tablespoon chilled water and process until mixture just comes together. Shape dough into a 1.5cm-thick disc, wrap in plastic wrap and refrigerate for 1 hour.
Roll out pastry on a lightly floured surface and line a greased 23 cm tart pan. Trim sides and refrigerate for 30 minutes
Preheat oven to 190°C. Line tart shell with baking paper, fill with rice or beans and bake for 15 minutes. Carefully remove paper and beans, then bake for a further 10 minutes or until pastry is dry and golden. Cool.
For filling, place golden syrup, zest and juice in a small saucepan and stir over low heat until just liquefied. Whisk in remaining ingredients. Pour into tart shell
Quarter apples, core and cut into 2-3 mm-thick slices. Starting at the edge of the tart, arrange slices in concentric circles. Bake for 35 minutes or until firm to the touch (cover loosely with foil if pastry is over-browning). Cool for 15 minutes. Serve warm or at room temperature dusted with extra icing sugar.