Split red lentils mean pure and simple comfort to me. They are the reminder to me of how a simple meal of dal and rice can appease my hunger instantly, even though I have eaten them all my life. They also stands for convenience when fresh vegetables are not available at hand and a quick meal is what I want to put together in the middle of the week. I've probably eaten them in dal/dahl form since the time I started on solids as a baby, a good few decades ago.. Only recently I discovered that using it in a soup is not uncommon. As you know, unlike many of you I have not been a big fan of pumpkin but I've started enjoying it lately when I pair it with my favourite ingredients.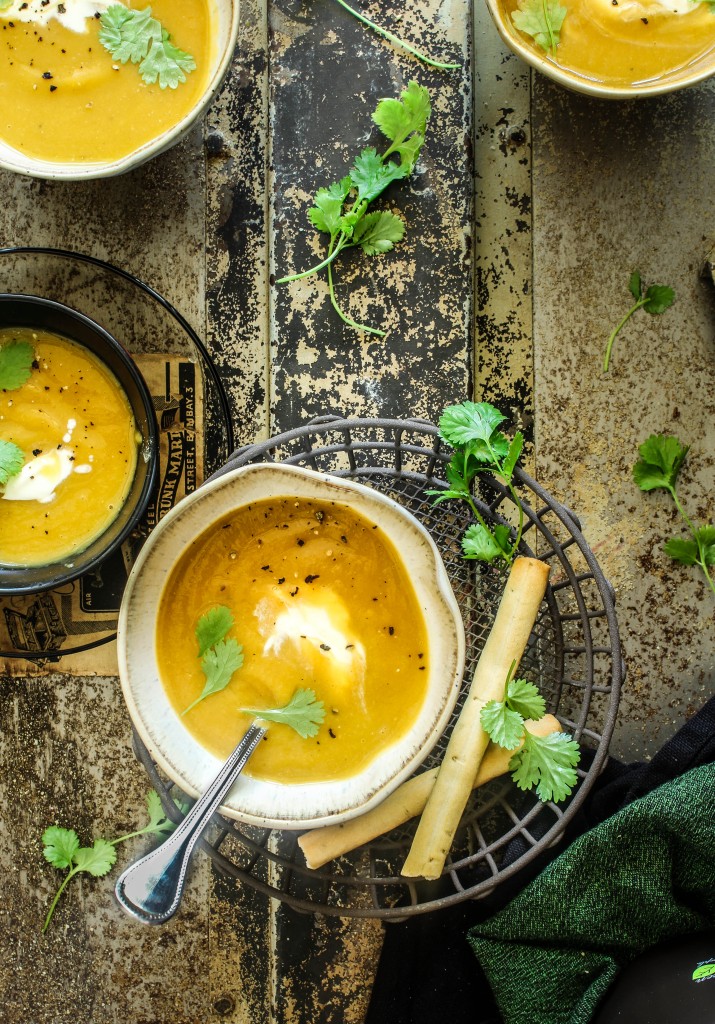 This is one soup I have not just enjoyed but totally loved and made several times in the past one month.Since it is quick and easy to make and nutritionally wholesome, it ticked all the right boxes for me. The creamy texture and mild sweet flavour from the pumpkin appealed to my kids so it was a win-win all throughout. Admittedly, it is really the dal we eat with pumpkin added to it which is blended in the end to give it a soup like texture. Onion, garlic and ginger always makes it for me. They are power ingredients that if used in the right measures can pack so much flavour into your soup base. I've used ground cumin to spice up the soup, even curry powder would work. To include a bit of heat, you could garnish with finely chopped chillies.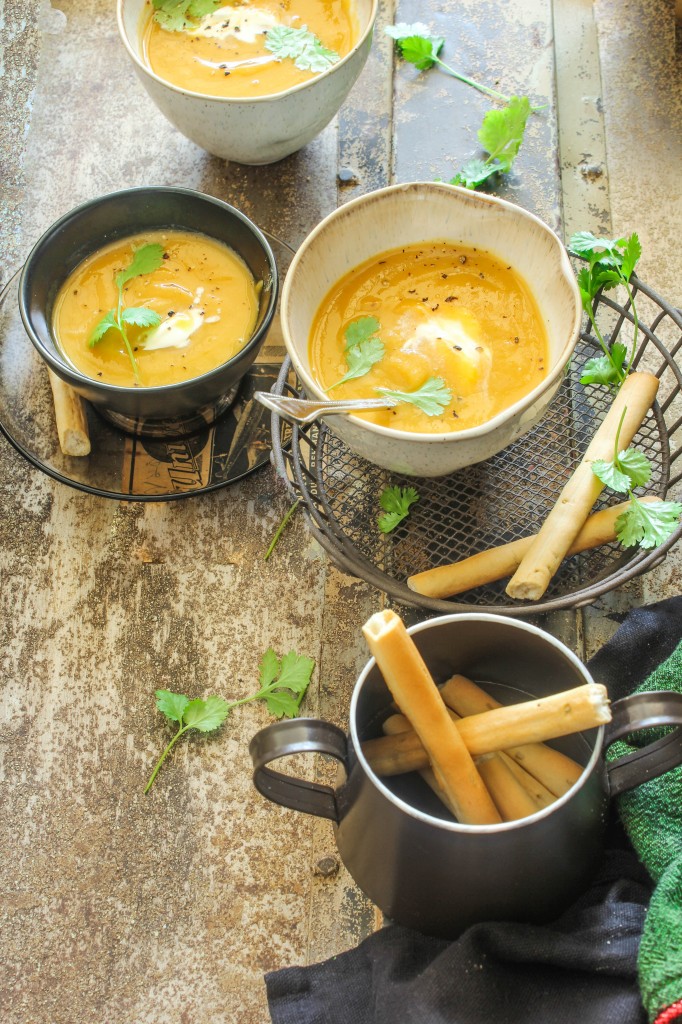 The temperatures on our side have been so fluctuating followed by heavy downpour that we are unable to put away our wollies yet. It leaves me impatient to see a change in the fresh produce at the markets. I cannot wait to get hold of plums and peaches and of course heaps of raspberries. Hope you all have a great weekend.
Split Red Lentil and Pumpkin Soup
Serves 4
I tbsp olive oil
1 brown onion, finely chopped
2-3 garlic cloves, crushed
1 tsp powdered cumin
500 g butternut pumpkin, peeled, deseeded, chopped into cubes
1/2 cup split red lentils, rinsed
3 cups vegetable stock
salt, to season
Greek yoghurt or sour cream, to serve
fresh coriander, to garnish
Heat oil a large saucepan over medium-low heat.  Add the onion and cook till softened (about 5 minutes). Add the garlic and ginger and cook for a minute till aromatic. Add the cumin and tomatoes and cook for a further minute
Add in the pumpkin, lentils, and vegetable stock. Bring to the boil. Reduce heat to low. Simmer for 15-20 minutes or until the pumpkin and lentils are soft. Set aside to cool.
With a stick blender or in a food processor (in batches), blend the mixture until smooth .Season with salt and pepper.
To serve, warm up the soup and ladle into serving bowls.  Top with the yoghurt or sour cream and garnish with coriander.