This week has been one filled with many 'firsts'. The most exciting one among them was that we were called to try out and pick up school uniforms for my soon-to turn schoolgoer boys. It is hard to express what I was feeling at the sight of them in their fresh, slightly over-sized school uniforms. Bittersweet is probably the closest word I can think of. Stepping out during the day, I also realised how warm the weather is gradually turning. So that means it's time to take a break from soups and move onto sorbets and ice creams. But before I do so I thought I'd share this delicious bowl of what is called the 'ultimate comfort food'.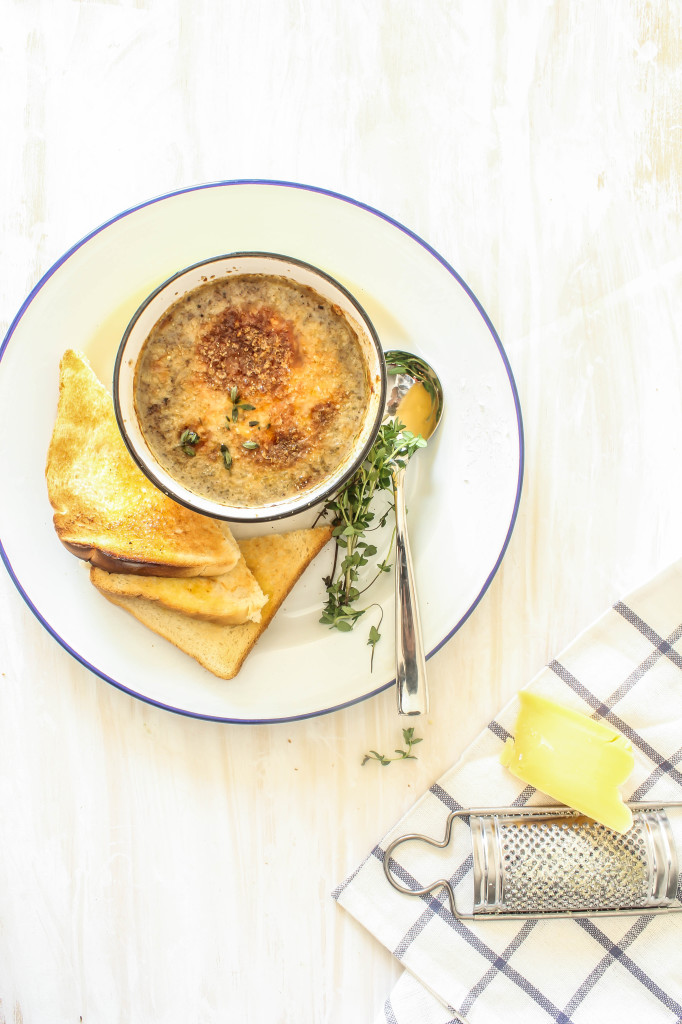 The soup is one that I would like to eat over and over again as it is full of textures. I don't process the soup to a fine consistency..I like to bite into tiny bits and chunks of mushrooms while savoring it's creamy base. Also, a thicker consistency holds the cheese on top and prevents it from getting mixed into the soup. The cheese takes it to another level. Slightly browned on the top, the cheese forms a nice little crust to break into with your spoon. Fresh thyme makes it aromatic and packs in flavour. Thyme is one of my favourite herbs, so I do add generous quantities for myself.
Since, it is thick and filling, it makes for a quick weeknight meal with warm buttered toast or garlic bread. I also like to add a dash of garlic infused extra virgin olive oil on top.
Mushrooms, cheese, garlic…we can't go wrong, can we?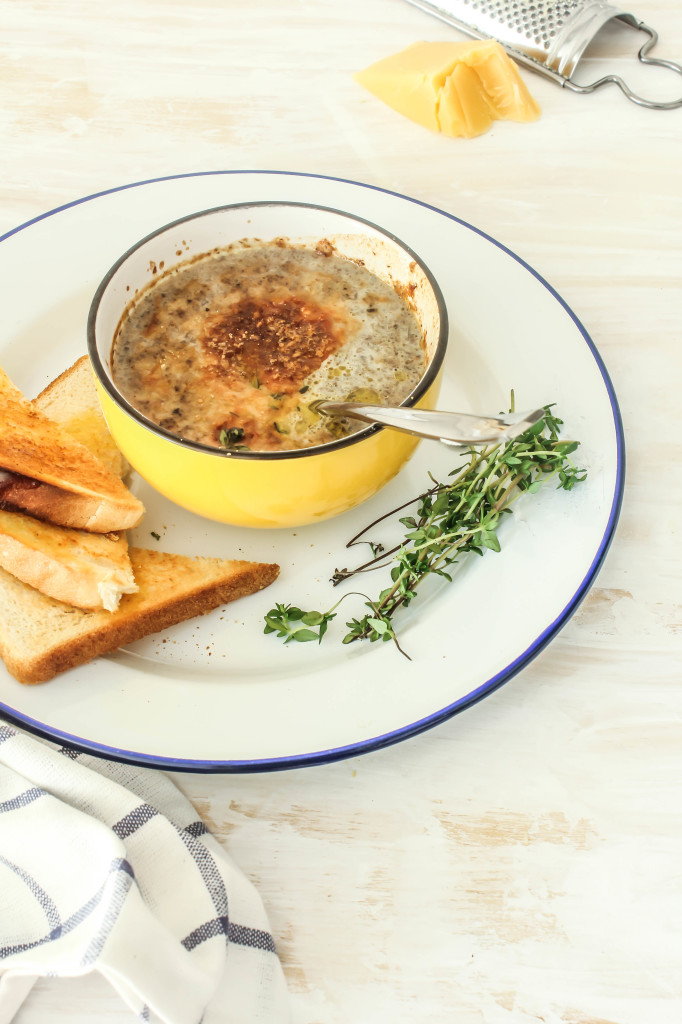 Creamy Mushroom Soup With A Cheese Crust
Serves 4
1 tbsp olive oil
1 medium brown onion, thinly sliced
2 cloves garlic
2 cups chicken/vegetable stock
1/2 cup heavy cream
1 cup cheddar/gruyere cheese, coarsely grated
Fresh thyme, to serve
Cracked Pepper, to serve
Heat olive oil in a saucepan over medium heat. Add garlic, onion and leek. Cook, stirring, for 5 to 7 minutes or until softened. Add mushroom. Cook, stirring, for 5 to 7 minutes or until mushroom has softened.
Add stock. Bring to the boil. Reduce heat to medium. Simmer for 10 minutes or until mushroom is soft and liquid has reduced slightly. Blend soup, in batches, to your desired consistency.
Return soup to pan. Season with salt and pepper. Add cream. Reduce heat to low. Cook, stirring, for 5 minutes or until warmed through. Ladle into bowls. .
Preheat oven to 220 degrees C. Divide cheese between the serving bowls (sprinkle on top). Place bowls in a roasting pan, pour in enough water to come halfway up the sides of bowls and bake for 10-15 minutes or until cheese is bubbling and golden. Sprinkle with thyme and cracked pepper. Serve immediately.