I don't have a Thanksgiving but that has never stopped me from being a part of the celebrations. The events leading up to Christmas have brought me joy since I was in school. Even as a little girl my eyes would light up when I saw the trees on display, the tinsel, glittery ornaments, the fairy lights and the Christmas sales. At school we learnt about the different traditions and I embraced them with wide open arms. When I came to live in Australia I thought I might like to live inside the shops during Christmas. Having a food blog makes it a bonus for me. It allows for the planning and preparations to begin well in advance. And I am so up for it.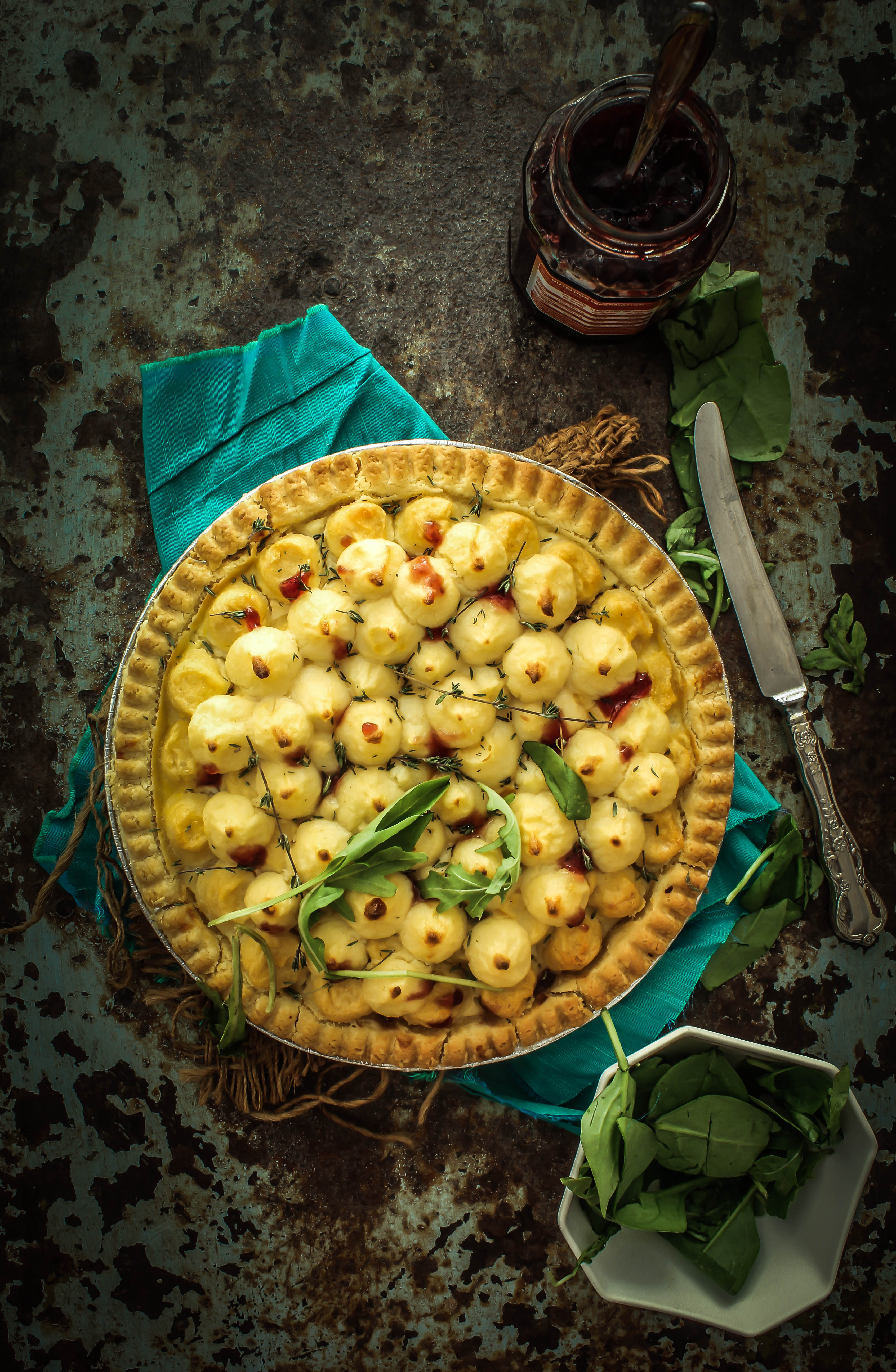 Would you believe me if I told you that it took me less than 15 minutes to put this together? I have cheated a bit on this tart…okay more than a bit to simply things. Unlike my usual recipes, I have used a few store bought ingredients, put them together and the result is something that can be a centre-piece on the table without spending hours in the kitchen.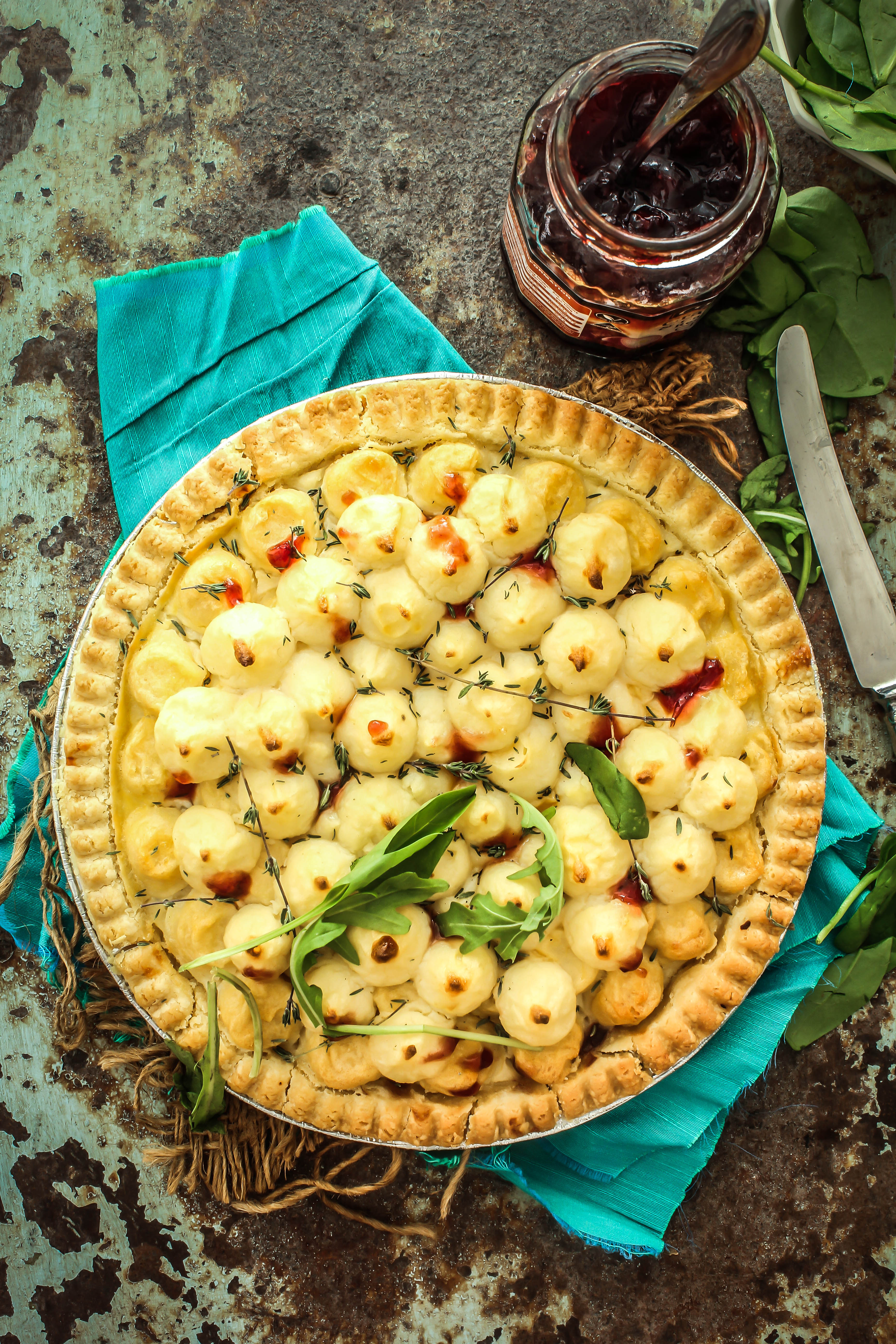 There are 3 layers in this tart. A layer of caramelised onion and cranberry chutney, a herbed ricotta layer and the duchess potato on top. To speed up the process, I used a store bought tart case. To get a smooth pipeable potato mash without the effort, I used Instant mash which is basically nothing but dried potato flakes. To make great mashed potatoes at home, I may not use or recommend it but in this tart, it does not matter. To be honest, it makes life easier. You can of course, make your own from scratch if you want to. The caramelised onion and cranberry chutney packs a lot of flavour into the tart. Any home made or store bought chutney would do but I picked up cranberry to make it festive. Caramelised onion chutney or relish is available in most if not all supermarkets in Australia.
After this, we just mix, layer and bake.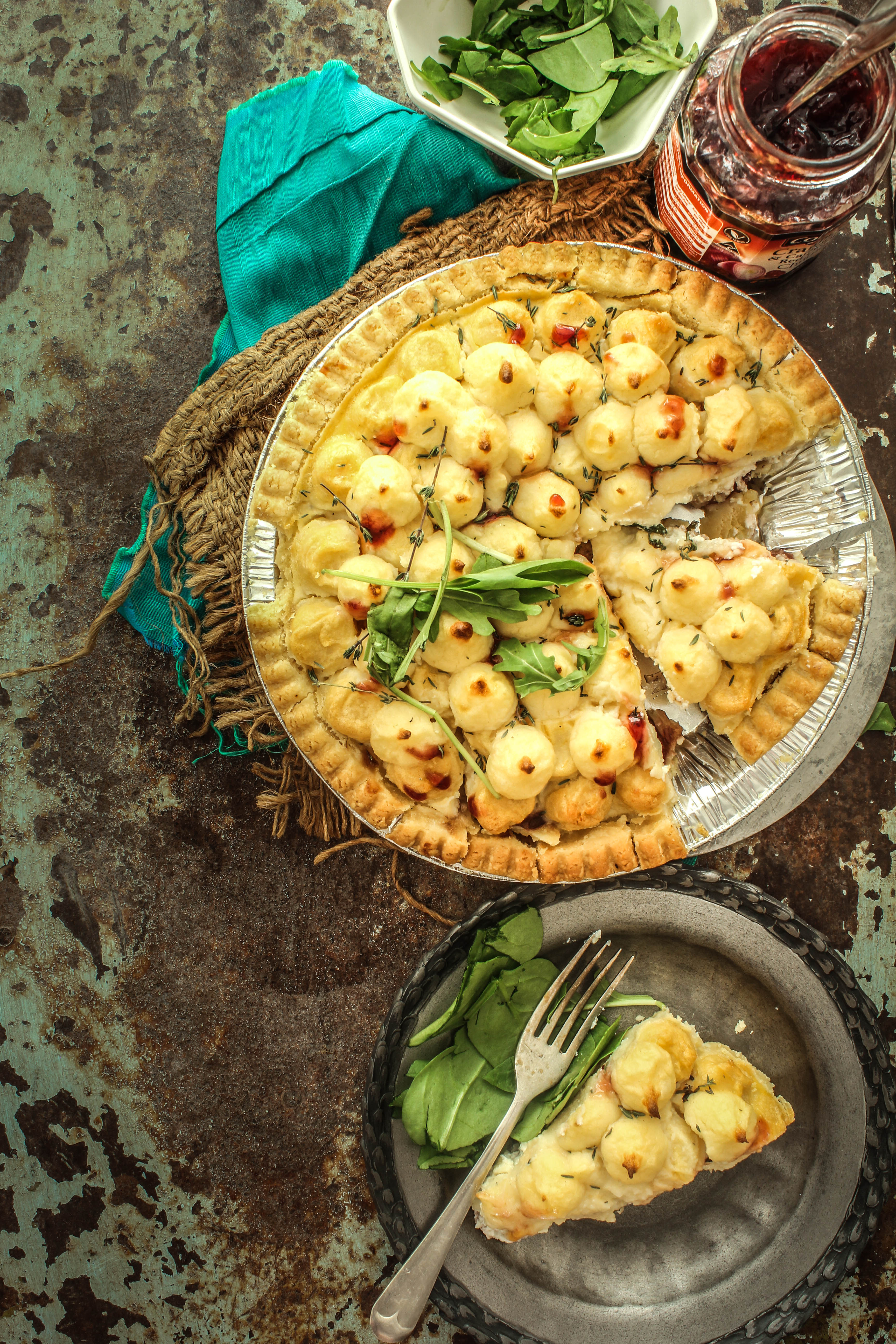 Notes: The brand of Instant Mash I used, was already seasoned so I didn't have to season separately. Most often they don't need  it but please do check on your package. I used a frozen tart shell that was already pre-baked. In case you are making your own pastry, you will need to pre -bake it before following the recipe. If you want more browning on top, put the tart for a few minutes under the broiler of your oven.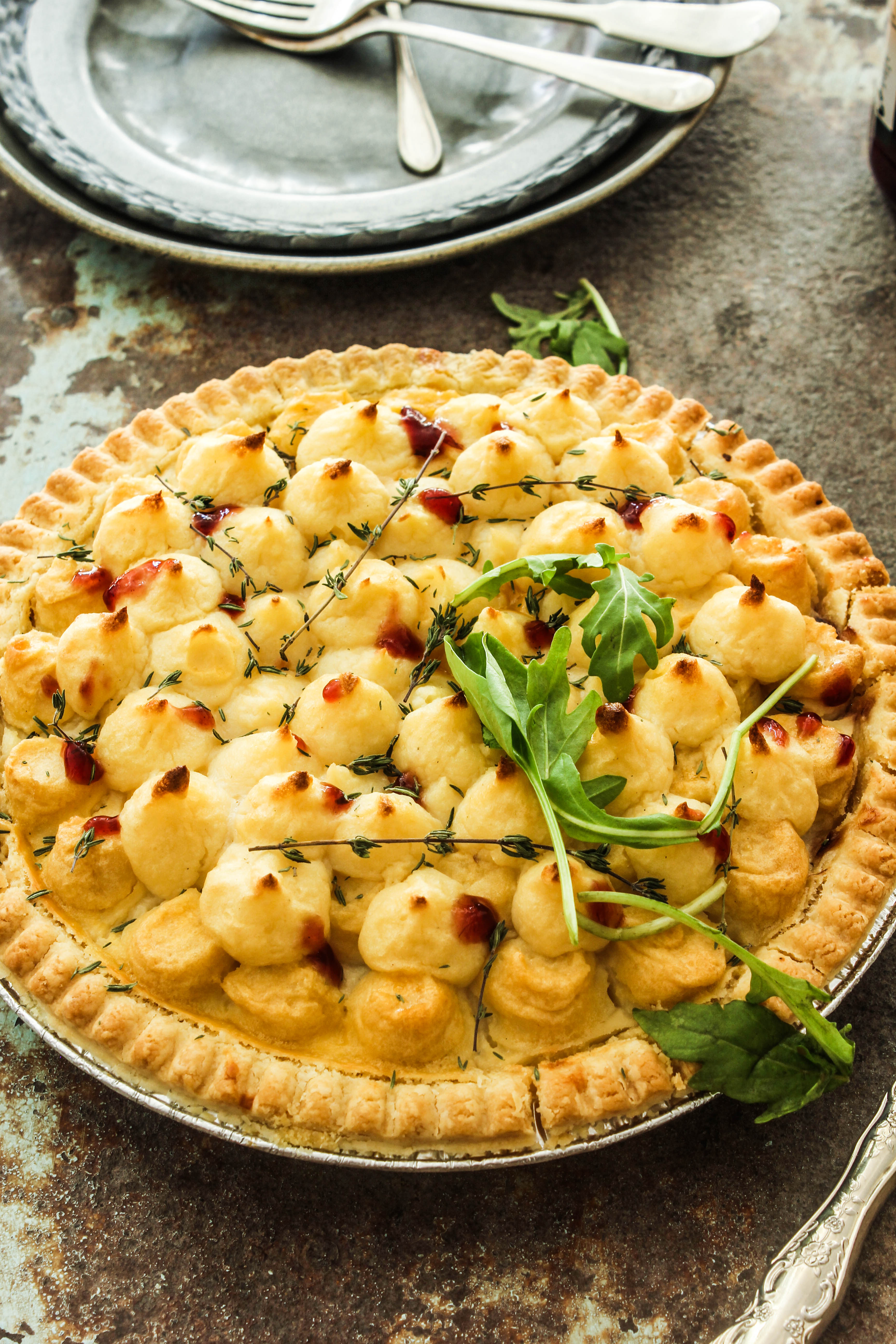 Herbed Ricotta, Cranberry Chutney and Duchess Potato Tart
Serves 6-8
1 store bought tart shell (I used frozen)
1 cup  Caramelised Onion and Cranberry Chutney
400 g fresh ricotta
2 eggs, lightly whisked
a handful fresh herbs (parsley, mint, thyme, oregano), finely chopped
salt and pepper, to season
2 cups Instant Mash powder, cooked according to package directions
2 tbsp butter (room temparature)
2 egg yolks (reserve a tablespoon for brushing on top later)
Extra chutney, to drizzle on top
Fresh thyme to garnish
Preheat the oven to 170 degreec C.
Spread the Caramelised Onion and Cranberry Chutney on the base of the tart shell. In a medium bowl, mix together the Ricotta, eggs and mixed herbs.Season. Spoon over the chutney and spread evenly.
Add the butter and egg yolks to the Instant mashed potatoes and mix to blend. Fit a piping bag with a large round tip and fill in the mashed potatoes. Do this in two batches for ease of piping. Pipe rounds on top of the ricotta layer to uniformly cover the entire tart. Brush with egg yolks. Sprinkle with fresh thyme.
Bake for 25-30 minutes or until potatoes are crisp and browned and ricotta is set in the centre. Remove from oven. Drizzle with chutney. Serve with salad on the side.