The best of both worlds! A Ferrero Rocher Cheesecake and ice cream combined together to make a delicious frozen treat.
At work, we often had training sessions on personality development, leadership, team building and such things. I remember one of the mentors talking about the importance of 'being at the right place at the right time. People who are able to do that are deemed smarter and successful. It always made me wonder what the right time was..who knows!  I would say it has a bit to do with luck and a lot of persistence.
Ferrero Rocher chocolates (which happen to be the most favourite chocolate of mine) were the first things to go on sale at my local supermarket this year. I wouldn't like to think of myself a person who keeps tabs on sales…in fact quite the oppsosite, but Ferrero Rochers at half price is a pretty big deal. I noticed it in the mailers and made a mental note to be there. By the time I went there, they were gone. Every single one of them. I checked with the store manager and he smiled. 'They were gone in a couple of hours'. He told me they would be put up on the shelves again at the  end of the week. This time I made sure I was there at the start of business. I waited for a few minutes since they told me that the new stocks hadn't arrived. Finally I came back ,without the Ferrero Rochers of course. So I guess I was not at the right place at the right time. Or maybe at the wrong time at the right place. But here's the twist to the story.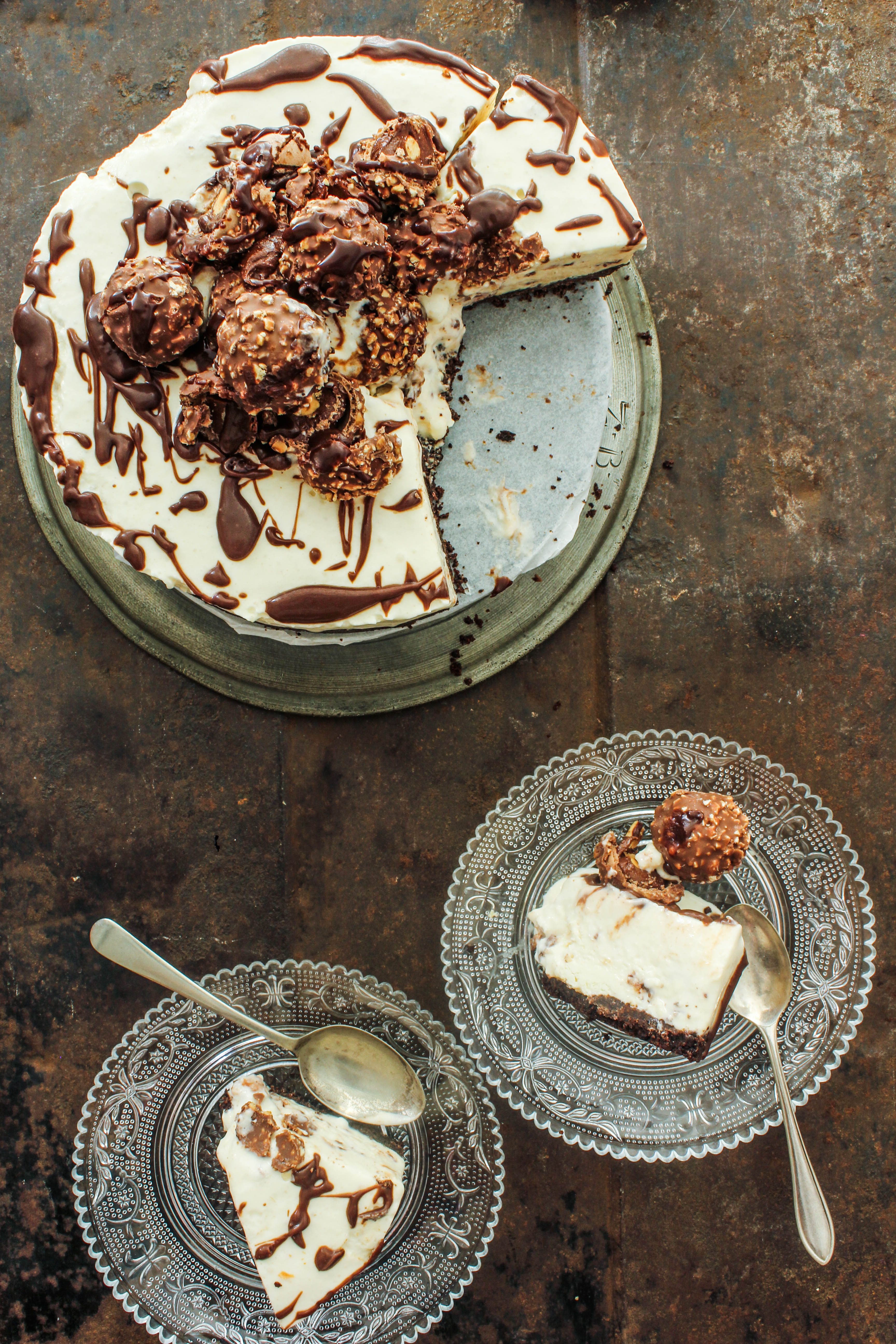 The same evening we attended a birthday party. There were two celebrations going on at the same time, one of them for a little girl. My boys came back with return gifts in pretty paper bags. When I opened them, what do I see! Yes, two boxes of Ferrero Rochers. Some things are just destined. Like this cake. Our weather totally demands it and the festivities call for it.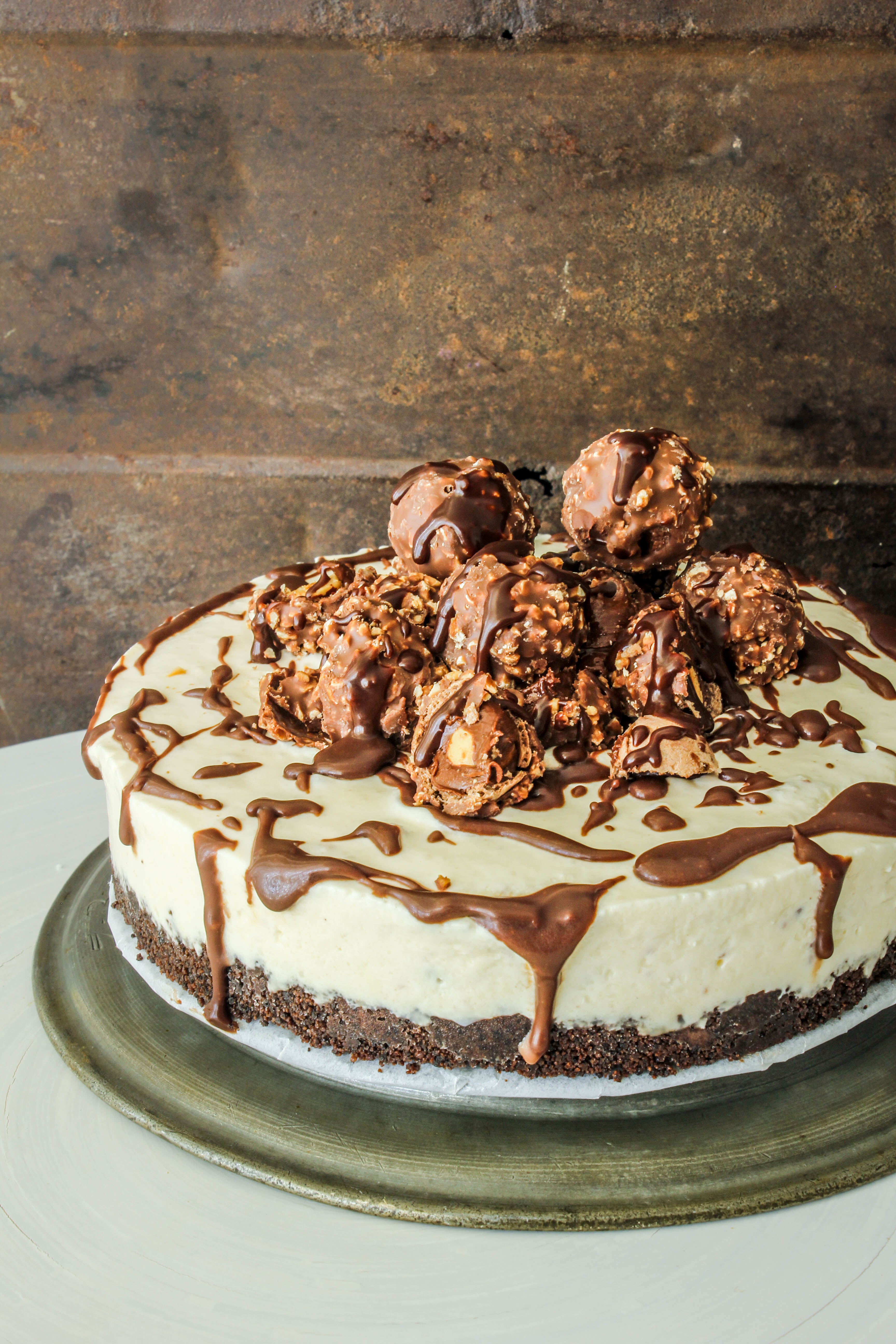 As much as I love cheesecakes and you see them often on the blog, I don't enjoy the waiting time to photograph them. Which is mostly the next day to make sure they are are nicely set and hold up shape outside while I shoot them. This one being a ice cream blended cheesecake, took about 4 hours to set and the edges/sides were neat when I removed it from the spring-form pan. So you could make this even at the spur of the moment and you could have a gorgeous cake to serve after dinner. The cake has a chocolate cookie crust, a layer of ice-cream cheesecake filled with chopped Ferrero Rochers, a drizzle of chocolate sauce and more Ferrero Rocher Chocolates on top. It is really simple to make with no fancy equipment or technique. The taste is like a vanilla cheesecake with crunchy bits of chocolate and hazelnut in each bite. So good!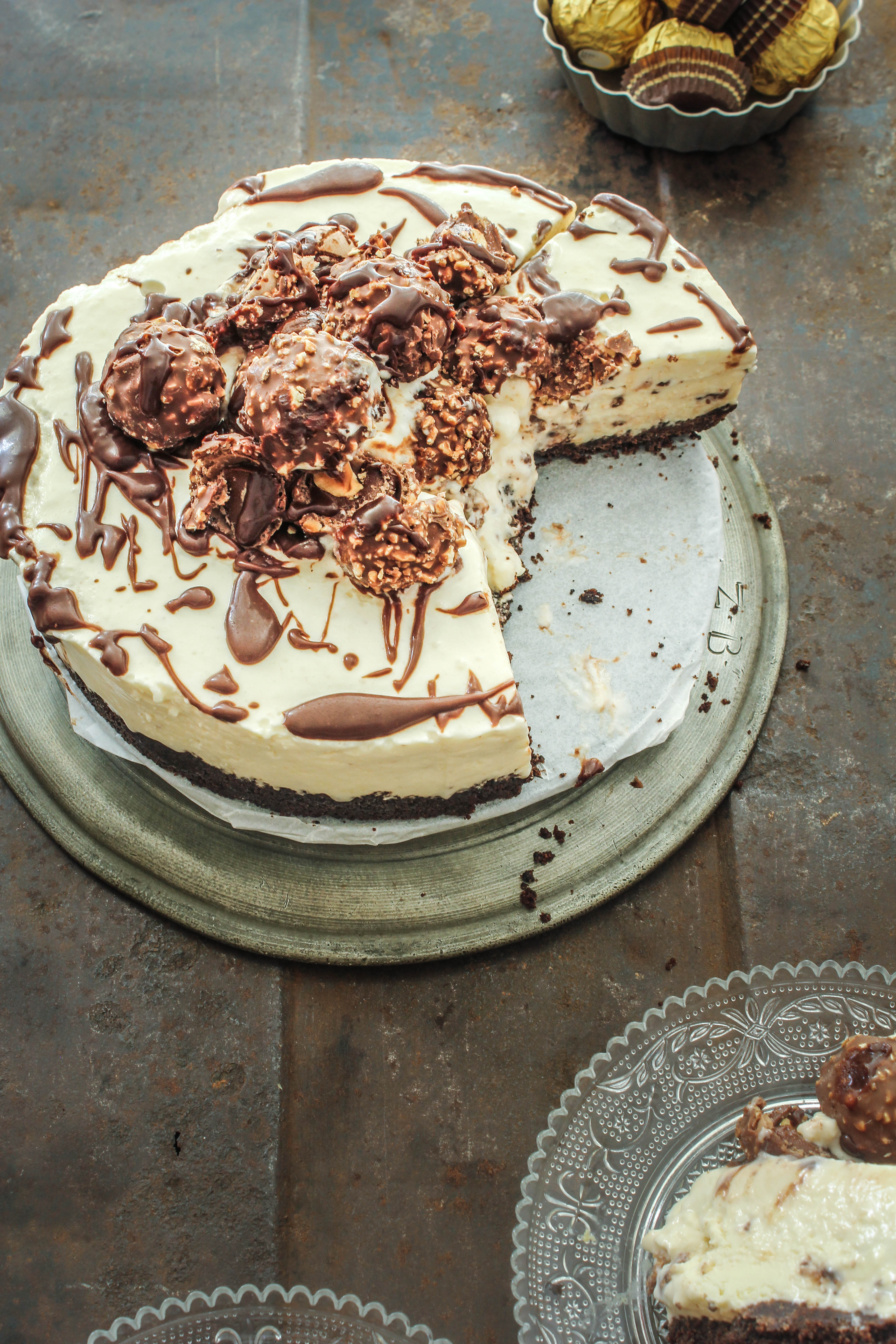 Though I did cut into the cheesecake the same day, I though it was better if you keep it longer in the freezer. Make sure to take it out 10 minutes before you serve it. The best thing is that the cake will keep for months in the freezer so it makes for a fantastic make-ahead dessert. When I had posted my Ferrero Rocher Mousse Cake a few months ago, I had smashed the chocolates in a zip-lock bag. This time I figured out, it was better to chop them up with a sharp knife. It makes it easier to handle the chocolates. You may use use store bought chocolate sauce to drizzle on top. I always have home made sauce in my fridge so I used that.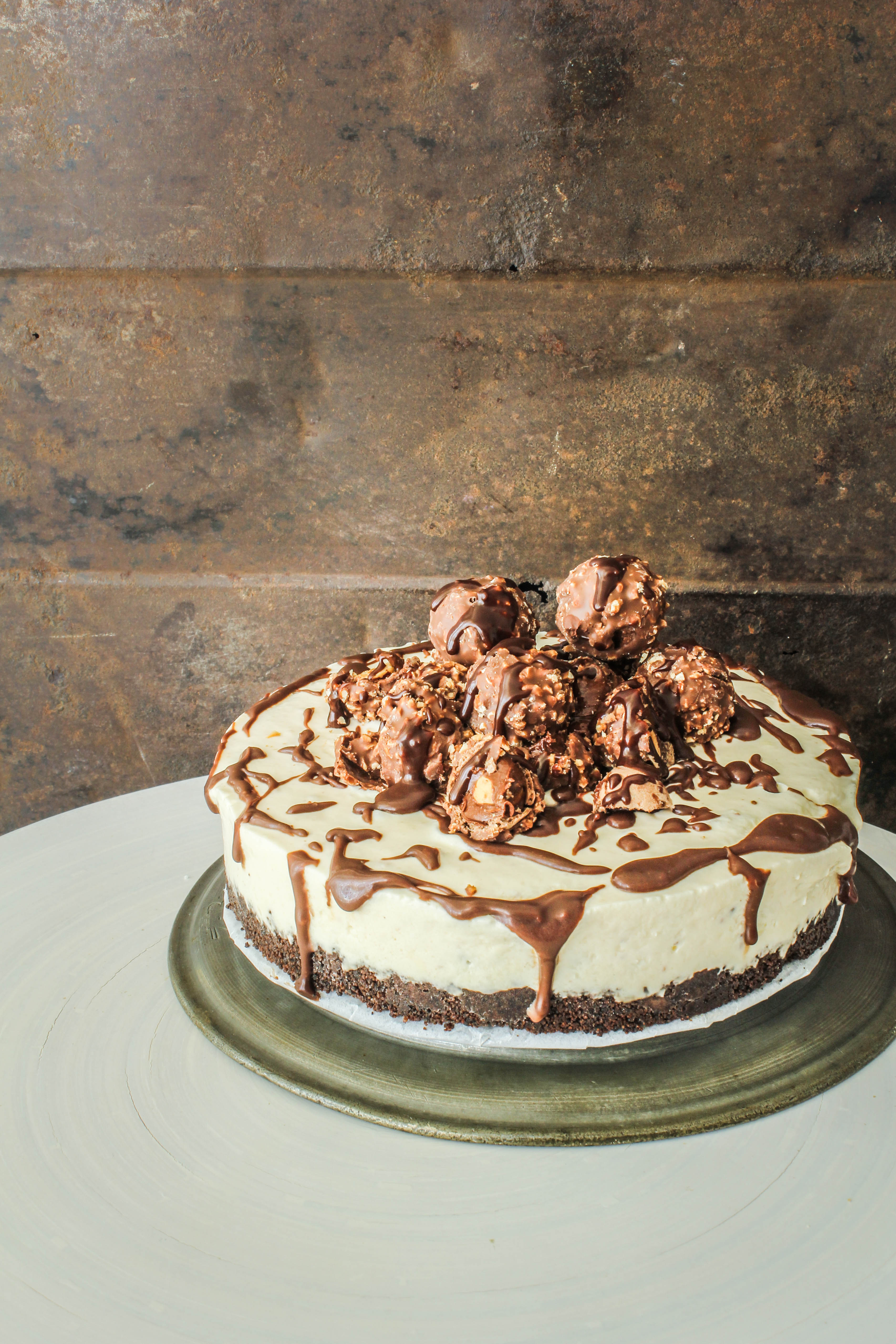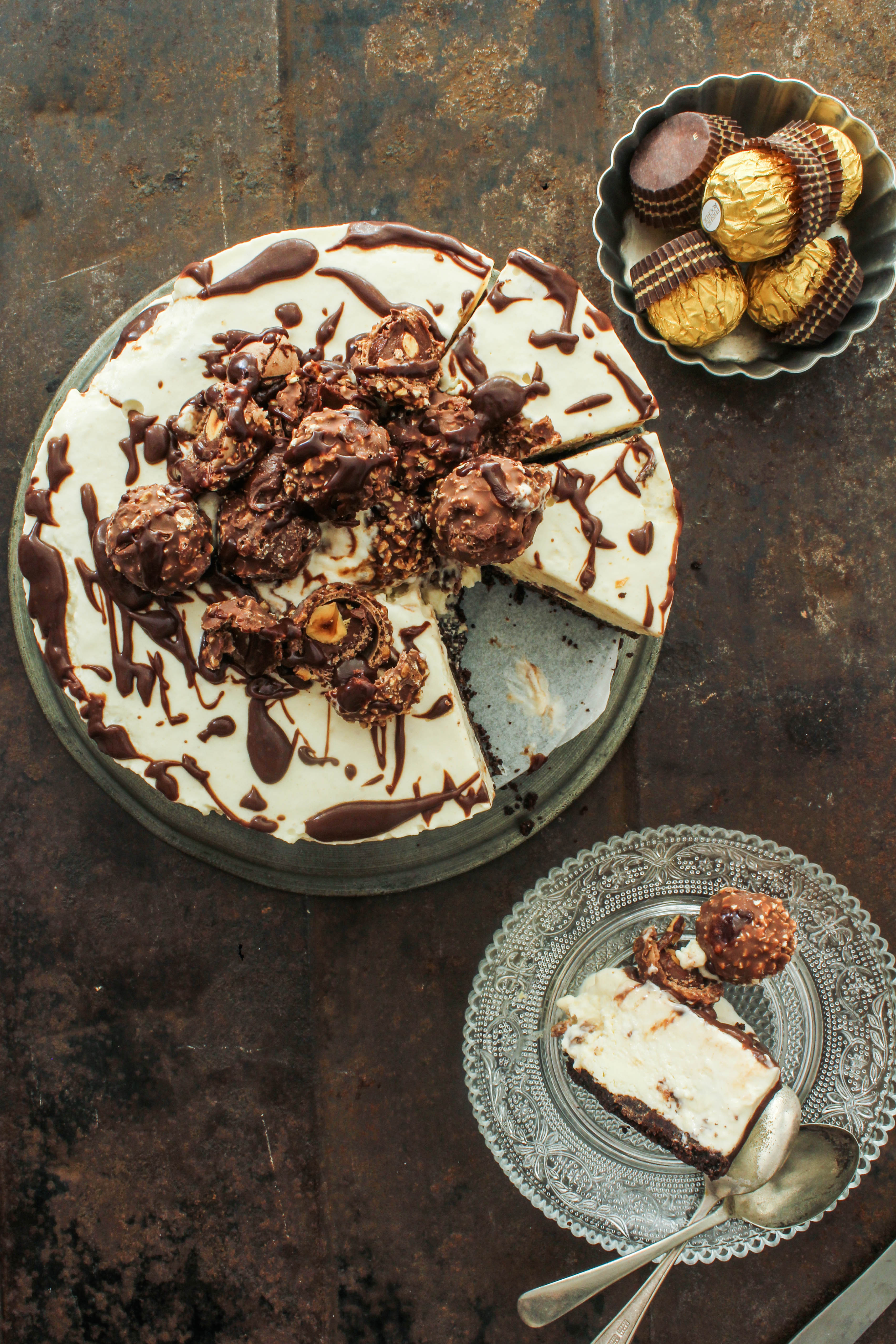 Ferrero Rocher Ice Cream Cheesecake
Makes a 19 cm round cake
200 g chocolate cookies
70 g unsalted butter
8-10 Ferrero Rocher chocolates, roughly chopped
400 g cream cheese, room temperature
1/2 cup castor sugar
1 tsp vanilla essence
500 ml vanilla ice-cream, slightly softened (I used store bought)
1/2 cup dark chocolate sauce (recipe below), to drizzle
8-10 Ferrero Rocher Chocolates, to decorate
For the dark chocolate sauce
100g dark chocolate, chopped
1/2 cup pouring/single cream
2 tablespoons brown sugar
Line the base of a 19 cm round Spring-form pan with baking paper.
Place the cookies in a food processor. Process until fine crumbs. Add melted butter and mix to combine. Alternatively, you could crush the biscuits with a rolling pin inside a zip-lock bag. Using your fingertips, press biscuit mixture over base of prepared pan. Place in the freezer for 30 minutes or until firm.
Beat the cream cheese, sugar and vanilla in a large bowl (with a mixer or a whisk) until well blended. Add the ice cream and mix well. Gently fold in the chopped chocolates. Pour over the prepared crust. Freeze for 4 hours or until firm. Remove from freezer 10 minutes before serving. When ready to serve, drizzle with chocolate sauce, top with remaining Ferrero Rocher chocolates and drizzle with more sauce.
To make Dark Chocolate Sauce: Combine chocolate, cream and sugar in a saucepan over a low heat. Cook, stirring, for 5 minutes or until mixture is smooth. Set aside to cool. To store, pour into a cup/jar, cover and store in the refrigerator till needed. Warm up before using.