A filling, delicious and healthy warm lentil salad with golden beets, green peas, feta, basil and a orange mustard dressing.
There are a few places in Sydney that make my weekends delightful. I look forward to them all week. One among them are the farmer's markets. In the few years that I have lived here I have attempted to visit a different one each time and found myself drawn more and more to them. How inspiring is it to cook with fresh local produce directly from the people who grow them and hear their amazing stories! I find it difficult to go on weekdays (though given a choice that is where I would like to do all my fresh produce shopping from) but Saturdays are market days for me. I like to eat breakfast at the markets. My meal planning for the week is kind of sorted out too with all the delicious things I bring back. One such place that I am totally in love with is the Everleigh market located in the city centre on Saturdays. It takes me a little while to get there but it is so worth it. I return with bagfuls of colourful  fruits and vegetables, cheese, delicious brownies/slices, micro-herbs, fresh flowers, tea…basically as much as a girl can hold with two hands.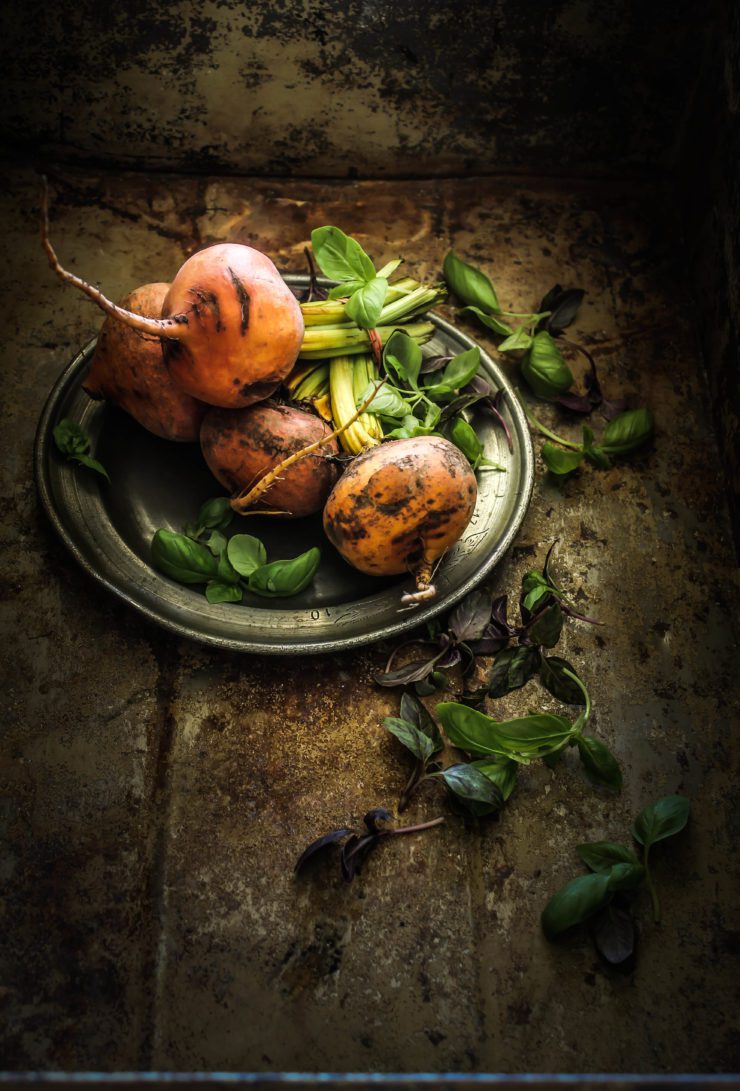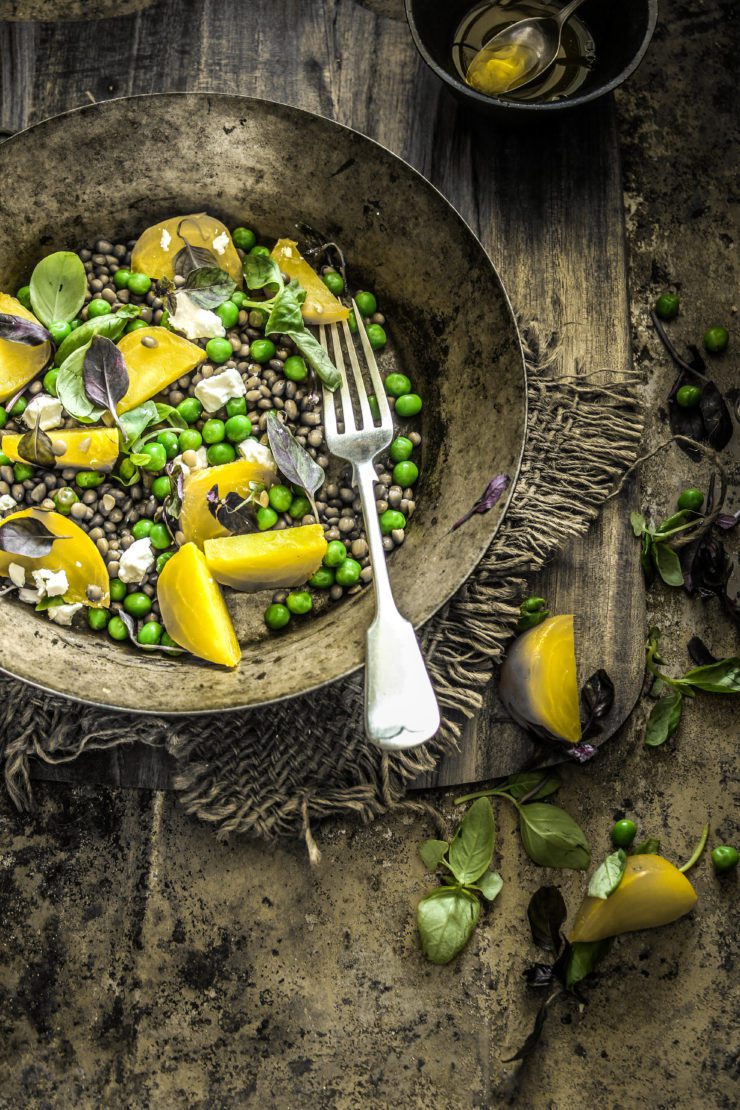 Last Saturday I bought heirloom, tomatoes, golden beetoot, green and purple basil and the juiciest strawberries I have tasted. When the vegetables are themselves so delicious, there isn't much that needs to be done. With the beetroot, I made this lentil salad  which makes a healthy and filling side or even a light lunch. I roasted the beetroot in the oven and used canned lentils and frozen peas to go with it so it came together quickly. The dressing is a orange mustard dressing that really complements the flavours of the sweet beetroot and earthy lentils. Feta is a must-have in my house and so is garlic infused extra-virgin olive oil. I tend to use them a lot in my cooking which you might have guessed by now. You can make this with regular beetroot as well. You can add nuts, substitute feta with ricotta or buffalo mozzarella.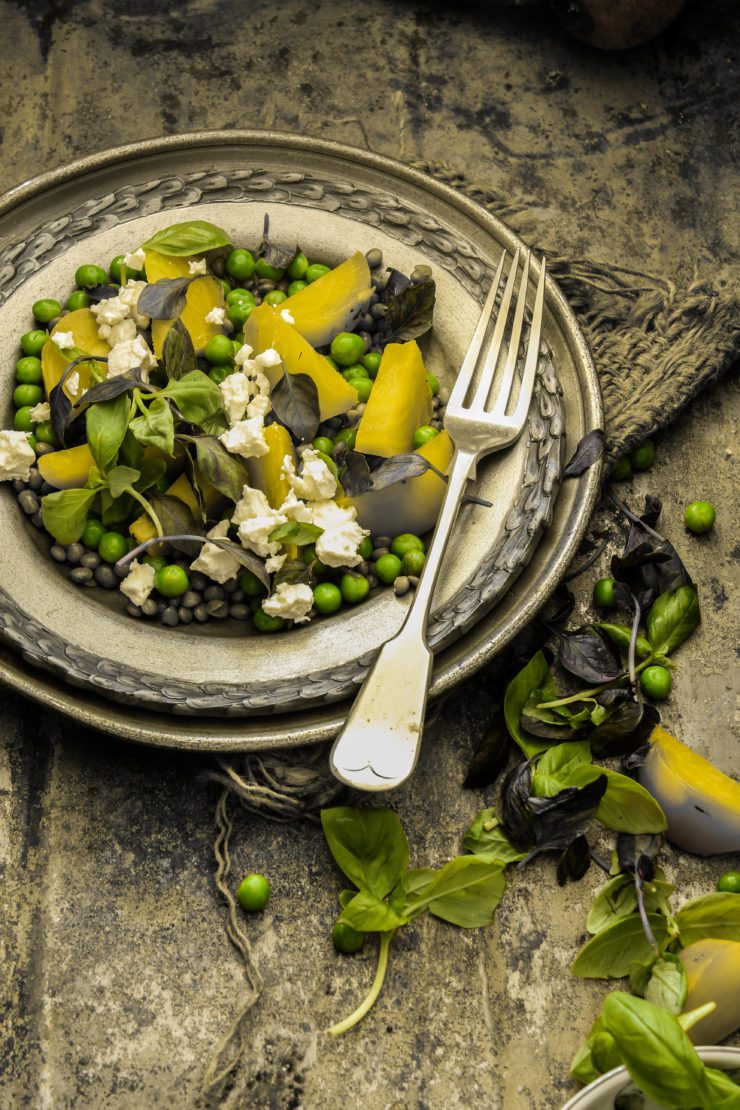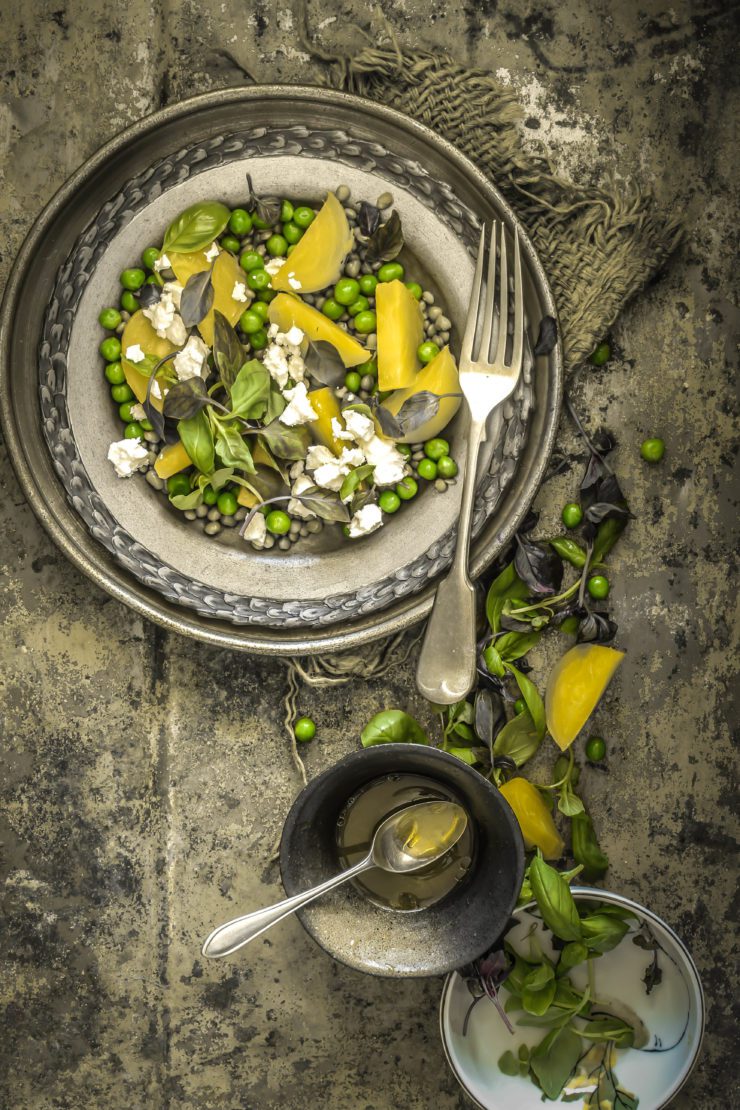 Warm Lentil Salad with Golden Beets and Green Peas
Serves 4
4 nos. golden beetroot, trimmed
1 can (400 g) brown lentils, drained and rinsed
1/2 cup frozen (or fresh) peas, thawed (If using fresh, cook to your liking first)
15 g feta, crumbled
1/2 cup fresh basil, to garnish
For the dressing
1/2 cup freshly squeezed orange juice
2 tbsp dijon mustard
1/4 cup extra-virgin olive oil (I use garlic infused oil. You could also chop 2 cloves of garlic and add to the dressing if using regular extra-virgin oilve oil)
salt and pepper, to taste
Preheat oven to 200 degrees C. (180 degreec C fan-forced ). Wrap each beetroot in foil. Place on a baking tray. Bake for 1 hour or until tender. Set aside to cool. Remove and discard foil. Peel the skin off. Cut into wedges.
Place the beetroot, lentils and peas in a large bowl.
On low heat, bring the orange juice, mustard, olive oil, salt and pepper to a slight boil. Remove from heat and pour over the bowl of beetroot. Toss to combine. Add the feta and fresh basil and toss gently. Serve warm.