This New Year is moving at a faster pace than I had anticipated. We are already 5 days down and I am writing my first post for 2015. I am excited that I have not had the time to look at the calender or worry about the day of the week. It has been relaxed sort of busy this side. I have spent a good amount of time playing with the boys and baking cakes to take to picnics and friend's. I like it when a whole cake is consumed in a day and there are people to share it with. Time is precious. The boys start school at the end of the month. The date is suddenly so close. The 2015 of my imagination and once future plans is here and it gives me a firm nudge every time I say 'Twenty Fifteen' reminding me that a few days from now, I will be packing lunchboxes. Actually, eating lunch alone. And baking without my little helpers.
I am aware that this is just so normal and every Mum possibly has dealt with it and will be dealing every year. But I feel a little sad when I think about it. I guess, when the time comes, I will cope. And then there is this little cosy patch on the Internet to give me company. This year I made a resolution. To do all the things I want to do..say the things that are on my mind and say it without worrying whether I will be judged. To spend time with the people I care about. To just be..to not hold back! To not restrict myself…my ideas or creativity. On the recipe development front, I have ventured  into new areas last year and it worked. This year, I hope to do the same with my photography and writing. That is when we move forward, we grow..we out do ourselves. How about you all..did you make resolutions?
Ice cream cakes and frozen desserts have been my go-to this summer. Christmas entertaining aka summer entertaining for us in Australia, just gets easier. Obviously they are all make-ahead which can simply life for up to a month in most cases. Even if if you are not in the Southern Hemisphere and probably drinking hot chocolate whilst being curled up in your favourite blanket on the couch, the prospect of eating ice cream does sound exciting at any point in the year, doesn't it? I know it does for me.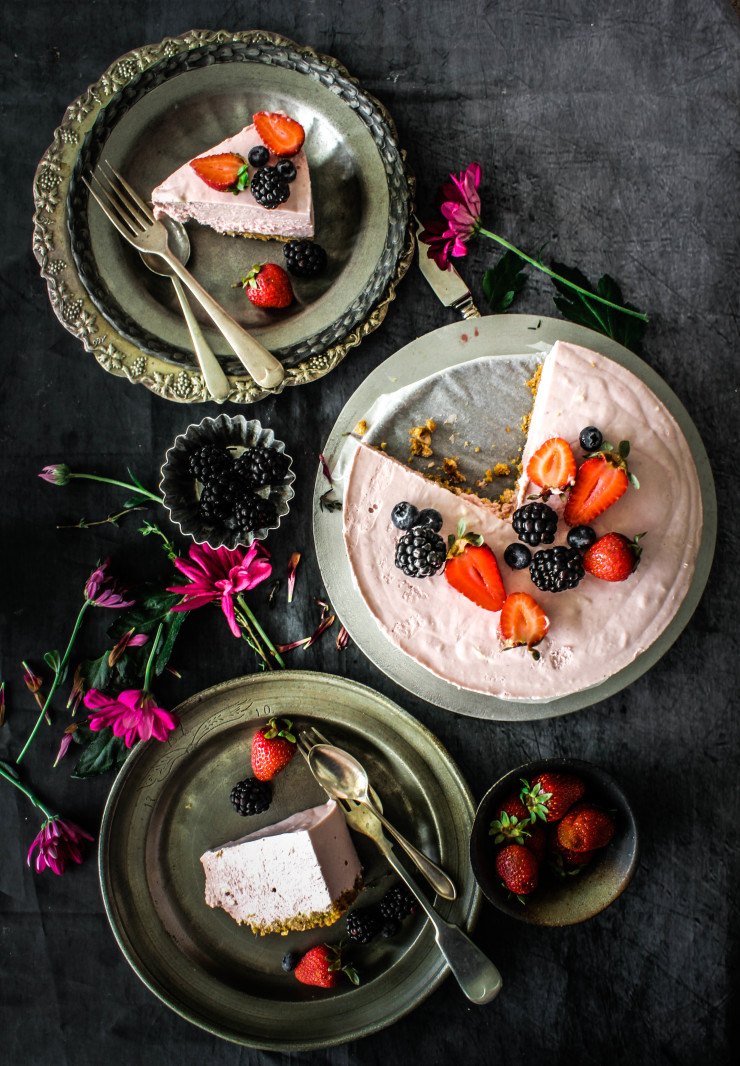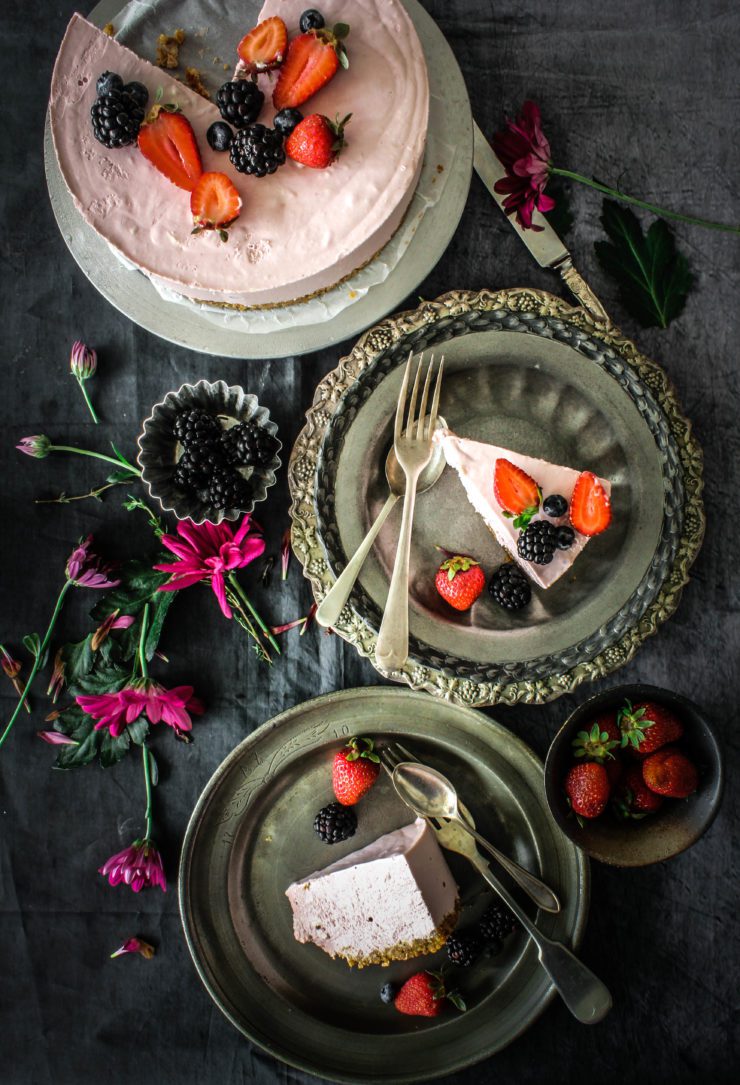 The good news is that I have used frozen berries to flavour the cheesecake. It should not be difficult to get hold of some in your local supermarket. The puree had such an intense red-purplish colour, that I was fooled into thinking that the cake would tint into a brighter mauve or pink than it actually did. So if you are making this and want a brighter shade, double up on the quantity of mixed berries. When you strain the berry puree, what you will get is less than half the amount to be used for the cheesecake, so by all means add more if you like. Thyme leaves add an extra punch of flavour when simmered with the berries. Other than that, this is like any other no-bake cheesecake with the bonus of not having to whip up cream. Because, we are adding store bought vanilla ice cream to the cheesecake mixture. And so, one bowl less to clean. Yay!
As you can see, I have decorated the cake with fresh flowers and berries. I had the flowers at home and they seemed to complement the colour of the cheesecake so I added them. You could go with whichever berry you have at hand. With or without the flowers. The texture is soft, creamy with a mild taste of berries, thyme and vanilla.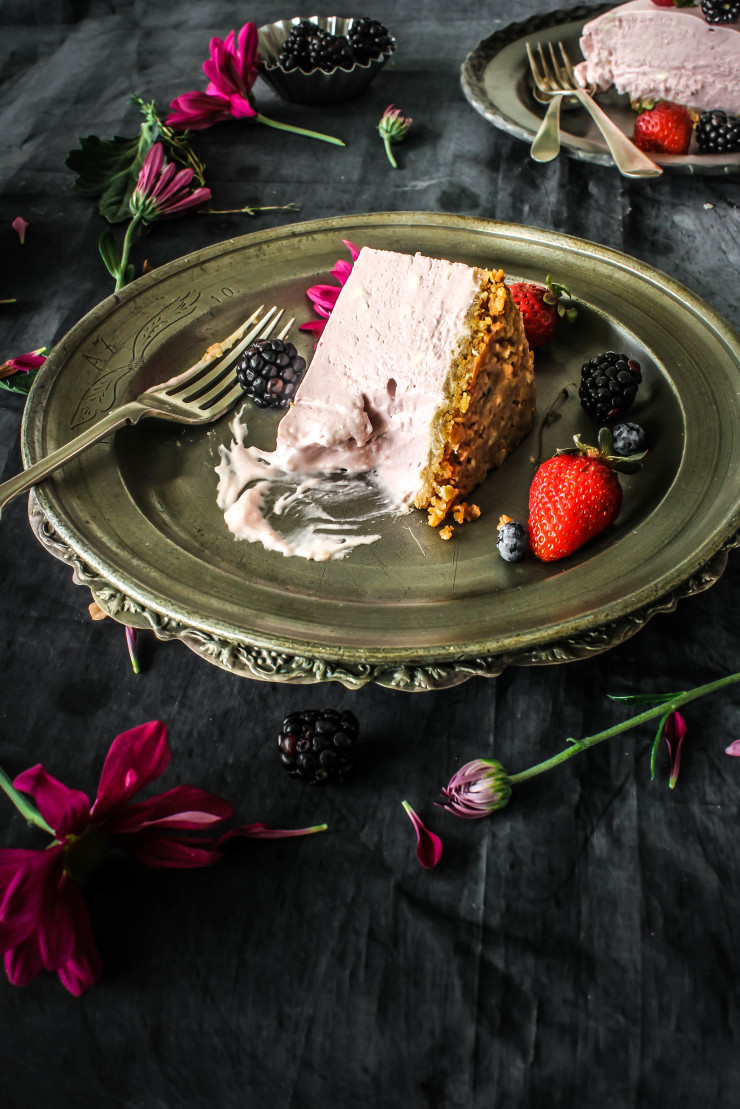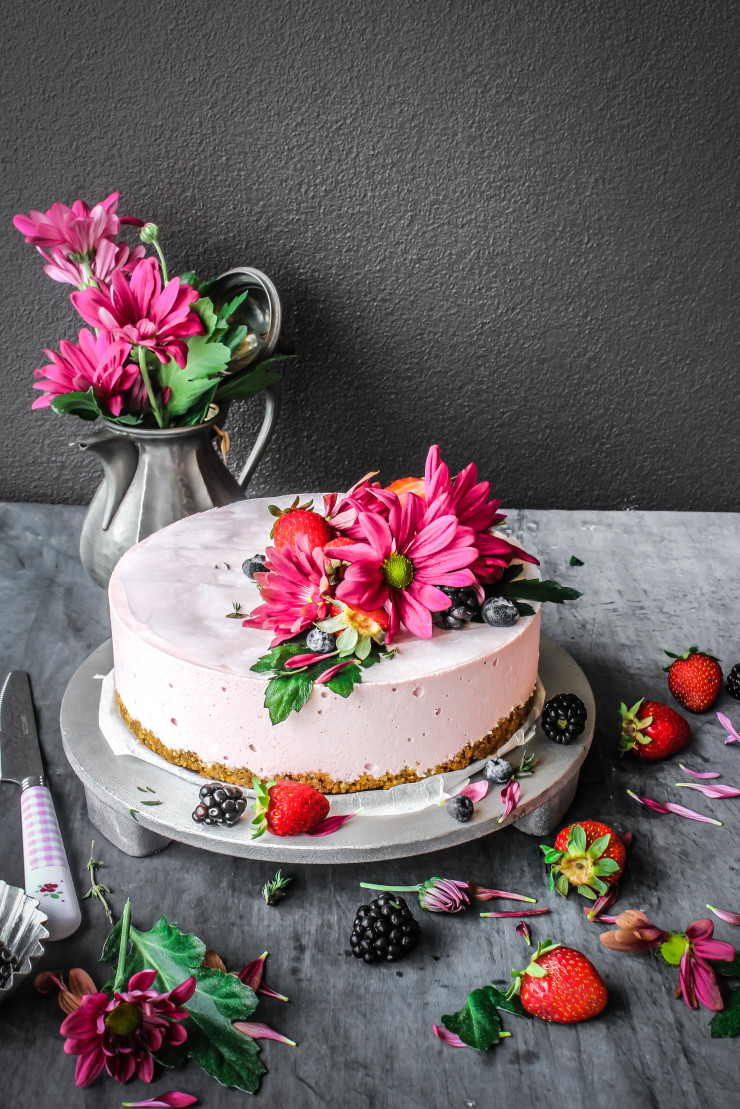 You might be noticing a lot of berries in my recipes lately..I am just trying to make the most of our gorgeous Australian summer bounty. For me, summer is short with too many things on my list to make. This year, I hope to not have regrets and use every possible summer produce in my creations.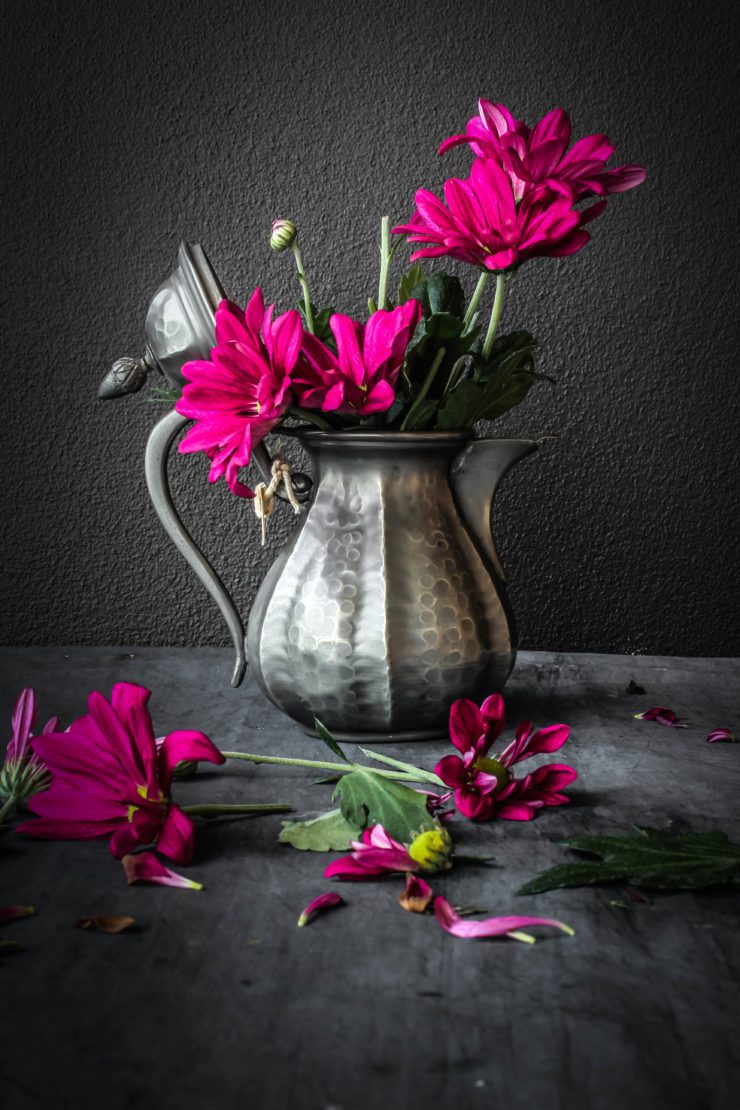 Ice cream Cheesecake with Mixed Berry and Thyme
Serves 8-10
180 g Butternut Snap cookies (oats and coconut cookies)
75 g unsalted butter, melted
11/2 cup frozen berries, thawed (strawberries, raspberries, blueberries, blackberries) (Increase quantities for more flavour and colour)
1/2 tsp fresh thyme leaves
3/4 cup castor sugar
500 g cream cheese, room temperature
500 ml vanilla ice-cream, softened (I used store bought)
Fresh Berries +Flowers to decorate
Line the base of a 19 cm round Spring-form pan with baking paper.
Place the cookies in a food processor. Process until fine crumbs. Add melted butter and mix to combine. Alternatively, you could crush the biscuits with a rolling pin inside a zip-lock bag. Using your fingertips, press biscuit mixture over base of prepared pan. Place in the freezer for 30 minutes or until required.
Meanwhile, place the frozen berries, thyme leaves and 2 tbsp of castor sugar (from the 3/4 cup sugar) in a saucepan over low heat. Cook, stirring, and using the back of a spoon to gently crush, for 2-3 minutes or until they break down and sugar is dissolved. Remove from heat. Strain through a fine sieve into a bowl, using the back of a spoon to push through as much pulp as possible. Set aside to cool.
Beat the cream cheese and remaining sugar in a large bowl (with a mixer or a whisk) until well blended. Add the ice cream and mix well. Gently fold in the mixed berry puree. Pour over the prepared crust. Freeze for 4 hours or until firm. Remove from freezer 10 minutes before serving.