Easy and healthy Chia seed pudding that involves no cooking. Served with maple yogurt and cinnamon roasted nectarines.
So, I am jumping on the January bandwagon today. Meaning, the food that you guys love to eat in January. Clean, healthy, low-calorie, high-fiber, full of antioxidants…high on Omega-3.  To be honest, I wouldn't be able to explain half of those things to you. What tastes delicious to me is what I eat..what is hassle free to make is what I share! I certainly understand and respect the fact that a lot of people do need to follow dietary restrictions and who knows, I may be one of them at some stage in life. But for now, I am happy to create food that tastes great, super-food or not.

I have not had a lot of experience cooking with Chia seeds and the only recipe I've shared before are the Orange Chia Seed Friands. I have been meaning to make this pudding for as long as I came to know that it makes a quick, simple breakfast or on-the-go meal with zero cooking. Could not have been a better time to make this. Plus I had another opportunity to use my favourite almond milk in the recipe. This pudding is truely delicious. It reminds me a lot of a pearl tapioca pudding that I ate as a child. But what makes it for me is the simplicity of preparing it. All you do is mix a handful of ingredients in a mason jar or an air-tight container, store it in the refrigerator overnight and in the morning, breakfast is ready. To make it nutritional and exciting, add your choice of fruits and/or nuts.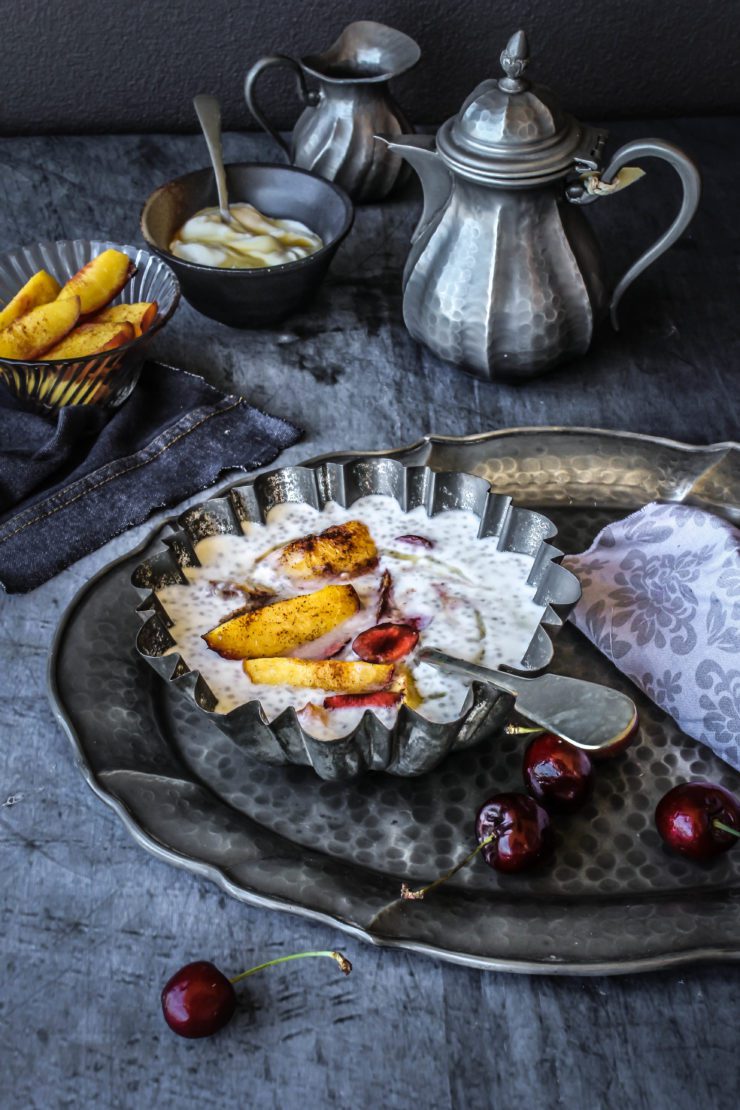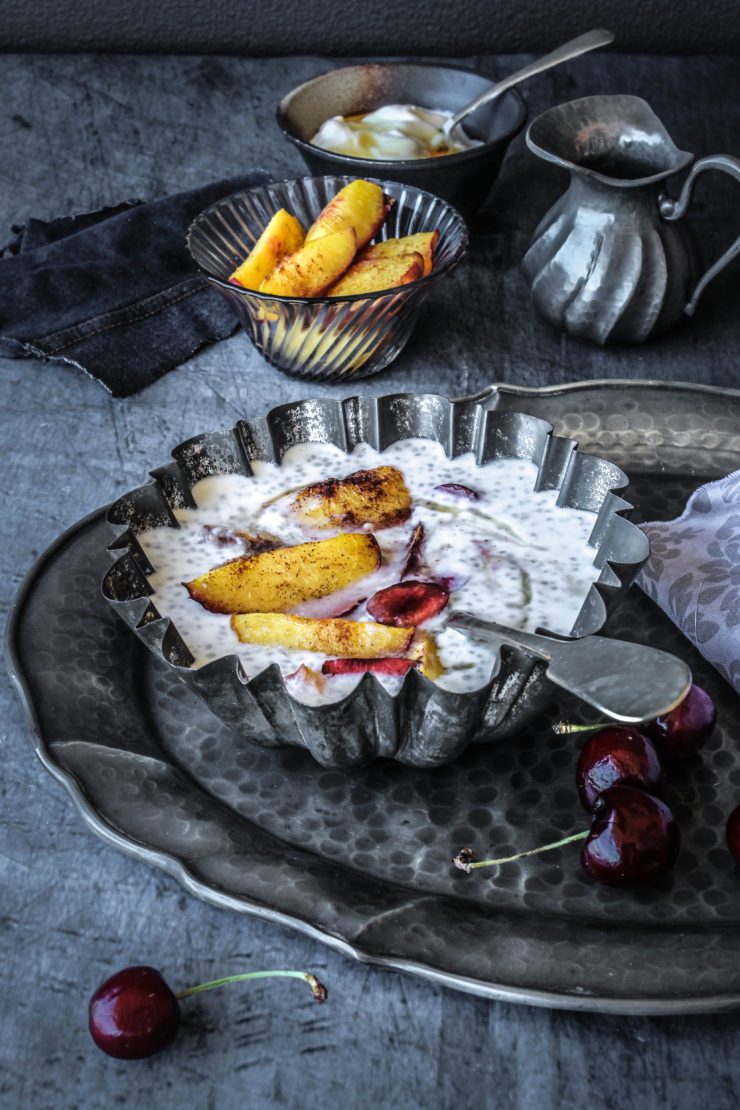 You could use coconut milk instead of almond milk. For that matter, any milk that you like to drink. The thickness will however vary according to the consistency. To thicken up the mixture, I have added maple swirled yogurt. I roasted the Nectarines with Cinnamon and maple syrup and also served it with seasonal cherries. Because I was adding sweetened fruit, I dd not add a sweetner to my overnight Chia mixture. If you are using plain fruits, you may want to add 2 tbsps of maple syrup or honey along with the chia seeds. I gave the pudding to my boys to taste. One loved it and asked for more, the other one instantly denied from having another go. But if you are looking for a convenient, fuss free, healthy and tasty recipe, you will not be disappointed.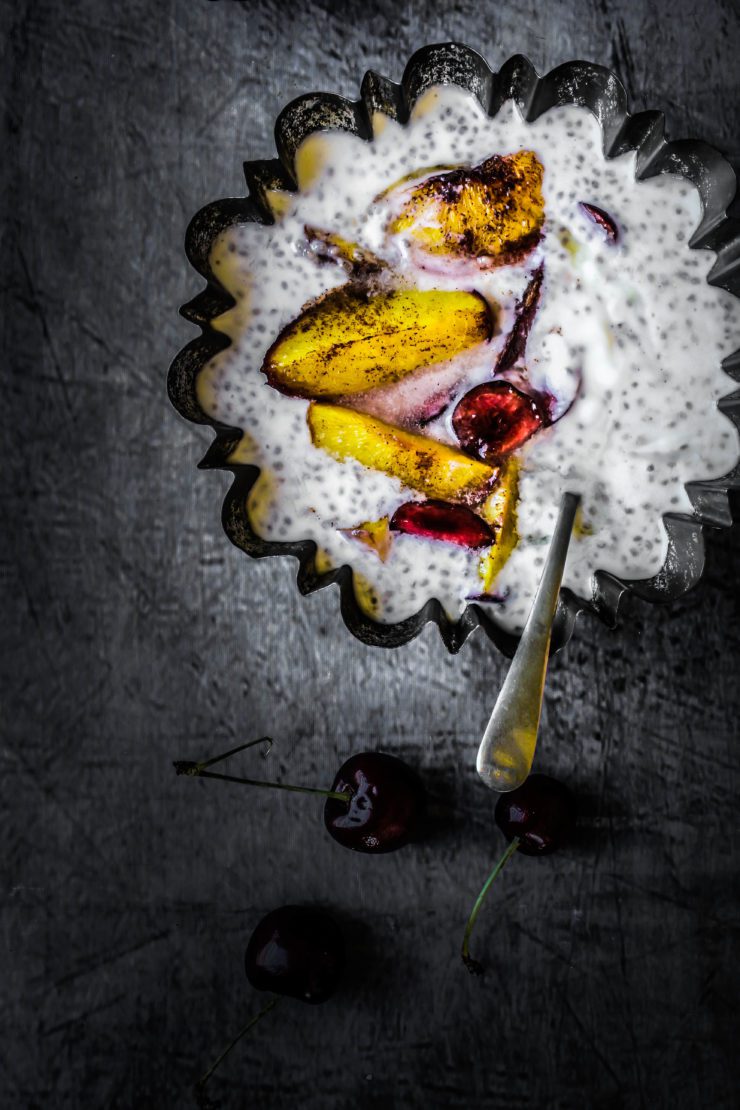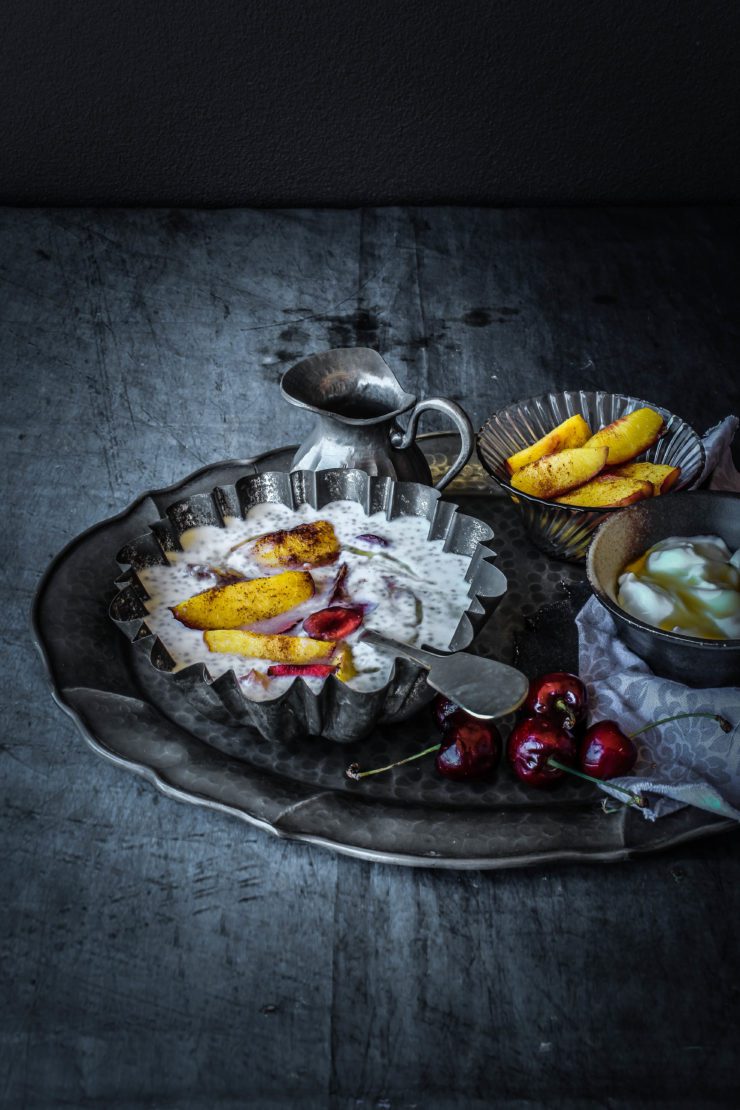 Chia Seed Pudding with Maple Yoghurt And Cinnamon Roasted Nectarines
Serves 2-3
1 cup unsweetened almond milk
1 cup Greek yogurt (1/2 cup to serve)
1/4 cup Chia seeds
1/8th tsp salt (optional)
2 tbsp maple syrup
3-4 Nectarines, stones discarded and cut into wedges
1/2 tsp cinnamon
In an air-tight container, gently whisk the almond milk, 1/2 cup yogurt and until just blended. Whisk in the chia seeds; let stand 30 minutes. Stir to distribute the seeds if they have settled. Cover and refrigerate overnight.
To make the roasted Nectarines, preheat oven to 180 degrees C (160 degrees for fan-forced ovens). Place the Nectarine wedges on to a tray lined with baking paper. Add the cinnamon, salt and 1 tbsp maple syrup. Toss to coat evenly. Arrange the wedges cut side up on the tray. Roast for 30 minutes (depending on the softness of the fruit) or until brown with a nice caramelisation.
To make the maple yogurt, add the remaining 1 tbsp maple syrup to the remaining 1/2 cup yogurt. Swirl gently.
To serve, spoon the chia seed pudding into serving bowls. Top with maple yogurt and cinnamon roasted Nectarines and/or any other fruit of your choice.