Around Christmas, last year (Oh! that sounds so long ago though we're talking less than a month really) we met a wonderful family. We had met only once before that during the twin's orientation day at their new school. On that day we had excited parent-like conversations, shared anxieties and had the children pose for pictures together. Numbers were exchanged, totally oblivious to the fact that this was just the foundation to a robust, warm friendship. A bond that involved two generations of people. We met again and again and again and before the calender changed to 2015 we were like one big happy family. Random picnics and impromptu day trips weren't such a bad idea suddenly. (If you are a parent to young kids, you know what I mean!)  Home-made food found new homes and there were more reasons to bake cakes.
Amidst a kitchen full of delicious food, laughter and three children wildly racing around the house at midnight, we ushered in the New Year. 'Let's start a restaurant. Will there be takers?' We giggled like school kids as the most amazing fireworks broke into the Sydney sky. A night resonating with the New Year that brought fresh hope, untold promises and an assurance that there were greater times ahead. A friendship sealed by fate and frozen in time.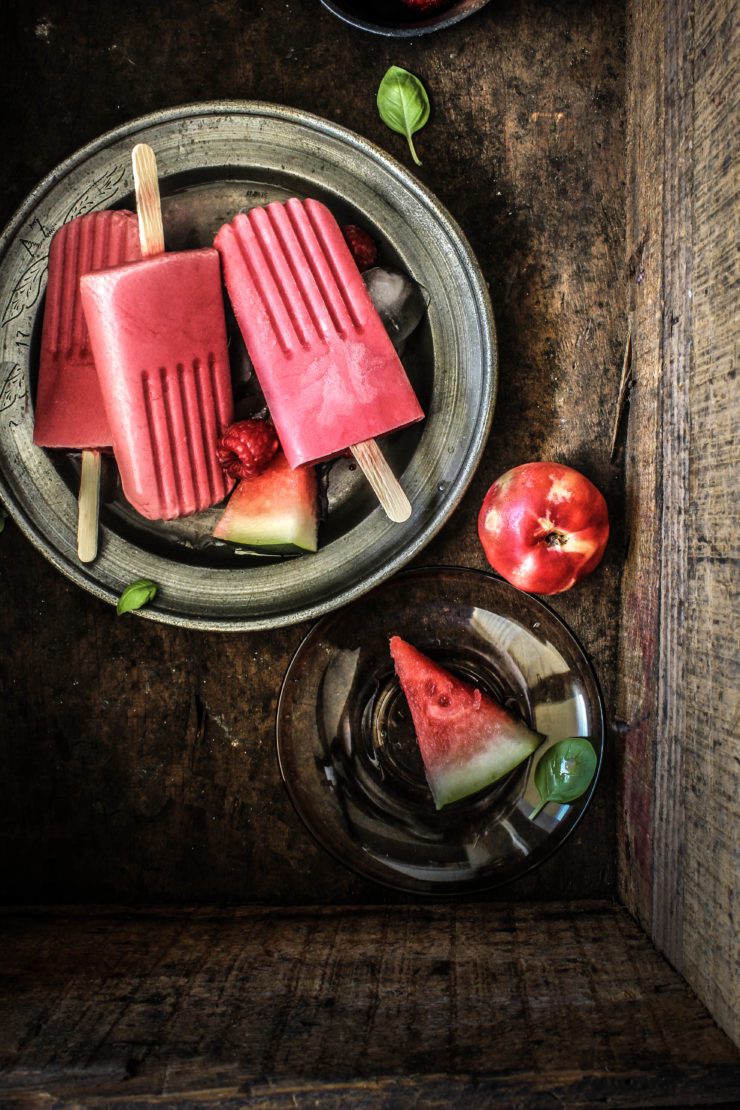 So what else is frozen? 4 sweet summery treats in my freezer. There is no room for anything else and I am beaming at the thought of it. I can tell you I have made the most of our summer. Our produce is at it's peak at the moment and though we have a little more than a month left, the stone fruits will start to dwindle. So before that happens, I am trying my best to incorporate them in my recipes. Well actually, I have been brainstorming recipes around them. You may already know this, Summer is my favorite time of the year. And I think I can paint a picture with the colors that are on display in the fruit markets right now.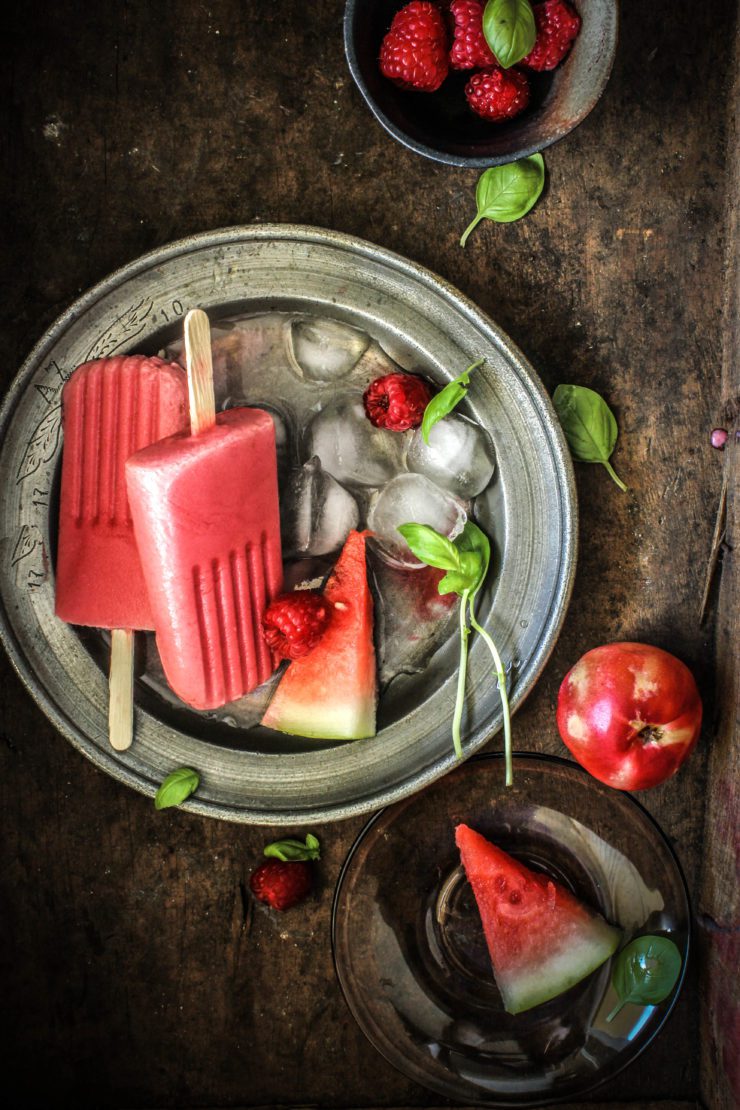 These popsicles are like a pretty pink fruit smoothie on a stick. Lots of fruity goodness and quite simple to make. Feel free to replace with fruits of your choice. The raspberries I have used are frozen so you can make them even though they may not be in season where you are.
Raspberry, Watermelon and White Nectarine Popsicles
Makes 6 large Pops
1 cup frozen Raspberries
3 cup watermelon, seeded and roughly chopped
2 nectarines stoned, and roughly chopped
1/2 cup Greek Yogurt
1/2 cup castor sugar (or 3 tbsp honey/maple syrup)
1 tbsp freshly squeezed lemon juice
Place all the ingredients together in a blender or food processor and process till smooth. Strain into a jug, pressing with the back of a spoon to extract maximum liquid.
Pour into molds. Freeze for two hours before inserting a stick in the centre of each popsicle. Freeze overnight.