'A pinch goes a long way' said my grandmother when she saw me examining the tiny box with curiosity. I was always in awe of that little box that contained unruly deep red threads of the most exotic spice I knew of. Saffron is beautiful…as much as it is powerful. The 'prima donna' of the spice family. Its flavor is unique and the color and aroma it adds to a dish is exclusive. It is not an ingredient that you would use everyday but once you use it, you would be enamored by its presence. Every year there would be someone from our family or extended family visiting the Jammu-Kashmir (northern) region of India on a pilgrimage and my mother would make a deal with them. 'Kashmiri red chillies, cardamom, nutmeg, mace and 2 boxes of saffron'.The 2 boxes were enough for a year's worth of sweet treats. Obviously she returned the favor when it was her turn. Which meant plentiful spice shopping in the freezing cold, winding by-lanes on the hills. Competition was fierce and shop owners stood outside their shops calling out to prospective customers. We would return with bags full of spice like everybody else and the buses or trains leaving from this region always smelled like a giant nutmeg to me.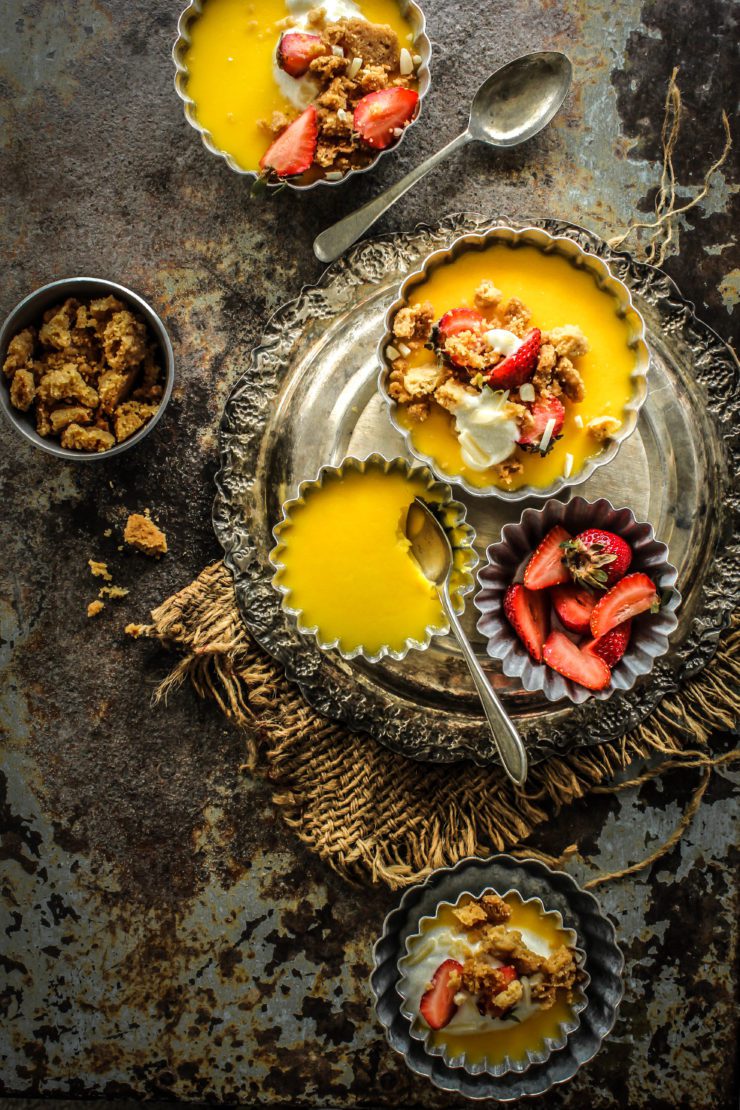 Saffron is an integral part of Indian desserts much like cardamom, almond and pistachio. These are flavors of my childhood. The smell of these are deeply embedded in my system. Combining them with baked goods I make today, thrills me to the core. The fantastic fusion of taste, texture and appeal. The best of both delicious worlds.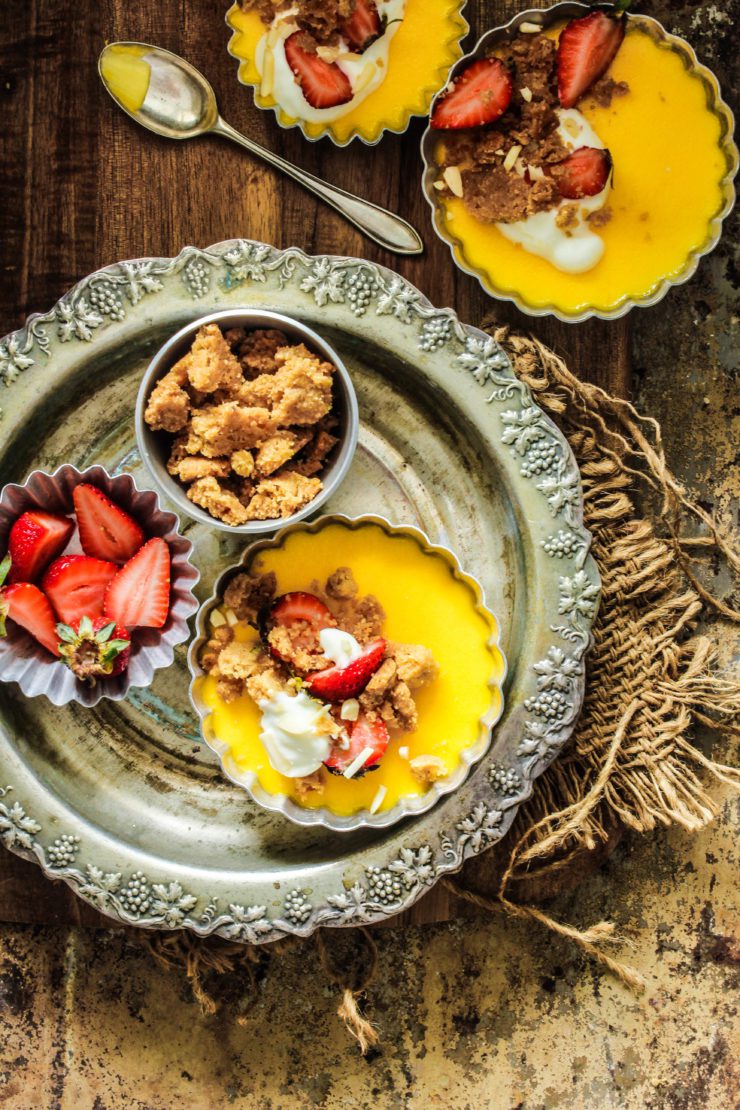 A baked custard is an easy and tasty way to use saffron. Because the threads need a medium (more specifically, moisture) to perform to their full potential, milk or cream are ideal partners. I toyed around with the idea of a Creme Brulee initially but that didn't make sense as the entire point was to show off the vibrant, yellow that makes this spice so gorgeous. If you know me by now, I love my desserts to have crunch and contrasting textures. So, instead of a burnt sugar crust I decided to pair it with a cardamom infused crumble, a little fresh cream and tart strawberries. If you could take a bite, you would know that this is a match made in Heaven. Truly magical. It teases your taste buds with different sensations and leaves you craving for more. The aroma makes me go crazy with nostalgia.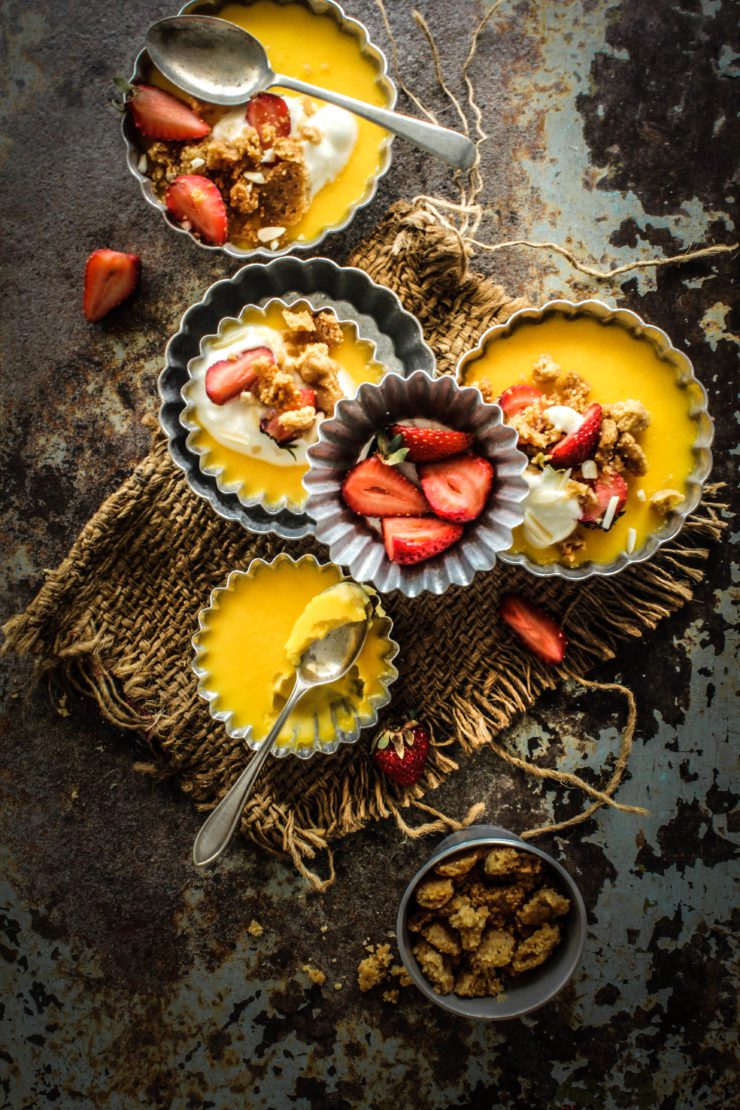 You may already know, Saffron is expensive. Those power-packed threads are actually the stigma of a flower and are harvested by hand. Saffron is used in a lot of sweet and savoury food. So if you get hold of some, you can try out many different ways of using them. A tiny bit is enough to do all the magic. A pinch goes a long way.
Saffron Baked Custard with Cardamom Crumble
Serves 4-5
1/2 cup milk
saffron, a pinch
11/2 cups heavy cream
4 egg yolks
2 tbsp. castor sugar (more if you require it sweeter)
Cardamom crumble, to serve (recipe below)
Strawberries or any fruit of your choice to serve
Whipped Cream, to serve (optional)
Soak the saffron in milk for 30 minutes to infuse. Preheat oven to 160 degrees C ( 140 degrees for fan-forced ovens) .Combine cream and milk in a saucepan over medium heat. Cook, stirring constantly, for 5 minutes or until hot (do not allow to boil). Remove saucepan from heat.
Whisk egg yolks, sugar and spices in a heatproof bowl until well combined. Pour the warm cream mixture over the egg yolk mixture, little at a time whisking constantly until smooth. Take care not to add the entire cream to the eggs together as it can overcook the eggs resulting in scrambled eggs. Strain the liquid into a pouring jug pressing the residue in the strainer with the back of spoon to ensure maximum extraction of flavor and color from the saffron.
Divide the custard into five lightly-greased, ramekins or ovenproof cups. Place in a deep baking tray. Pour boiling water into baking tray until halfway up sides of ramekins.
Bake custards, uncovered, for 45 minutes or until just set (while the centres are slightly jiggly when shaken). Remove from the oven and take the ramekins out of the water bath. Leave to cool to room temperature. Refrigerate for at least 2 hours. Serve with fruit, crumble and whipped cream.
Cardamom Crumble
1/2 cup plain flour
50 g butter, chilled and chopped into cubes
1/4 cup brown sugar
1/2 tsp powdered green cardamom  (made by running the seeds inside 5-6 cardamom pods through a food processor, also readily available in most Indian supermarkets)
1/4 cup sliced almonds (optional)
Preheat oven to 180 degrees C (160 degrees fan-forced). Line a baking tray with baking paper.
Place all the ingredients in a medium bowl. Use your fingertips to rub the butter into the mixture until the mixture contains large and small crumbs. Spread the mixture in a thin layer onto the prepared baking tray. Bake for 15-20 minutes or until crumble is golden brown. Remove from oven and cool down completely before use.