I pass a florist near my home every day, to and back from anywhere I travel. I look at the pretty flowers, wishing in my mind I could touch them. I so love colours and my eyes survey the bouquets that have amazing arrangements and beautiful contrasts. I look at the happy people buying flowers, wondering where/or with whom those flowers would end up. I think people who buy flowers are happiest kind of people. Then, I walk away.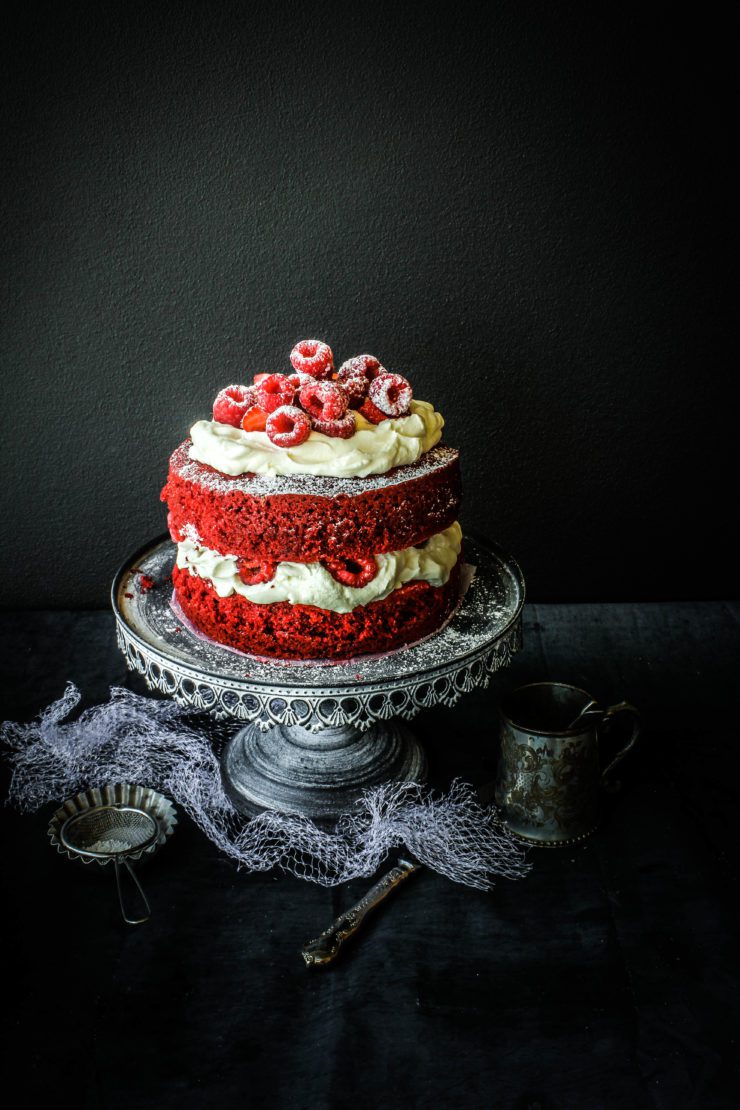 Today was different  I stopped and bought flowers. For myself. And I feel happy just looking at them. I am one of those people who believe that as much as it is nice to show your love for those who matter, it is equally important to love yourself. Not in an narcissistic sort of way, but looking for those little things that make you who you are are celebrating them. Once in a while doing things that make you and only you happy and making that 'ride' called life worth all the roller-coaster action. Taking a teeny bit of time off the daily grind just for yourself to look back at those things that always made you giggle. Or even a quick chat with a bestie to relive some of the best memories you have together.  Reading a new book, buying yourself a new dress, picking up flowers, eating chocolate or just baking a cake. In the fast paced, ever-so-demanding environment that we live in, this is hard. But not impossible. I can vouch for that.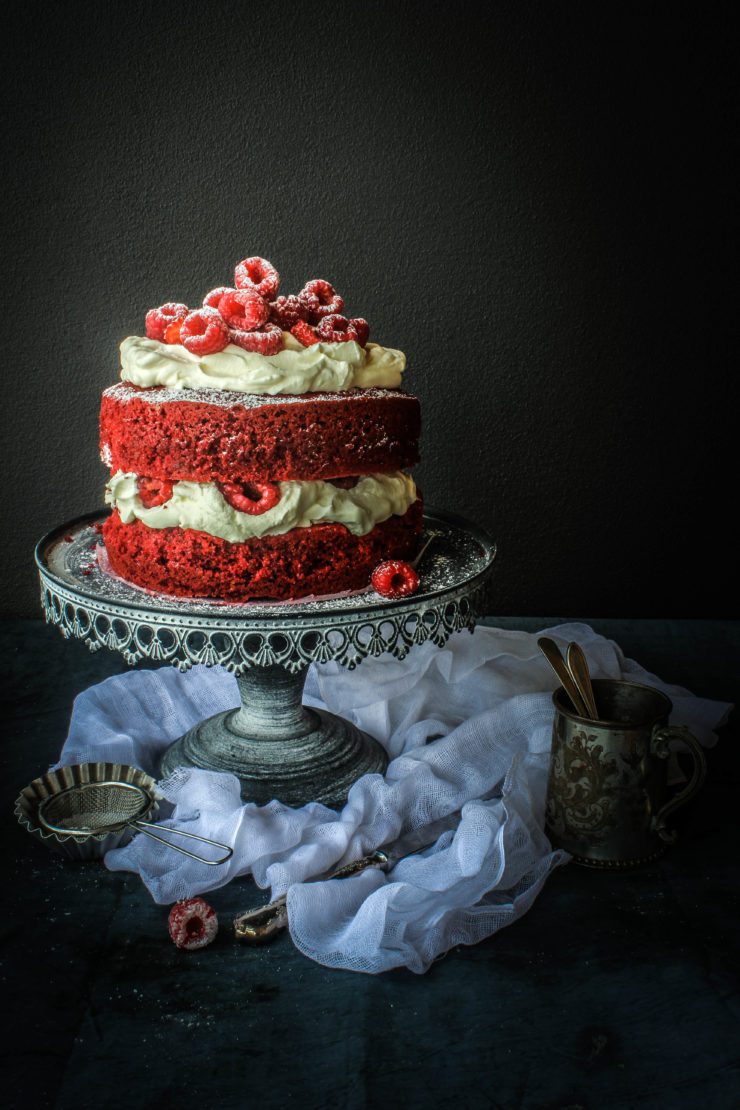 This last one week, has been such a whirlwind of activities. I was anxious about the boys starting school while also thinking how I could utilize all the time. Time? Where is time? What was I even thinking?  What about the drop-offs, pick-ups, lunchboxes, uniforms…blah blah blah? I don't mean to complain but this week has been quite hard on us. I don't know whether two of them going together makes it harder or easier. I will cope. Or else I will buy more flowers. And I will make cakes. Cakes are the best. They make everyone happy…the baker and the people around. Valentine's day is not far and I have quite a few treats in mind.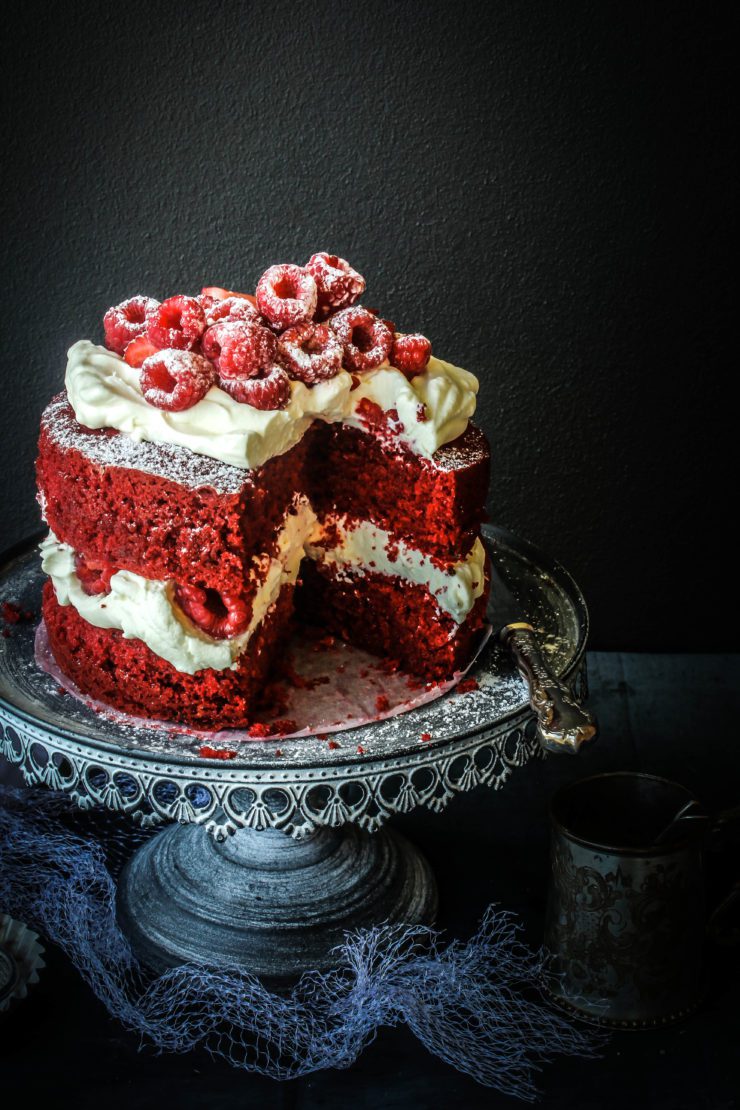 This is a simple layer cake that comes together without much effort. To make time for love, you need to keep things simple, right? So, this is about making a simple batter and baking it in two pans for the layers. Whip up some fresh cream…add some fresh raspberries (or strawberries) and a dusting of icing sugar. That's all! The cake is really light, moist and sponge-like so you need to be a bit careful with the layers..they start to break if not handled carefully. Please do remember to grease the pans well as the layers tend to stick to the sides of pan. Biting into the cake, is sheer pleasure as it just melts in your mouth.
Now tell me dear friends, do you sometimes do things for yourself? If so, what is the best thing you ever did?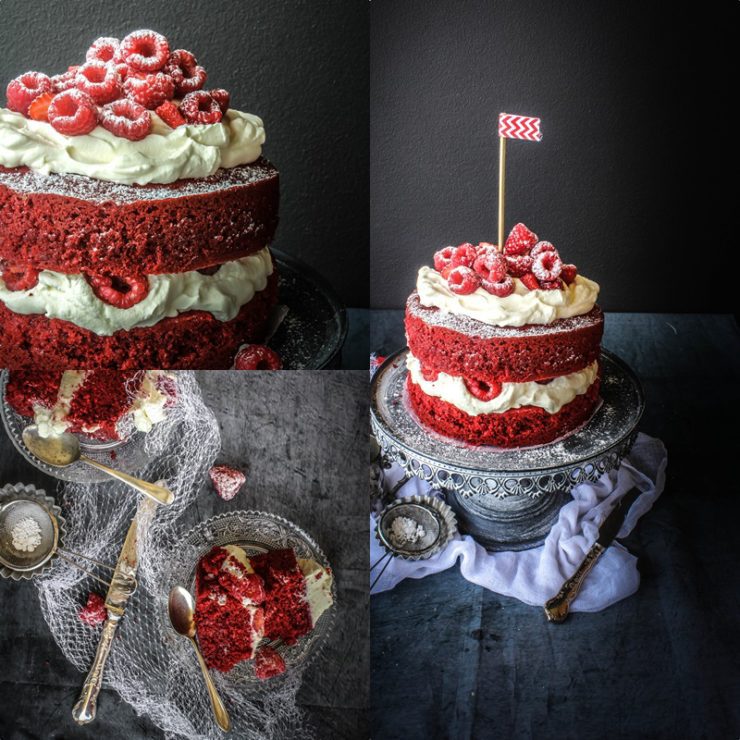 Red Velvet Cake with Raspberries And Cream
Serves 6-8
180 g butter, softened
1 1/2 cups castor sugar
1 teaspoon vanilla extract
2 eggs
2 1/2 cups self-raising flour
2 tablespoons cocoa powder (try to use regular cocoa, not dutch processed)
1 cup buttermilk
1 tablespoon white vinegar
1 teaspoon bicarbonate of soda
1/4 cup red liquid food coloring
400 ml heavy/whipping cream, whipped to stiff peaks with 1/3 cup castor sugar and stored in the refrigerator till needed
Fresh raspberries (or strawberries), to decorate
Icing sugar, to dust
Preheat oven to 180 degrees C ( 160 degrees C for fan-forced). Grease and line the bases of two 18 cm round cake pans with baking paper.
Use an electric mixer to beat the butter, sugar and vanilla in a large bowl until pale and creamy. Add the eggs, 1 at a time, beating well after each addition. Add the flour, cocoa powder and buttermilk, in batches, until well combined. Add the vinegar, bicarbonate of soda and food colouring and stir to combine.
Divide the mixture evenly among the prepared pans. Use the back of a spoon to smooth the surface. Bake in preheated oven for 30-40 minutes or until a skewer inserted into the centre of the cakes comes out clean. Remove from oven. Set aside for 5 minutes before turning onto a wire rack to cool completely
Place one of the cakes on a serving platter/cake stand. Spread half the whipped cream mixture over the top. Sprinkle with half the raspberries. Sandwich with remaining cake. Spread with remaining cream mixture. Decorate with remaining raspberries. Dust with icing sugar.