In the food department, for Valentine's Day, I think we women are not that hard to please. Whether it is about pastel colored cupcakes, frosted cakes, good quality chocolate or a great dinner we appreciate the gestures and thoughts behind them as much as we enjoy the food. But I cannot be sure if the prettiest of swirls of buttercream or rose/lavender flavored goodies would impress men in general. While I personally love those flavors and swirls make me as excited as a kid, I've reserved those for my girlfriends. Dark chocolate and citrus are flavors that in my humble opinion have an unanimous appeal.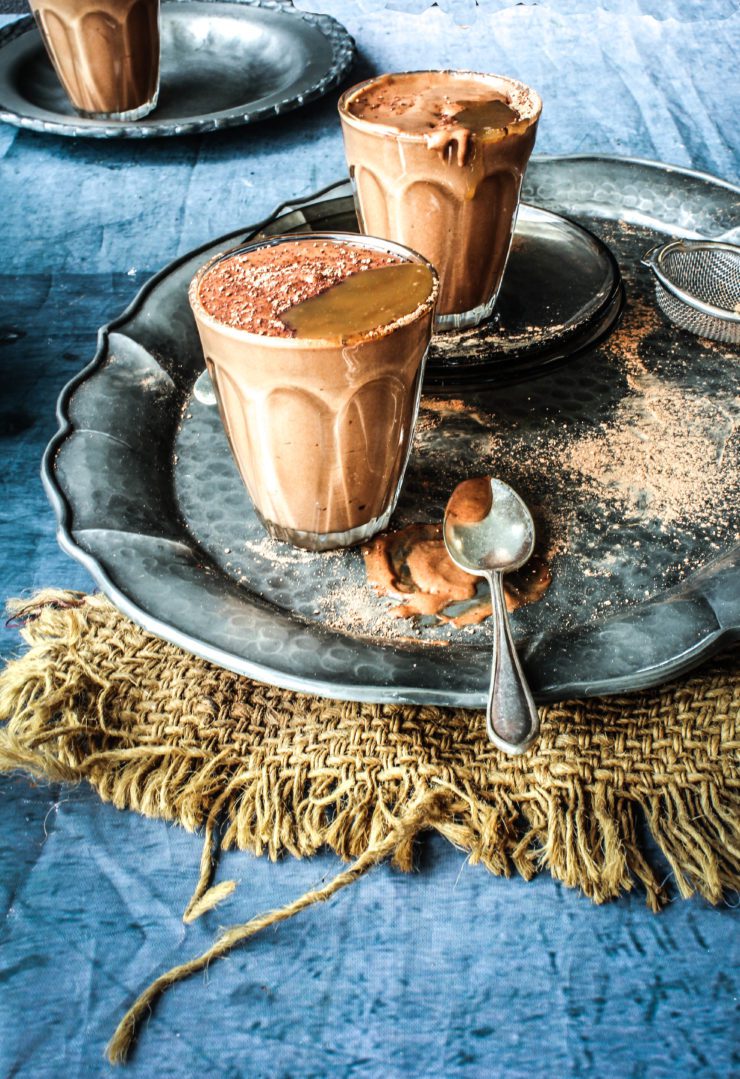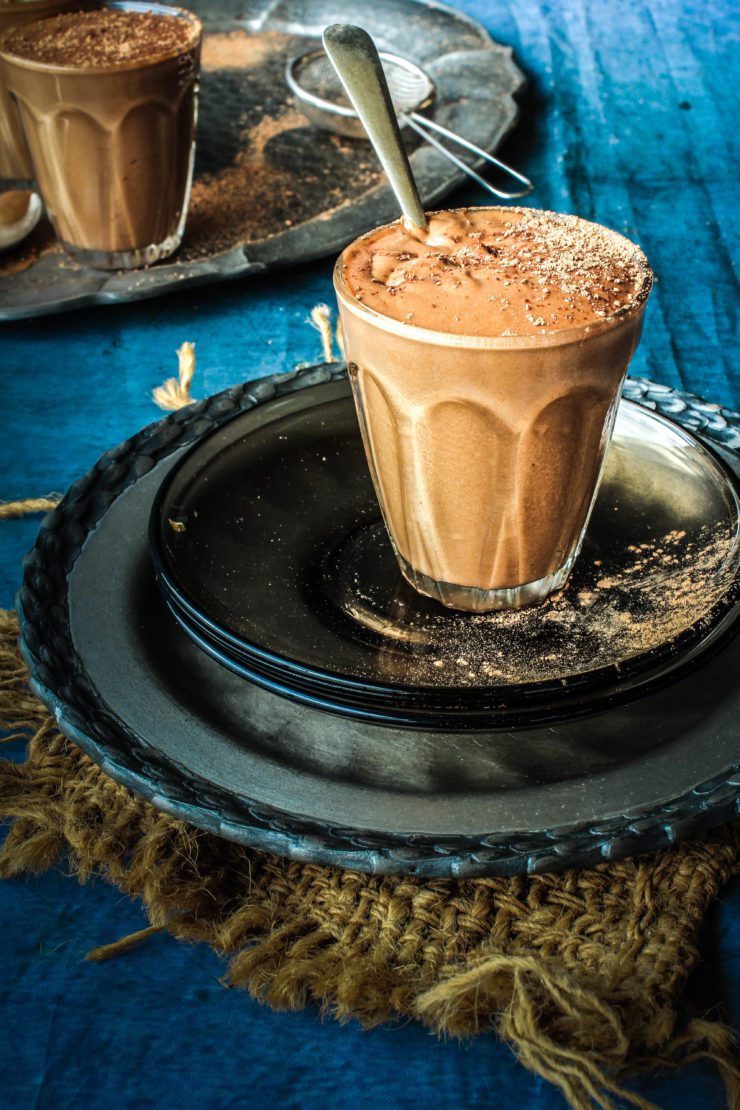 My husband does not share my love for dessert except when there is dark chocolate in the recipe. More specifically, a not too sweet, small portioned dessert with dark chocolate as the hero. I made just that for him. A rich, creamy, bittersweet chocolate mousse that is infused with Kahlua (coffee liqueur). Making this is quite easy and since it can be made ahead, it is a great option for Valentine's day. What you will taste is an intense mocha flavor with a depth from the alcohol. But I didn't stop at that. I made a quick salted caramel sauce and drizzled that on top. The combination is amazing! The salted caramel was not required but I recommend it. The bittersweet, salty and creamy sensation together is unbeatable. Needless to say, this is not your everyday sweet fix. It is special and should tick the right boxes even for non-dessert lovers.
If you do not have Kahlua, you can still add a teaspoon of instant coffee to get the mocha flavor but I highly recommend the liqueur as it elevates the intensity of the dessert to a whole new level.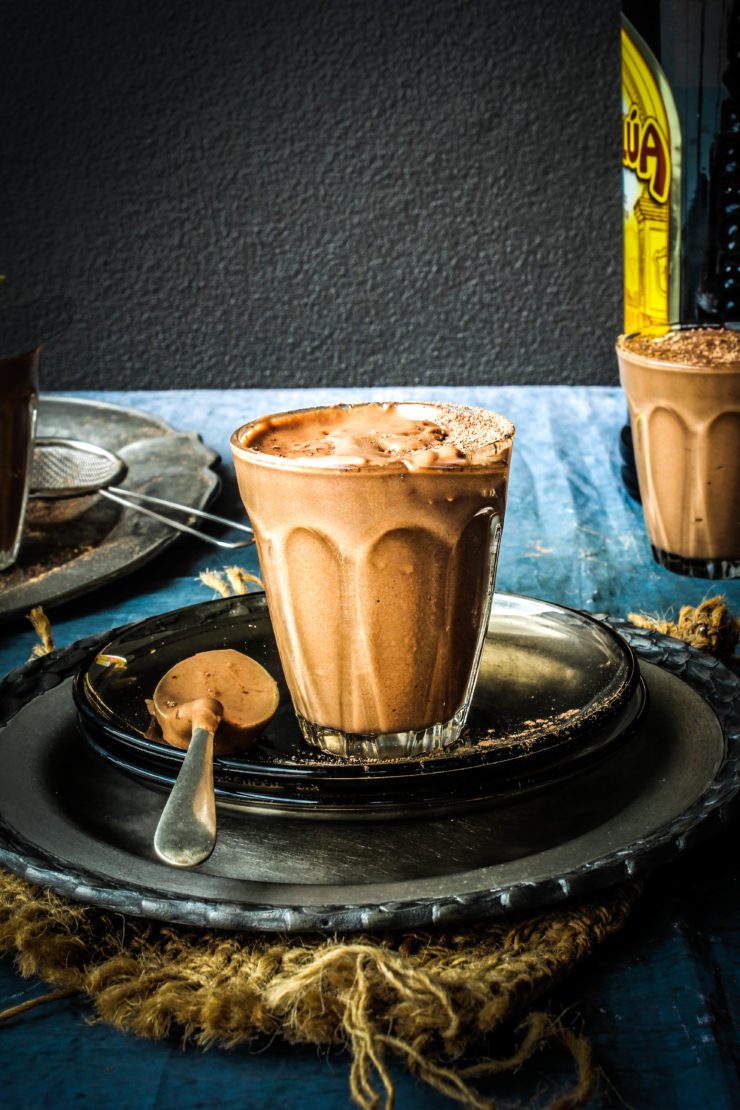 Chocolate Kahlua Mousse With Salted Caramel Sauce
Serves 4-5
11/2 cups Heavy Cream)
4 Egg Yolks
¼ Cup Sugar
150 g Dark Chocolate, roughly chopped
2 Tablespoons Kahlua (or any other coffee liqueur)
Cocoa Powder, to dust
Salted Caramel Sauce, to serve (recipe below)
Salted Caramel Sauce
50g butter
1 cup (220g) brown sugar
1 cup (250ml) cream
1 tsp sea salt
Whip up 1 cup of the heavy cream to stiff peaks and store in the refrigerator. Place the chopped dark chocolate in a large bowl. Heat the remaining 1/2 cup in a medium sized saucepan over medium-low heat. When the cream just comes to a boil, remove from heat.
Meanwhile, whisk the egg yolks, sugar and Kahlua together till light and creamy. Whisking constantly, gradually pour the warm cream into the egg yolks, 1 tbsp at a time. (We need to do this to ensure that we do not scramble the eggs with the heated cream). Return the egg-cream mixture to the pan.
Heat the mixture under a medium-low flame, whisking constantly till the mixture thickens enough to coat the back of a spoon. Remove from heat and strain it onto the bowl of chocolate. Let the bowl stand undisturbed for 10 minutes.
Stir to smoothen out the chocolate. Cool to room temperature.
When the chocolate mixture has cooled down completely add the whipped cream gradually & fold in till no white streaks appear. Pour into serving glasses. Refrigerate till set, about 4 hours or preferably overnight. Before serving, dust with cocoa powder, Drizzle with salted caramel.
To make the salted caramel sauce, combine butter, sugar and cream in a saucepan over low heat until butter melts and sugar dissolves. Bring sauce to a boil, reduce heat and cook for 5-6 minutes or until sauce thickens slightly.  Remove from heat and add the salt.