With puff pastry, I think the sky is the limit when you think of recipes. Remember my story about my fridge overload. One of the things I always stock up on is puff pastry. I stopped making my own a couple of years ago. It is not difficult to make at all but time consuming. With two little boys on tow, I would never remember to take the dough out on time after it had rested between the different stages of rolling. When I would remember, it would be too hard to roll. I would leave it on the counter and forget again. But now that I keep the rolled sheets at home, I find it really helpful to make sweet and savory food in a jiffy.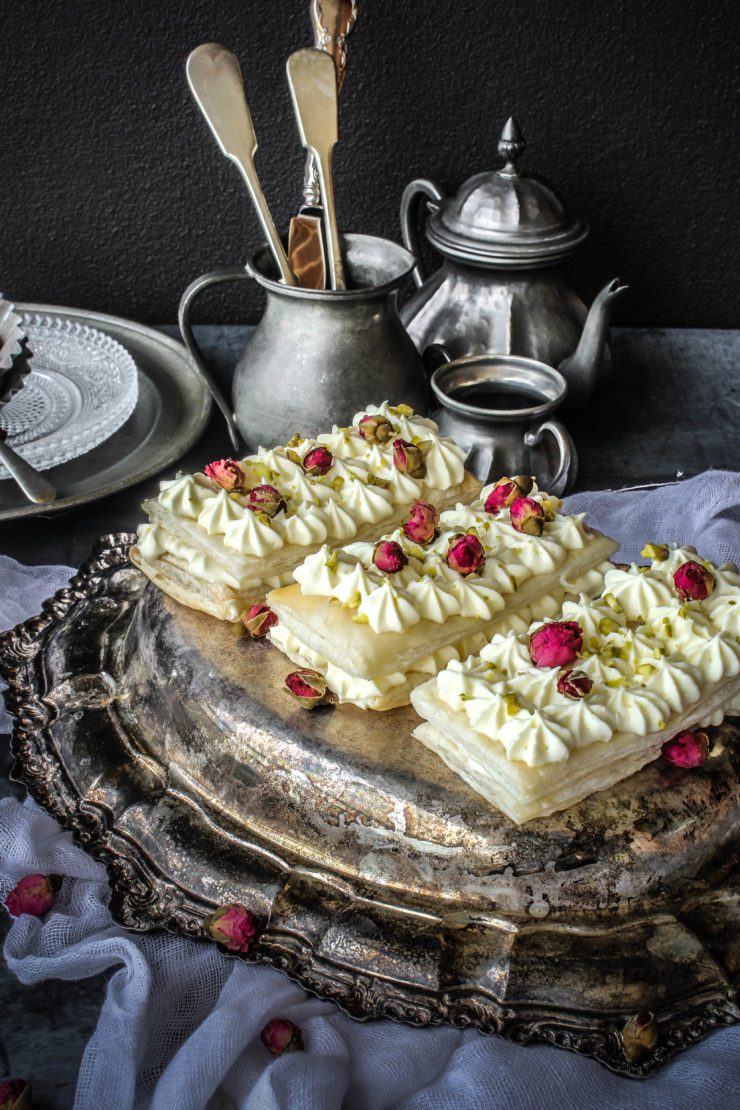 Mille feuilles are a great way of using puff pastry. Layers of pastry cream or even whipped cream and fruit sandwiched between crumbly layers of pastry. Visually, they are beautiful in their little rustic stacks and the perfect marraige of contrasting textures. Here I've use whipped cream cheese between the layers for a no-bake cheesecake kind of dessert. So basically it is a fusion of two desserts that come together in minutes. I've infused the cheesecake with rose water and tiny bit of cardamom powder and sprinkled them with with ground pistachios. You could go with vanilla, orange or even lemon if you do not have rose water at home.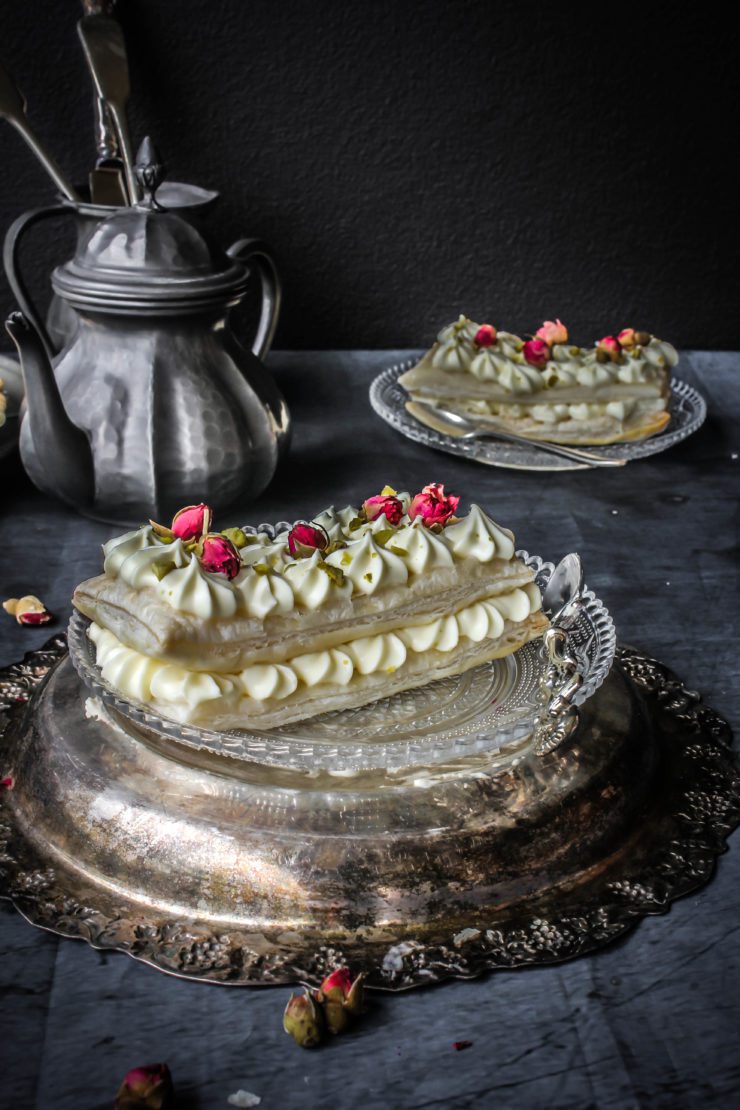 Piping the cheesecake certainly makes them look pretty but if you are not comfortable with piping, you could spread the cheesecake mixture on the layers. I would insist though that you give piping a try. A plain round tip will work nicely too or if you do not have nozzles and piping bags at home, just cut a tiny opening at one corner of a zip-lock bag and use that to pipe on the pastry layers. These mille feuilles can be stored in the fridge but is best assembled just before serving.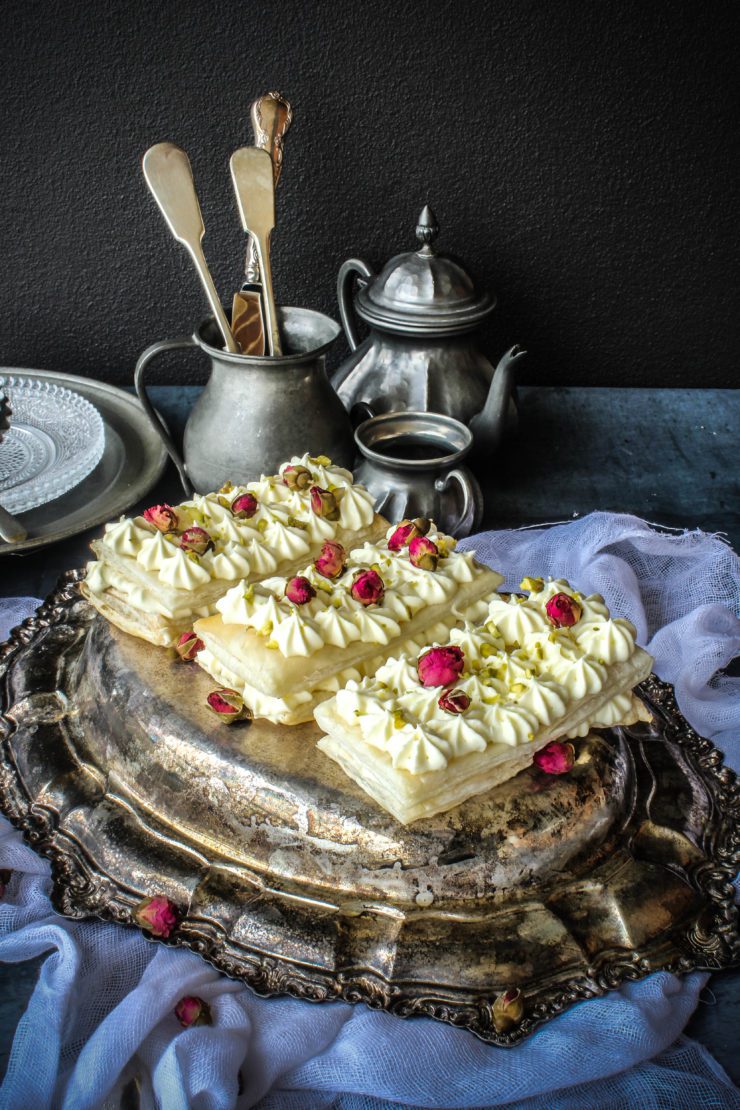 Rose And Cardamom Cheesecake Mille-feuille
Makes 4
1 sheet (25 x 25 cm) frozen ready-rolled butter puff pastry, just thawed
250 g cream cheese, room temperature
1/2 tsp vanilla extract
2/3 cup icing sugar, sifted
1/2 cup cold whipping cream or heavy cream
1 tbsp rose water (or 1 tsp rose essence)
1/2 tsp cardamom powder
1 handful pistachios, skinned and finely chopped
Line a baking tray with non-stick baking paper. Using a pizza cutter or knife, cut the pastry sheet vertically and horizontally. You will have four squares. Cut each square equally to get 8 rectangles.
Place the pastry rectangles on the lined tray. Top them with another sheet of baking paper and another baking tray. Bake in oven for 12-15 minutes. Turn the trays over and bake for a further 5-10 minutes or until the pastry is crisp and golden. Set aside for 30 minutes to cool completely.
Meanwhile, make the cheesecake filling. In the bowl of your electric mixer, or with a hand mixer, beat the cream cheese  until smooth. Add the icing sugar and beat until smooth. Gradually add the heavy cream, rose water and cardamom powder and whip until the frosting is thick enough to pipe. In case you are using a brand of heavy cream that does not whip easily, then whip the cream separately to stiff peaks and fold it gradually into the cream cheese mixture. Refrigerate till needed.
To assemble, pipe the cheesecake filling onto one pastry rectangle. Sandwich with another pastry rectangle. Pipe filling again. Sprinkle with pistachios. Decorate with edible rosebuds.