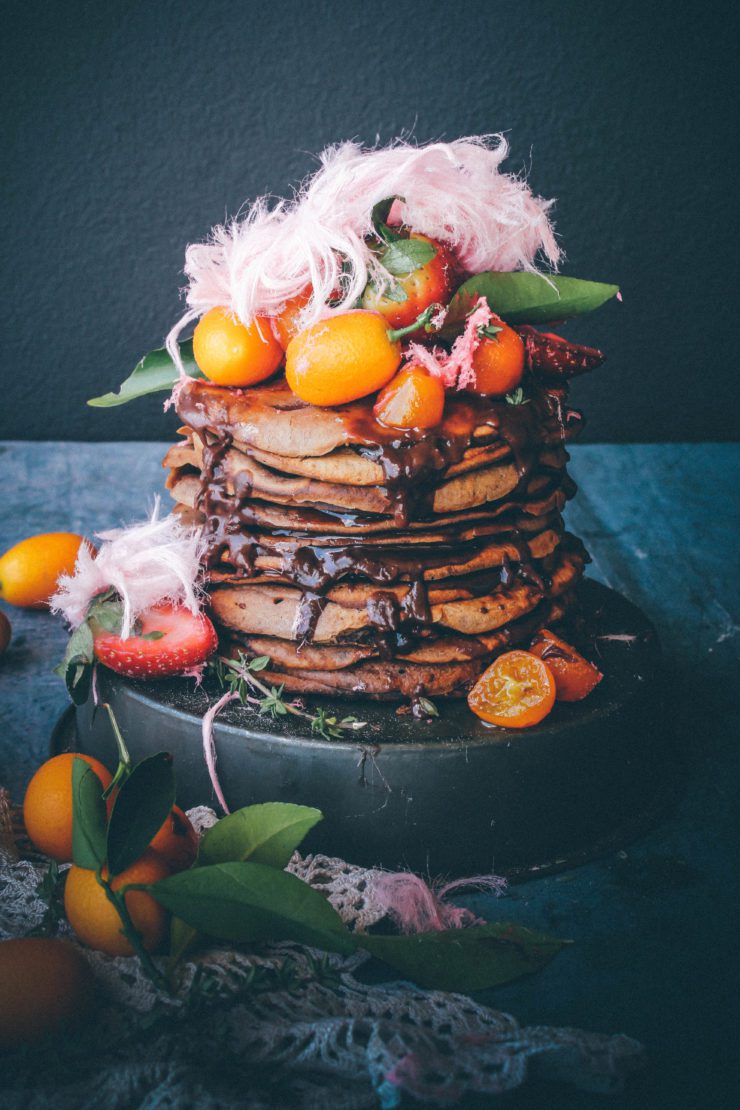 Today I could hear the birds chirping in the distance as I sat down to eat breakfast alone. School has reopened. The house is quiet after 3 weeks. I noticed that I was easily distracted by the noise outside and kept looking out. Breakfast was oatmeal with nuts and apples. This was in stark contrast to the fancy, big and colourful breakfasts I was making and eating along with my little companions. I have to admit I am already missing the buzz and chaos of the last few weeks.  The sound of things constantly being moved around…feet running at record speed..shrieking…laughter and of course the volley of questions.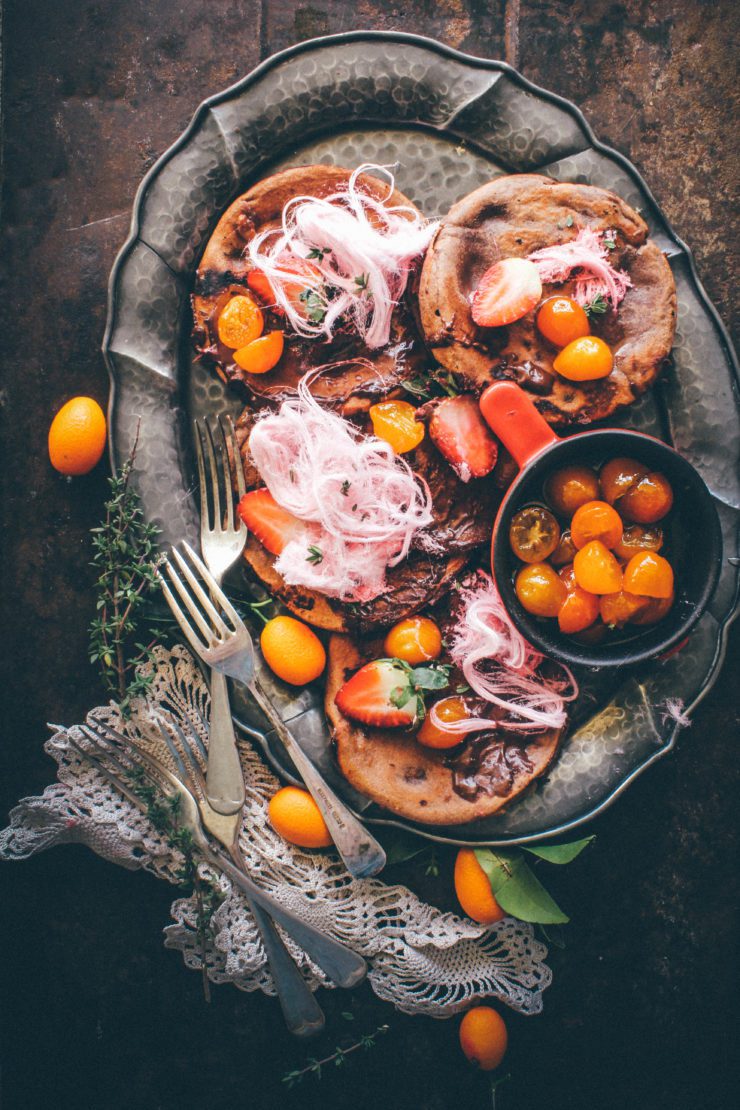 Talking about breakfast, I was armed with a whole lot of recipes that I wanted to try out. So there were pancakes, crepes, french toasts, fritters and muffins coming out of my kitchen with all kinds of toppings and fillings. I had run out flour twice which is when I realized that.we were eating more than usual. I've managed to photograph a few that I'll be sharing in the next few posts. During our visit to the citrus orchard, we brought back a large box of kumquats. I poached the entire lot in thyme infused sugar syrup and stored them in the refrigerator. It makes for a beautiful, juicy citrus flavoured topping on top of yoghurt, panna cotta, vanilla ice cream and chocolate desserts. It tastes almost like chunky orange marmalade, actually better. Yes, that garnish on top is cotton candy/fairy floss. I was excited that it generated quite a bit of curiosity as soon as I posted the photos on Instagram. Well, there's a child in each of us and I believe in saying 'hello' to this personality every once in a while:-)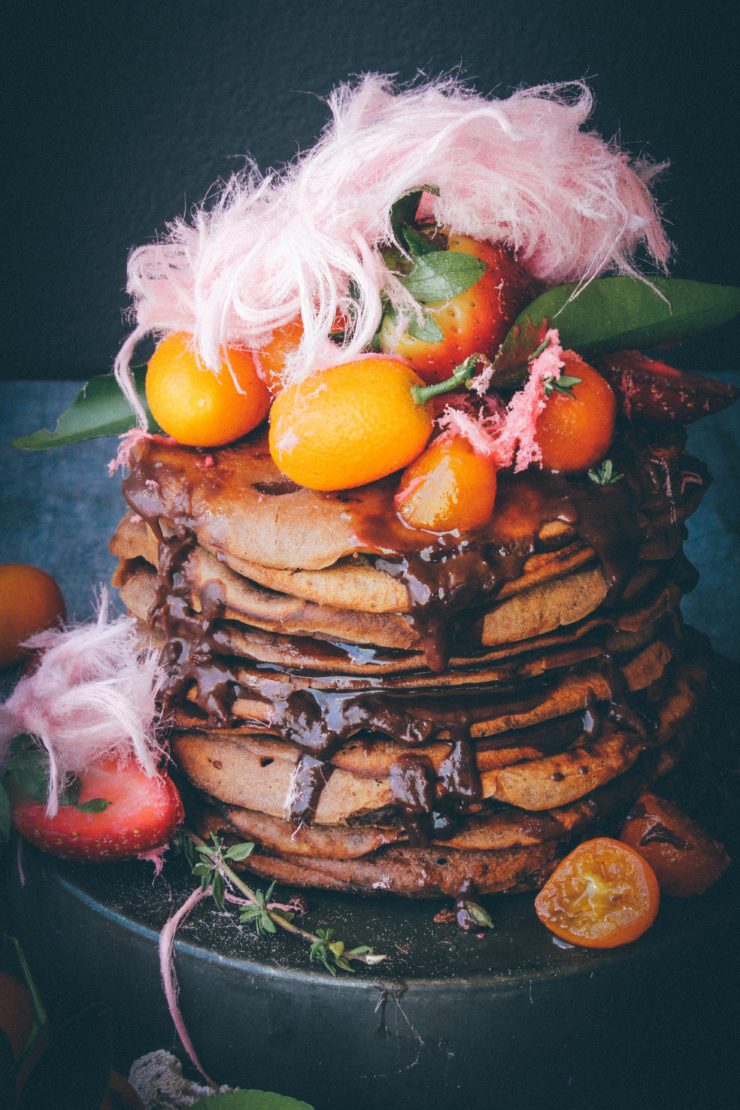 I used this recipe by Bakerella to make the double chocolate pancakes. They were fudgy, gooey and very chocolatey. The only change I made was that I added extra 2 tbsps of milk to the batter to thin it out as it was very thick.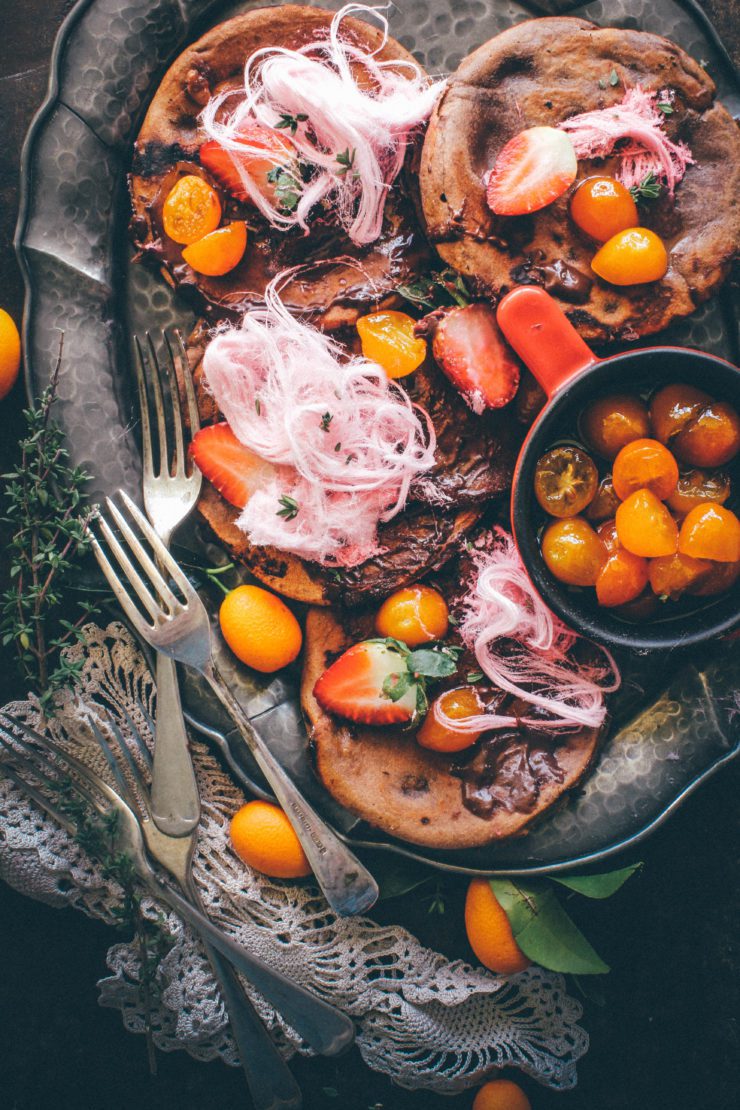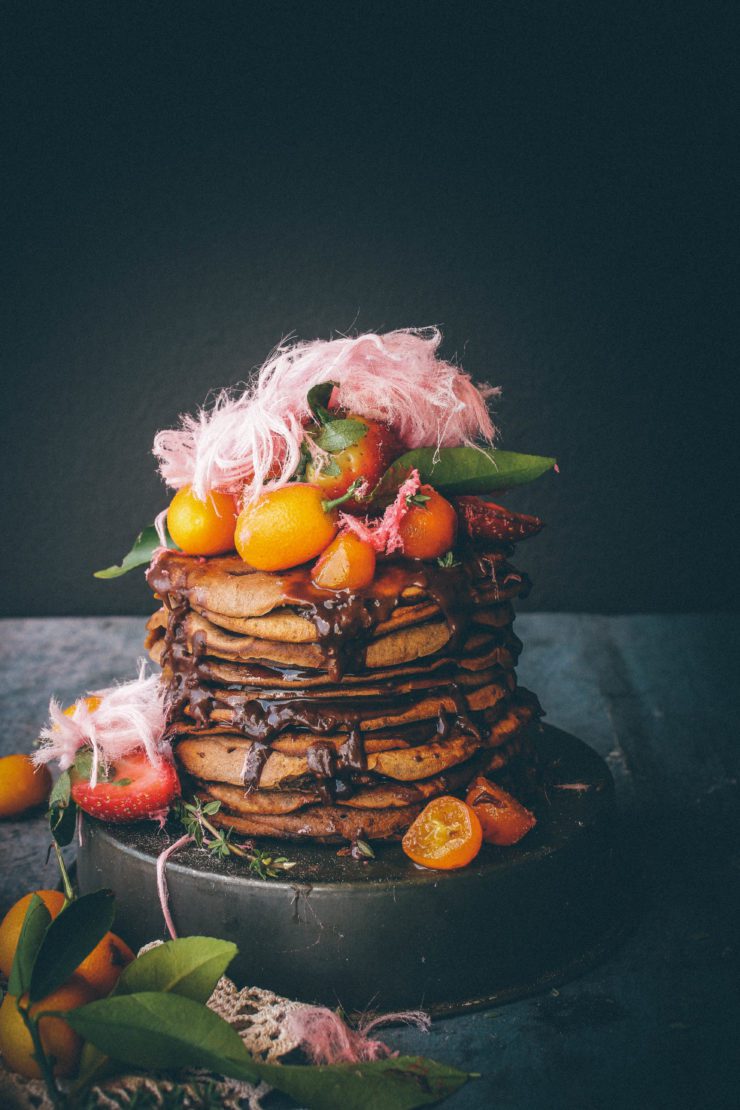 Double Chocolate Pancakes With Poached Kumquats
1⅓ cup all-purpose flour
3 tbsp. unsweetened cocoa powder
2 tsp. baking powder
¼ cup sugar
¼ tsp. salt
3 tbsp. unsalted butter, melted
1 tsp. vanilla
1¼ cup milk
1 egg
½ cup chocolate chips
For the chocolate sauce
¾ cup heavy whipping cream
1 tsp. butter
1 cup dark chocolate, roughly chopped
For the poached kumquats
1 cup kumquats, halved and seeded
1 cup sugar
3/4 cup water
1 small sprig thyme (optional)
In a medium bowl, whisk dry ingredients together. Add wet ingredients and whisk until combined. The batter will be lumpy. Stir in the chocolate chips.
Heat a frying pan ( I used a small one) over medium heat and lightly grease surface with butter. Use a ¼-cup measuring cup to scoop batter onto griddle to ensure similar size pancakes. Cook until pancakes have bubbles on the top, then flip them over and cook for an additional minute. Repeat with the remaining batter.
To make the chocolate sauce, heat heavy cream and butter in a small saucepan until just on the cusp of boiling, stirring frequently. Remove from heat and pour over chopped dark chocolate in a small bowl. Let rest for a minute, then stir until completely combined. Drizzle over pancakes. (Note: You can make the chocolate sauce first so it will thicken a bit while you prepare the pancakes.)
To make the poached kumquats, Place the kumquats, sugar and water in medium saucepan over medium high heat and slowly bring to a boil, stirring to dissolve the sugar. Turn the heat down and simmer for about 10 minutes, covered, until the kumquats are translucent. Remove from the heat and cool to room temperature.
To serve, place the pancakes on serving plates. Drizzle with chocolate sauce. Top with poached kumquats, berries or seasonal fruits. Decorate with fairy floss.