3 easy and delicious recipes to use up leftover ricotta cheese, both sweet and savory. Ricotta fritters, baked ricotta and ricotta doughnuts.
Every time I do a fridge clean, I have the same problem. Leftover dairy. A tub of half finished Ricotta or Mascarpone or sour cream or a quarter filled carton of buttermilk will be lying in some corner of my fridge. Most often, it would have been bought for a recipe and the unfinished tub will go back into the fridge until I remember that it is nearing expiry date or at times when it is already too late. I hate wastage and throwing away something I really love to cook with makes me rethink my organisational skills.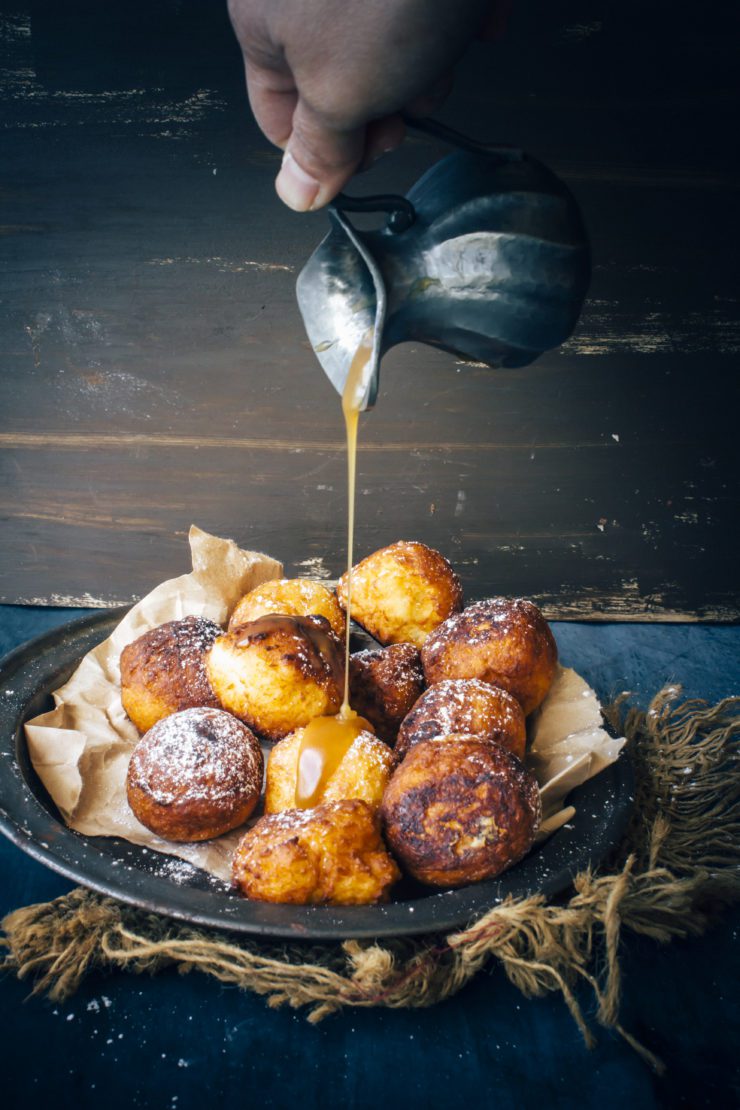 Ricotta is a soft cheese so it has shorter shelf life than many other cheeses. It's mild creamy texture makes it ideal for using it as fillings with different kinds of pastry, to thicken up sauces, to create lighter versions of cheesecake and so on. Since we are dealing with left over ricotta here, we will not get into complicated recipes. The objective is to finish it up using recipes that are easy, can be scaled down and we can work with regular pantry ingredients. I have been facing a slightly bigger problem though. These recipes are my favourite. At home we love what ricotta can do on busy days so we are eating these all the time. I have actually photographed one of them months ago and wondered if anybody would have the same problem as me. Recently, I served baked ricotta to a friend on a gluten free diet and she kept asking me for the recipe. Recipe..? It is just mix and stir. So I decided to put them all here.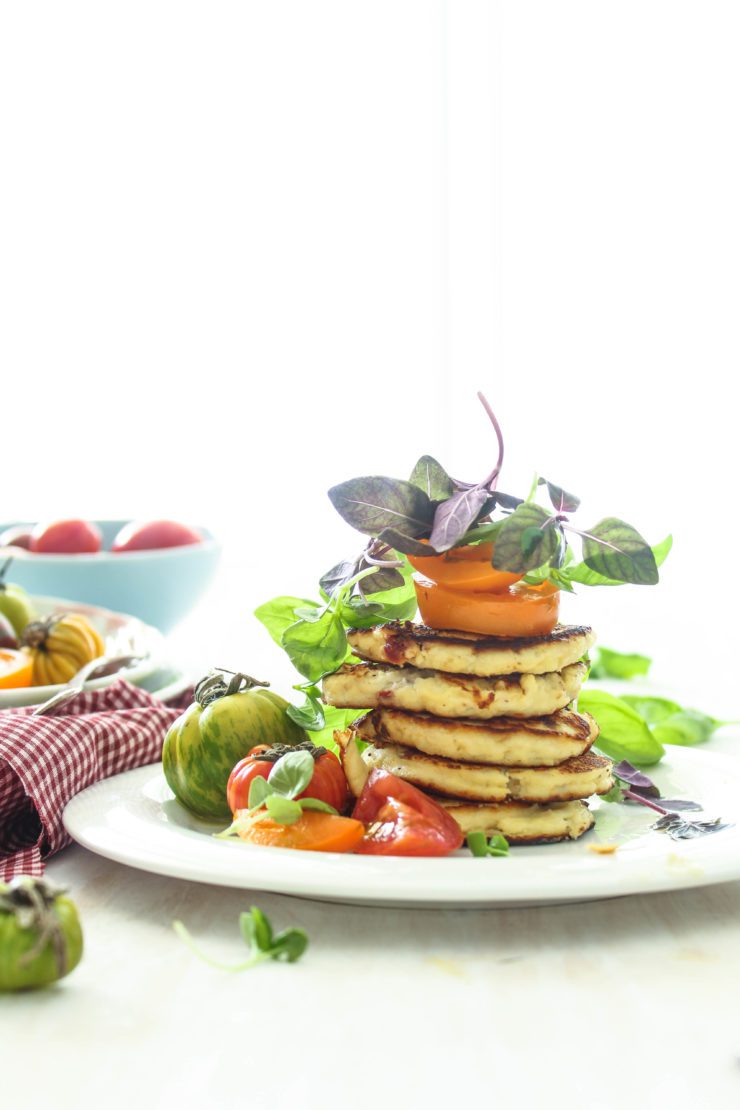 Whether you are looking for an indulgent recipe, or a healthy one..I've got you covered! Most of Sugar et al. readers have a sweet tooth so we will start with sweet. I also have similar recipes with sour cream and buttermilk which I will share soon.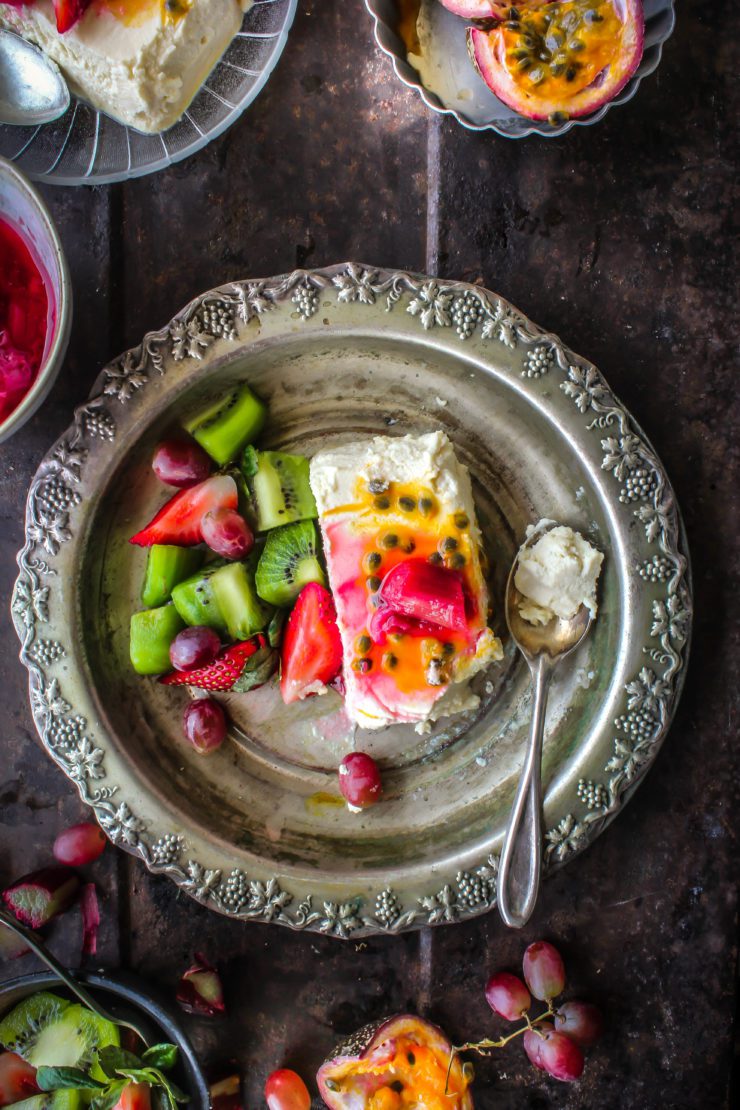 Chai Spiced Ricotta Doughnuts With Salted Caramel Sauce: Easy peasy comfort food. Use whichever spice you have at home if Chai is not available at hand. I have tried all kinds of combinations and it really tastes good nevertheless. I use this salted caramel recipe a lot of times because it is super easy. No burning sugar and no need for thermometer.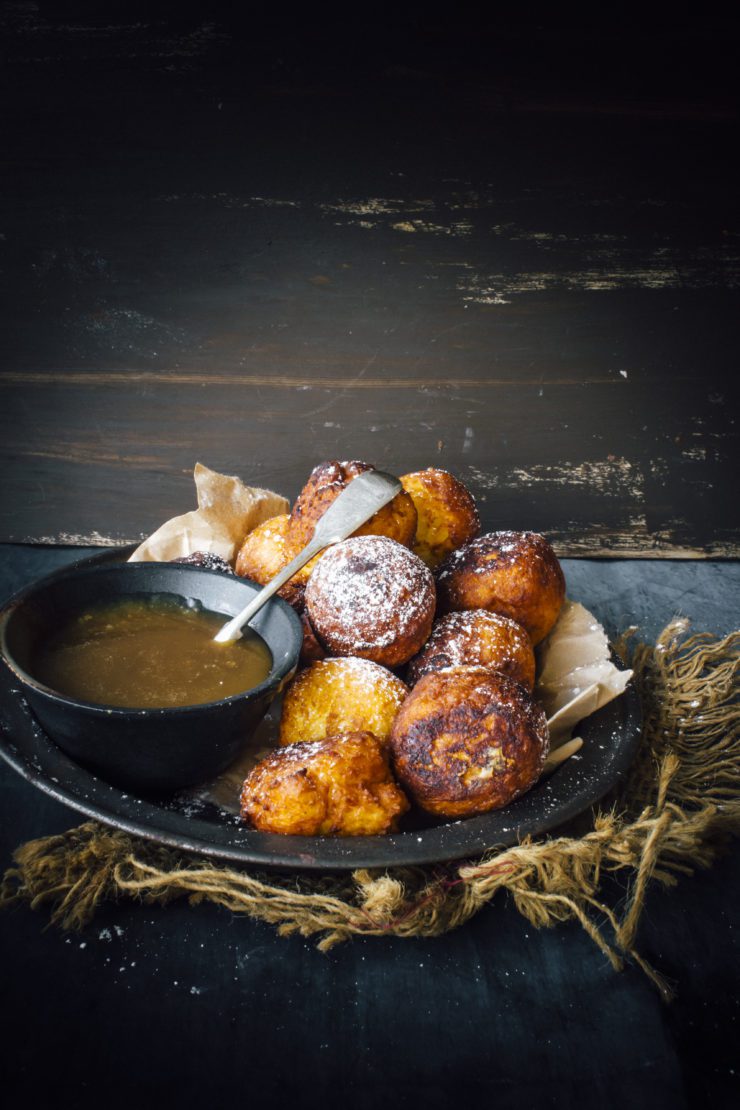 Chai Spiced Ricotta Doughnuts With Salted Caramel Sauce (makes about 16 medium sized ones)
1 cup smooth ricotta cheese
1/4 cup castor sugar
1 egg, lighlty beaten
1 cup self raising flour
3 tbsp milk,
1 tsp chai spice (if you don't have chai spice, powdered cinnamon or ginger or cardamom will work fine as well)
1 tsp grated orange/lemon zest
vegetable oil for deep frying
icing sugar to dust
Salted Caramel Sauce
50 g butter
1 cup (220g) brown sugar
1 cup (250ml) cream
1 tsp vanilla extract
1/2 tsp salt
To make the doughnuts, Mix all the ingredients together in a bowl. If you find the consistency too thin, add a tbsp of flour.
Heat oil a heavy bottomed frying pan over medium heat With wet hands, rolls out balls of about 1 heaped tbsp of batter. Once the oil is hot, deep fry the balls until golden on all sides and cooked through. Keep turning them for an even browning. If you find the batter sticky, dropping them directly with a spoon into the oil will also do.
Drain on paper towels. Cool slightly. Dust with icing sugar. Serve warm with salted caramel sauce.
To make the salted caramel, combine butter, sugar, cream, vanilla extract and salt in a saucepan over low heat until butter melts and sugar dissolves. Bring sauce to a boil, reduce heat and cook for 5-6 minutes or until sauce thickens slightly.
Baked Ricotta With Seasonal Fruits: This is a perfect dessert when you want to have something light or on a gluten free diet. There are two ways to bake the ricotta, in a water bath (like a creme brulee) or directly in the oven. I prefer the first method though it involves an additional baking tray as the final dish is much firmer, set and creamier in texture. Serve it with fresh fruits or dessert sauces. I've used poached rhubarb, passion fruit, grapes, kiwi fruit and strawberries. I know, colour fanatic!  Give this recipe a try…you'll be hooked forever.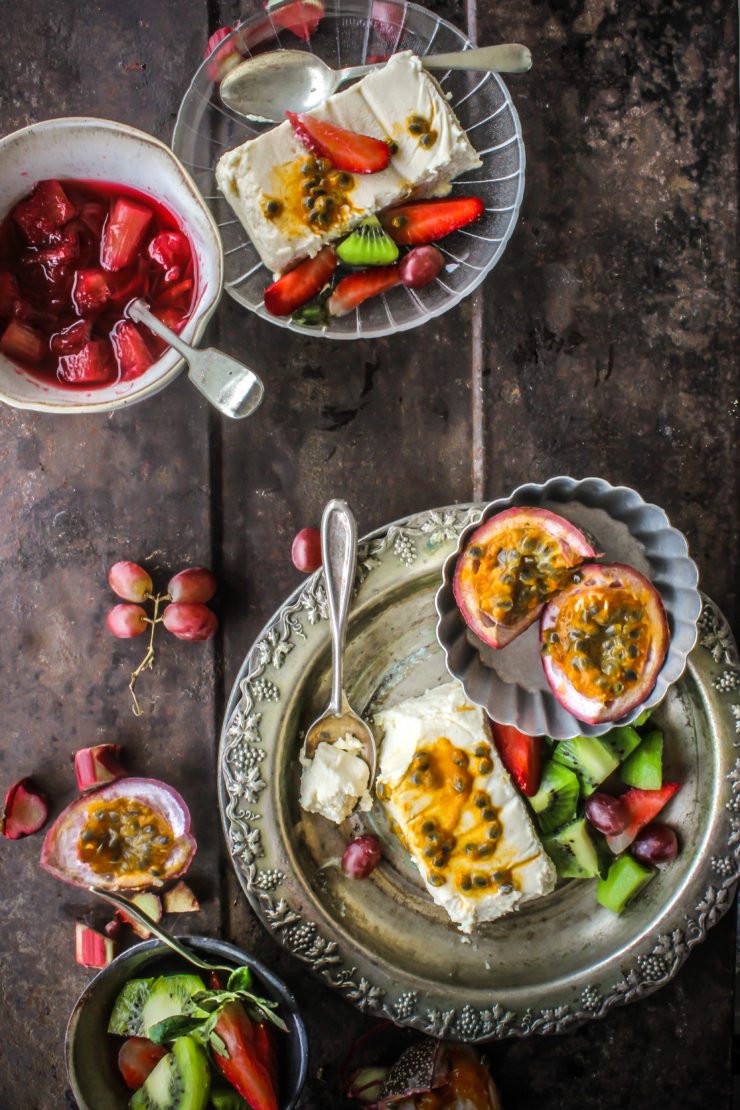 Baked Ricotta With Seasonal Fruits (Serves 2-3)
1 cup smooth ricotta
1/4 cup castor sugar
2 tbsp thickened cream
1 tsp grated orange zest
1 tsp vanilla extract
To make baked ricotta, preheat your oven to 170 degrees C (150 degrees C for fan forced). Grease two ramekins/baking molds with melted butter. Line the bases with a small piece of baking paper (need not be perfect).
Place the ricotta, sugar, cream, eggs, orange zest and vanilla extract in a large bowl and mix well until smooth. Pour into the prepared pans and smooth the surface with the back of a spoon.
Place pans in a deep baking dish. Pour boiling water into dish to come halfway up side of the pans. Bake for 30-40 minutes or until firm. Set aside to cool, then refrigerate for 1 hour.
Ricotta Fritters: These make a great breakfast or snack option. Serve them with a fresh salad, smoked salmon, bacon or even eggs. I have served them with an heirloom tomato salad here. The fritters tend to stick to the pan so make sure the batter is not runny, the pan is greased well.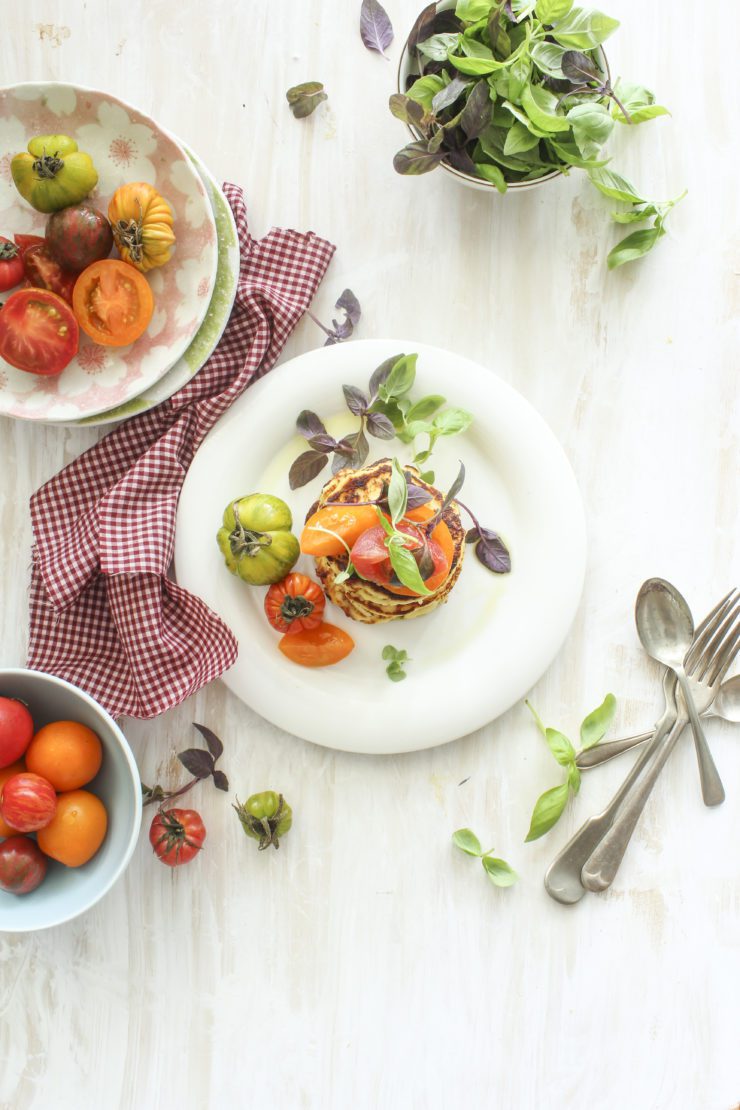 Ricotta Fritters (Serves 2)
250 g ricotta cheese
1 egg
1/4 cup sun-dried tomatoes, finely chopped
1 clove garlic, crushed
1/4 cup plain flour (more if batter is runny)
2 tbsp vegetable oil, for frying
Place ricotta, tomatoes, basil, garlic and eggs in a bowl. Mix until well combined. Stir in flour. Season with salt and pepper.
Heat 1 tbsp of the oil in a large, non-stick frying pan over medium heat. Using 1/4 cup of mixture per fritter, spoon mixture, 3 fritters at a time, into hot oil. Cook for 3 minutes each side or until golden and firm to touch in the centre, adding remaining oil as required. Transfer to a paper towel before serving. Serve warm with salad.