When planning meals in the last few years, I realize that my attention to side dishes have gone from little to none. I am mostly trying to include my 5 serves of vegetables and fruits in my main dishes. Most of the times, that would be a salad. My mind is somewhat distracted in thinking of sweet combinations and hence between main course and dessert, there is very little room for appetizers and side dishes. Yes, in a past life (before kids), my meals were perfect, my planning was immaculate but today my imagination is restricted to kids lunchboxes and desserts. I am on a mission lately to look for side dishes that are big on flavour, nutritious and most importantly, require little or no effort. Roasted vegetables is one of them. I like the way pumpkin gets a golden and charred appearance on the outside while the inside is all soft and mushy.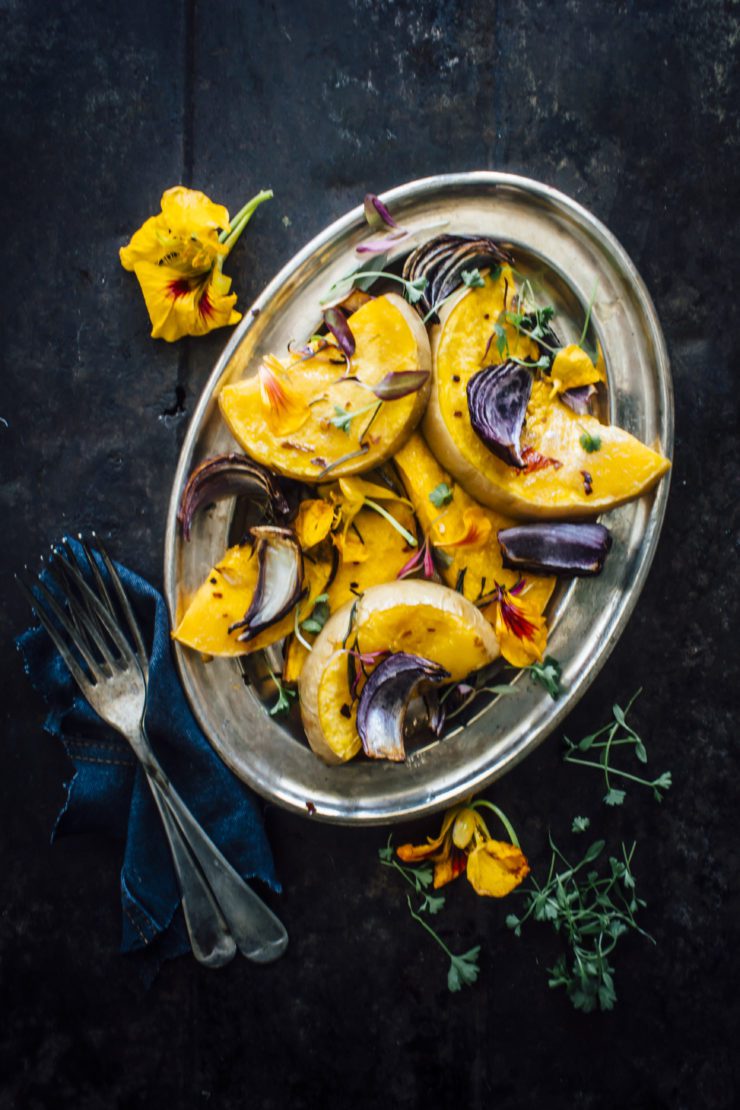 The glaze is a quick and simple maple-mustard glaze. Garlic is always great on roasted vegetables. Onions pump in more flavour and taste great themselves when charred. Since, there is hardly any chopping/cubing required…I find that this is becoming a go-to dish for me on weekdays. I usually buy butternut pumpkin as it's quite versatile to cook with but I am pretty sure that the recipe can be adapted to use other types of pumpkin as well. This dish is a great option for people on a gluten free diet.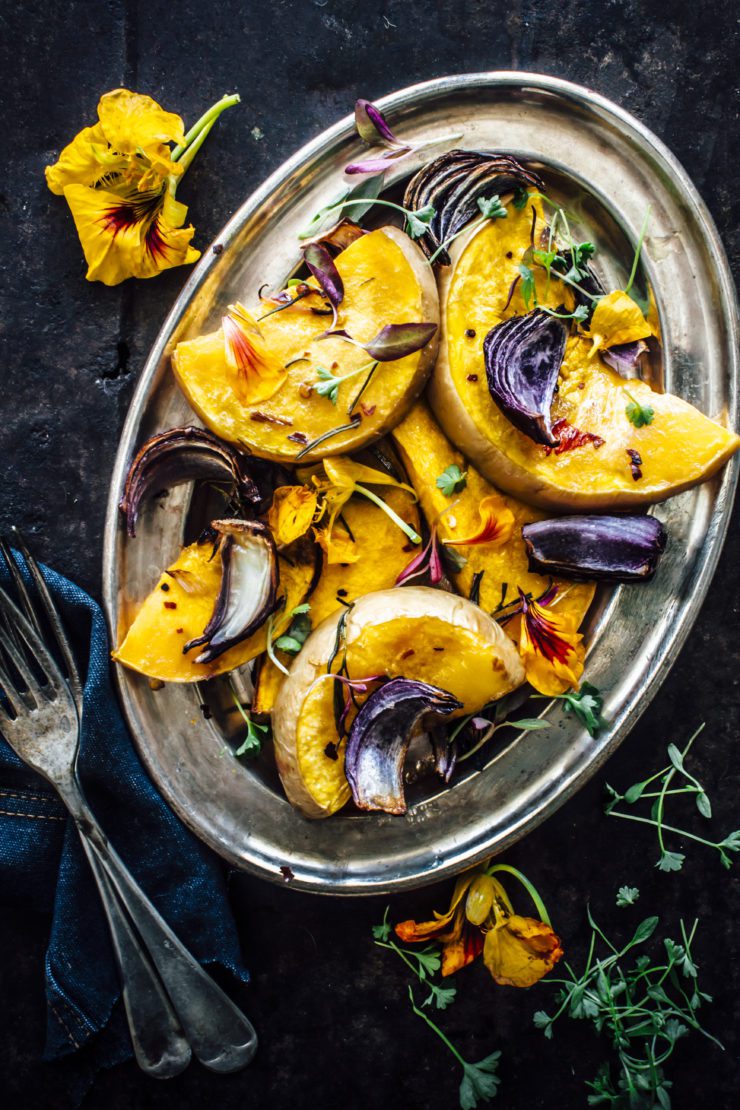 Roasted Garlic-Maple-Mustard Pumpkin 
Serves 3
1/2 butternut squash
1 red onion, peeled, quartered
2 cloves garlic, finely chopped
1 tbsp oilve oil
2 tbsp maple syrup
1 tbsp wholegrain mustard
salt and pepper, to season
Micro-parsley (or finely chopped parsley), to serve
Edible Nasturtium flowers (optional)
Preheat oven to 180 degrees C (160 degrees C for fan forced). Scoop out and discard the seeds from the butternut pumpkin. Slice them into 1 inch pieces (leave skin on).
In a large roasting pan, arrange the pumpkin slices and onions in a single layer. Sprinkle the chopped garlic over the pumpkin. Combine olive oil, maple syrup and mustard in a bowl and add to the pan. Season. Toss to coat evenly.
Bake for 40-50 minutes or until pumpkin is tender. Plate and stir through micro-parsley (or finely chopped parsley) just before serving. Garnish with edible flowers, if using.