Lavender cake minis made with a dark chocolate base a super easy lavender glaze that looks and tastes delicious. Makes a pretty gift or an impressive wedding dessert table item.
I can't describe in words what draws me to Lavender but I am simply smitten by it. It could be the colour (I do have my fair share of purple photos on the blog:-)) or the scent  or just the way you could wrap your fingers around the stalks and bring them close to your nose and experience a moment in paradise. I met a wonderful lady called Mrs Lavender  at the children's school library the other day and I instantly liked her. She had the loveliest smile and knew the books by heart. So maybe I like the name too. La-ven-der! Anyway, I dream of growing them..heaps of them in my own garden soon.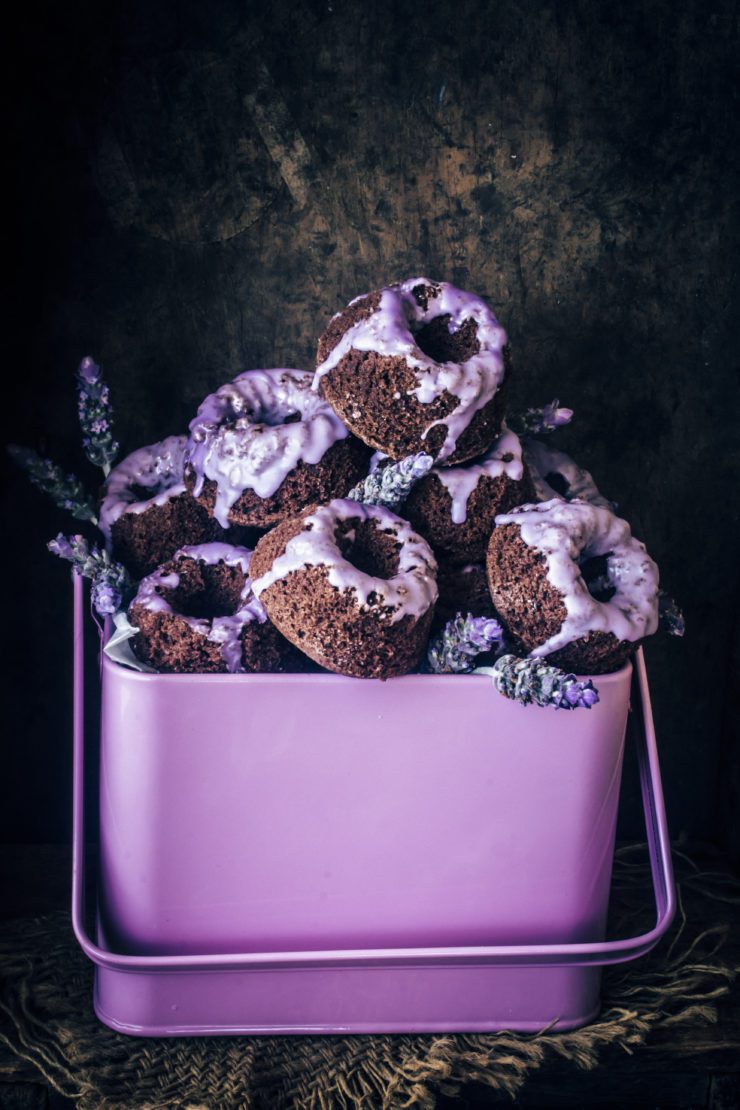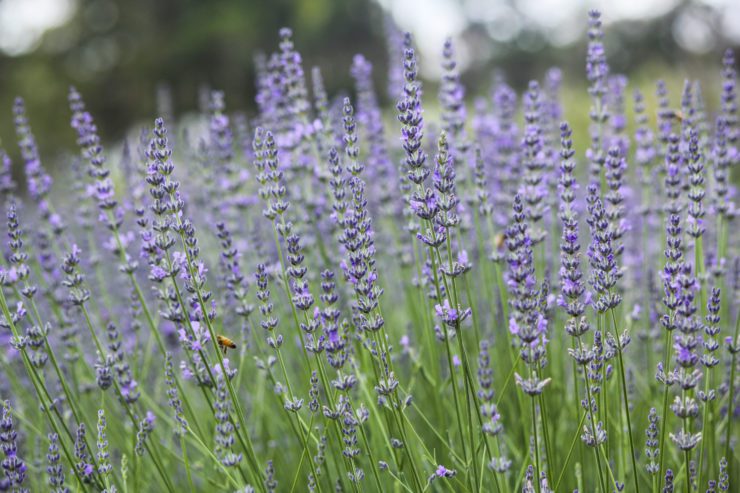 2 years ago when I had just started blogging, I would have a list of fresh produce farms to visit on the weekends. I enjoyed it so much that I would kook forward to Sundays and our outings so much. A picnic basket, camera and we would set out. Sydney was new to me and I was falling in love with every inch of it. I had a berry farm in mind for weeks but on the day we were hoping to go picking, it poured and visits were cancelled. We ended up visiting a Lavender farm. What an amazing day it was! The owner had celebrated her 75th birthday the previous day and she had a few of her best friends over. There were no other visitors that day due to bad weather and we had the fields and the beautiful ladies to ourselves. My little boys enjoyed a tractor ride through the dreamy fields and we gorged on baked treats the ladies had prepared. The pride and passion I sensed in the owner's voice was powerful. The stories were touching. To own something so beautiful, can only be a blessing. I have to go back soon, I keep telling myself.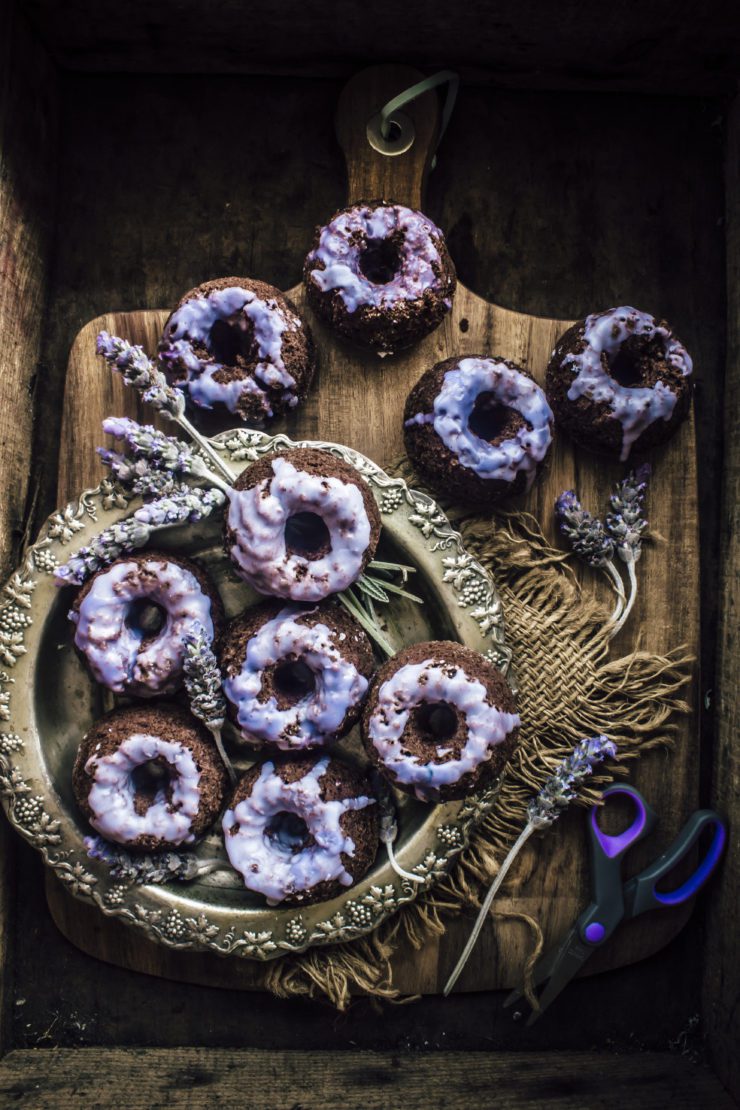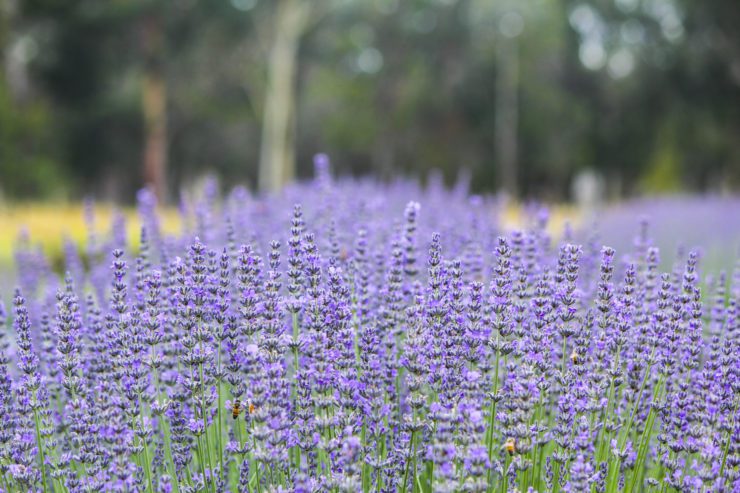 Although there are quite a few varieties of fresh lavender that are edible, I prefer to use culinary lavender because it is ready for use and can be stored for a long time. The lavender in the glaze is mild and pairs well with dark chocolate. I used  a chocolate cupcake recipe to make the cakes. If you are using a mini bundt cake pan like mine, do make sure you grease it well or the lavender cake minis might stick to the bottom and sides. I had a few of them sticking to the pan but the glaze covered up the flaws.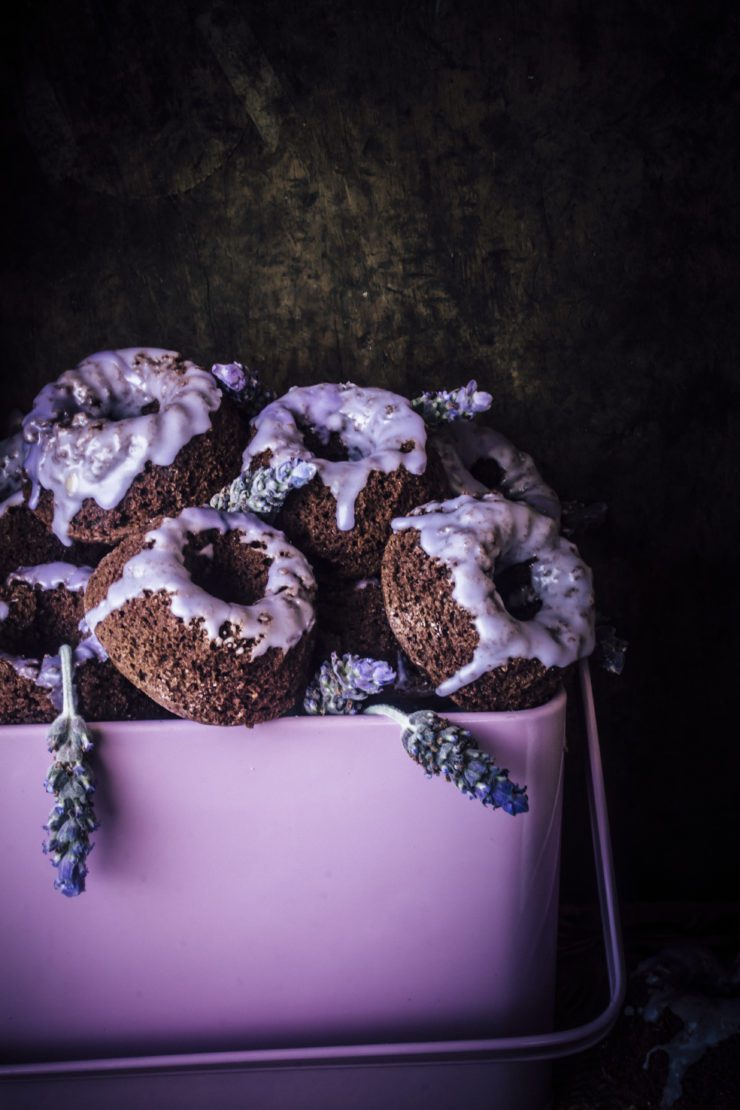 Lavender Cake Minis With Chocolate Base And Lavender Glaze
Makes 12-14
Lavender Glaze
1 tsp dried culinary lavender
1/3 cup milk
1 cup icing sugar
1-2 drops violet food color (optional)
Preheat oven to 160°C. Grease a 12 hole mini bundt pan generously. Alternately you could use a muffin pan.
Combine the chocolate and water in a small saucepan over low heat. Cook, stirring, for 5 minutes or until chocolate melts and mixture is smooth. Remove from heat and set aside to coo
Use an electric mixer to beat the butter and sugar until pale and creamy. Add the eggs, one at a time, beating well between each addition, until just combined. Add the flours and cocoa powder and stir until just combined. Add the melted chocolate mixture and stir to combine. Spoon evenly among the greased pans. Bake in preheated oven for 15-20 minutes or until a skewer inserted in the centre comes out clean. Remove from oven and transfer to a wire rack to cool. Once cooled, dip the tops of the cakes into the glaze and leave to set. Alternately, you can use a spoon to drizzle the glaze the over the tops of the cakes.
To make the glaze, gently heat the milk and culinary lavender in a small saucepan. As soon as it begins to boil, remove from heat and leave aside. Let the mixture steep for 15 minutes, then strain. Add the icing sugar and mix until smooth. Add the food color if using and blend into the glaze.