I notice a connection between tarts and Australia Day in my house. Whether simple or complicated, I seem to be making a tart/tartlets every year on this holiday. I think its because tarts are a great way of serving and eating summer fruits. Last year I made an Ice Cream Tart with an Anzac crust and was pleased with myself for coming up with a make-ahead dessert that took away a lot of stress from my lunch menu. This year I wasn't as planned or organised after returning from my holiday so I decided to keep things really simple and make these Chocolate cream tartlets.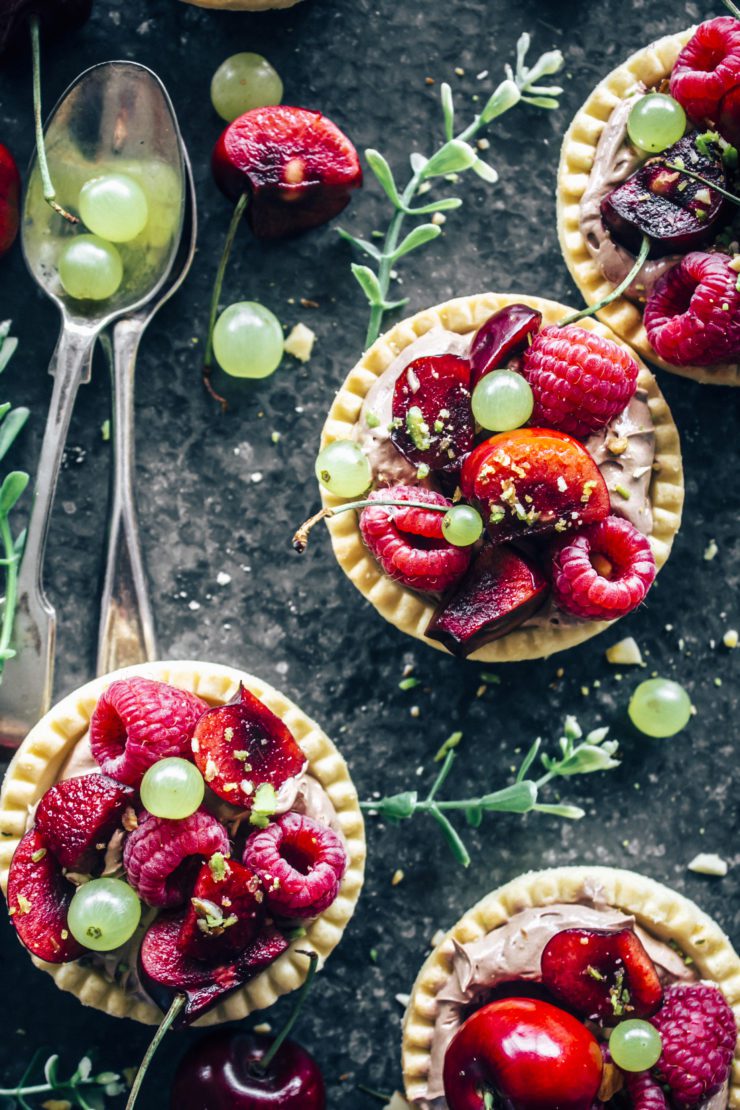 Using store bought tart shells, I filled them up with a chocolate whipped cream first thing in the morning. They were in the refrigerator until lunch time and I added cherries and raspberries just before serving along with a sprinkling of finely chopped almonds and pistachios. I was surprised that they went down a treat. To be honest I was feeling guilty and expecting everyone to be disappointed that there wasn't something more exotic on the table.  There were cupcakes too that I'll post next but then again cupcakes are not considered dessert at my place.
These tartlets are not just simple to put together, but also egg free and no bake.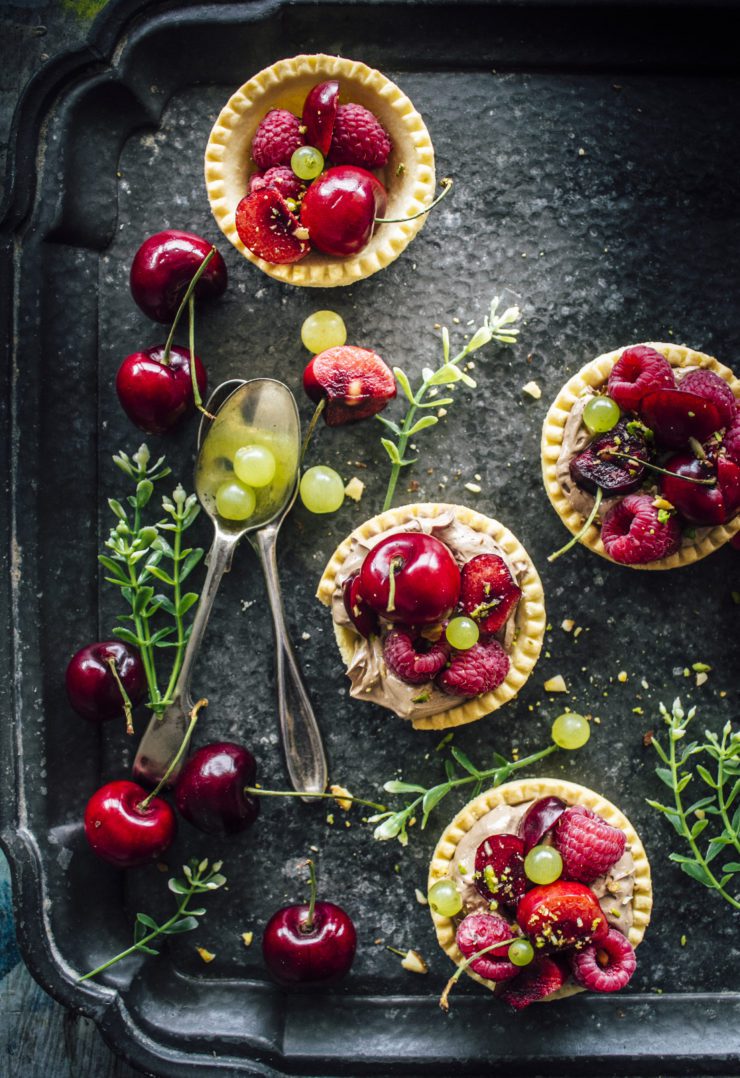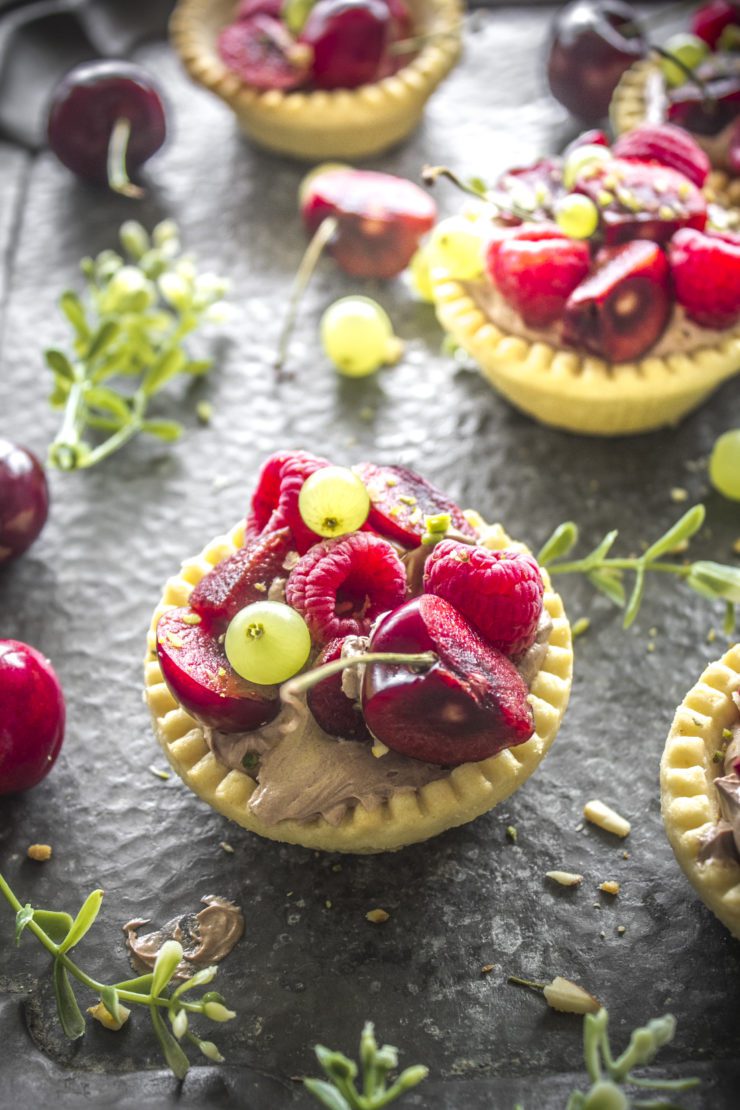 Well, I love Australia Day for many reasons! This is a country I have been in love with since the day I stepped foot into it. It is also the first holiday of the year and right in the middle of a spectacular Australian Summer. In recent times, this day stands as a reminder that it's time to get ready for school, holidays are officially over and the little munchkins will be on their way to another New Year filled with exciting adventures. So school reopened today! Yay…I have the house to myself…yet this empty feeling.
Will I ever outgrow this feeling in the years to come…I wonder!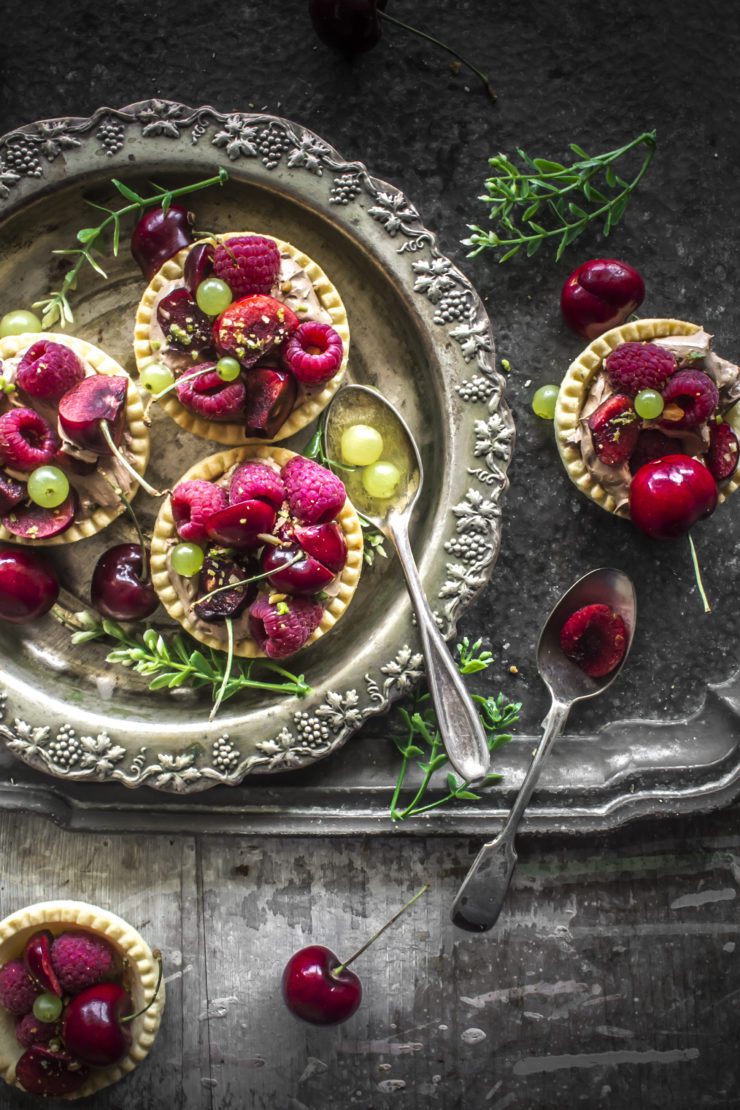 Chocolate Cream Tartlets (chocolate cream adapted from Joy of Baking)
Serves 6
6 small tart shells (store bought)
1/2 teaspoon vanilla extract
3 – 4 tablespoons castor sugar (or as per taste)
2 tablespoons unsweetened cocoa powder (I used Dutch processed)
1 cup cold whipping cream
fresh raspberries, cherries, grapes or other fruits
finely sliced pistachios and almonds, to dust
Place your mixing bowl and wire whisk in the freezer for about 15-30 minutes. Place the vanilla extract, 3 tablespoons of sugar, and cocoa powder in the cold bowl. Stir in about 2 tablespoons of the cream to form a thick paste (this will dissolve the cocoa powder).
Then add the rest of the cream and beat just until stiff peaks form. If not using immediately, cover and refrigerate. Makes about 2 cups (480 ml) whipped cream.
Fill up the tart shells by using a spoon or  by piping the cream into it. Store in the fridge until ready to serve. Serve with berries, cherries and stone fruits. Sprinkle with nuts.