The weather in Sydney has little to do with soup at the moment. It certainly has a lot to do with strawberries.They are in abundance and I thought it was time I get a little creative with them. I have to admit, I am a bit tired of eating them raw or with breakfast, dessert and drinks. I've made enough frozen treats. Cold soups have never been my thing. So why not savory..a warm strawberry soup, I told myself! I had a jar of roasted red peppers at home and the combo paired well in my mind. Something new! Something delicious!  And you really can't go too wrong with them.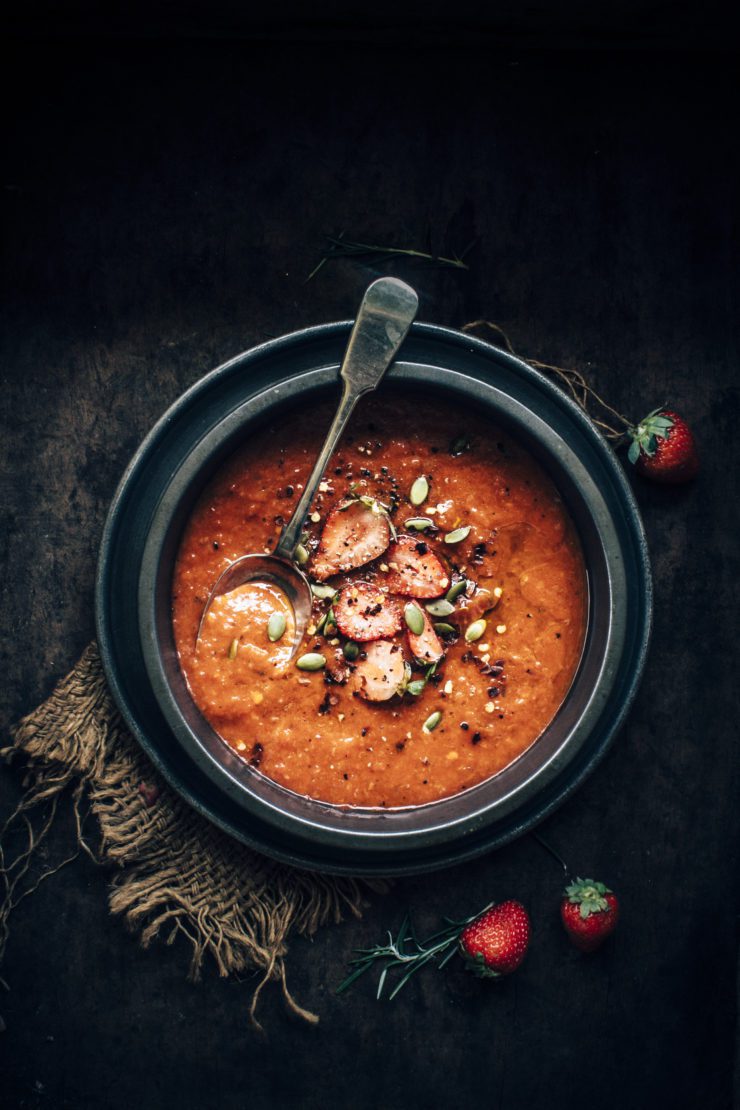 Taste wise, this is similar to a tomato soup which is acidic and sweet at the same time. There are bags of flavour in this soup that I did not want to dilute by adding cream or milk. If you like  a creamy soup, by all means go ahead and add coconut milk or fresh cream. A hint of balsamic vinegar gives it depth and honey completes the balance. What stands out is that you can taste or smell or feel the presence of the strawberries but they are not overpowering at all. Finally, it's a delicious soup, looks dainty but impressive enough to hold your guests attention and curiosity.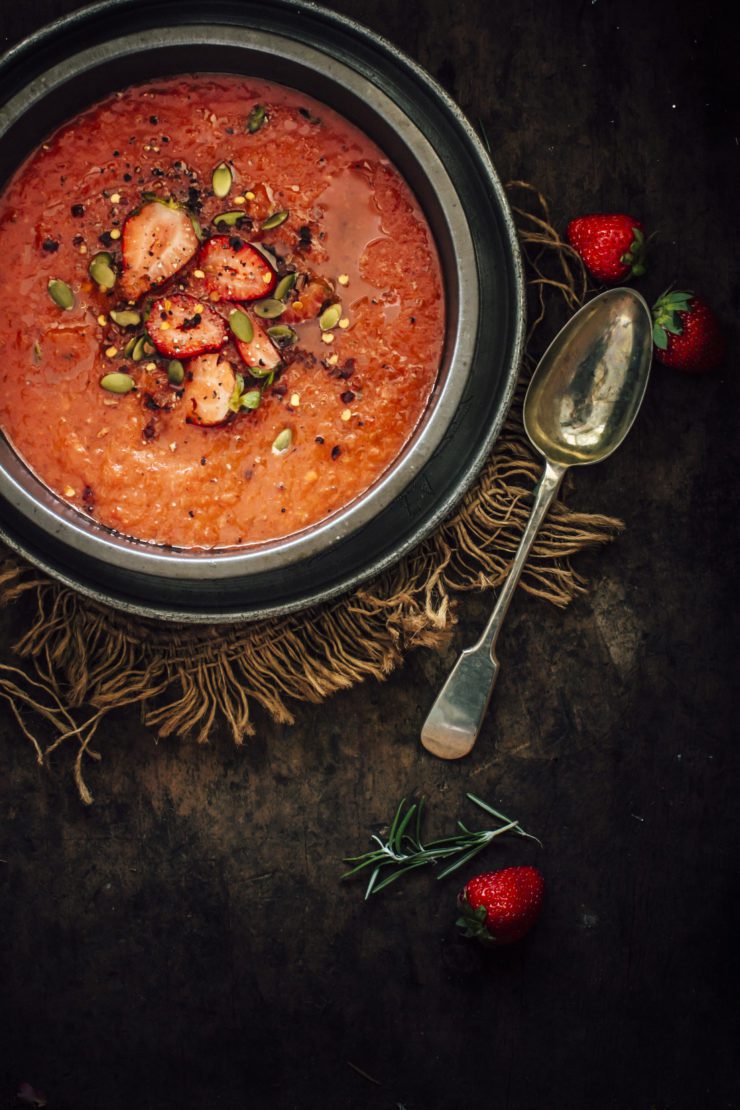 Notes: I used store bought roasted red peppers that come in a jar. You can roast the peppers at home if you like. an easy way to do this is by roasting them in a 200 degrees C oven. Quarter and de-seed the peppers and place them skin side up in a baking tray. Bake for around 30 minutes or until they soften. Remove the skins.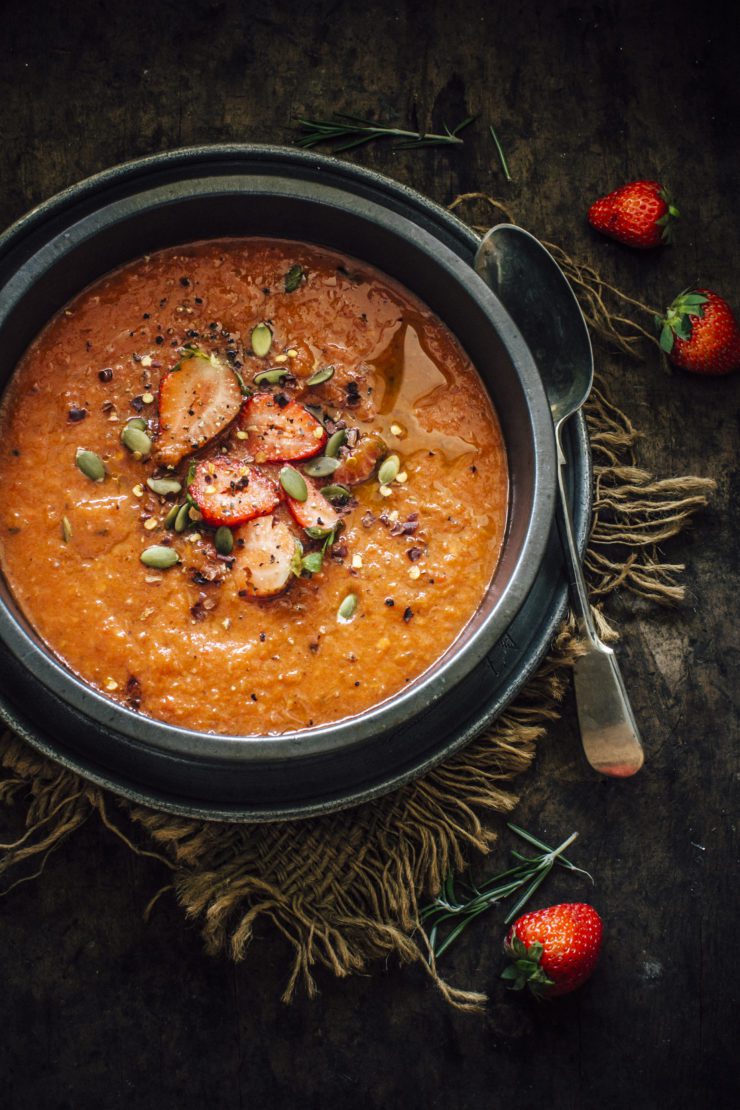 Roasted Red Pepper and Strawberry Soup
Serves 3
1 tbsp olive oil
1 bay leaf
2 cloves garlic
1/2 red onion, finely chopped
1/2 cup tomatoes, chopped
350 g roasted red capsicum (approx 11/2 cups)
200 g strawberries, washed, hulled, roughly chopped
1 cup chicken stock (or vegetable stock or water)
1 tsp balsamic vinegar
1/2 tsp paprika
1 tsp mixed herbs (dried or fresh)
1 tsp honey
salt and pepper, to season
extra strawberries, to serve
toasted hazelnuts or pumpkin seeds, to serve
extra virgin olive oil, to serve (I used garlic infused)
Heat olive oil in a large saucepan. Add the bay leaf, garlic and onions and fry till onions turn light brown.
Add the tomatoes and stir for a minute. Add the red peppers, strawberries and cook till strawberries turn soft and mushy. Remove from heat and cool slightly (about 10-15 minutes). Using a hand blender (you could do it in the food processor as well), blend the mixture until smooth.  If the mixture is too thick to blend, add in a little stock or water.
Place back on the heat. Add the stock, balsamic vinegar, paprika, mixed herbs honey, salt and pepper and stir to mix.
Serve warm with fresh strawberries, toasted nuts/seeds, fresh herbs, a dash of extra virgin olive oil and cracked pepper.