Healthy, quick and easy fritters made with roasted beetroot and feta cheese, Perfect for breakfast, lunchbox or a nutritious snack.
This recipe is a regular in our house. The basic fritter gets made, remade, revamped in multiple ways by every single member of the house. In fact last year, the boys (then 5 years old) had to do a little cooking demonstration at school and guess which recipe they chose? It is that easy and versatile. And healthy and quick and portable and really delicious. The only thing it is not? It is not sweet. It is s a savory recipe so I guess it was just awaiting it's turn quietly behind all those sweet recipes that make it to the blog. The great thing about the recipe is that you can use any vegetable of your choice. I've made it with mashed peas, shredded carrots, corn, tomatoes, kale, you name it!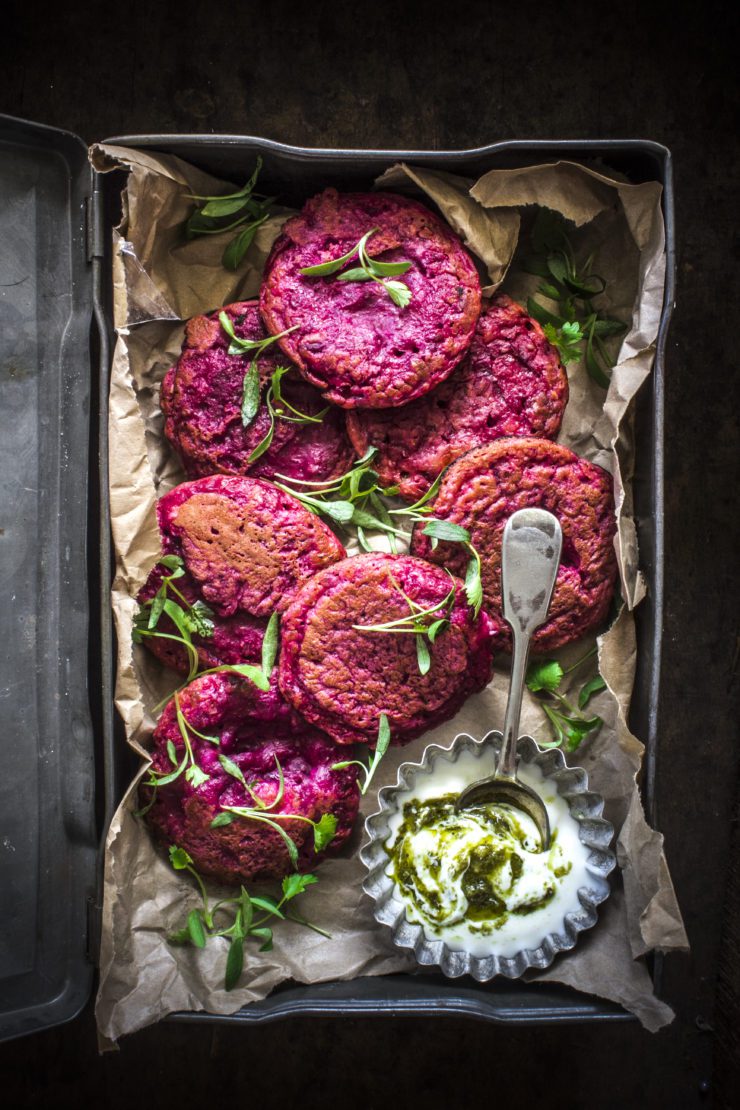 It is no secret that I LOVE beetroot. I like the way it complements the saltiness in feta and it just happens to be an amazing pairing whether it's in a tart, salad or fritter.  And of course, the colour! Naturally vibrant and so pretty. These fritters make a healthy snack and a great lunchbox treat. They also make pretty canapes with a cream cheese topping. Yes, I've tried that too for a ladies gathering and they stole the show. At home, I usually serve them with plain greek yogurt and a swirl of basil pesto. Easy and good for little tummies!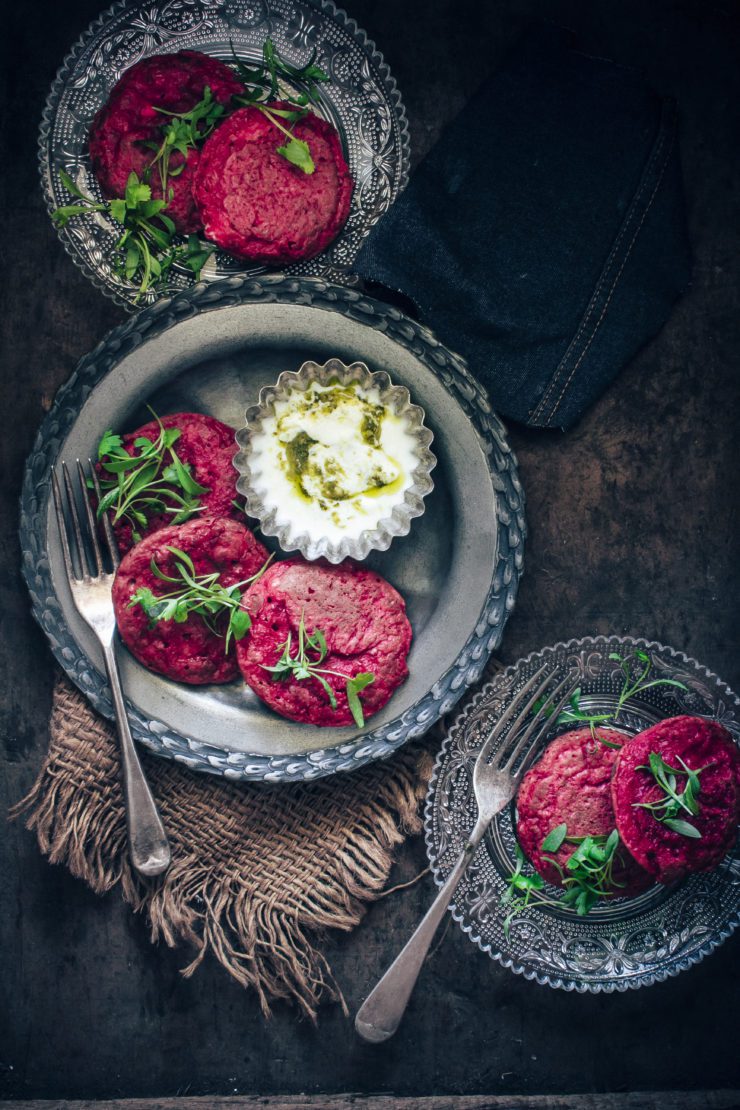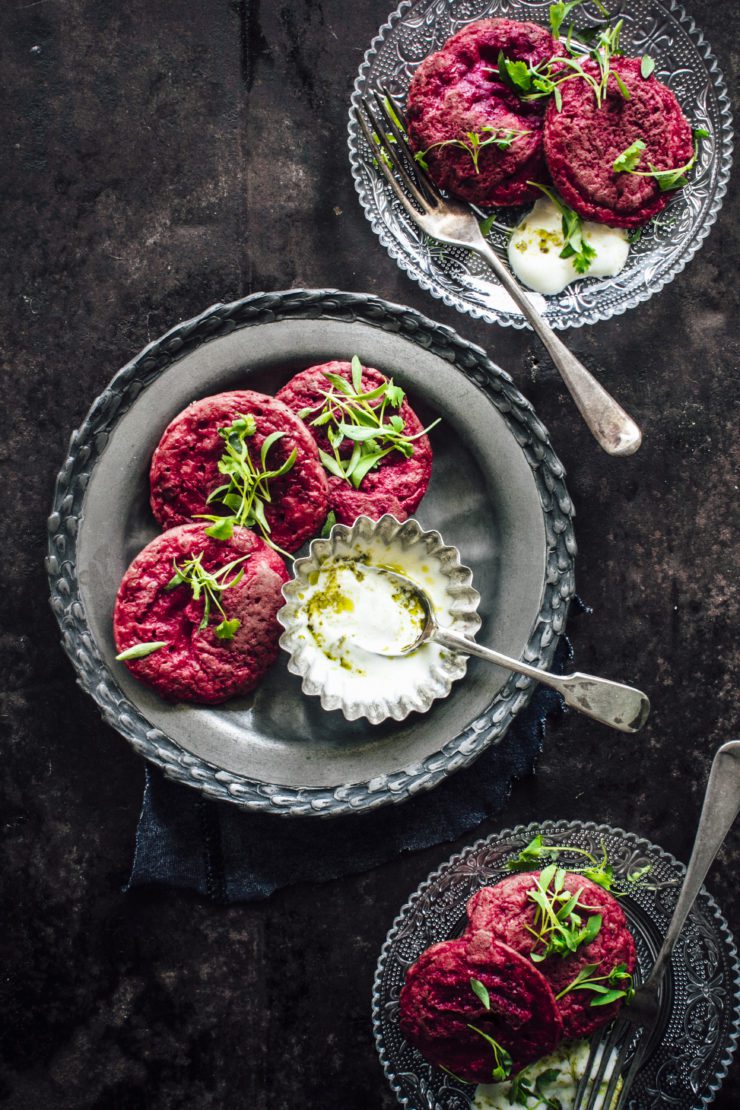 I use cooked beetroot for the recipe that is available in all major supermarkets in Australia. The baby beets are preserved in their natural juices so I add that as well to the batter to get that lovely pink colour. You could use canned beetroot as well or just roast the beets at home. If you are not able to do any of the above, just add finely grated beetroot to the batter.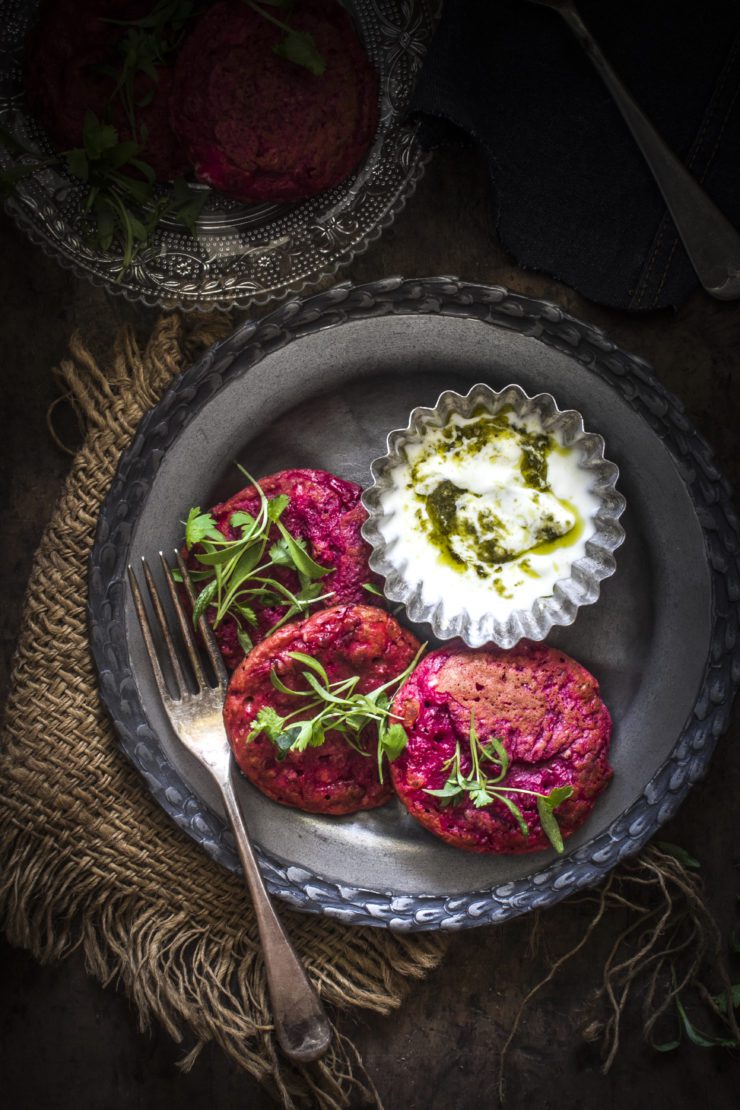 Beetroot and Feta Fritters 
Serves 4
2 eggs
1 cup wholemeal, self raising flour
1/2 cup milk
250 g cooked beetroot, pureed in a food processor to a coarse texture (not finely pureed)
100 g feta cheese, crumbled
A few fresh thyme leaves, finely chopped OR 1/4 tsp mixed dried herbs
salt and pepper, for seasoning (be careful about the quantity of salt as feta itself will add a degree of saltiness to the fritters)
olive oil, for shallow frying
Greek yogurt and basil pesto, to serve
Whisk the eggs in a bowl. Add the flour and milk and stir to blend. Add the beetroot,feta cheese and herbs and mix to combine. Season with salt and pepper.
In a frying pan, heat the olive oil. add 2 tablespoons of batter into the pan and fry for 2-3 minutes or until slightly browned. Turn over and cook for another 2 minutes or until cooked through. Repeat with the rest of the batter. Remove from pan and keep warm.
Serve with greek yogurt that has a teaspoon of basil pesto swirled in to it.