Half way into the year and I am quite proud to say that I have been able to stick to some of the resolutions I made at the start of the year. Health is an area that gets overlooked quite often when we list down our priorities and try to balance between a career, family, expectations and other day to day requirements.. I struggled a lot last year and woke up only when I was faced with a massive health scare.Thereafter I made a conscious effort to focus on my well being (both physical and psychological) alongside my other priorities. It took some time to get organised but the efforts paid off. I was happier, stronger and less stressed out and was naturally able to work better. On the diet front, I lured myself to the glamorous smoothie bowl. They are a treat in themselves without being complicated and addressing several health benefits. I have to admit, I enjoy eating my smoothies with a spoon way more than I used to enjoy drinking them. I had to push myself to use the blender almost everyday but aside that, the toppings are fun. Something that I really love to put together. The one thing however, I did try to maintain was to use everyday ingredients instead of superfood powders or things are not easily accessible. Because the minute it gets complicated, it defeats the whole purpose!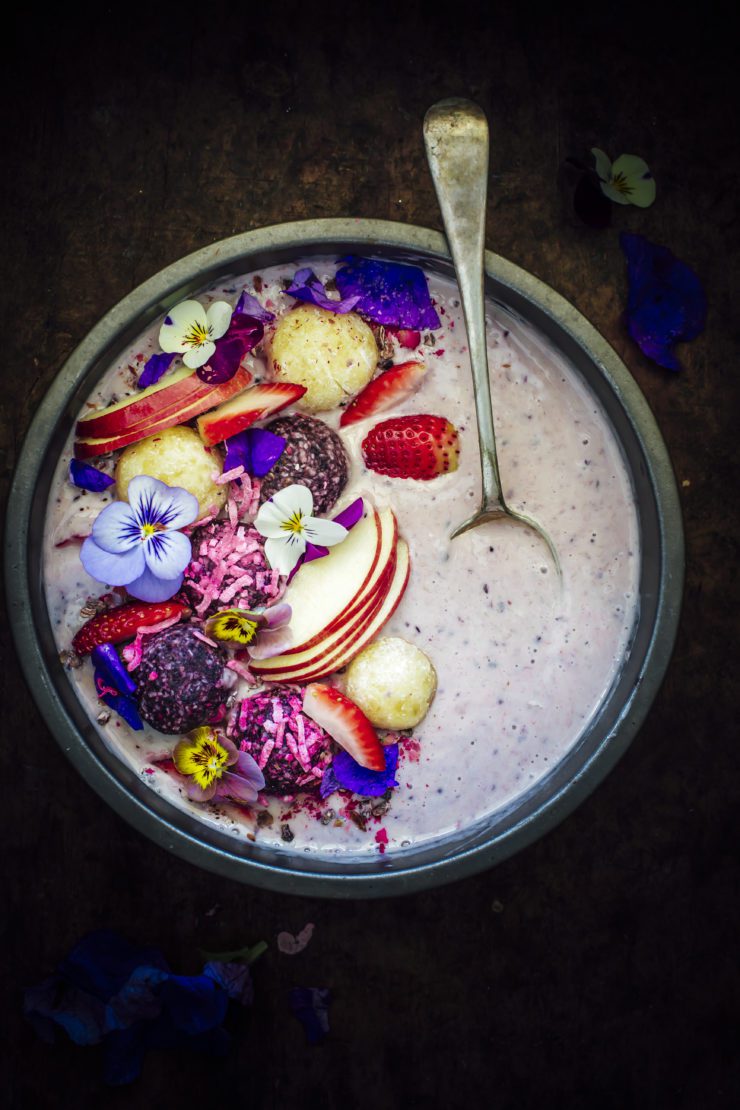 Bliss balls are my frequent weeekned project with the twins. We make them together because they are easy, fun and it makes the boys want to eat them. Good news for me! I store the balls in air tight containers in the fridge afterwards and add them to my smoothie bowls. They double up as lunchbox treats though the truth is that they are actually a powerhouse of nutrition. My youngest (of the twins) does not like beets but is happy to eat a beet bliss ball.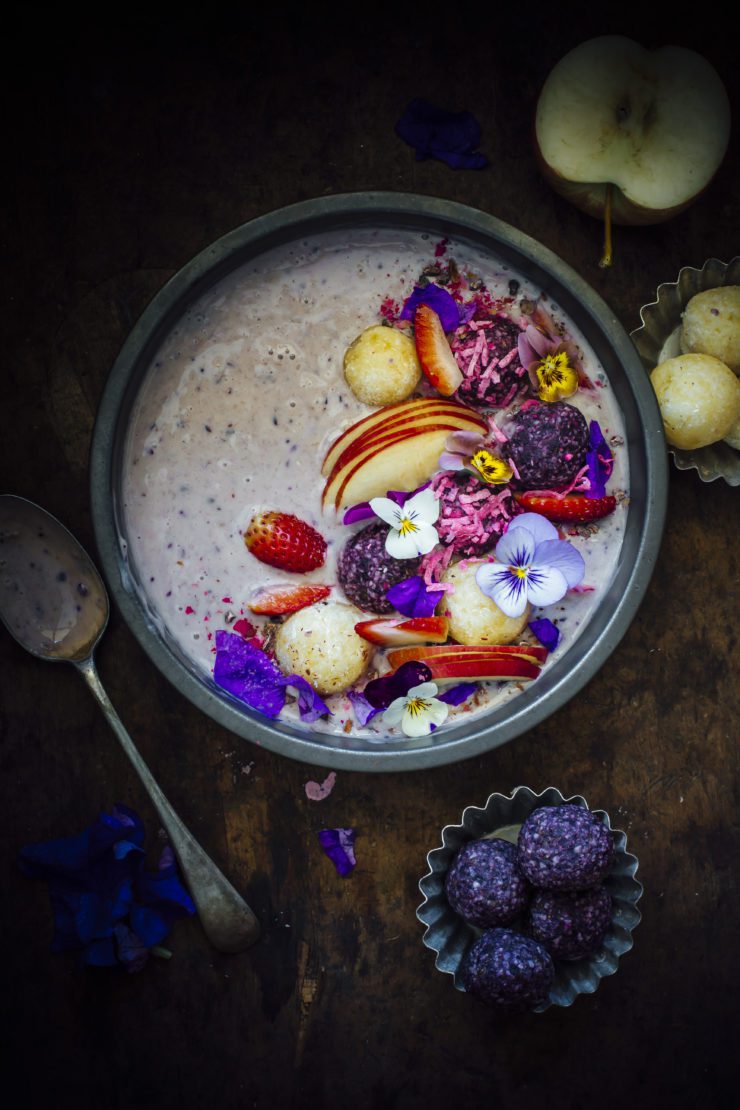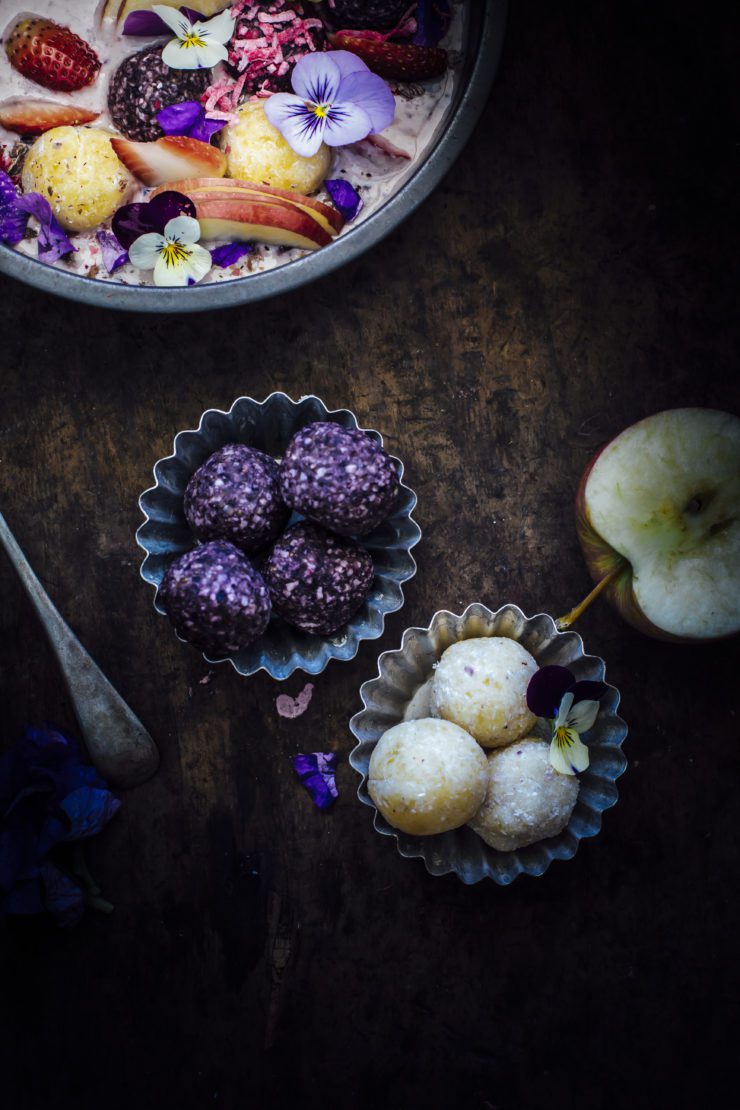 Feel free to play around with seasonal fruits, chocolate, other flavours and ideas. This is something you do for yourself and for yourself only! A little reward because you are special!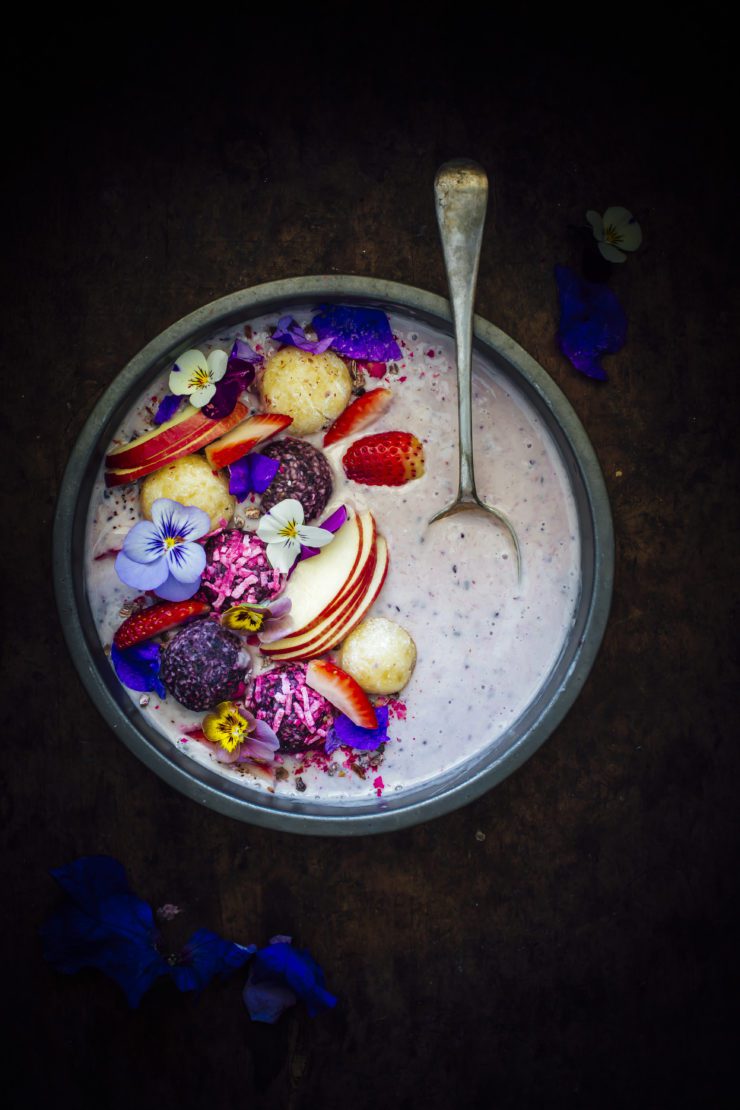 Blueberry Banana Smoothie Bowl
Serves 1
1 cup blueberries (fresh or frozen)
1 frozen banana (peeled, chopped and frozen for a few hours)
3/4 cup almond milk (or coconut milk)
1 tbsp chia seeds
1 tbsp pure maple syrup
Place everything together in the food processor and blend till smooth. If you want your smoothie with a thinner consistency, add a little more almond milk.
Pour into a bowl and add toppings I've used 3 types of bliss balls( blueberry, pineapple-turmeric and beet- recipe below) fresh seasonal fruits, cocoa nibs, dried rose petals and edible flowers.
Blueberry Bliss balls
1 cup blueberries (fresh or frozen)
10 dates (pitted)
2 cups dessicated coconut
1/4 cup almonds
I tsp lemon zest
a pinch of salt
Place all the ingredients together in the food processor and process at high speed until mixture is smooth, sticky can be easily rolled into balls. Use your hands to shape into balls.
Place in the fridge to set and store.
Pineapple-Turmeric Bliss balls
1 cup dessicated coconut
1/2 cup dried pineapple chunks
1/2 tsp powdered turmeric (preferably organic)
1 tbsp chia seeds
Place all the ingredients together in a food processor and process until smooth and mixture is sticking together. Using the palm of your hands, roll into balls. Store in the fridge.
Beet Bliss Balls
Use this recipe