It is so easy to forget that it is winter here in Australia when you gaze at the vibrant summery posts across the blog-o-sphere and certainly when you see lush red cherries and colourful berries on Instagram. Living in Sydney, we are fortunate to have access to every kind of fresh produce at any time of the year whether local or imported. Usually I won't even look at imported produce and believe in eating fruits in season because they are not only fresher and cheaper but it also means supporting our wonderful farm community that I am a die hard fan of. There are however, two instances when I find myself deviating from this. Either when I am working for a publication on the other side of the globe and I am shooting summer in winter (speaking of which, I have some wonderful news to share soon) and when I spot CHERRIES! Sorry, can't resist! No matter what!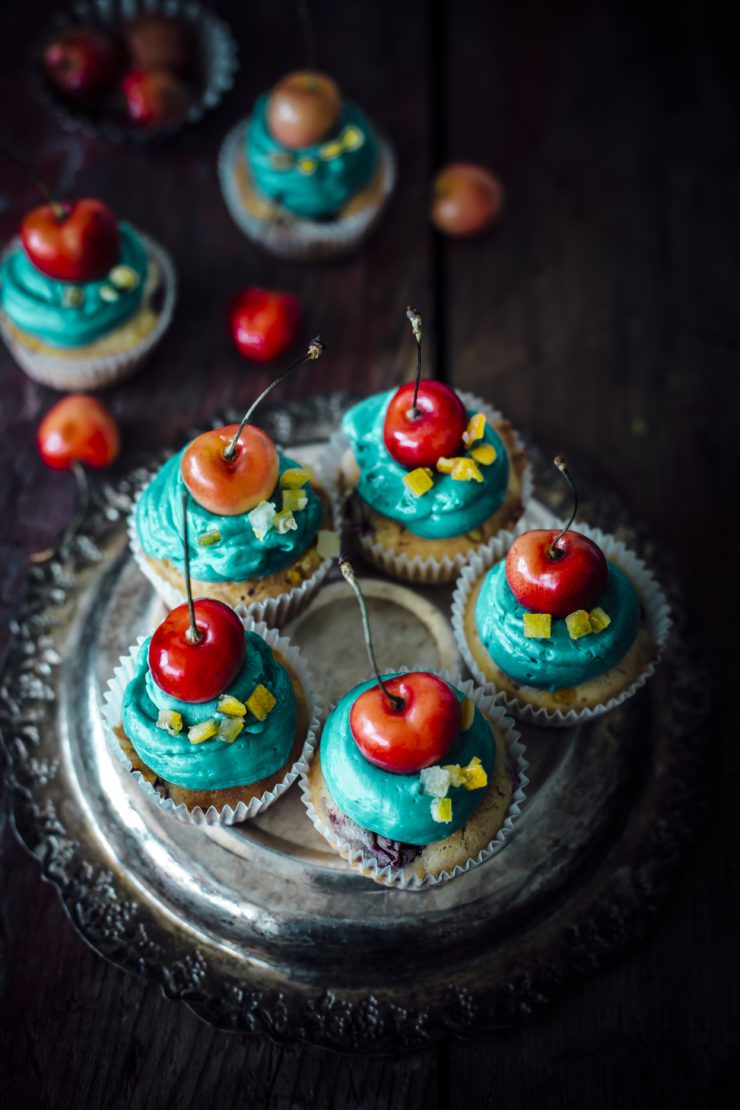 I haven't met my little brother and darling cousins who live in the USA and UK for years and I've kind of made a mental note to be there only during cherry season. Who doesn't want to enjoy 2 cherry seasons in the same year? But that has to wait and this at least is easier. Buying it from from the supermarket! I couldn't stop staring at them last week when I saw them. They were 5 times the regular price but no, there was no thinking twice when so many combinations were racing in my mind. Oh the possibilities!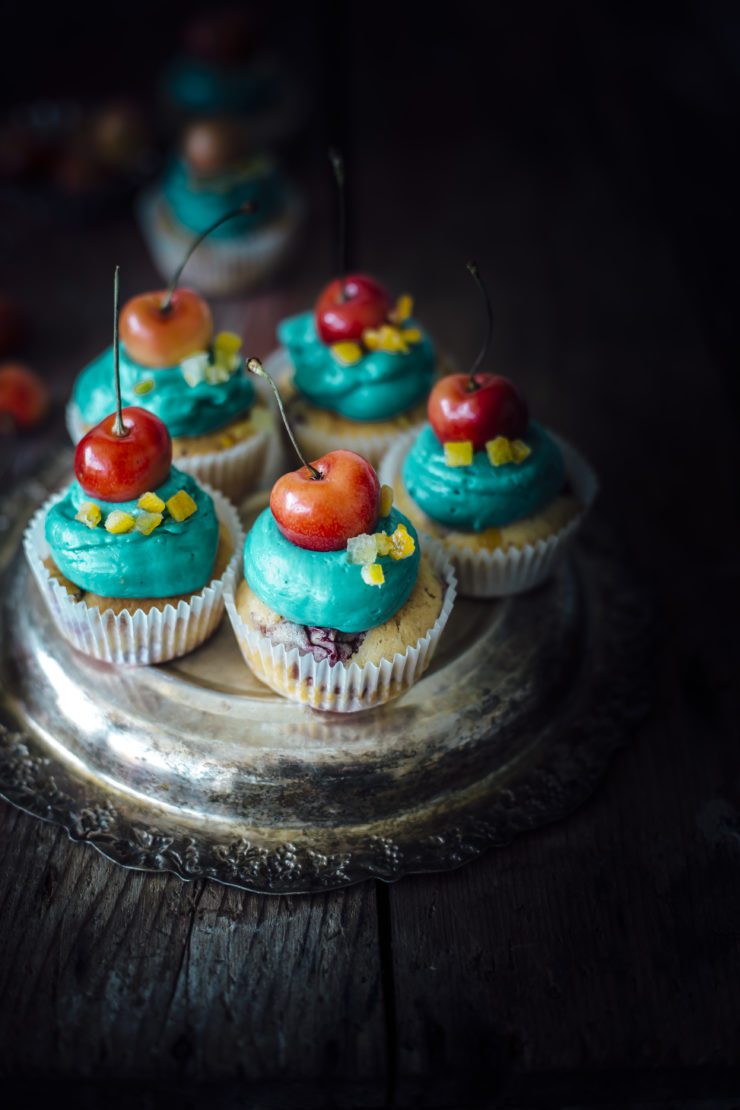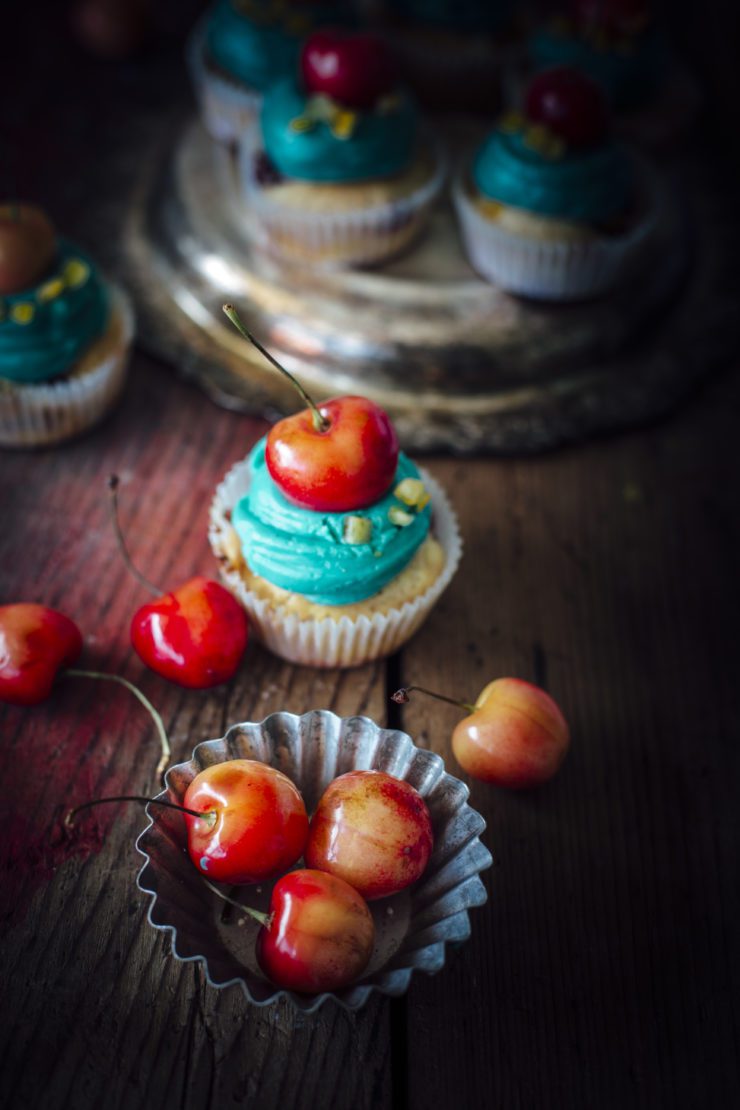 I decided to make orange flavored cupcakes and add cherries to the batter. It was delicious. The best of winter and summer in a cupcake! I had some leftover vanilla frosting from a cake I made for a dear friend's son's birthday and I thought the colours would looking amazing together. To add extra tang to the cupcakes, I've used citrus peel that you could either make at home or use store bought. They are inexpensive and a great addition to your pantry if you like baking. You could add them to pretty much anything a get a nice little citrus boost in your baked goods. The birthday cake, I mentioned earlier (Chocolate Mud Cake with Pineapple Tim tams and vanilla frosting) was a huge success so I am sharing a photo of that as well at the end of the post.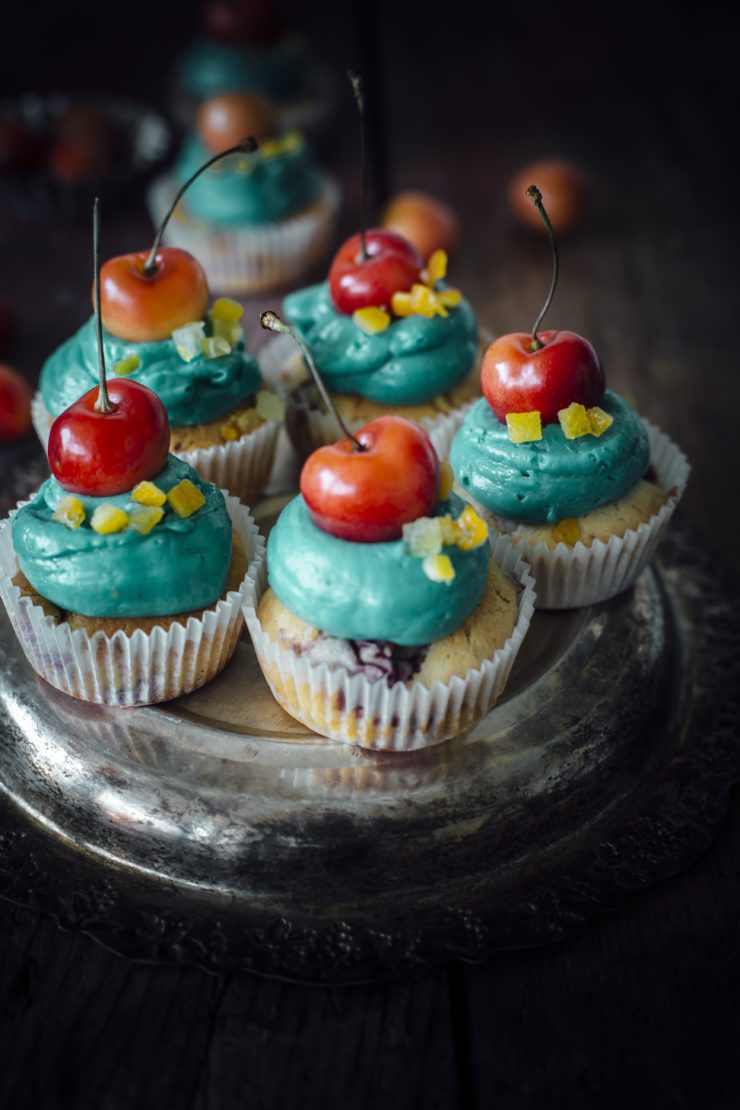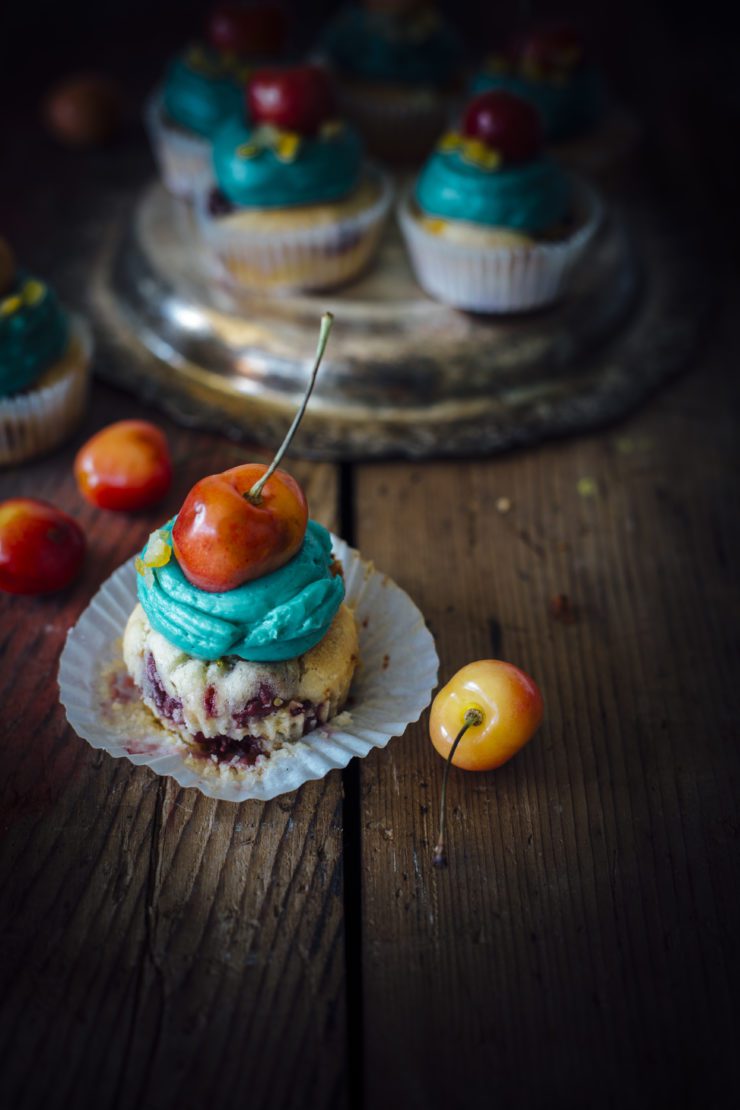 Do you ever buy produce that is not in season? What is that one fruit or vegetable you would be ready to defy the seasons to bring home?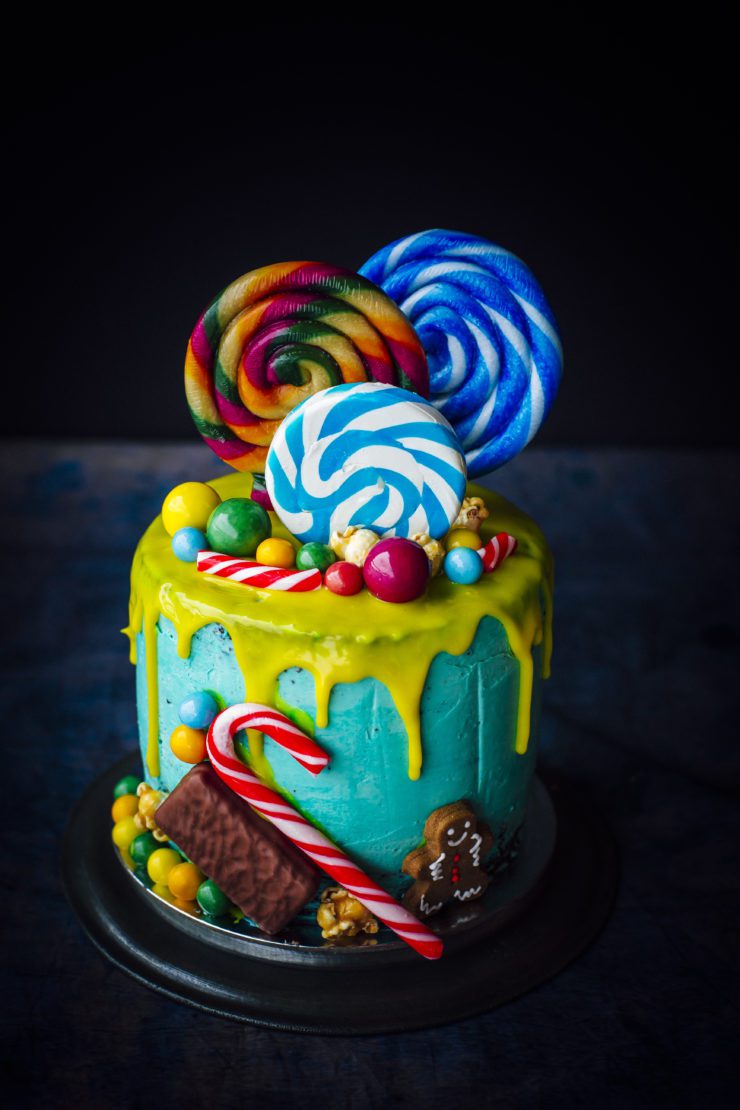 Orange Cupcakes With Cherries (partly adapted from Taste.com)
Makes 12
Vanilla Swiss Meringue Buttercream
4 egg whites
1 cup castor sugar
300 g unsalted butter, room temperature
1 tsp pure vanilla extract
1-2 drops, food coloring of your choice (optional)(I used teal)
To make the cupcakes : Preheat oven to 200 degrees C (180 degrees C for fan forced ovens). Line a 12-hole muffin pan with paper cases.
Combine flour and caster sugar in a bowl. Make a well in the center.
Add milk, butter, eggs, orange rind, vanilla and 1/2 cup of orange juice to flour mixture. Using a large metal spoon, stir gently to combine. Gently fold in 1/4 cup of the citrus peel and the chopped cherries.
Spoon mixture into prepared muffin pan. Bake for 12 to 15 minutes, or until a skewer inserted into the center comes out clean. Stand in pan for 5 minutes before transferring to a wire rack to cool.
To make the Vanilla Swiss Meringue Buttercream : Place the egg whites and sugar in a large bowl that is placed over a saucepan of simmering water (over low heat), and whisk continuously, until the sugar has completely dissolved and the bottom of the bowl is warm to touch
Remove the bowl from the heat and whip on high speed until meringue holds stiff peaks and looks glossy. The bowl should have completely cooled by now.
Add the butter, 2 tablespoon at a time, until thick and fluffy. If it begins to look curdled, continue to whip until it comes back together, before adding in remaining butter.
When the buttercream has come together, add the vanilla extract and food coloring (if using) and mix till you get the desired shade.
To assemble: Once the cupcakes have cooled completely, pipe a swirl of buttercream on the tops or could dollop it with an ice cream scoop. Decorate with fresh cherries and the leftover citrus peel.