A couple of weeks ago, I baked a 'brain' cake for a friend's birthday. It was meant to be a surprise zombie party cake from her husband. Her husband sent me a photograph of what he was looking for and to be honest, at first it freaked me out to think of creating something so ghastly. Since it had to be red with an oozing blood effect, red velvet was the obvious choice. I used raspberry jelly to add to the drama and finally created something that I almost hated. There were no pretty swirls or flowers or anything that would resemble my kind of cakes. I tried dressing up like a zombie to the best of my ability. Knowing that I couldn't leave the house looking like a zombie on a Saturday evening for fear of scaring the hell out of two little boys I carried black face paint with me in the car and randomly applied it on my face. Upon reaching my friends's place I realized I was under-dressed. Oh goodness! The girls would have given the real zombies a run for their money. They were too good…I mean so ugly!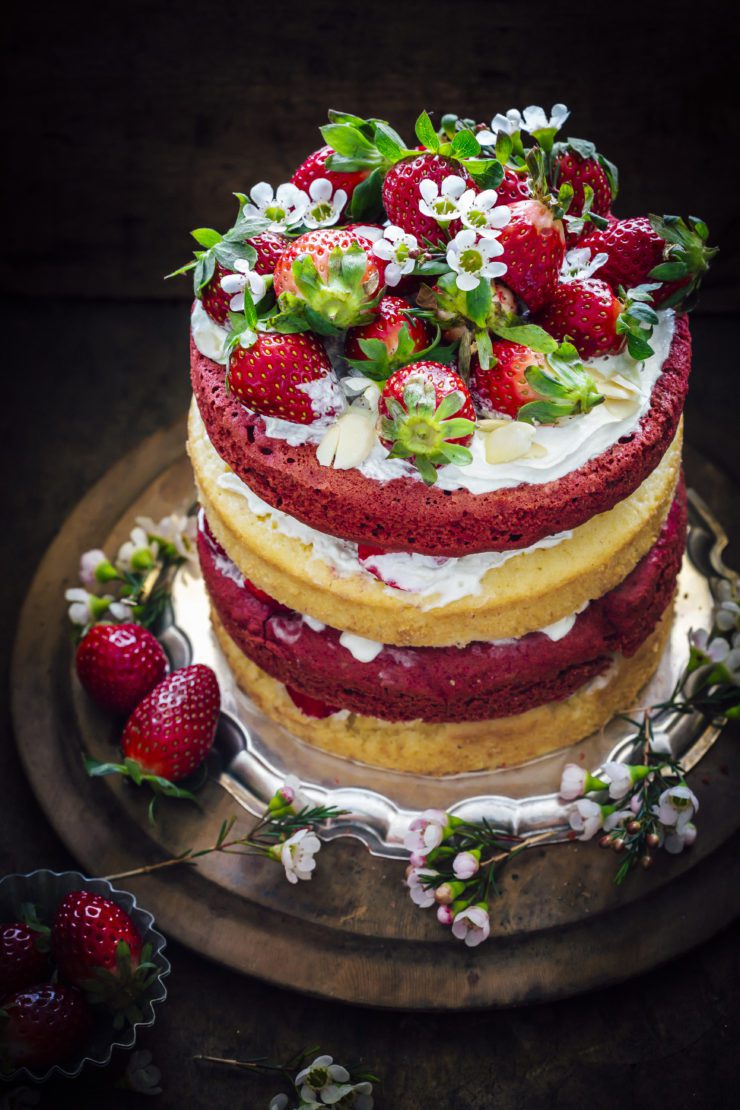 Needless to say, I didn't even eat that cake. It was a fun evening with a terrific setup and ambience but I didn't miss eating the cake even one bit. Later on, I found myself wanting to make another red velvet cake that was not ghastly, not zombie like and rather elegant and crave-worthy. While making the batter, I thought about alternating layers of different cakes. I had a blueberry almond friand that morning so an almond cake was on the top of my mind. I felt they would make a great combo together.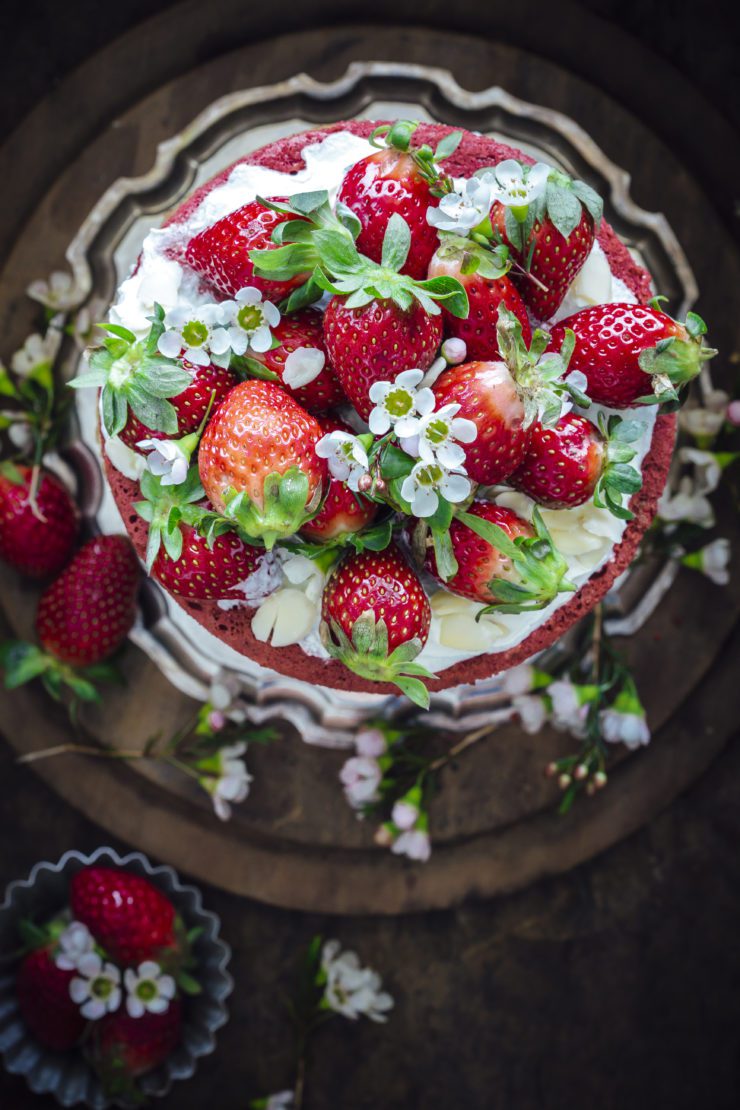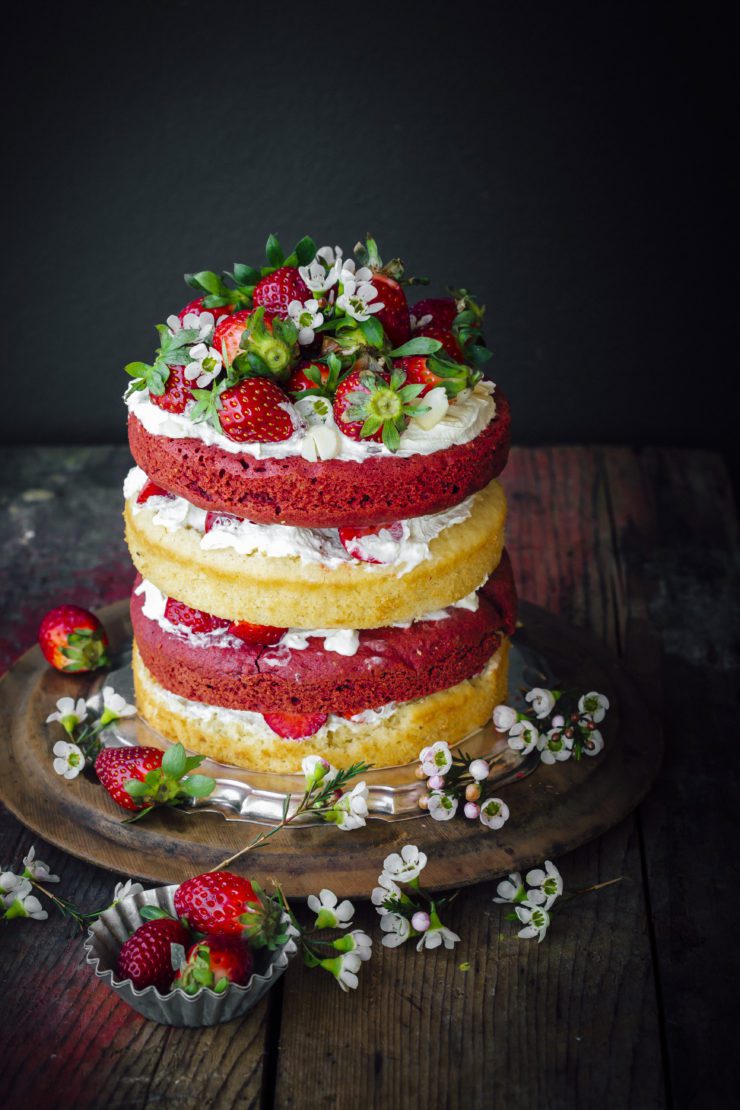 A red velvet cake actually is a soft, chocolate cake so pairing it with a more intense, fudgy almond cake made it all the more delicious. I love ricotta cheese and often find myself wondering why it is not used to replace whipped cream in recipes as it is quite refreshing and so much lighter than cream. This is a great cake for all occasions. Layers can be made ahead and assembled before serving.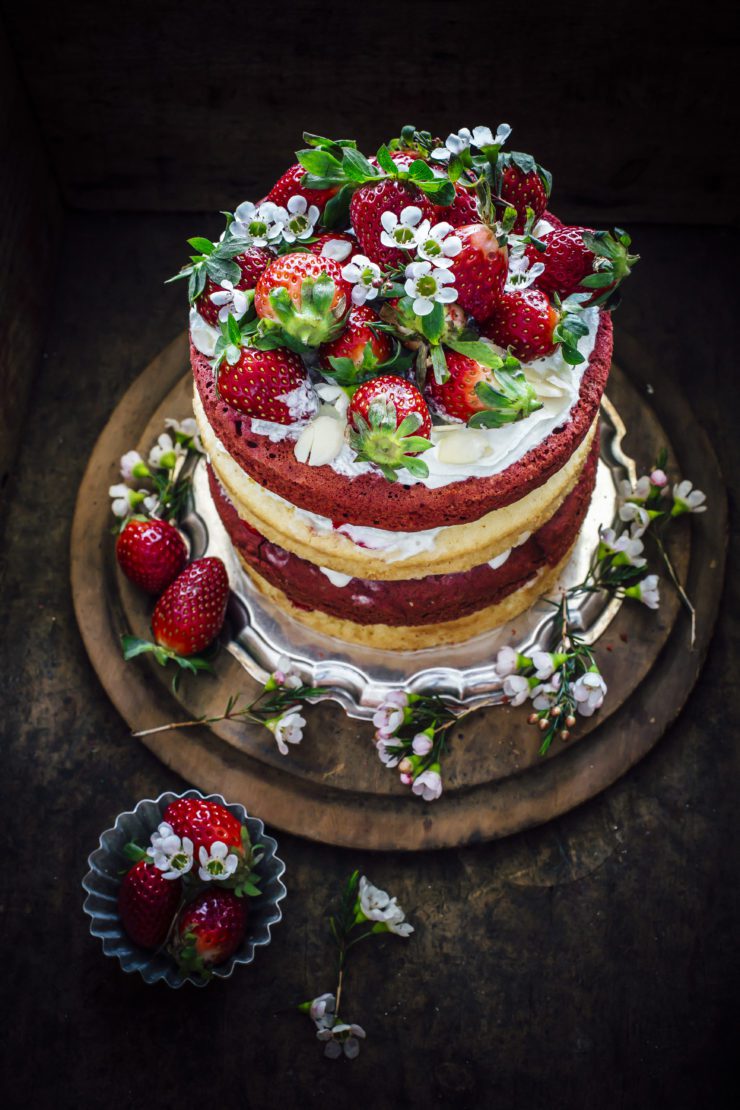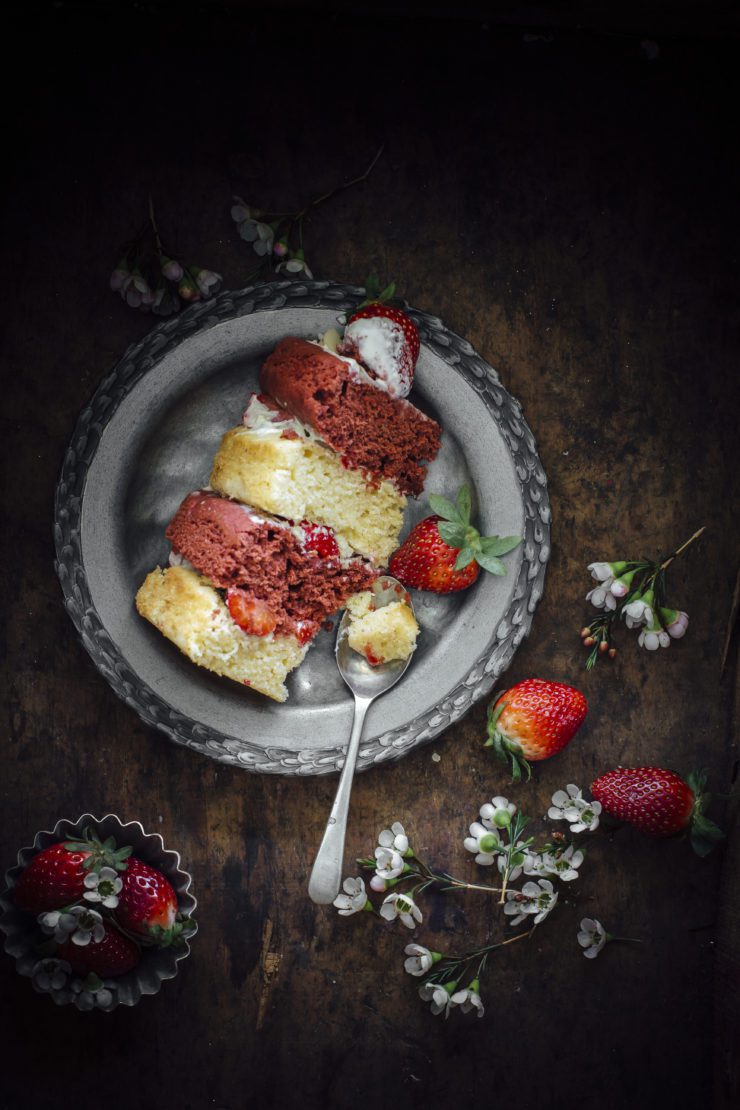 Red Velvet and Almond Cake with Whipped Ricotta Frosting and Strawberries
Makes a 6 inch 4 layered round cake
To make the red velvet cake : Preheat oven to 180 degrees C. Grease and line the bases of two 6 inch round (base measurement) cake pans with baking paper.
Use an electric mixer to beat the butter, sugar and vanilla in a large bowl until pale and creamy. Add the eggs, 1 at a time, beating well after each addition. Add the flour, cocoa powder and buttermilk, in batches, until well combined. Add the vinegar, bicarbonate of soda and food colouring and stir to combine.
Spoon mixture evenly among the prepared pans. Use the back of a spoon to smooth the surface. Bake in preheated oven for 25-30 minutes or until a skewer inserted into the centre of the cakes comes out clean. Remove from oven. Set aside for 5 minutes before turning onto a wire rack to cool completely.
Almond Cake 
120 g unsalted butter, melted and cooled
1 cup plain flour
1/2 cup ground almonds
1 tsp baking powder
1/4 tsp salt
2 eggs
3/4 cup castor sugar
1 tsp vanilla extract
1/3 cup milk (80 ml)
Preheat oven to 200 degrees C. Grease and line the base of 2, 6 inch round cake pans with baking paper.
In a large bowl, whisk together the flour, almond meal, baking powder and salt.
Using an electric mixer (or by hand) beat the eggs and sugar until thick and pale. Add the vanilla essence. Fold in the butter and milk until just incorporated. Next fold in the flour gently until just moistened. Divide the batter among the two prepared pans. Smooth the tops with the back of a spoon.
Bake for 20-25 minutes until lightly browned or until a skewer inserted in the middle comes out clean. Remove from oven, sit in pan for 10 minutes, then turn onto a wire rack to cool completely.
Whipped Ricotta Frosting
250 g fresh ricotta (do not use the light version)
2 tbsp heavy cream
1 tbsp icing sugar (or more if you like it sweeter)
1 tsp vanilla essence
Fresh strawberries,roughly chopped
Fresh strawberries (whole), to serve
flaked almond, to serve
Place ricotta, cream, icing sugar and vanilla in bowl of food processor and process until smooth. Transfer mixture to a bowl, cover and place in fridge until required.
To assemble : Place a layer of almond cake on a cake plate or stand. Spread a quarter of the frosting and top with chopped strawberries. Place a layer of the red velvet cake  and repeat with ricotta frosting and strawberries. Repeat with all the layers and frosting. Decorate with fresh strawberries and flaked almonds.