Layers of Light Red Velvet Cake, Golden Syrup Buttercream, sweet-tangy, home-made Cranberry Jam with crunchy Meringue and Candied Rosemary leaves.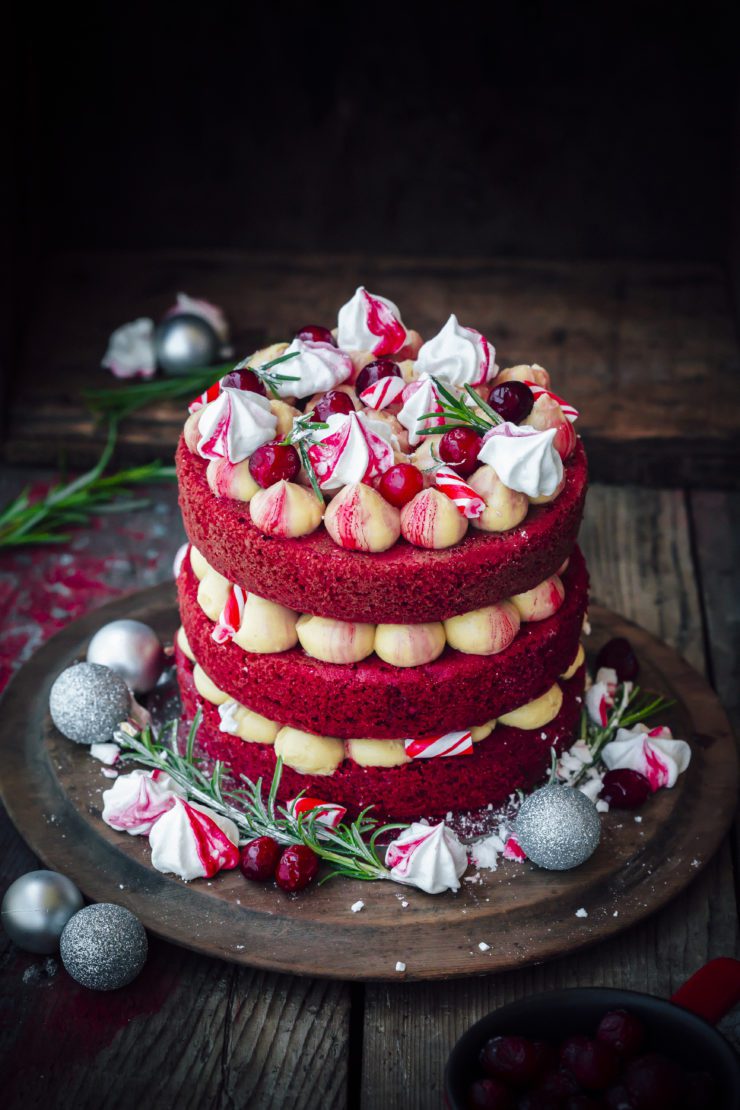 It is that time of the year! Don't you just love the last quarter of the year leading up to Christmas? The planning, the excitement, the extra aisles that get added to the supermarkets, the artfully done packaging of gifts, the invites that start flowing in from everywhere, delicious Christmas menus and the excuse to eat lots of cake. No points for guessing that I am almost always given the responsibility to bring dessert to the parties. Honestly, I would do that with pleasure. Every time!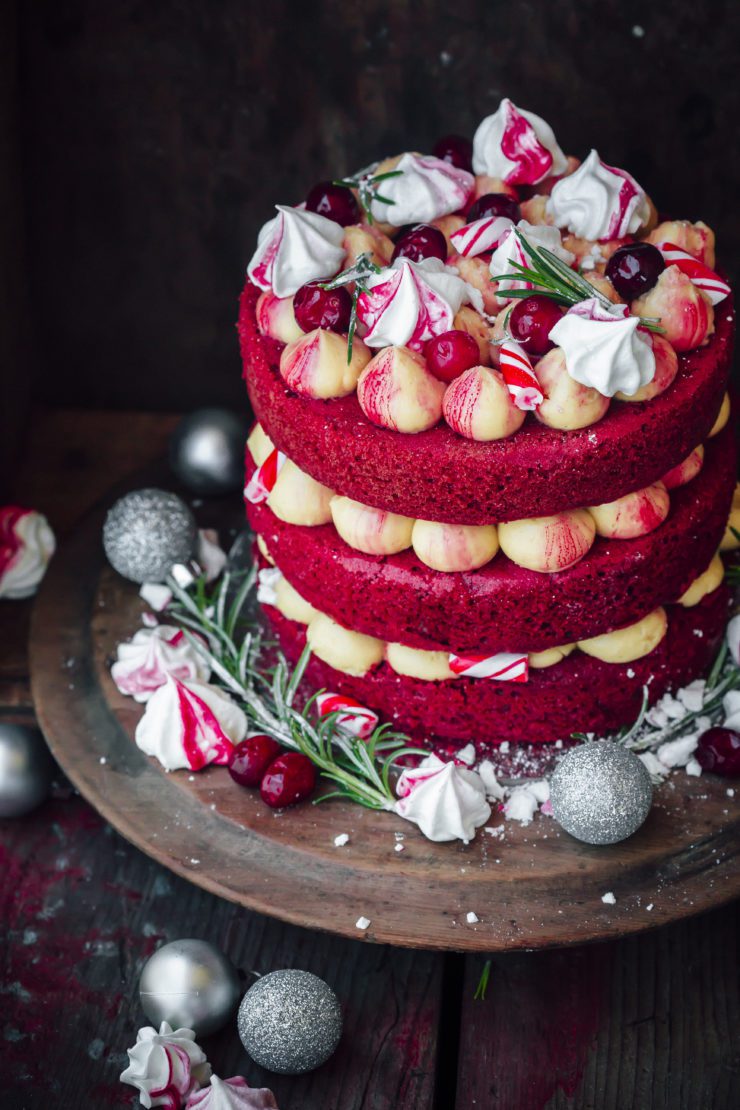 My go to this year are Naked Cakes. Simple, elegant, not loaded with frosting and the opportunity to be creative. This is the best time to play with my assortment of CSR Sugars and Syrups because I cannot imagine an Aussie Christmas without Golden Syrup, Treacle or the indispensable brown sugars and Caster Sugar. If you have been reading my blog for a while you already know how much I rely on CSR Sugar products to get consistently successful and delicious results in my kitchen.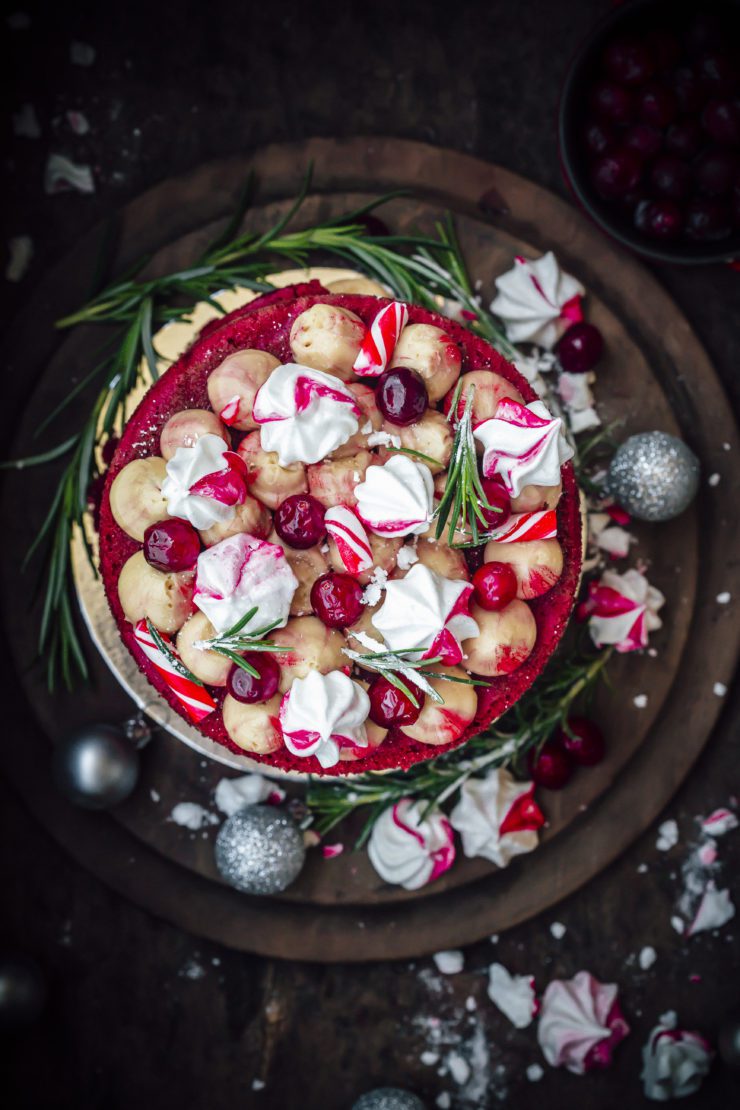 I am totally in love with CSR Sugar's Golden syrup and after experimenting with a Golden Syrup ice cream recently I was waiting for an opportunity to add it to buttercream. I am glad I did because this one is just out of the world. A mellow caramel flavour without having to make caramel. Don't you love such clever short cuts?
Armed with this wonderful new flavour, I settled for a light, sponge like Red Velvet Cake that would marry wonderfully with my Golden Syrup buttercream and look festive as well. To add to the festivity and flavours, I made a sweet-tangy cranberry jam and spread a thin coat on the layers. To finish I decorated my cake with home-made red swirled meringues, crushed candy canes (store-bought) and candied rosemary leaves. The rosemary leaves add another level of complexity that creates magic in your mouth.
This cake is easy to assemble, even if you are making a layer cake for the first time. You could create the different elements ahead in time like I did and assemble on the day you want to serve it. I can't wait to see the reactions when I bring this to the Christmas table.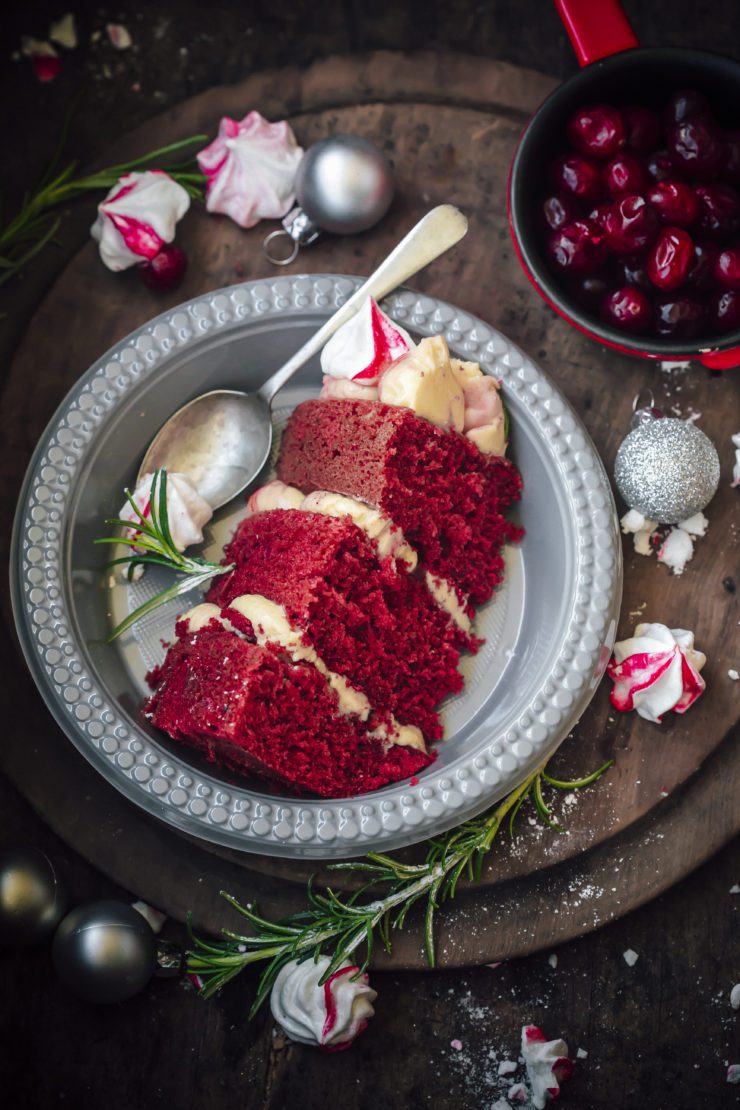 So now tell me dear readers what is your favourite Christmas treat? Do you create a family recipe or experiment with new ideas every year? I have some great news for you. By making and sharing your Christmas favourite you could win one of the ten, $250 Visa gift cards that CSR Sugar is very generously giving away.
All you need to do is
• Make your Christmas favourite
• Share it on Instagram or Facebook
• Tag CSR Sugar
• Use the #FestiveFavourites
Good luck to all of you! I am really excited to see what you create
This post is brought to you by CSR Sugar. All opinions expressed are entirely my own.
Red Velvet Cake
Makes a 3 layered 6 inch cake
180g butter, softened
1 1/2 cups (315 g) CSR Caster sugar
1 teaspoon vanilla extract
2 eggs
2 1/2 cups (375 g) self-raising flour
2 tablespoons cocoa powder
11/4 cup (250ml) buttermilk
1 tablespoon white vinegar
1 teaspoon bicarbonate of soda
2 tablespoon red liquid food colouring
Golden Syrup Swiss Meringue Buttercream
Yields about 3 cups of buttercream
4 egg whites
3/4 cup CSR Caster sugar
300 g unsalted butter, room temperature
¼ cup CSR Golden Syrup
Cranberry Jam
Makes approx. 2.5 cups
3 cups frozen cranberries, thawed
1 cup CSR Caster sugar
1 cup water
1 tsp grated orange or lemon zest
Red Swirl Meringues kisses
Makes about 25 meringues
1 egg white
¼ cup CSR Caster Sugar
2-3 drops vanilla extract
Red gel food colour
Candied Rosemary leaves
6-7 fresh sprigs of Rosemary
1 egg white
4 cup CSR Caster sugar
To make the Red Velvet Cake : Preheat oven to 180 degrees C. Grease and line the bases of three 6 inch round (base measurement) cake pans with baking paper.
Use an electric mixer to beat the butter, sugar and vanilla in a large bowl until pale and creamy. Add the eggs, 1 at a time, beating well after each addition. Add the flour, cocoa powder and buttermilk, in batches, until well combined. Add the vinegar, bicarbonate of soda and food colouring and stir to combine.
Spoon mixture evenly among the prepared pans. Use the back of a spoon to smooth the surface. Bake in preheated oven for 25-30 minutes or until a skewer inserted into the centre of the cakes comes out clean. Remove from oven. Set aside for 5 minutes before turning onto a wire rack to cool completely.
To make the Golden Syrup buttercream :Place the egg whites and sugar in a large bowl that is placed over a saucepan of simmering water (over low heat), and whisk continuously, until the sugar has completely dissolved and the bottom of the bowl is warm to touch
Remove the bowl from the heat and whip on high speed until meringue holds stiff peaks and looks glossy. The bowl should have completely cooled by now.
Add the butter, 2 tablespoon at a time, until thick and fluffy. If it begins to look curdled, continue to whip until it comes back together, before adding in remaining butter.
When the buttercream has come together, add the golden syrup gradually and mix till smooth and well blended.
To make the Cranberry Jam: Put all the ingredients in a large saucepan over medium heat. Bring to a boil, stirring occasionally. Continue boiling for 5-10 minutes or until the cranberries become a soft mush and sauce has thickened. Cool to room temperature. Pour into a clean jar and refrigerate until needed.
To make the Red Swirl Meringue Kisses: Preheat oven to 110°C/90°C fan-forced. Line 2 baking trays with baking paper.
Using an electric mixer, beat egg whites until stiff peaks form. Add caster sugar. Beat for 8 minutes or until sugar has dissolved. Continue to beat until meringue is glossy with stiff peaks.
Place mixture into a piping bag fitted with a 5mm fluted or plain nozzle and lightly streaked with red gel food colour. Pipe meringue kisses onto prepared trays, allowing 2cm gap between each of them. Bake for 45 minutes or until meringues are firm. Turn off oven. Allow to cool in oven with door slightly ajar.
To make the candied Rosemary leaves: Line a baking tray with baking paper. Place the egg white in a small bowl and the caster sugar onto a small plate. Make sure the leaves are dry before you start. If not pat dry with a kitchen towel. Working one at a time, dip each rosemary leaf into the egg white (scrape off excess against the bowl) and then dip into the plate of caster sugar, turning it to ensure an even coat on both sides. Lay the leaves in a single layer on the tray lined with baking paper to dry out. Leave aside for 24 hours, turning once in between.
To assemble : Place one layer of cake on a cake stand or plate. Spread a thin coat of cranberry jam. Take a piping bag fitted with a round nozzle and streak it with red gel colour on one side. Fill up the bag with golden syrup buttercream. Pipe buttercream kisses all over the cake layer. Place the second layer and repeat. Repeat with the third layer. Decorate with meringues, crushed candy canes, frozen cranberries (thawed) and candied rosemary leaves.
Baker's Notes
• I have used 6 inch pans to make 3 layers. You could go with two layers if you are using a larger pan. Alternatively, you could double the recipe.
• Grease pans well because the cake is quite light and needs to be handled gently to avoid breaking.
• Cranberry jam adds to the Christmas feel. If you want to avoid this step, you could use store bought jam.
• Frozen cranberries are available in all major supermarkets. Thaw them before using on the cake.
• If you are not comfortable with making meringues at home, plain vanilla store bought meringues can be used to decorate the cake.
• Cranberry jam and meringues can be made up to a week in advance. Candied rosemary can be made up to 2 days ahead. Cake layers can made up to two days ahead, individually wrapped in cling film and stored in the refrigerator.
• Buttercream can be made up to 3 days ahead. Before using, bring it to room temperature and whip it a few times till fluffy and smooth.