I think cranberries are slightly overlooked in our part of the world during Christmas while the rest of the world are including them in every other recipe. That is because it is summer over here and we are totally spoilt for choice with the abundant summer fruits and berries. I have never seen fresh cranberries in my life, only frozen (and dried of course) but they are good enough. The sour taste is so perfect to go with white chocolate. as if they were made for each other to create the right balance of flavours. Since it is Christmas, I thought I'd make you a Coconut Cranberry Cake before I start sharing the more summery recipes. Coconut cakes have a nice bite to them and this one is quite light and refreshing. I added a teeny tiny amount of nutmeg to the white chocolate buttercream to elevate it to a Christmas Cake category. I'm glad I did because it really works. The Raffaello chocolates were a last minute addition and yes, they work well too.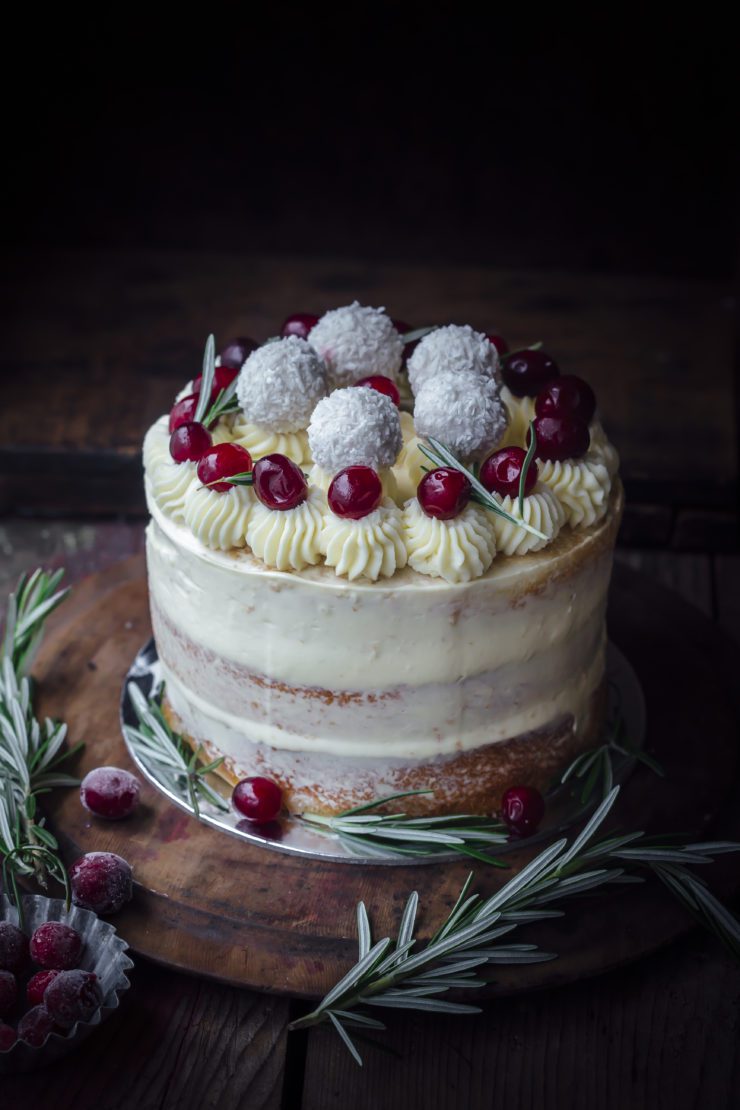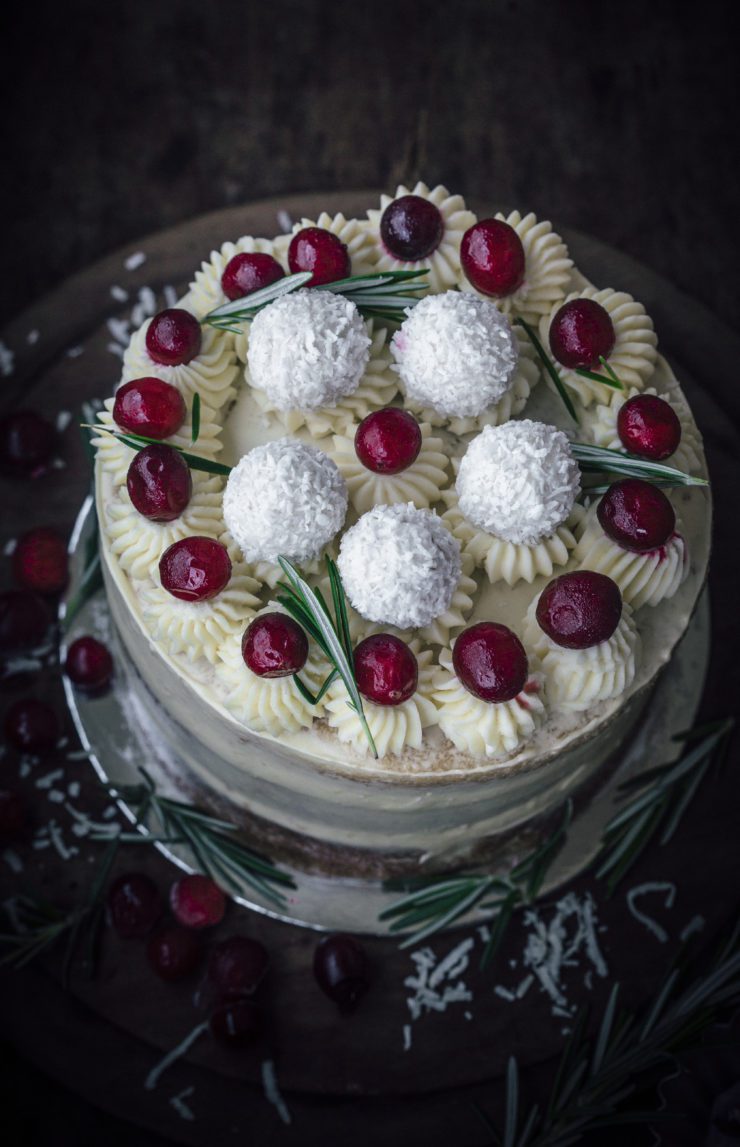 I have tried to keep things simple so its not hard for someone to replicate it. Seriously, there is so much going on around Christmas that simplicity is the best way to go. If you are not living in Australia, it might sound strange to you but we've been going to a number of barbecue get-together-s and pool parties and it can get quite overwhelming.. I've been forcing myself to take breaks as I can easily get stuck between a recipe idea and trying to bring it to life. But I'm done for now. My holiday starts tomorrow. I'll keep posting but probably in a different frame of mind. No impending deadlines and no briefs. Just thinking about that makes me so excited. As I write this, I'm surrounded by suitcases and last minute things to stuff into my bags. What a mess but a happy sight though! In the last few days of this year I want to reflect, think and express my gratitude to all the wonderful people in my life. It has been a good year!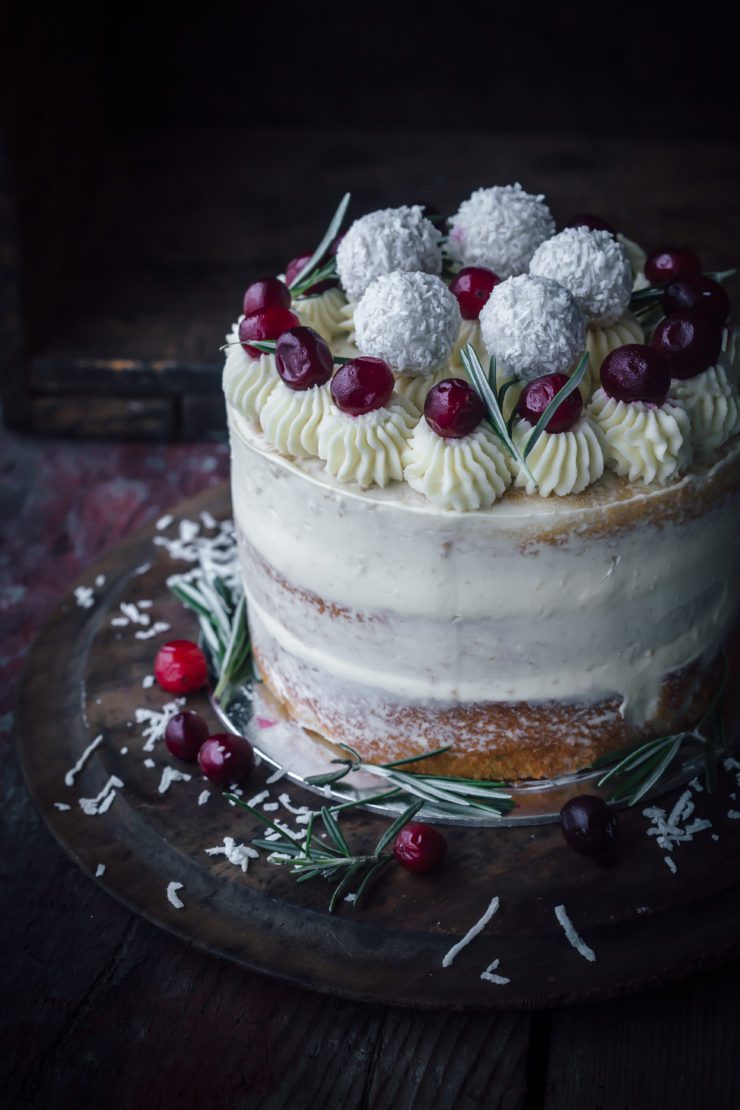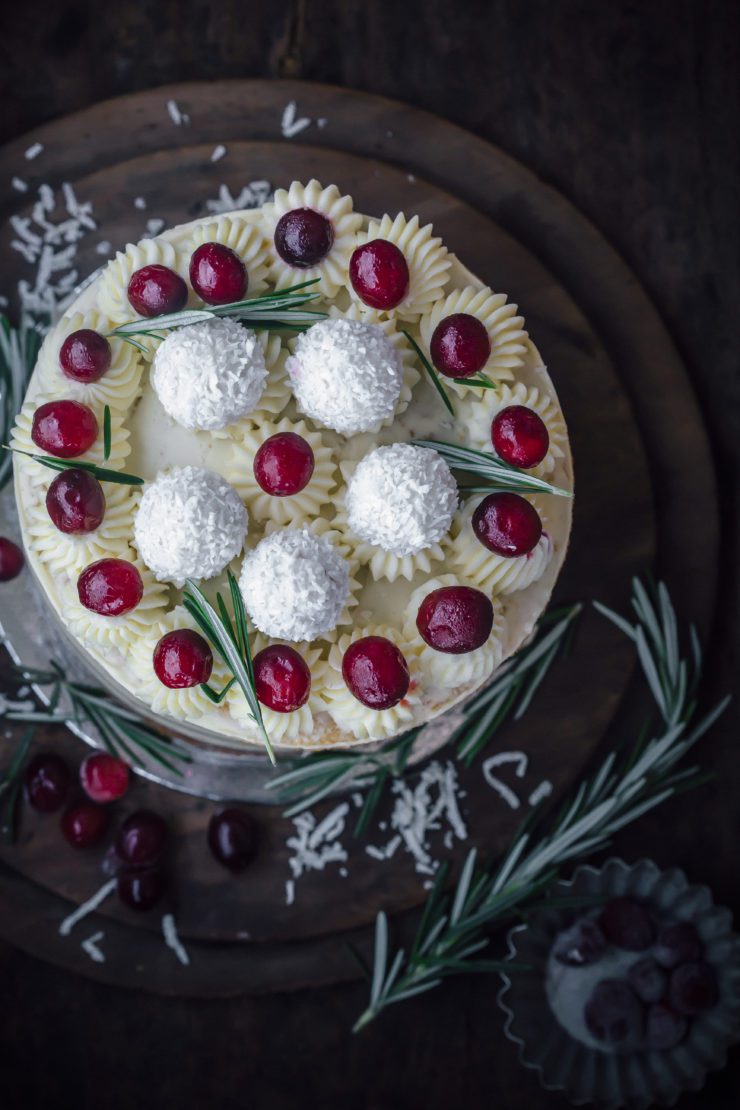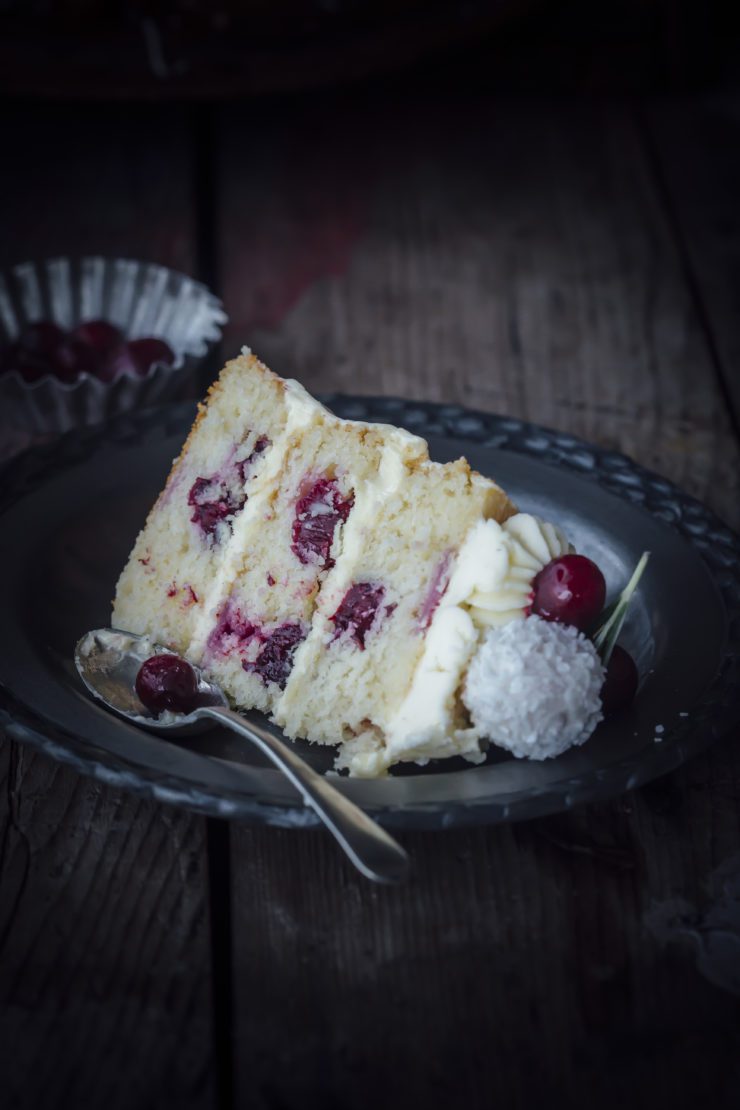 Coconut Cranberry Cake
Makes a 3 layered, 6 inch round cake
180 g butter, at room temperature
1 cup(215 g) caster sugar
3 eggs
1 tsp pure vanilla extract
1 1/2 cups(225 g) self-raising flour
3/4 cup (55 g) shredded coconut
200 g yogurt
1 cup fresh/frozen cranberries
White Chocolate Buttercream

To make the cake :Preheat oven to 180 degrees C (160 degrees C for fan forced ovens). Grease and line the bases of 3, six inch pans with non-stick baking paper. Process the butter, sugar, eggs, vanilla, flour, coconut and yogurt in a food processor until smooth. divide Divide the batter uniformly between the prepared pans.
Arrange the cranberries on top of the cake batter in each pan and push down gently with your fingers. Bake for 35 to 45 minutes. Bake until light golden brown or a skewer inserted into the centre comes out clean. Remove from oven and leave aside for 10 minutes. Turn on to a wire rack to cool completely.
To make the White Chocolate Buttercream : Place the butter and icing sugar in the clean bowl of electric mixer. Beat on low speed to combine, then increase speed to medium and beat for 4 minutes. Add vanilla and milk, and beat for a further 2 minutes or until mixture is very pale and fluffy.
Add melted chocolate to bowl and beat on low speed until combined. Increase speed to medium and beat for 1 minute or until mixture is light and fluffy. Add the nutmeg and mix till blended.
To assemble: Once the cake layers are completely cool, start assembling..
On a cake plate or stand, spread a little white chocolate buttercream frosting in the centre and place one layer of the cake (so that the cake does not move about while frosting). Spread about 1/2 a cup of the buttercream. Place the second layer. Repeat. Place the last layer upside down (so you get a flat top). Spread frosting on the top and sides. If you want it to look like a naked cake, a thin layer of frosting is good enough.
Decorate the top with more buttercream. Top with cranberries, Raffaelo chocolates and rosemary leaves.