Nordic bake-ware has its own rustic charm! I owned one of those bundt cake pans years ago but hardly ever bake with it now. Too much of design in the exterior results in the cake sticking to the sides despite greasing well and has almost always resulted in a disaster. Also, the kind of cake being baked is equally important. Moist, sponge like cakes are best to be avoided whereas butter cakes are certainly a better choice. However, finding this cake pan (the ones used for this cake) which was of a far greater quality (from Williams Sonoma) made me re-think bundt cakes. It is no secret how much I love Red Velvet  Cakes so I thought about that first. But then Red Velvet Cakes are soft textured cakes so I knew that would be a challenge. After looking through a few recipes, I found this one and tweaked it slightly to get the desired results.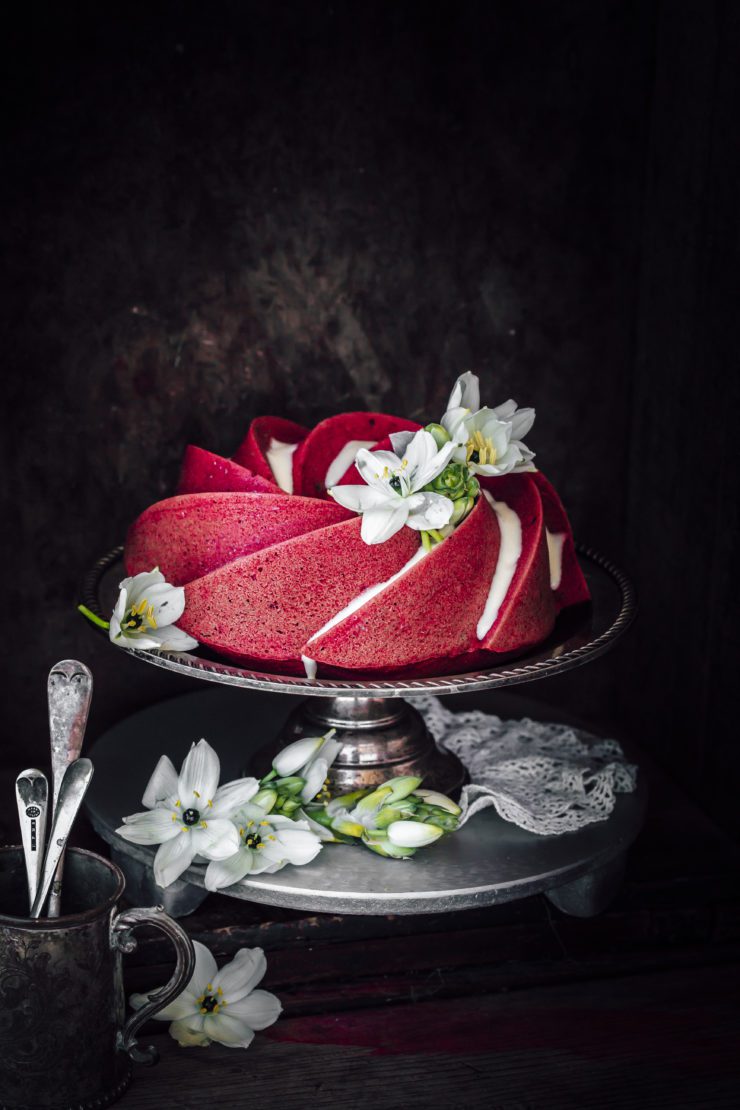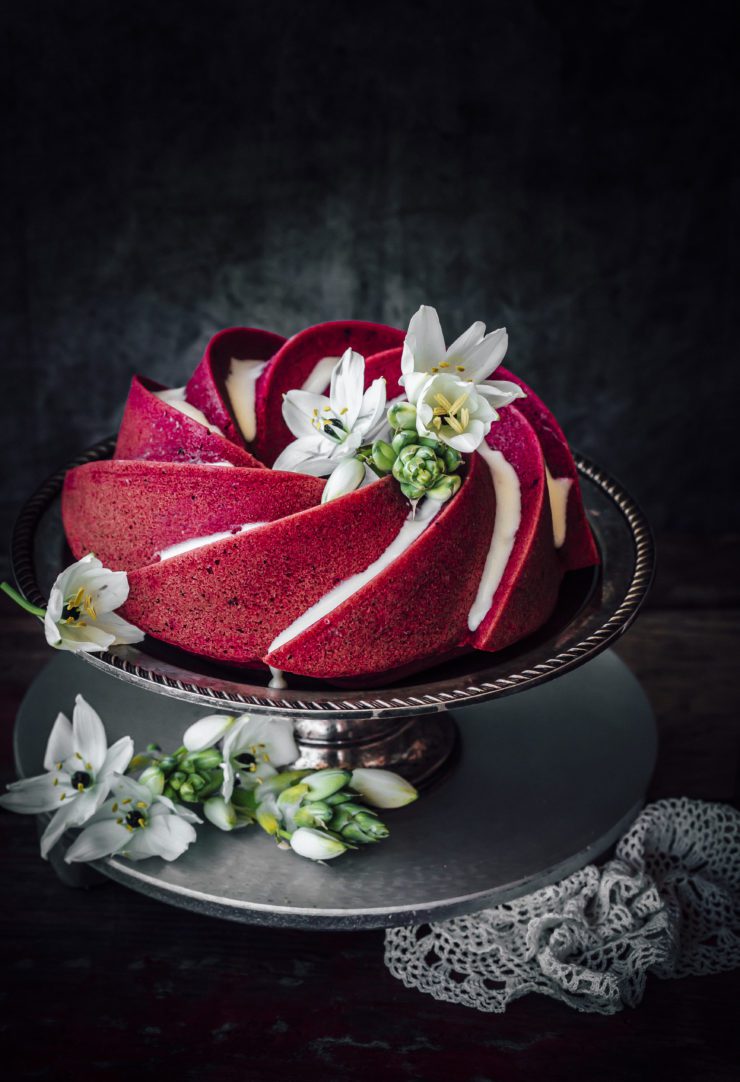 The cake came out perfectly. No sure if it was the pan or the cake or maybe both. The inside of the cake was still quite soft while the outside nicely held it's shape. The flavour was there, though not as much as would be in a regular Red Velvet Cake. The cream cheese glaze was delicious and more than made up for it. Owing to the shape, most of the glaze slid down the edges but when I served it to my friends, I add an extra generous drizzle to the slices on the plate and that went down a treat with everyone.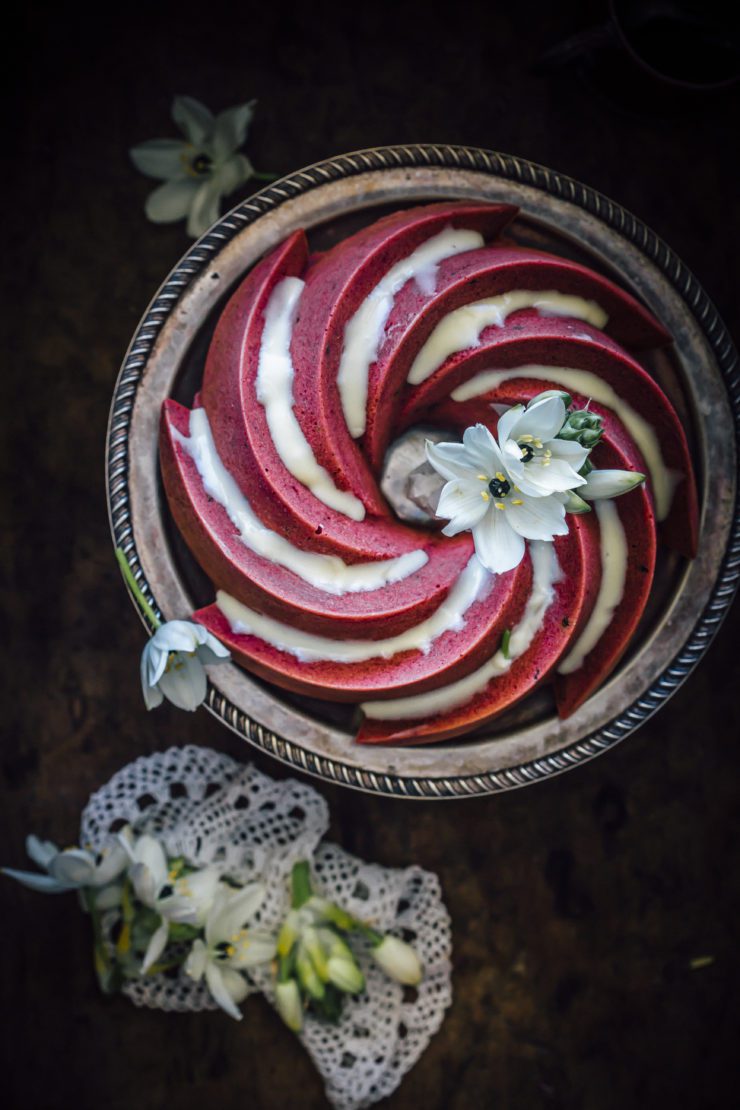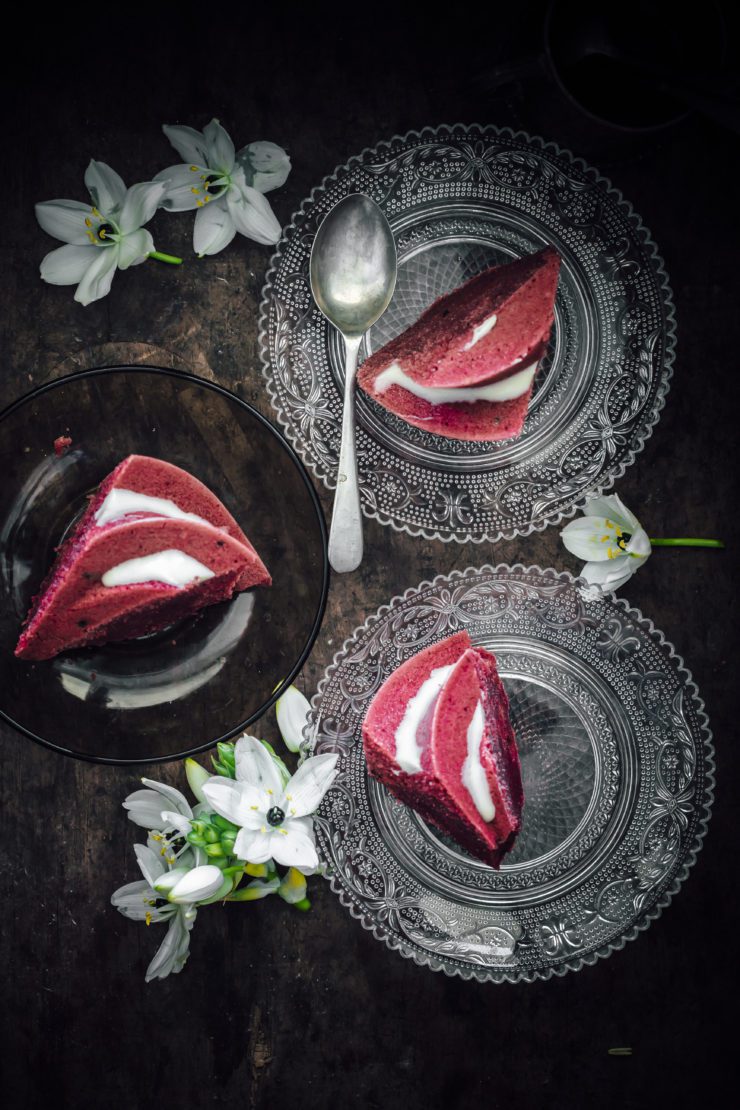 Red Velvet Bundt Cake
Makes a 8.5 inch bundt cake
1 1/4 cups vegetable oil
1 cup buttermilk
2 eggs
2 tbsp red food coloring
1 teaspoon apple cider vinegar
1 teaspoon vanilla extract
2 1/2 cups plain flour
1 3/4 cups castor sugar
1 tsp baking soda
a pinch of  salt
1 1/2 tbsp cocoa powder
Cream Cheese Glaze
225 g (8 oz) cream cheese, room temperature
5 tbsp unsalted butter
21/2 cups icing sugar
1 tsp vanilla extract
Preheat oven to 180 degrees C. Grease and flour bundt pan.
In stand mixer or with an electric mixer, combine oil, buttermilk, eggs, food coloring, vinegar and vanilla. Mix well. In a separate bowl sift together dry ingredients. Gradually add to wet ingredients (slowly at first). Beat until smooth.
Pour into prepared pan. Bake 50 minutes or until toothpick comes out clean. Remove from oven. Leave aside for 10 minutes. Slowly loosen the sides and turn onto a wire rack for 30 mins to cool completely. Once cool, spoon the cream cheese glaze on the top.
To make the cream cheese glaze, combine the butter and cream cheese in stand mixer (or with an electric mixer). Gradually add sugar and vanilla at low speed to combine, then whisk at high speed for three minutes.