The ultimate romantic Ice Cream treat with a crunchy cookie crust, creamy and decadent Baileys Original Ice Cream filling topped with fresh, juicy strawberries and candied rose petals.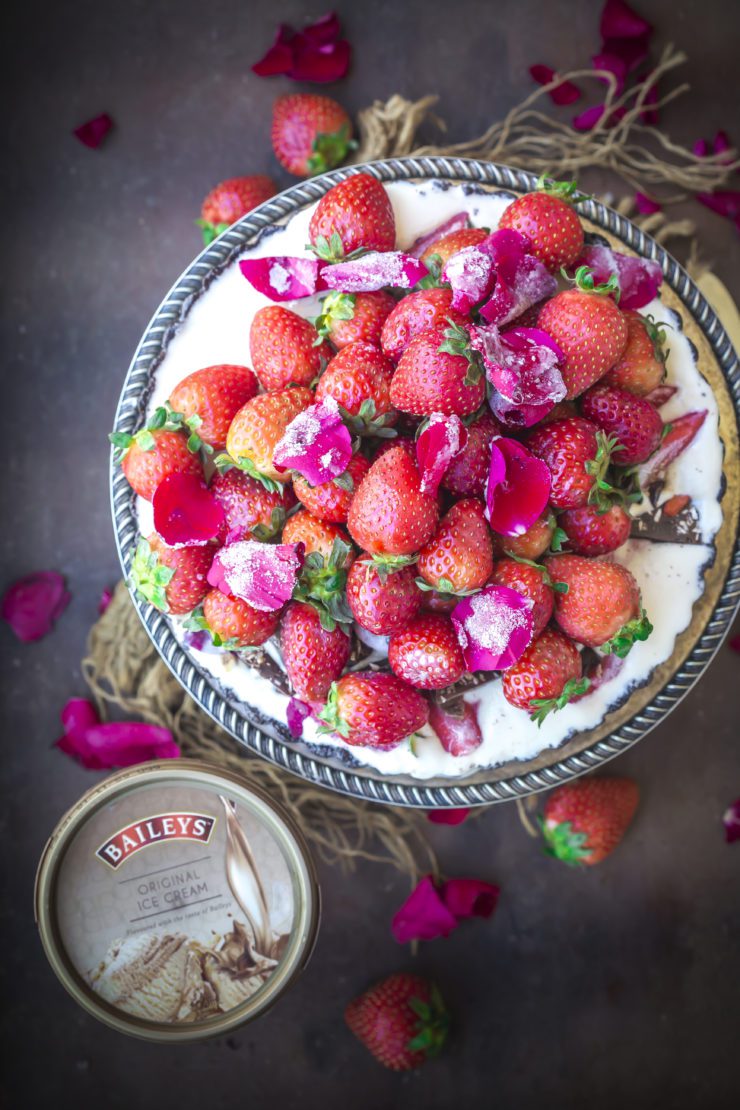 It is that season again when we are trying to find exciting new ways of spoiling our loved ones. I know there are mixed reactions when it comes to Valentine's Day but I am a sucker for all and any reason to eat great food and shower extra kisses on my family. You've heard it before. The way to the heart is through the stomach. So food takes centre stage for me when it comes to impressing someone. In the last few years my food philosophy has been to keep it simple and sweet. Instead of dining out, I prefer an intimate dinner with my husband at home followed by an indulgent, cheeky dessert. We set the table together, light a few scented candles, open up a bottle of wine and chat over dinner which is mostly ordered in. Dessert is ready, waiting in the fridge or freezer because I always settle in for something easy and make ahead. This year I've got the ultimate decadence of a recipe for you. A Baileys Ice Cream Tart that is not only simple to make but come on, it's Baileys. It WILL blow your senses away.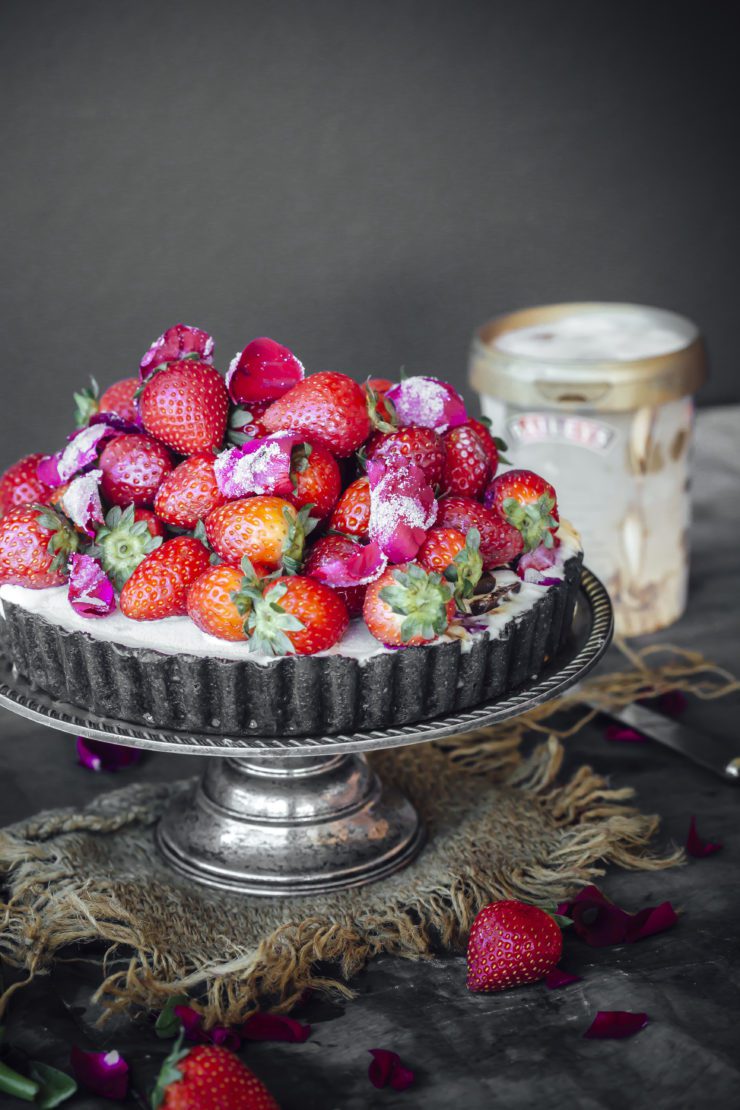 Baileys Original Irish Cream needs no introduction. If you haven't already tasted the Baileys Original Ice cream, it is a luxurious blend of Baileys flavoured swirls and velvety smooth Baileys liquor infused ice cream. So imagine, when you create a dessert with this Ice Cream as your filling, you are setting yourself (and your partner) up for one of the greatest sensual pleasures life can offer. If you are not the one for romance and mush and would rather spend the evening with your girlfriends, double up on the tart because trust me, there won't be enough.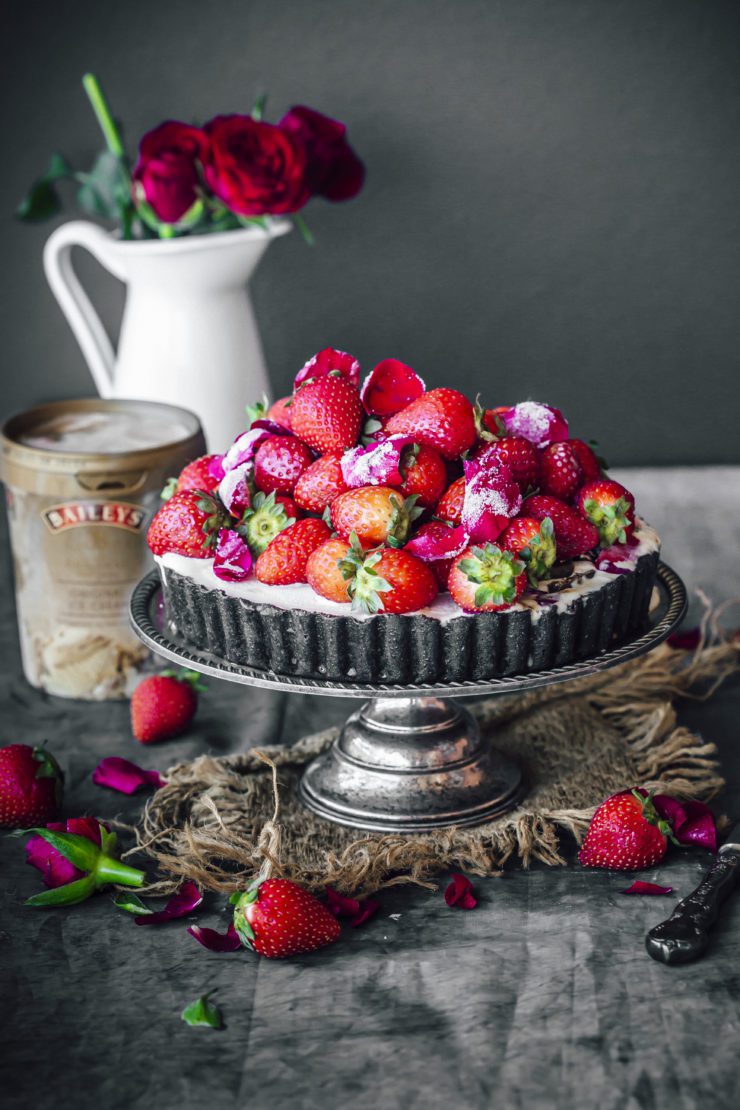 I used a simple no-bake cookie crust to hold the ice cream. The Ice Cream does all the work for you so I've chosen some fresh strawberries to serve it with along with a few candied rose petals. It's Valentine's Day so it doesn't hurt to dress things up a bit. You could personalise it with your own choice of fruits and chocolate garnishes or just eat it as is. Either ways, it is amazing!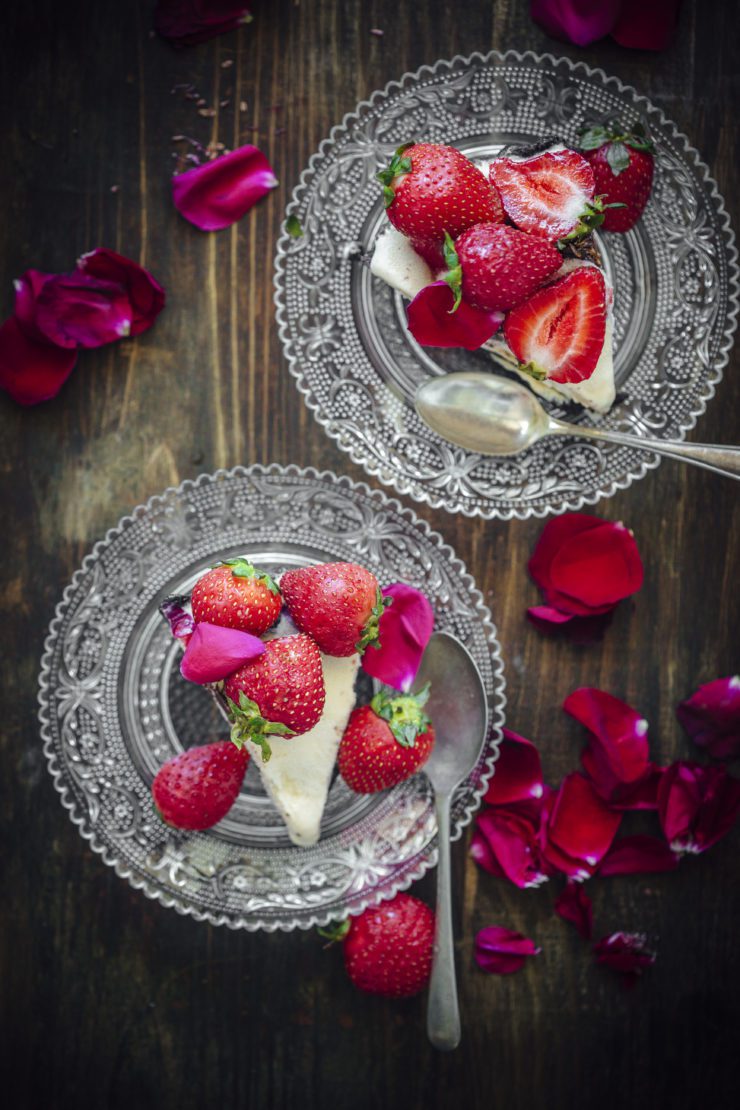 Disclaimer :This post is brought to you by Baileys. All opinions, thoughts and ideas are entirely my own.
Baileys Ice Cream Tart
Makes an 8 inch round tart.
2 X 137 g packs Oreo Cookies (or any other chocolate cookie)
100 g unsalted butter, melted
1 Tub Baileys Original Ice Cream (left at room temperature for 15-20 minutes)
Fresh fruits, chocolates, to serve
Candied Rose Petals (optional)(Recipe below)
Method
Process cookies in a food processor until fine crumbs form. Add the melted butter and mix till well blended.
Press the cookie mixture into the bottom and edges of a fluted tart pan with a removable base. Use the back of a spoon (and your fingers where necessary) to evenly spread out into a neat tart crust. Place the tart pan onto a plate (this makes it easier to move the tart in and out of the freezer). Freeze for 15 minutes.
Remove tart pan from freezer and gently pour the melted Baileys Ice Cream on to the crust. Return to the freezer and let the tart chill till set (about 7-8 hours, preferably overnight).
Top with fruits, chocolates or candied rose petals.  When ready to serve, leave the tart outside for 10 minutes before slicing.
Candied Rose Petals
Petals from a rose that is unsprayed (without pesticides etc)
1 egg white, lightly whisked with a fork
½ cup Castor sugar (granulated sugar)
Gently wash the rose petals and dry them on paper towels until completely dry. Line a baking tray with baking paper. Place the sugar on a shallow plate.
Using a paintbrush, lightly brush the petals with egg white, taking care not to put in excess. Alternatively you could dip the petals in the egg white, turn around to coat uniformly and let the excess drop off.
Dip the petals in the plate of sugar making sure they are coated all around. Place the petals on the prepared baking tray. Allow to dry and harden before use (approx. 5-6 hours)