I was supposed to share a different recipe today but this cake turned out so good that I couldn't wait until next week. After all, what better to make on the weekend than a good chocolate cake. When that chocolate cake is the most fudgy, outrageously delicious brownie cake you have to share it with the world, right?. A perfectly cracked top and a rich, moist interior and above all, a few simple ingredients that are mostly available at home.  I've been under the weather this week and this cake got me all excited. I've made enough brownies and cakes in the last two decades to know a really good recipe. This is a keeper!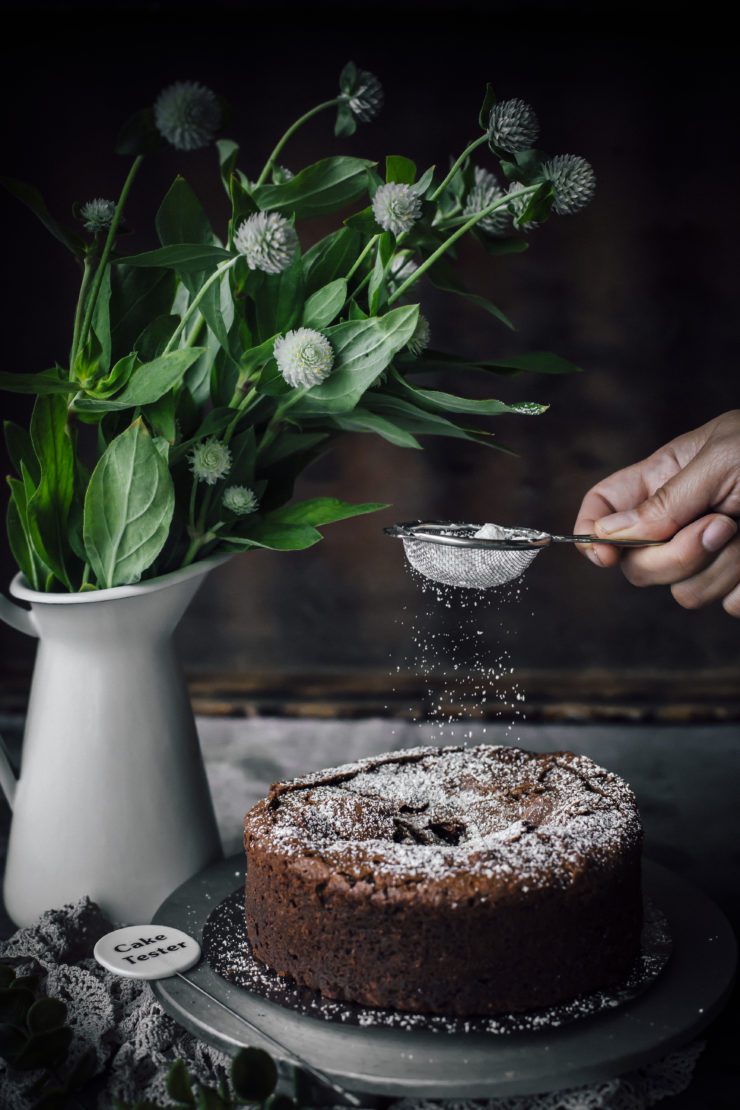 It's Autumn over here and the light is beautiful. A subtle, diffused light that makes me want to stand outside and photograph everything I can lay my hands on. Summer is my favourite season mainly for the beautiful fresh produce it brings with it and I feel a bit sad when it ends but the first few weeks of Autumn are the best where there is an overlap. We are still enjoying plums, peaches and figs but the apples have started arriving and the weather has cooled down substantially. As for this Brownie cake, the beauty of a chocolate cake is that it defies seasons and reasons. Make it anytime, anywhere.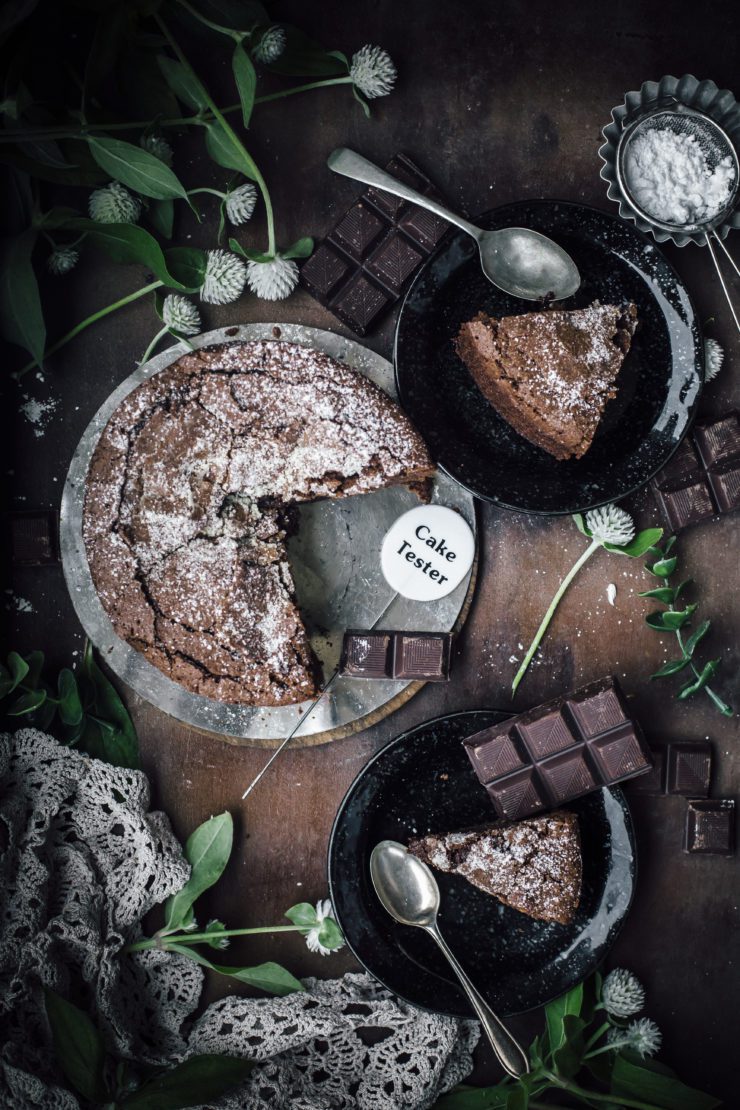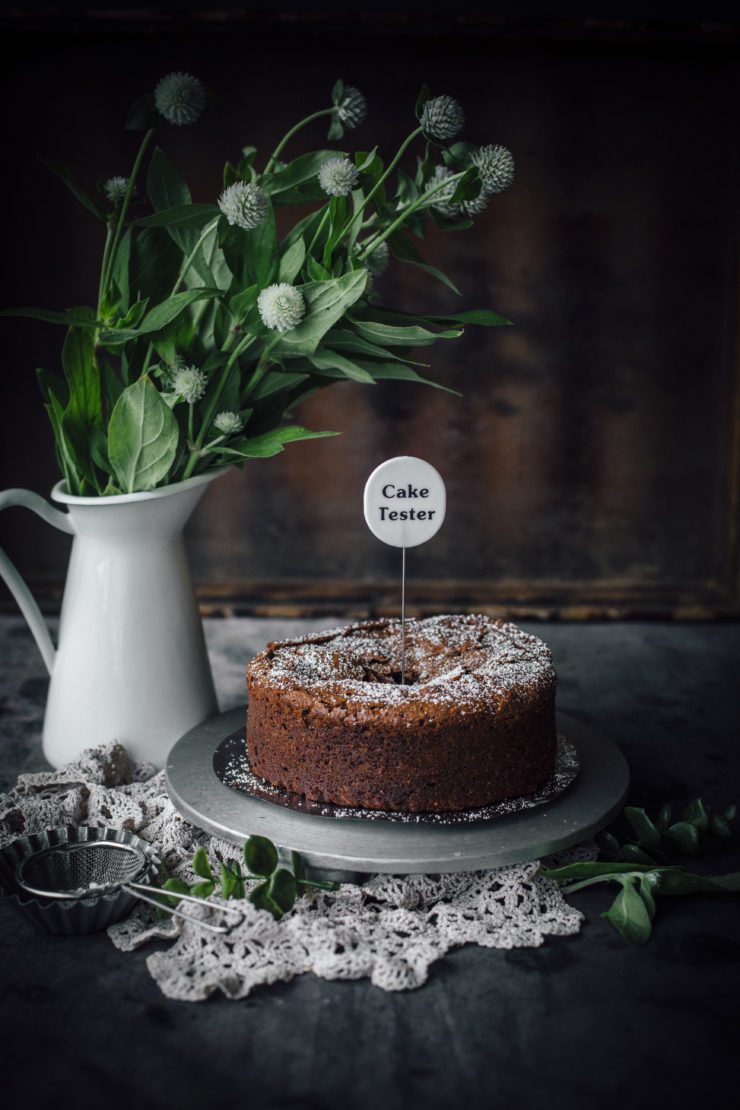 The initial plan was to decorate the Brownie Cake  with red berries. However, it does not need a thing. A sprinkling of icing sugar was enough. The recipe requires the eggs to be separated and whites whipped first and then mixed into the batter. This is the perhaps the reason why the texture is so amazing. If you haven't separated eggs before, go for it this time. It's worth it and does not require any perfection as such. If you'd like to try out variations, throw in some orange zest or orange peel, or add a teaspoon of instant coffee powder for a Mocha flavour. I made mine in a 6 inch cake pan and the it had a decent height. If you don't have a 6 inch pan, you could make it in a 7 inch pan as well. The baking time will reduce to about 45 mins but its best to keep an eye on it after 40 mins.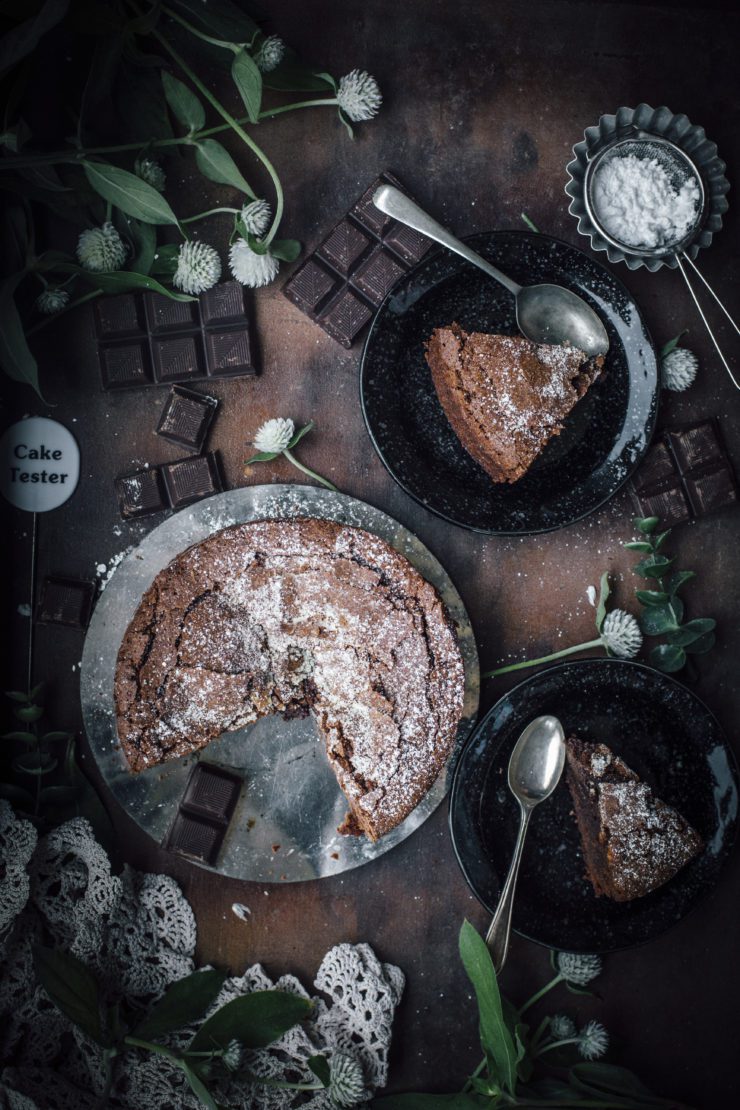 Chocolate Brownie Cake (adapted with variation from BBC Goodfood)
Makes a 6 inch, round cake.
175 g unsalted butter, roughly chopped
175 g dark chocolate , roughly chopped
1 cup (200 g) castor sugar
3 medium eggs, separated
1/2 cup (about 65 g ) plain flour
1/4 cup chopped hazelnuts (or a nut of your choice)
Preheat oven to 180 degrees C (160 degrees C for fan forced ovens). Grease a 6 inch round pan (base and sides) and line the base with baking paper. Place the butter, chocolate and sugar in a medium saucepan over low heat until melted, stirring occasionally until blended. Remove from heat and leave aside to cool (about 20 minutes).
Whisk the egg yolks into the chocolate mixture, then add the flour and nuts.
Whisk the egg whites until they form soft peaks, then gently, but thoroughly, fold into the chocolate mixture.
Pour into the prepared pan and bake for about 50-60 mins or until crusty on top. Leave to cool, then run a knife around the sides and remove from the pan. Dust with icing sugar and serve warm.