Layers of Coconut and Raspberry Cake with a sweet-tangy, delicious cream cheese frosting and fresh raspberries. It's easy to make and looks impressive.
This Autumn hasn't been anything like I expected. Can I call it Monsoon because it has rained pretty much every single day since the last one month? Back in the tropics where I grew up, there would be a whole season dedicated to the rains called Monsoon. Rugby and Soccer matches have been cancelled for the boys for weeks and that means we have been indoors every evening. While it was a huge relief to escape the 40 degree plus temperatures of summer, I'm still waiting for the perfect picnic weather. The great news however is that we've still got beautiful summer produce at amazing prices and that means no dearth of inspiration. I know! I just can't get past Summer and it's bounty. Amidst my busy workload of new recipes for clients my heart has been craving Cake. I think this Coconut and Raspberry Cake is the first layer cake for the year. Quite shocking really for a person who loves making them. Now I don't want to stop. It's quite like therapy..helps me unwind and takes my mind off the stress of work and home.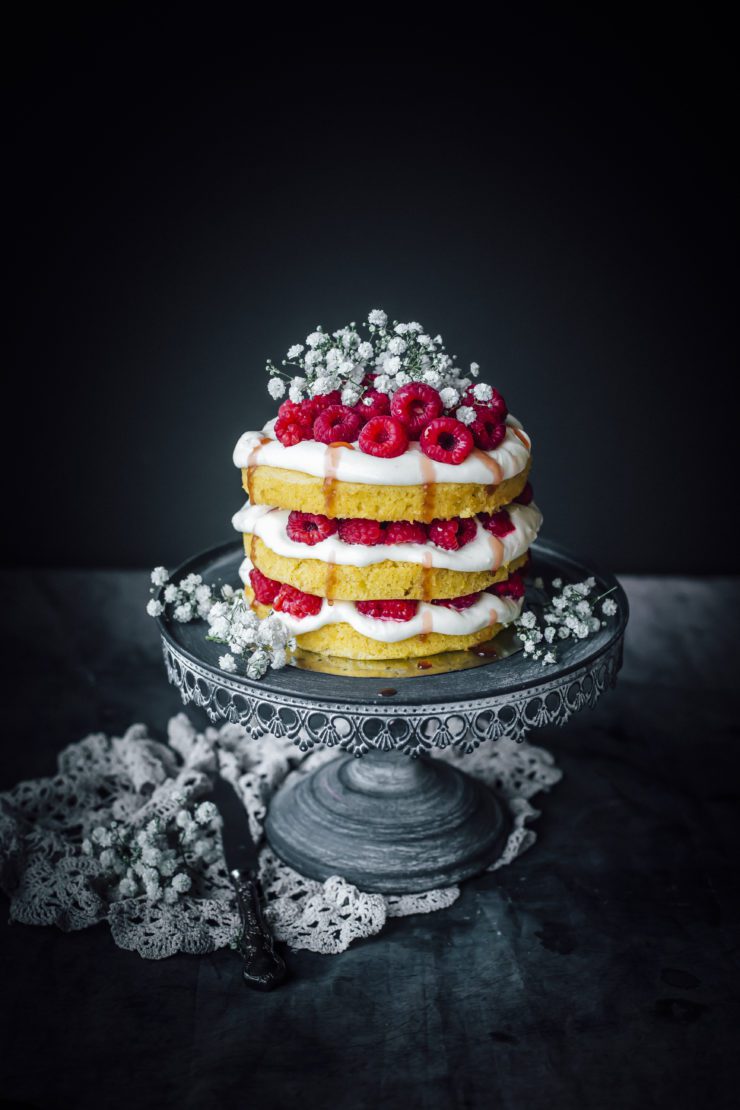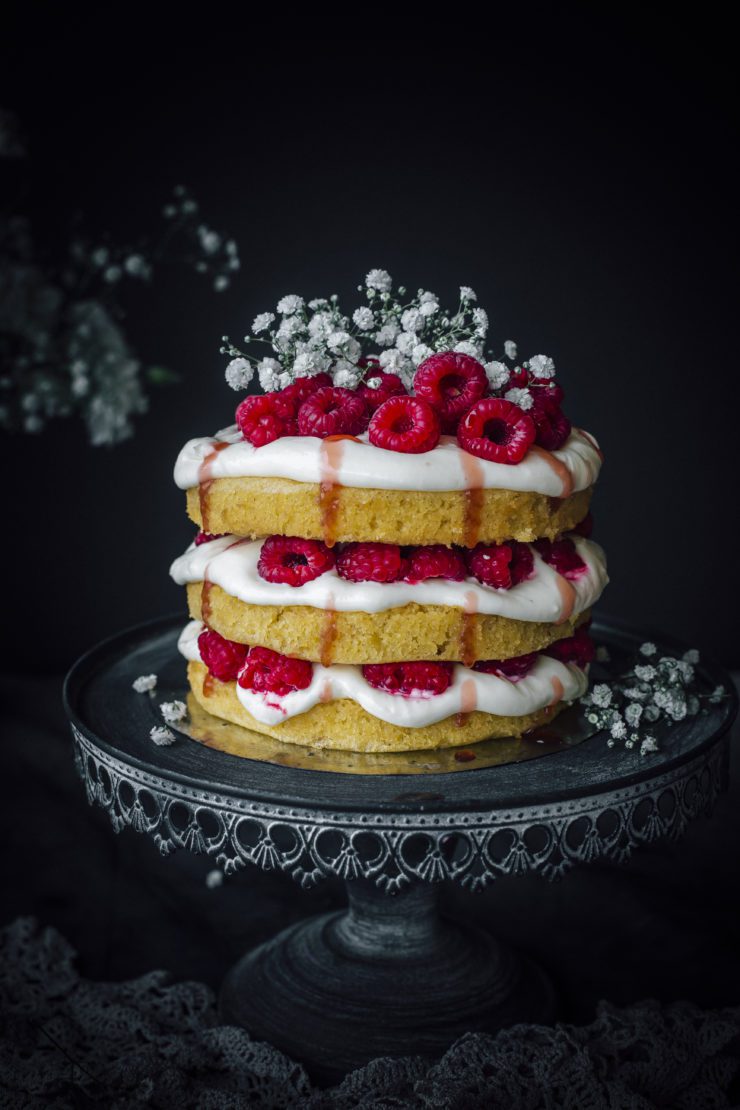 I am personally not a big fan of coconut cakes but readers and my friends seem to love them. For me they are great when you want to bite into a bit of texture but you don't want a nut cake. They are also pretty amazing when you pair them with other flavours. I have a few frosted coconut cakes on my blog already so I wanted this one to be really simple and more like a Victoria Sponge cake. But instead of cream we have a sweet-tangy cream cheese frosting, fresh raspberries and layers of coconut cake that are light like sponge. It is a great marriage of freshness and flavour.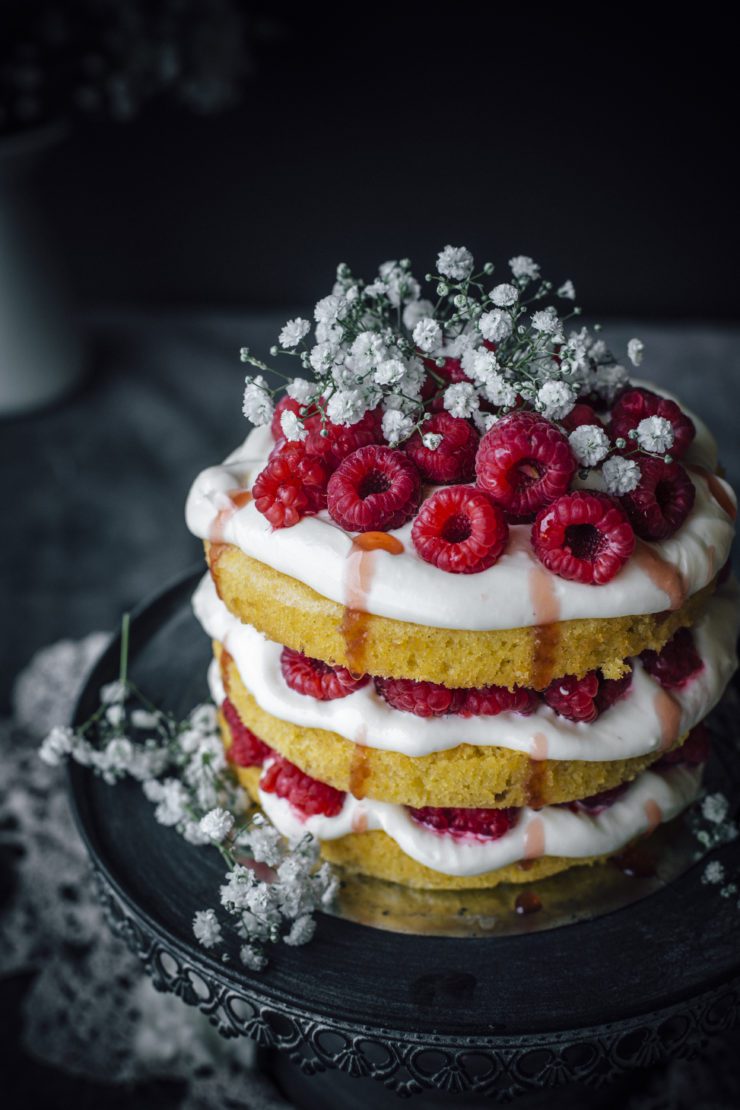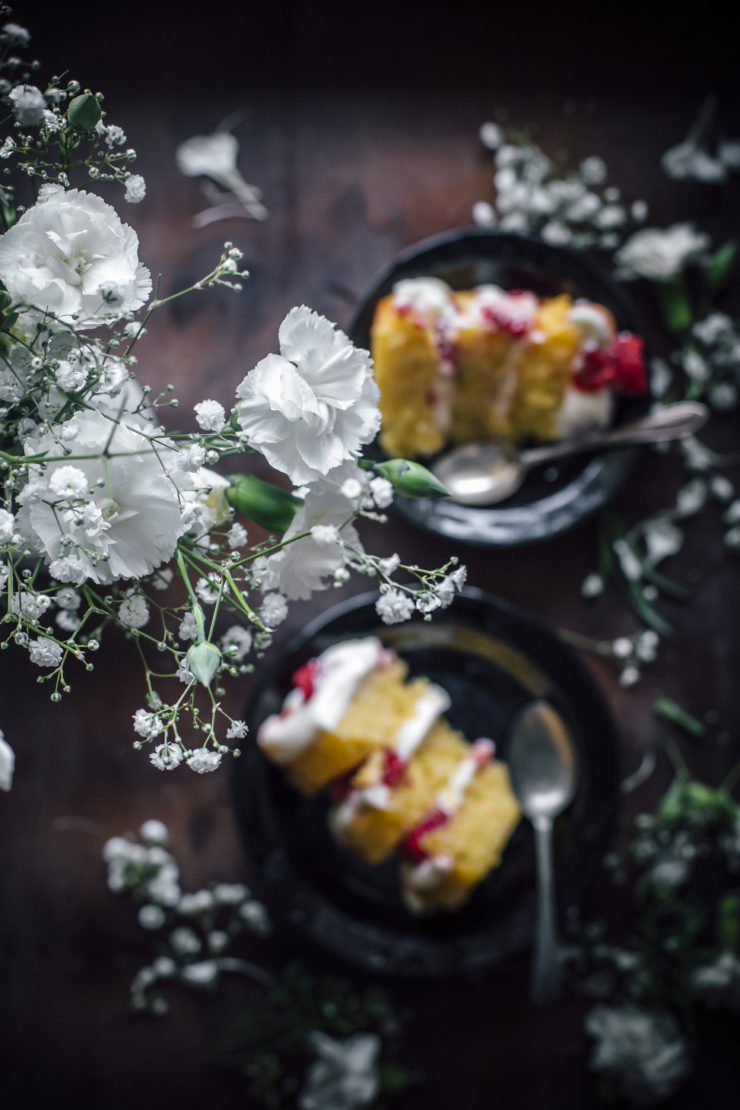 Coconut and Raspberry Cake
Makes a 6 inch layered cake
180 g unsalted butter, softened
1 cup castor sugar
4 eggs
2 tsp vanilla essence
11/3 cup self raising flour
1/4 cup plain flour
1/2 cup desiccated coconut
1/2 cup milk
Cream Cheese Frosting
225 g full fat, cream cheese
50 g unsalted butter, room temperature
2 cups icing/powdered sugar
1 tsp vanilla essence
Preheat oven to 180 degrees C (160 degrees for fan-forced ovens). Lightly grease the base and sides of 3, 6 inch pans and line the bases with baking paper. Beat the butter and sugar together using a electric mixer (or an hand mixer) till light and fluffy. Add the eggs, one at a time, beating well after each addition. Mix in the vanilla essence. In a separate bowl mix together the self-raising flour, plain flour and desiccated coconut. Fold in the flour mixture and milk slowly into the egg mixture and mix till blended.
Divide uniformly between the prepared cake pans. Bake for 25-30 minutes or until a skewer inserted into the middle of the cake comes out clean.Remove pans from oven. Leave aside for 5 mins, then turn cakes carefully onto a wire rack. Cool to room temperature. Once cool, frost with cream cheese frosting and top with fresh raspberries.
To make the Cream Cheese frosting :place the cream cheese and butter in a bowl and whip until smooth and blended. Add the icing sugar and vanilla essence and beat until light and creamy. Add more sugar, if needed.