Baked chocolate doughnuts with a decadent Baileys Chocolat Luxe Glaze, topped with hazelnut praline and mini chocolate eggs. The perfect Easter treat for adults.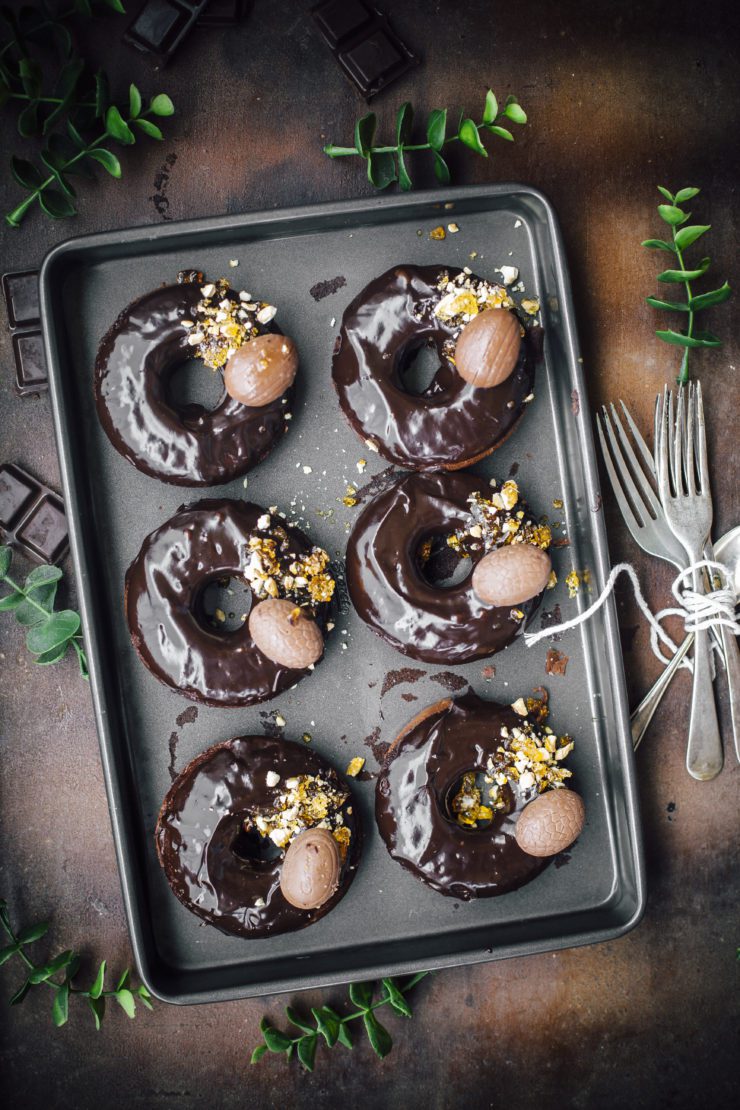 This year I'm hosting an Easter Brunch. Am I excited? I'm super egg-cited. Not only because I have a delicious spread planned well but more so because I am making sure my guests are totally impressed with my menu. Easter is a great time to have fun as a family but amidst the egg hunts, candy eating and bunny costumes, adults can sometimes feel left out of the loop. It's a long weekend plus gorgeous autumn weather and a great occasion so every reason to indulge with food. Like always my menu includes plenty of make ahead dishes.  Dessert of course, was a no-brainer!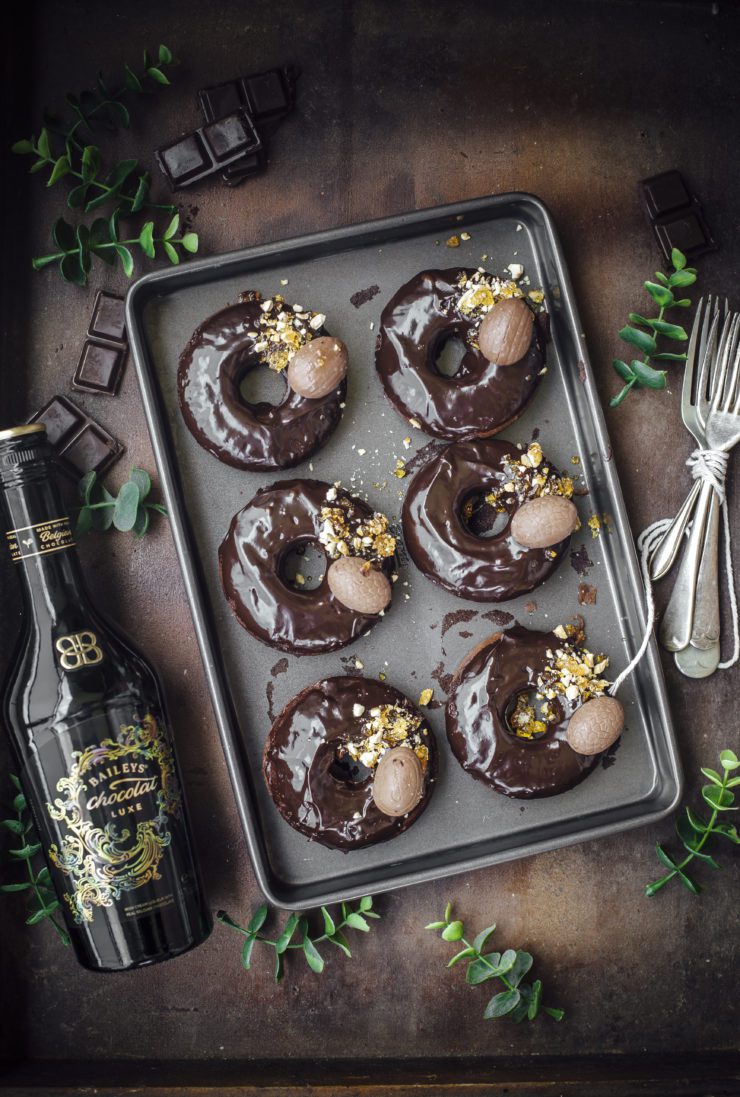 When I need a true blue, blow-your-mind-off kind of dessert, I just have to turn to Baileys. Who doesn't love Baileys? This time I decided to use the Baileys Chocolat Luxe liqueur. Rightly named, it is luxe, it's dainty, it's indulgent, it's special and oh so amazing! Picture the fusion of Belgian Chocolate, Irish whiskey and cream in a liqueur. And then imagine this liqueur in your dessert (that is if you can stop yourself from not drinking straight away. Go on, I dare you to). Sheer pleasure!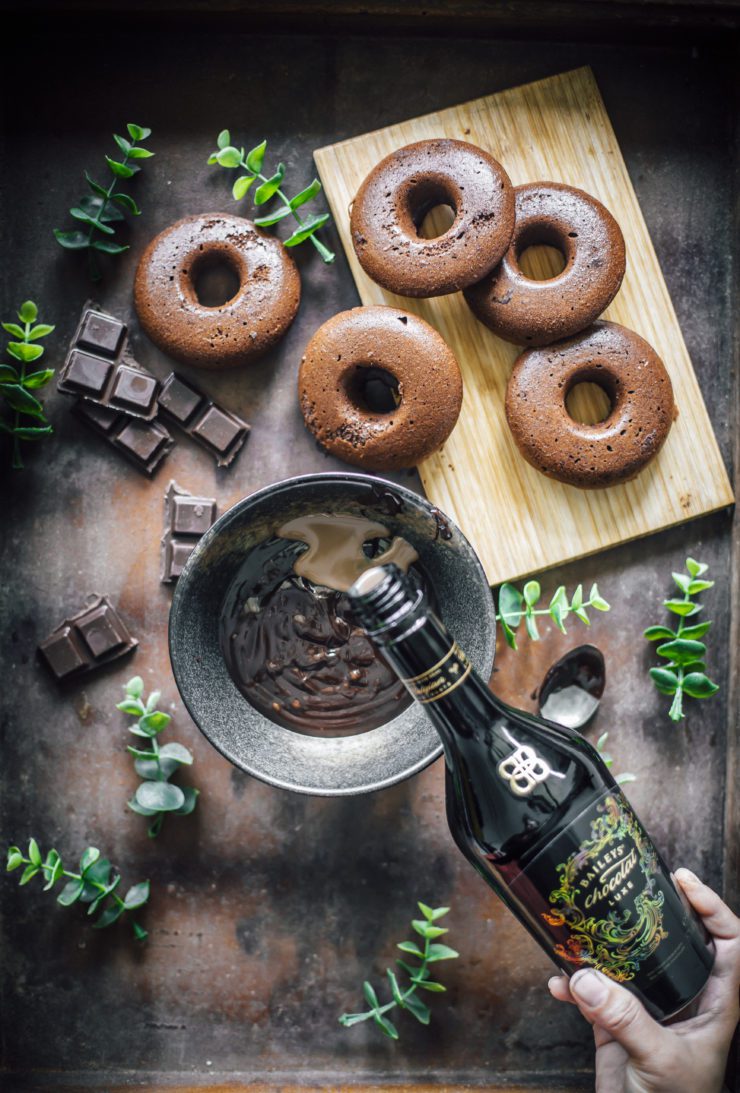 I created a Baileys glaze (you could also call it ganache) that would be perfect on doughnuts. The idea is to serve something cute as well as cheeky for my adult guests. Because the doughnuts are baked and not fried, they are light and soft. Paired with the Baileys glaze, they are irresistible. A little sprinkle of hazelnut praline gives the doughnuts a delicious, crunchy bite. Then make them festive by adding a mini chocolate egg.
The great thing about this glaze is that it is versatile. Drizzle it on your pancakes, glaze muffins or mini cakes or even spread it on toast. It makes for a super luxe dessert sauce that can be stored for weeks in the refrigerator.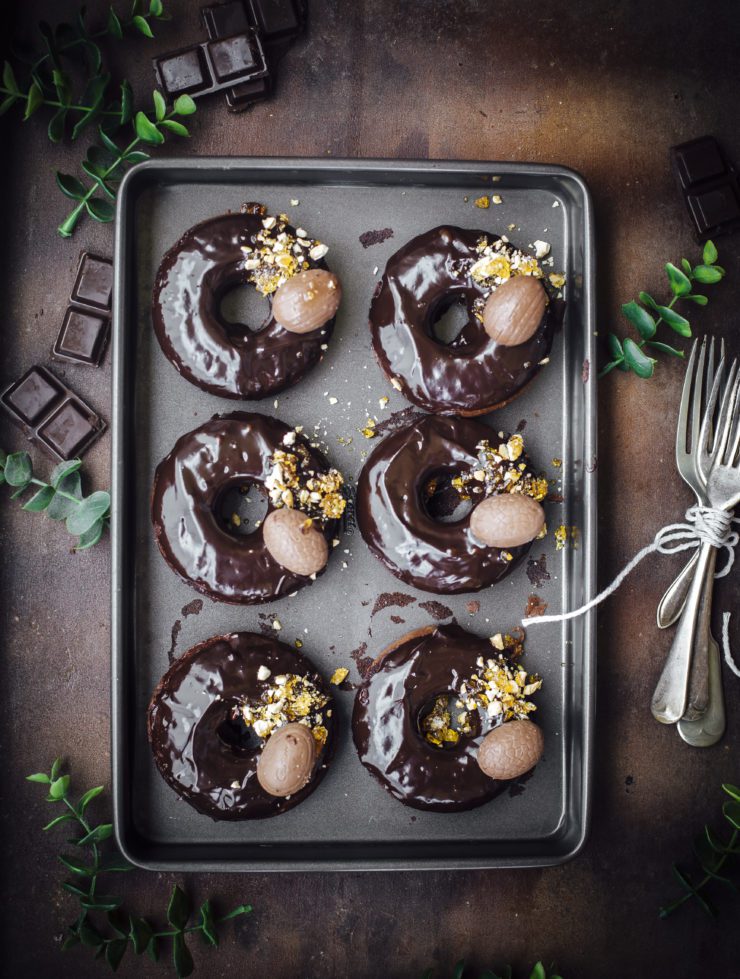 Happy Easter everyone! I hope you spoil yourself and others with great food and indulgent desserts.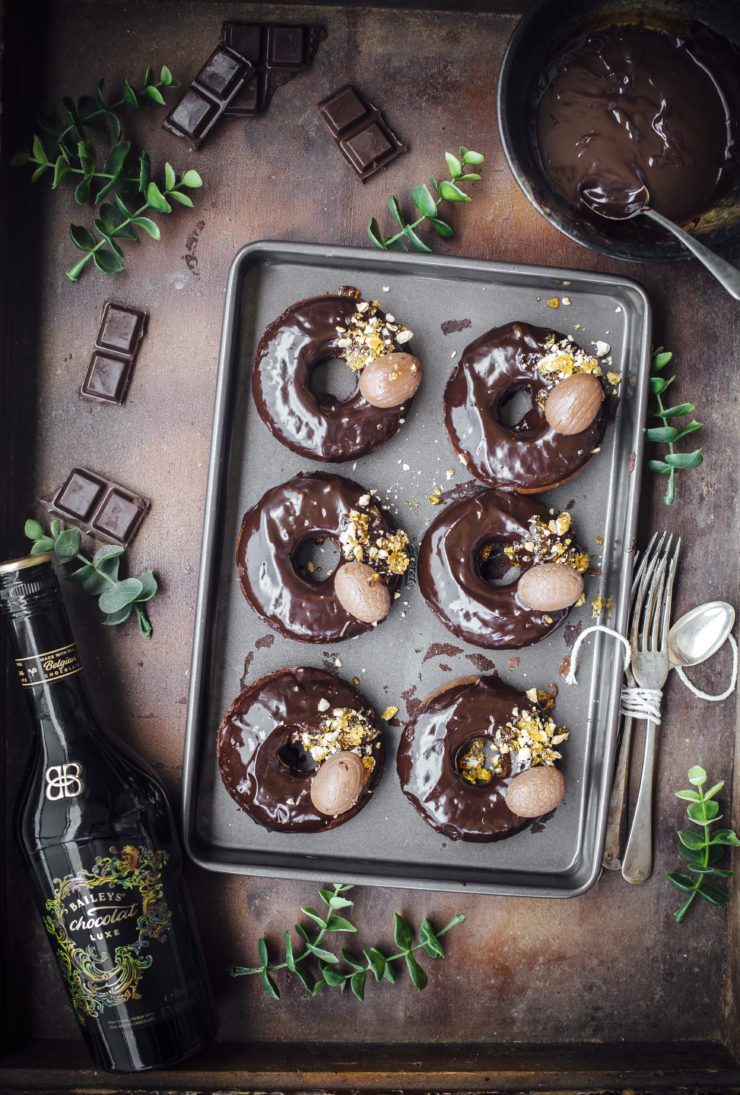 Disclosure: This post is brought to you By Baileys. As always all opinions expressed here are entirely my own.
Baileys Glazed Doughnuts
Makes 10 regular size Doughnuts
11/2 cups self-raising flour
½ cup cocoa powder
½ cup castor sugar
½ tsp baking soda
a pinch, salt
¾ cup buttermilk
2 large eggs
1 tsp vanilla extract
2 tbsp vegetable oil
Baileys Chocolat Luxe Glaze (recipe below)
Hazelnut praline (recipe below)
Mini chocolate Eggs (store bought)
Baileys Choc Luxe Glaze
½ cup heavy cream
120 g dark chocolate roughly chopped
½ cup Baileys Chocolat Luxe
Hazelnut Praline
1/3 cup castor sugar
2 tbsp water
½ cup hazelnuts (lightly roasted)
Method
Preheat oven to 210 degrees c (190 degrees C for fan forced ovens). Lightly grease a 6 capacity doughnut pan. Set aside.
In a large mixing bowl, mix together flour, cocoa powder, sugar, baking soda and salt. In another medium bowl mix together buttermilk, eggs, vanilla extract and vegetable oil. Add the wet ingredients to the dry ingredient mixture and gently mix till smooth.
Place the batter in a large piping bag fitted with a round tip. Alternatively, you could fill up a zip lock bag whose tip has been cut off with scissors. Pipe out the batter neatly till about 2/3 full of each doughnut hole (as they will rise and become bigger in size).
Tap the pan a few times against your kitchen counter gently to release any air bubbles. Bake doughnuts for about 8-10 minutes or until a skewer inserted in the middle comes out clean. Cool in the pan for 5 minutes, then turn them onto a wire rack to cool to room temperature.
Once cooled, dip the doughnuts in Baileys glaze. Let the excess drip off, then leave aside on a wire rack to set up. Top with hazelnut praline and chocolate eggs.
To make the Baileys Chocolat Luxe Glaze, place cream in a medium saucepan over low heat. Bring to a boil (do not boil) and immediately remove from heat. Add the chocolate and set aside for 10 minutes. Stir with a spoon to mix together until chocolate has melted completely and mixture is well blended. Pour into a bowl.
Add Baileys Chocolat Luxe and mix again. Let the glaze cool slightly so that it starts to thicken.
To make the Hazelnut Praline, line a large baking tray with baking paper. Place sugar and water in a saucepan and stir over medium heat until sugar dissolves and starts boiling. Using a pastry brush dipped in water, brush sides of pan to remove any sugar crystals. Increase heat to medium and boil for 5-6 minutes until caramel starts to form. Stir in hazelnuts, remove from heat and pour the mixture on to the prepared tray. Take extra care as the mixture is extremely hot. Leave aside until cool and hard.
In a food processor (or using a rolling pin and a zip lock bag), pulse the praline until coarsely chopped. Use to top desserts or add to truffles.