Layers of Honey and Poppy seed cake with Rosewater Swiss Meringue Frosting, sprinkled with finely chopped pistachios and dried edible rose petals.
Mother's day is around the corner and my excitement goes up by several notches at the thought of all the pink and floral creations that I will find an excuse to make. If only I could have them delivered to my own Mummy who lives in an entirely different continent. My children come up with all kinds of cute surprises with the help of their of school. Daddy of course plays a big role in all the hush hush exchanges that go on between them in that week and a customary 'breakfast in bed'. You know, I am not at all a breakfast in bed kinda person. Yikes! I need to brush my teeth and sit down to a proper breakfast which I've already communicated to them in so many ways.Hopefully someone will get the message:-)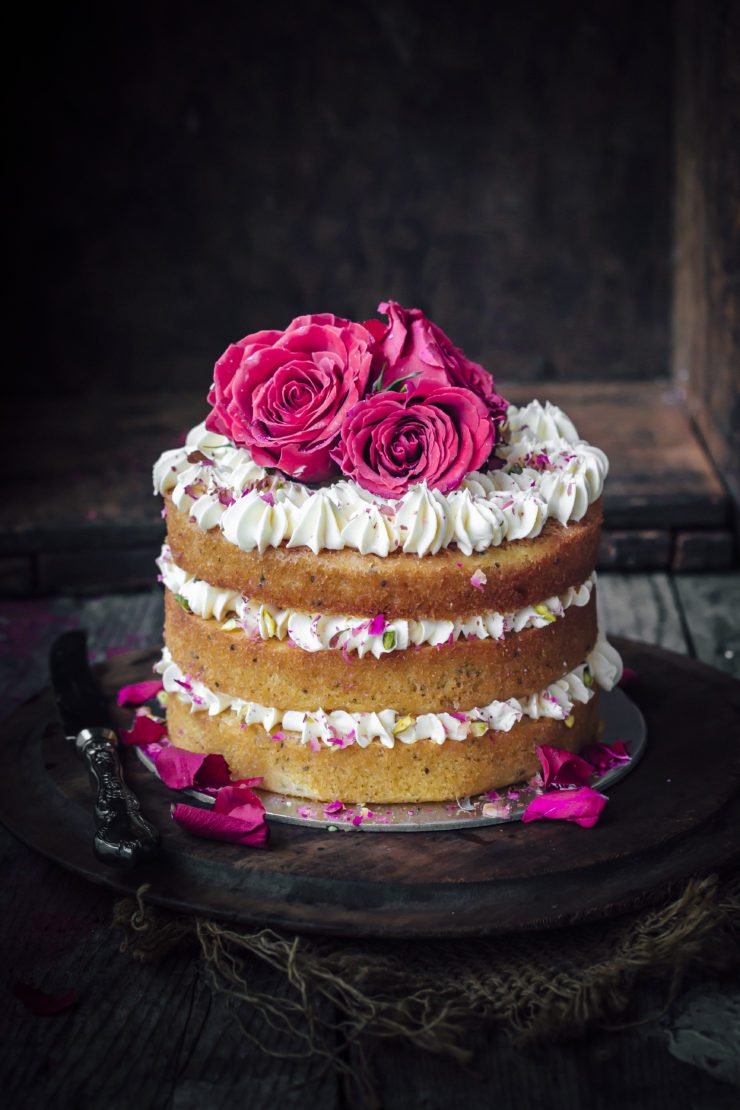 Coming to this cake, I had intended to post the recipe during Valentine's Day but later on felt that it might be more suited to a Mother's Day kind of occasion. Something light, aromatic, delicate and very delicious. The rosewater-pistachio-honey combination are a bomb together. Poppy seeds add an extra bit of crunch. If you are not comfortable with piping, feel free to spread the frosting between the layers.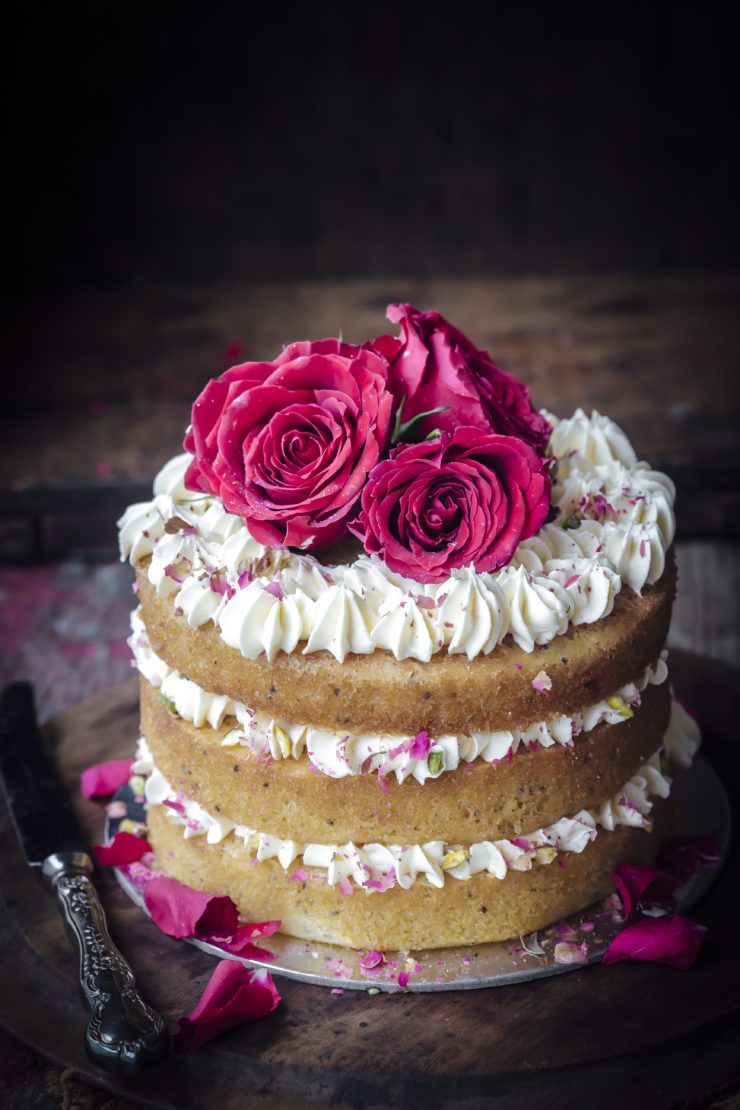 In other news, my Collection with VIDA is up and ready. If you remember I had mentioned to you that I would be designing fashion products for this company using my own art. They are based in USA and have an amazing team of experts bringing these designs to life. I can't even explain my excitement to you when I received my shipment. Being able to wear my work in the form of a scarf is something I had never imagined. You can check them out here. https://www.shopvida.com/collections/sonali-ghosh. It is quite basic at the moment and I will be updating more food-related designs as I go. They ship globally too which is really a great thing.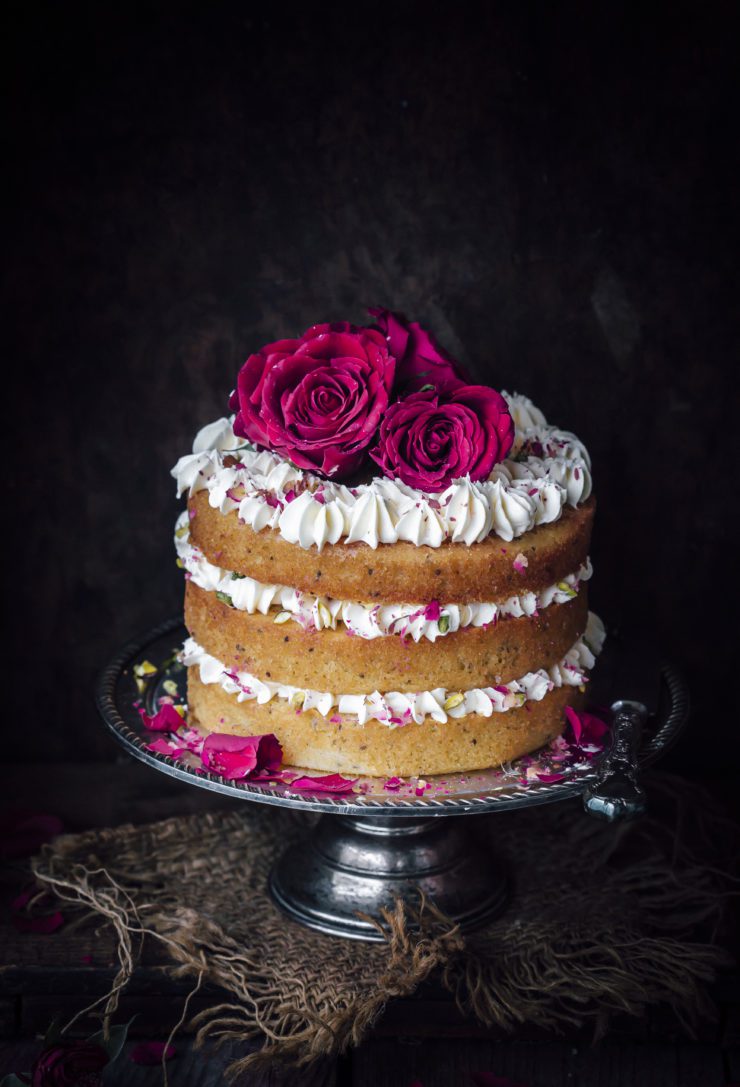 Have a great week, all of you. I have quite a few Mother's Day recipes coming up.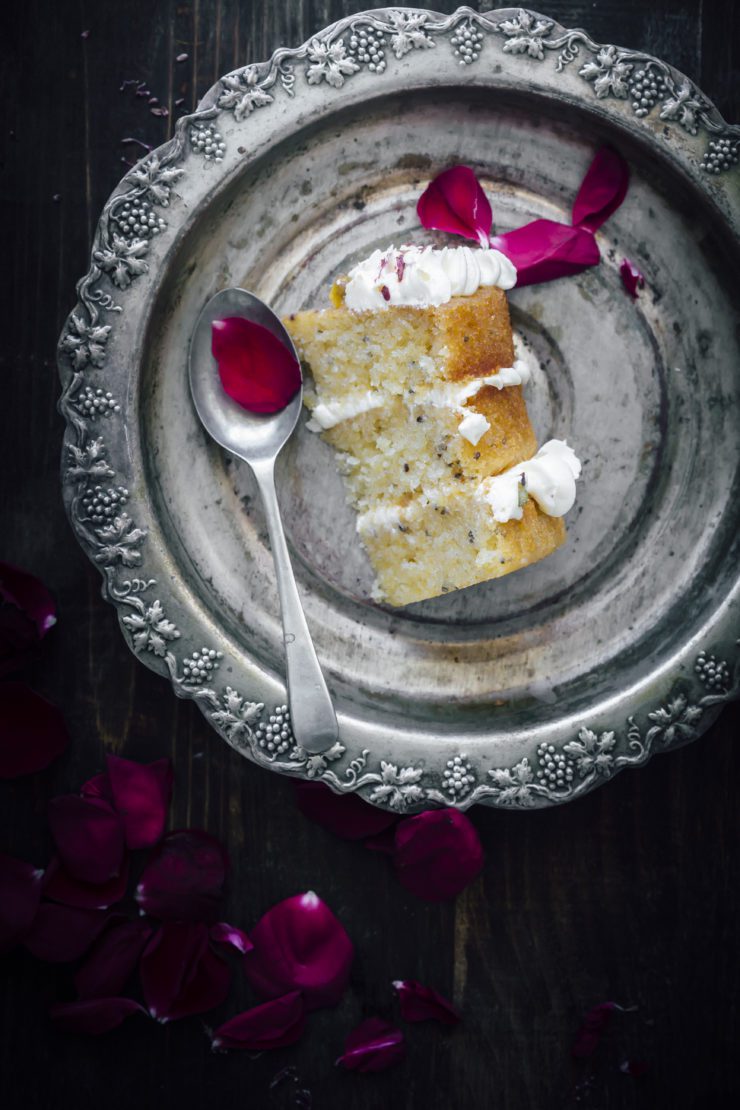 Honey And Poppy Seed Cake
Makes a 3 layered 6 inch round cake
260 g unsalted butter, softened
3/4 cup castor sugar
125 g clear honey
4 large eggs
12/3 cups self raising flour
31/2 tbsp corn flour
3 tbsp poppy seeds
Finely chopped pistachios, to decorate
edible rose petals (slightly crushed), to decorate
Rosewater Buttercream
4 egg whites
1 cup castor sugar
300 g unsalted butter, room temperature, cubed
1 tbsp rosewater
Preheat oven to 160 degrees C (140 degrees C for fan forced ovens). Grease the sides and bases of 3, 6 inch pans and line with baking paper.
Beat butter, sugar and honey with a hand mixer (or an electric mixer) until pale and fluffy. Add the eggs, one at a time beating well after each addition. In a separate bowl mix together the self-raising flour, corn flour and poppy seeds. Add the dry mixture to the honey mixture and fold in gently.
Divide the batter uniformly between the 3 cake pans. Bake for 25-30 minutes or until surface is firm to touch and a skewer inserted in the middle of each layer comes out clean and dry. Remove from oven. Leave aside for 10 minutes to cool in the pans, then carefully remove, easing the sides with a palette knife. Turn cakes onto a wire rack to cool completely.
To make the Rosewater Swiss Meringue Buttercream:  Place the egg whites and sugar in a large bowl that is placed over a saucepan of simmering water (over low heat), and whisk continuously, until the sugar has completely dissolved and the bottom of the bowl is warm to touch
Remove the bowl from the heat and whip on high speed until meringue holds stiff peaks and looks glossy. The bowl should have completely cooled by now.
Add the butter, 2 tablespoon at a time, until thick and fluffy. If it begins to look curdled, continue to whip until it comes back together, before adding in remaining butter.
When the buttercream is smooth and has come together, add the rosewater and whip gently again to blend.
To assemble:  On a cake plate or stand, spread a little buttercream in the centre and place one layer of the cake (so that the cake does not move about while frosting). Using a start nozzle tip and a piping bag, pipe frosting to cover the entire layer. Sprinkle with pistachios and dried rose petals. Place the second layer. Repeat till you reach the final layer. Decorate with fresh roses. Ensure that the roses are free of pesticides or as a precaution vover the stems with baking paper (so they don't come in contact with the buttercream).