Layers of Hazelnut Cake with a delicious Baileys Original Irish Cream Buttercream, White Chocolate Glaze, topped with Baileys Truffles. A dream cake for Mother's Day.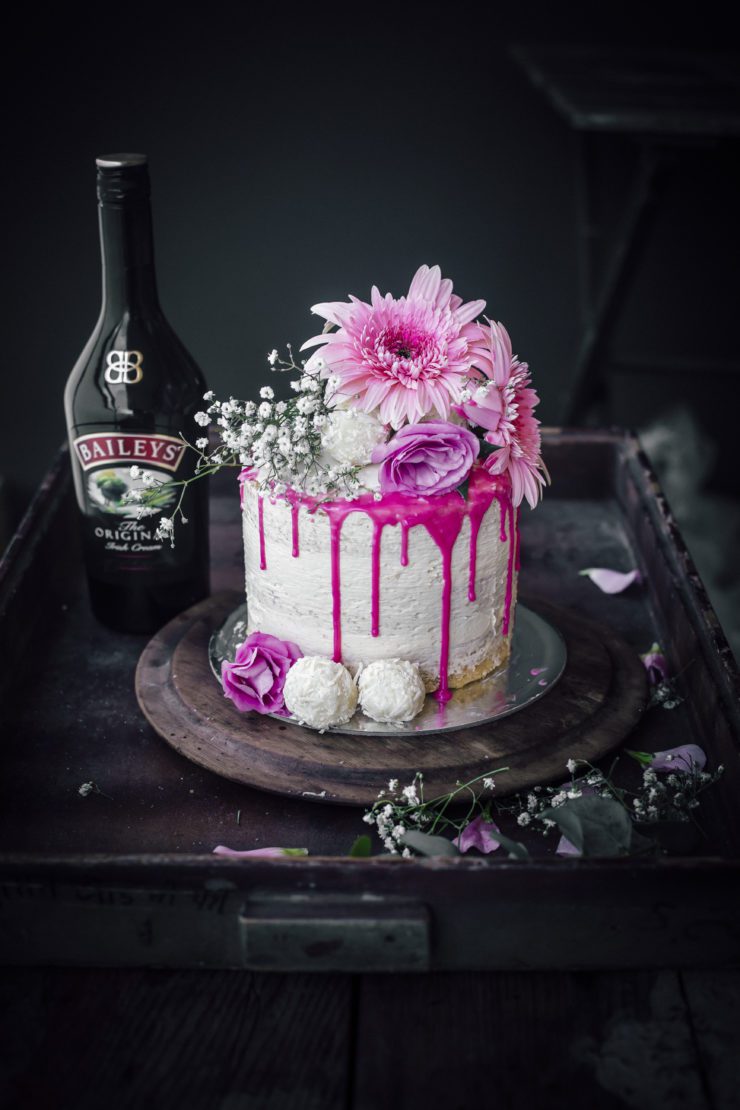 I am a firm believer in hand made presents for my loved ones. A gift made with love is more meaningful than something purchased. When the occasion is Mother's Day, the motivation to get into action is ten folds. Mum gives us the world while growing up. Isn't it fair that we try and give back a little bit to the most special, most irreplaceable person in our life? A painting, handmade candles or a pretty cake. Mums adore these sentiments. If you ask me, baking a cake is one of the sweetest gestures because it shows that you have spent time in creating something. To make that cake unique this year, I've added something I know is loved by the entire world. Baileys Irish Cream.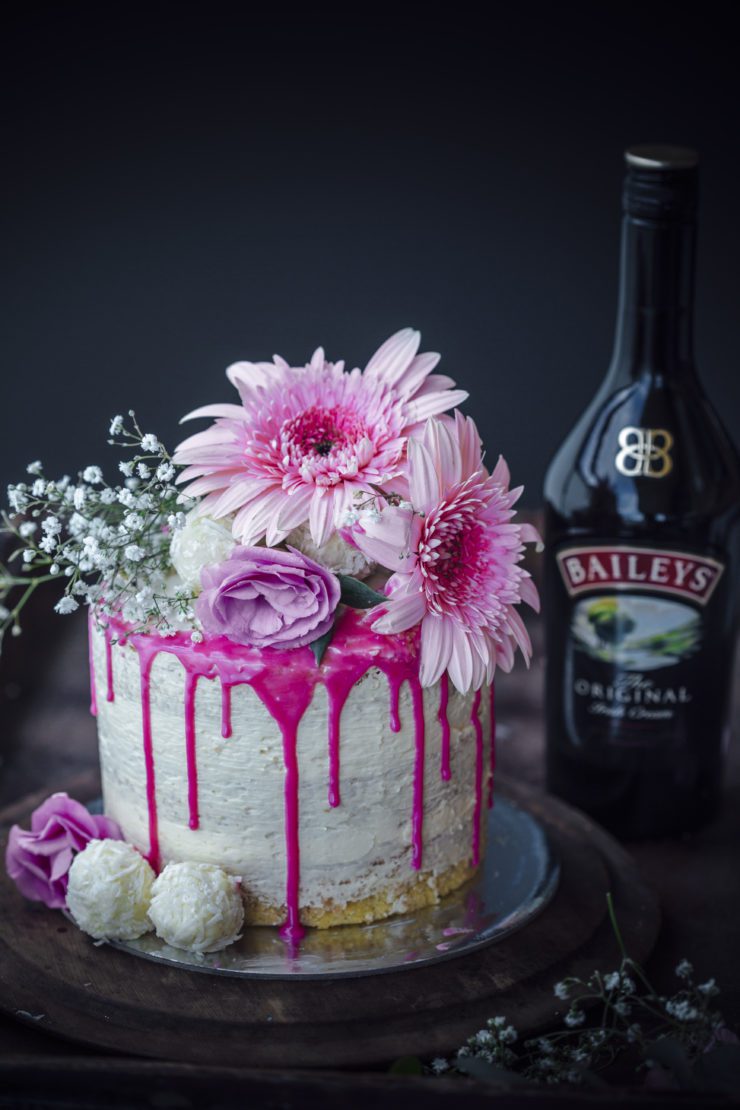 The Heavenly combination of hazelnuts in the cake layers and Baileys in the buttercream makes it a treat for the taste buds. And of course, it's Mother's Day so flowers are a must. Don't you just love the idea of a cake as a vehicle for pretty flowers?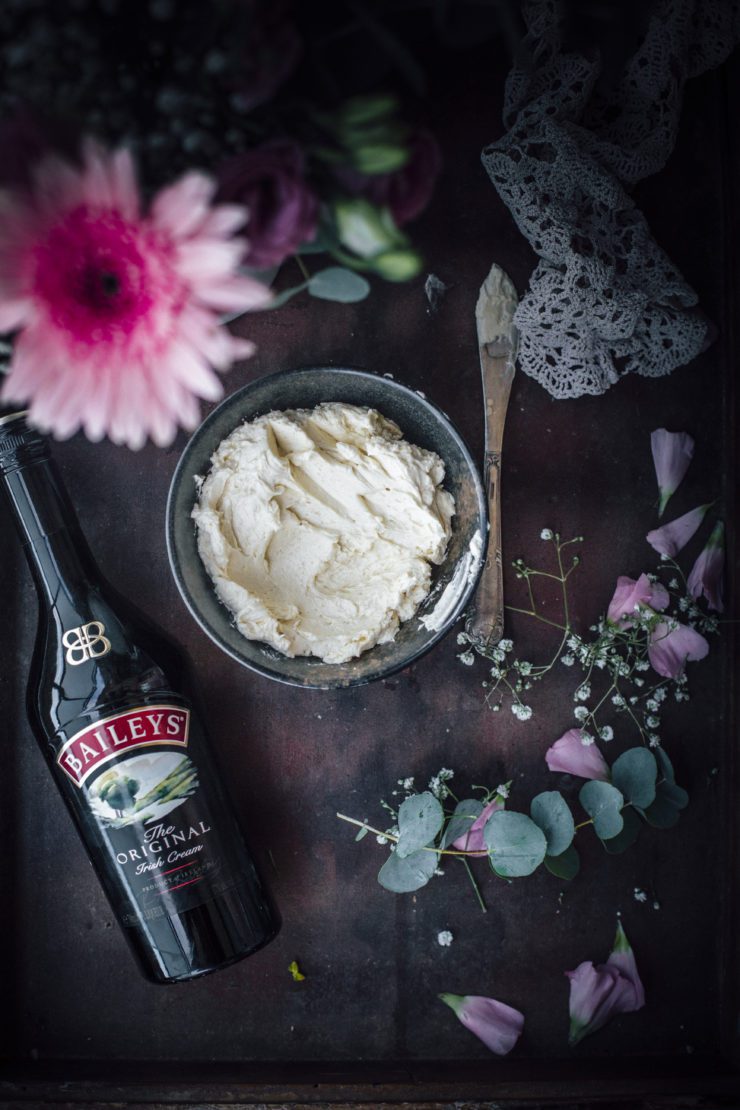 Baileys liqueurs are a dream to work with. They blend well in frostings or glazes whilst retaining their presence in a subtle, delicious way. Like all my cakes, the layers can be made ahead and are quite simple to put together. Naked cakes have a level of intrigue and rustic charm that appeals to many. They are also lighter as we forgo quite a bit of frosting which is perfect for Mummy-s. Lastly, I highly recommend the Baileys truffles. They are irresistible and something you could present on top of the cake as well as wrapped in a small box with cute ribbons around it.  Anything to impress Mummy, right?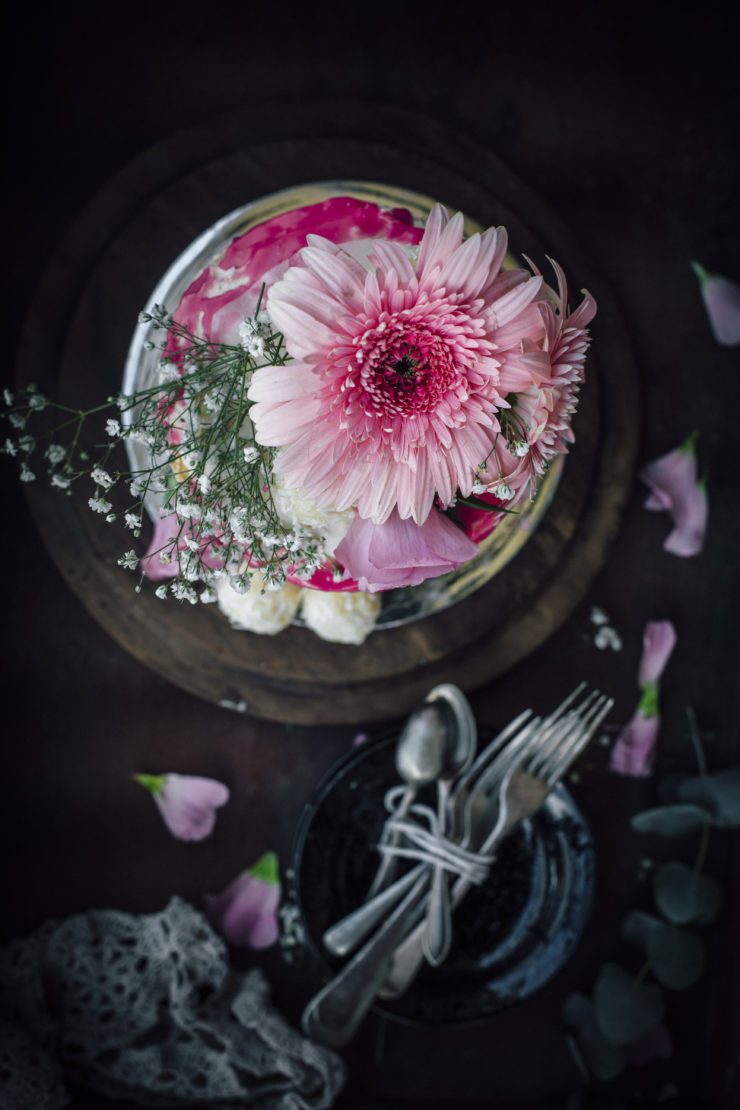 Happy Mother's Day to all you beautiful Mums, GrandMums and soon to be Mums out there. I hope your day is filled with unlimited love and joy.
Disclaimer: This post is brought to you by Baileys. As always, all opinions expressed in this post are entirely mine.
Hazelnut Cake with Baileys Buttercream
Makes a 6 inch, 3-layered round cake
Hazelnut Cake
250 g unsalted butter, softened
11/4 cup castor sugar
4 eggs
1 tsp vanilla essence
21/2 cups self-raising flour
1 cup hazelnut meal (ground hazelnuts)
1 cup milk
Preheat oven to 160 degrees c (140 degrees C). Grease and line the base of 3, 6 inch pans with baking paper.
Using an electric mixer whisk together butter and sugar till fluffy and combined. Add the eggs, one at a time and beating after each addition. Add the vanilla, flour, hazelnut meal and milk and beat till mixture is smooth.
Divide uniformly between prepared pans and bake for 25-30 minutes or until a skewer inserted into the centre comes out clean. Remove pans from oven. Leave aside for 10 minutes. Gently turn out cakes on to a wire rack. Cool completely to room temperature.
Baileys Buttercream
125 g unsalted butter, softened
11/2 cups icing sugar
1/3 cup Baileys Original Irish Cream
Beat the butter in a bowl using an electric mixer until light and fluffy. Gradually add icing sugar and beat till combined. Add Baileys Irish Cream and beat for another 2-3 minutes till mixture is smooth and blended.
White Chocolate Glaze
100 g white chocolate, roughly chopped
3 tbsp heavy cream
1-2 drops pink food colour
Heat the white chocolate and heavy cream over low heat in a small saucepan. When cream just reaches boiling point, remove from heat and leave aside. Stir with a spoon to make a smooth mix. Add the food colour and stir to blend.
Baileys Truffles
½ cup thickened cream
140 g white chocolate, roughly chopped
2 tbsp Baileys Original Irish Cream
½ cup shredded coconut
Place chocolate in a heat proof bowl. Heat cream over low heat until it just reaches to a boil (do not boil).  Pour the hot cream over the chocolate and leave aside for 5 minutes. Stir mixture with a spoon until smooth. Add Baileys Irish Cream and mix till blended. Chill for 6 hours or until firm enough to roll into truffles. Using hands, roll into balls, then roll into plate of coconut. Keep chilled until needed.
 To assemble: On a cake plate or stand, spread a little buttercream and place the first cake layer (so the cake does not move about while frosting). Spread a little Baileys Buttercream (about 1/3 cup). Place the second layer. Repeat. Place the last layer upside down (so you get a flat top to work with). Spread buttercream on top and sides. If you are after a naked look, a thin layer of frosting is good enough.
Stick the cake into the refrigerator for 10 minutes.
Make the white chocolate glaze 5 minutes before you take the cake out from the fridge. Once the glaze is cool but still flowing freely when you lift it with a spoon, spoon it onto the cake very gently. This will create the drippy effect. Let the glaze set for 30 minutes.
Decorate with Baileys truffles and fresh flowers. Make sure the stems of the flowers are wrapped in baking paper or foil so they don't touch the cake directly.