Our lives are full of choices and we are so lucky to have them. Whether it is the way we lead our lives or the food we eat, our options are abundant. When I was little, I knew the apple as a favourite fruit at home. As I grew older I learnt about a few different varieties and today we have apples that are nothing short of a marvel. An apple that is grown to suit our modern day, busy lifestyles.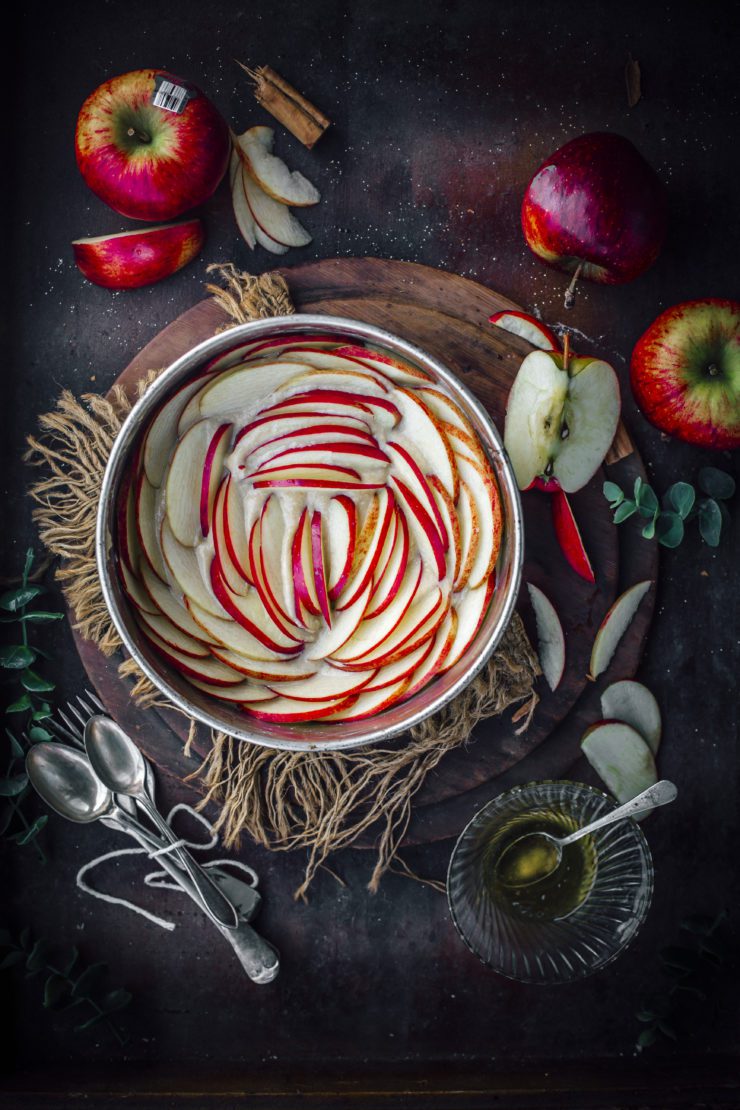 I had the pleasure of tasting the new Envy™ apple at the their launch recently and they were everything one could wish for in a fruit. Sweet with the perfect crunch and a tender flesh that remains white for a really long time. As a Mum to two young school going children this was a great find and as a huge lover of apples (I eat apples almost every single day) I wanted to experiment immediately. They tasted great but how would they respond to baking, is what I kept thinking. As it turned out, they held their texture and shape even after being baked which is exactly what you want when baking a cake like this one.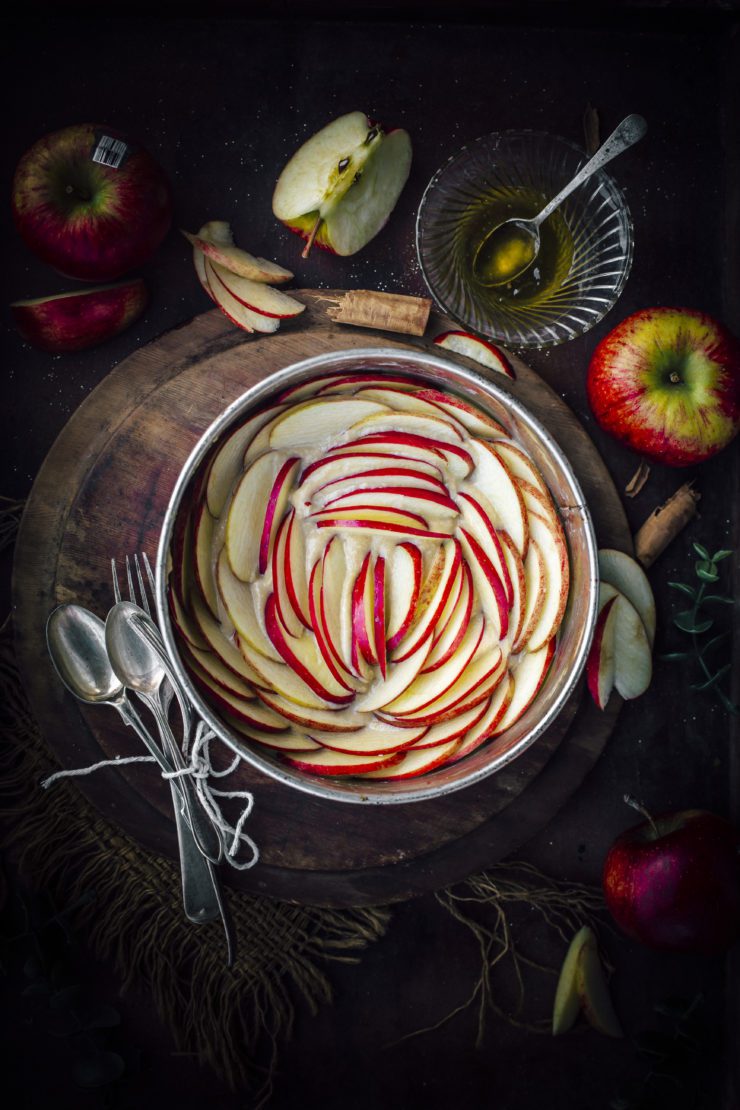 I've been meaning to create apple roses and apple art on my cakes all along Autumn. Finally I got my chance when I got my hands on these gorgeous apples. The cake is quite simple to put together with a mix of sweet and spice, so perfect for the cold season. It tasted really good when warm with a scoop of vanilla ice cream on the side. The apple pattern is honestly not difficult at all. All it requires is a bit of patience and a great apple that wont break down in the oven.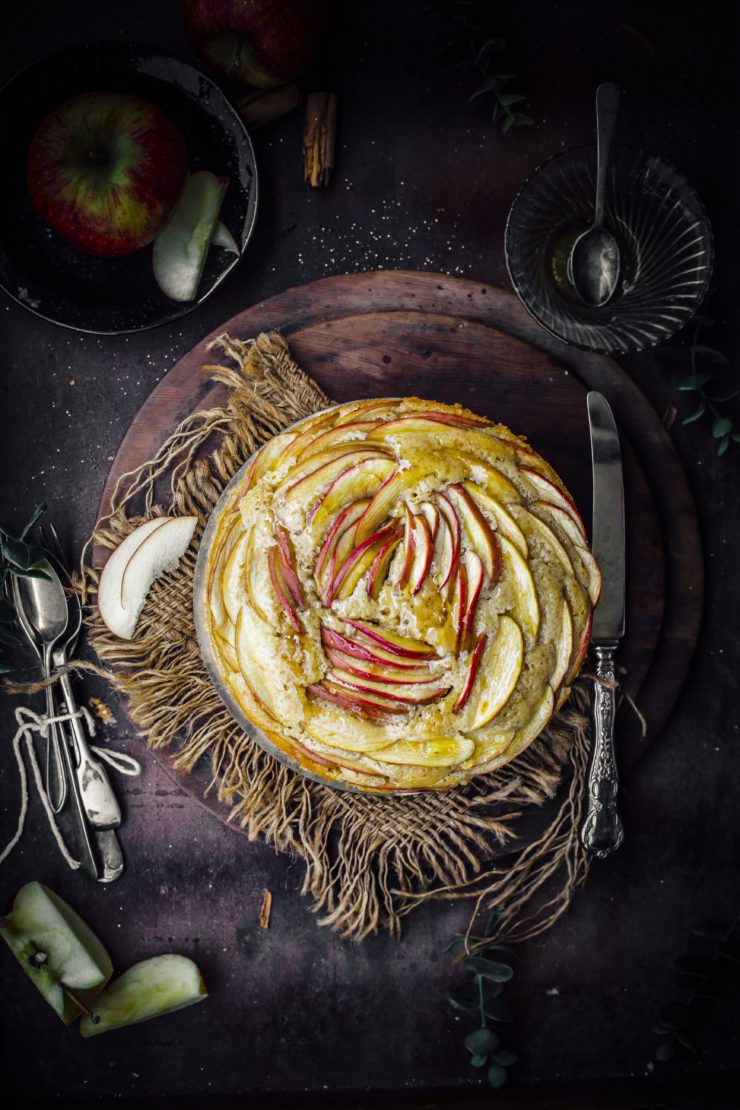 Have a great week guys! What's your favourite apple recipe?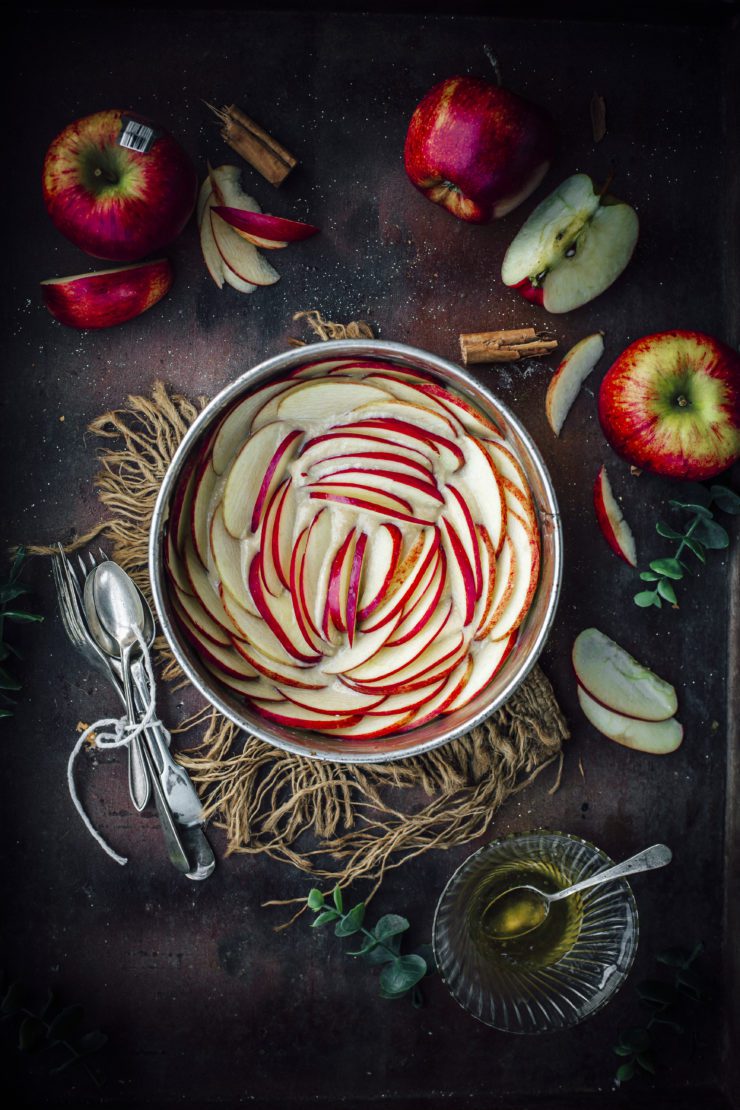 Spiced Apple Cake
Makes a 7 inch round cake
125 g unsalted butter, softened
1/2 cup brown sugar
1 tsp vanilla extract
1 tsp powdered cinnamon
1 tsp crystallized ginger, finely chopped
2 eggs
1 cup self-raising flour
1/2 cup plain flour
3/4 cup milk
2 large apples
2 tbsp orange marmalade
Preheat oven to 180 degrees C (160 degrees C for fan forced ovens). Lightly grease the base and sides of a 7 inch round baking pan and line the base with non-stick baking paper.
Place butter, sugar and vanilla in a bowl. Using an electric mixer, beat for 5 to 6 minutes or until light and creamy. Add eggs, 1 at a time, beating after each addition. Mix self-raising flour, plain flour, powdered cinnamon and crystallized ginger in a separate bowl.
Add half the flour mixture to butter mixture. Add half the milk. Fold through. Repeat with the rest of the flour and milk. Fold until just combined. Pour into prepared pan. Core and quarter apples. Thinly slice. Arrange apples in 3-4 circles on batter, starting from the edges moving to the middle, pressing down gently.
Bake for 35 to 40 minutes or until a skewer inserted in the centre comes out clean. Stand in pan for 10 minutes. Remove side from pan. Slide cake onto a wire rack to cool.
Place marmalade in a microwave-safe bowl. Microwave on high (100%) for 30 seconds to 1 minute or until runny. Brush cake top with jam. Serve with whipped cream or ice cream..