Delicious scoops of Baileys Original Ice Cream served on warm Churro Bowls that have been dusted with Cinnamon sugar and topped with warm chocolate fudge sauce. Ice Cream Sundae has a new definition!
Winter is the perfect time to indulge in comfort food.  Food that makes you warm and fuzzy from within and winter a little more bearable. Food that gives you reason to stay indoors, snuggle up near the fireplace or a heater and satisfy those innermost cravings. Food that is a sensational mix of hot and cold, sweet and spicy, crunchy and melt-in-your mouth. Get ready to be blown away people! Ice cream Sundae has a new definition. This is Baileys Original Ice Cream Sundae that is a luxurious blend of Baileys flavoured swirls on velvety smooth Baileys liqueur infused Ice Cream served on warm, bowls of Churros dusted generously with cinnamon sugar.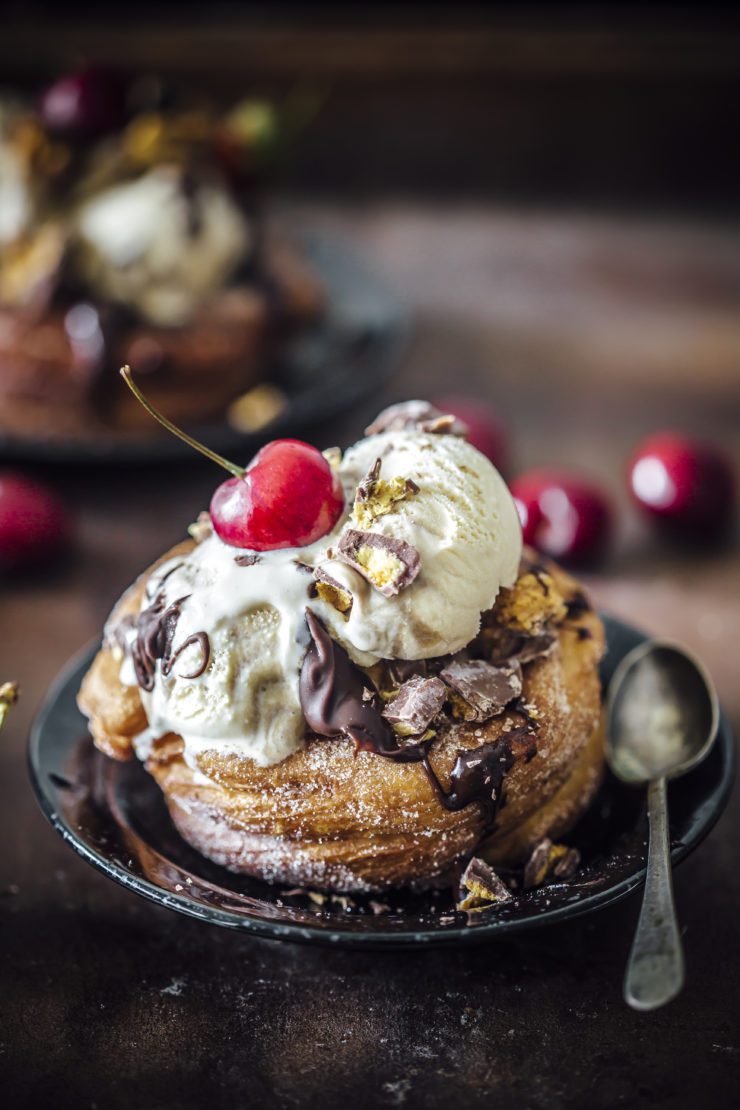 If you love Churros, you can imagine how incredible this dessert would taste. I am one of those people who believe that Ice cream is not restricted to a season or reason to enjoy. Paired with this Spanish classic, this is a dessert you will remember forever.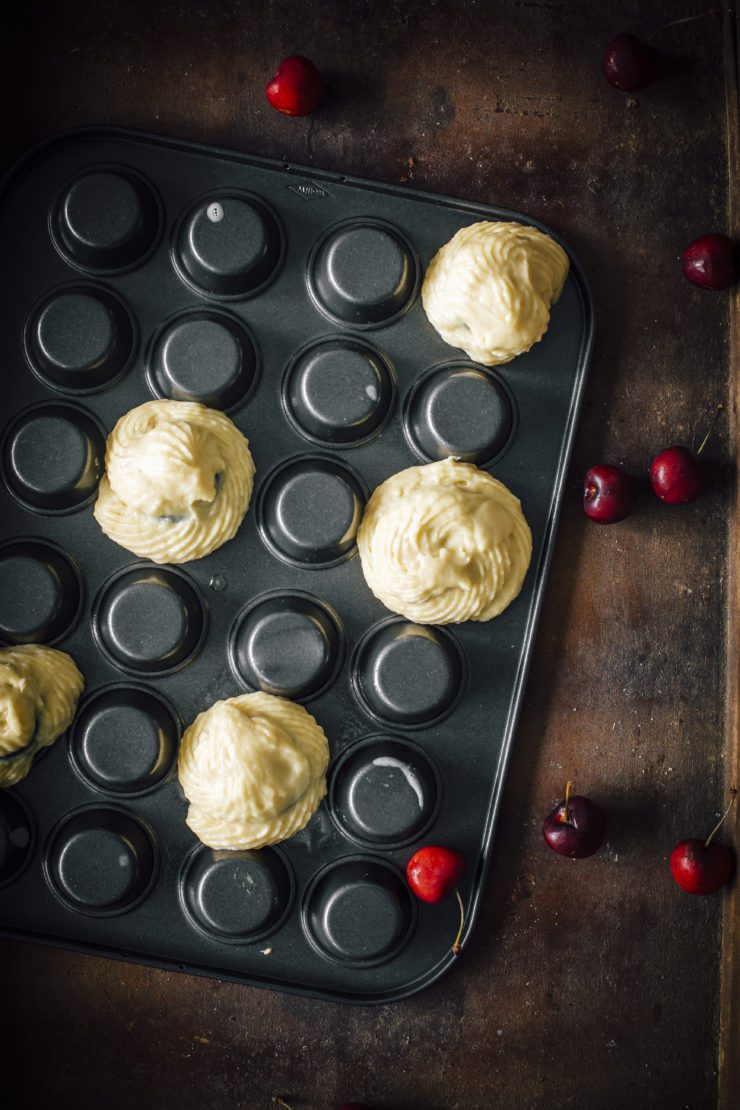 The bowls are not difficult to make as long as you follow the measurements correctly. In the end, we are looking for a dough that is stretchy enough to pipe. If you haven't used a piping bag before, do not worry. They are quite forgiving and in the end it's all about the taste. All you need to ensure is that there are no gaps in between the swirls. So if you have a few, just mend them with wet fingers pushing the dough to fill in the gaps.
Once piped, they would need to be in the freezer for a few hours. The great thing about this is that you can actually make a large batch and store in the freezer for up to a week. Each time a craving strikes, fry them and fill them up with Baileys Ice Cream. If you want to make a big  Sundae use regular muffin pans so they will have room for at least two large scoops of ice cream. If you want a smaller treat, go for a mini muffin pan that would yield smaller Churro bowls (the one pictured above are the mini ones).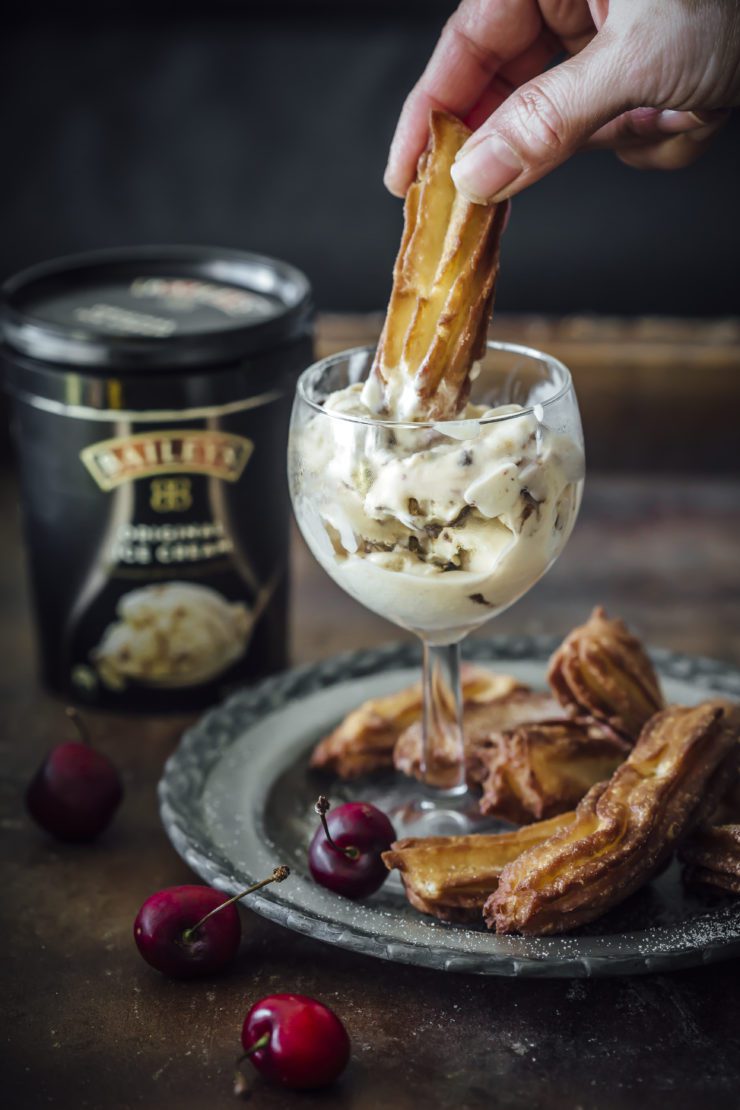 If you have leftover dough, or perhaps feeling lazy to take out your piping bags or just love it the traditional way, we've got you covered (just fry them straight away like regular Churros). It's Baileys Ice Cream! Dip, drizzle, lick, eat or drink, IT IS INCREDIBLE!
Disclaimer : This post is brought to you by Baileys. As always all opinions expressed in this post are entirely mine!
Baileys Churro Bowls Ice Cream Sundae
Makes 4 large Churro bowls or 8 small bowls
1 cup (250 ml) water
100 g unsalted butter
1 cup (150 g) plain flour
¼ tsp salt
3 eggs, lightly whisked
Vegetable Oil to deep fry
2 tbsp castor sugar
1 tsp powdered cinnamon
Baileys Original Ice Cream, to serve
Chocolate Fudge Sauce (recipe below), to serve
Chocolate Fudge Sauce
75 g dark chocolate, roughly chopped
¼ cup single cream
1 tbsp brown sugar
Combine water and butter in a medium saucepan over medium heat and bring to a boil. Cook until butter melts. Remove from heat, add the flour and salt. Stir with a wooden spoon until flour is incorporated into a dough that comes away from the sides of the saucepan.
Leave dough aside for 10 minutes to cool slightly, then add the whisked eggs little at a time whilst beating the dough with a hand mixer (or an electric mixer). Beat until dough is smooth and glossy.
Scoop into a piping bag fitted with a fluted nozzle (a round nozzle will work as well).  Using the back of a muffin pan (or a mini muffin pan) that has been greased well, pipe in circles around the elevations/moulds. Make sure you space them apart so they don't stick to each other. It is best to pipe around alternate muffin moulds. Place the muffin pan in the freezer for 4-5 hours.
When ready to serve, remove the pan from the freezer. Gently release the piped dough from each mould. This should come away easily. In a shallow plate mix the castor sugar and powdered cinnamon to make cinnamon sugar. Deep fry the churro bowls till crisp and golden brown. Using a slotted spoon transfer the churro bowls on to a plate lined with a paper towel. Dust them with cinnamon sugar. Cool for 10 minutes. Top with Baileys Original Ice Cream. Serve with chocolate fudge sauce, crushed honeycomb and cherries (or seasonal fruit).
To make the Chocolate Fudge Sauce, combine all the ingredients in a microwaveable mug and microwave in short bursts of 10 seconds, then stir to blend until mixture is smooth.