So many ways of making a citrus cake! Because the citrus flavour is deliciously predominant in a recipe it is used in, it is interesting how you can play around the textures by using different ingredients. I've already told you how much I love nuts and oranges together. This time I've added in some polenta for a nice bite in the cake. The texture is quite similar to coconut cake and you get a nuttiness without using too much almond meal. Nut meals are expensive so this is a cost effective option.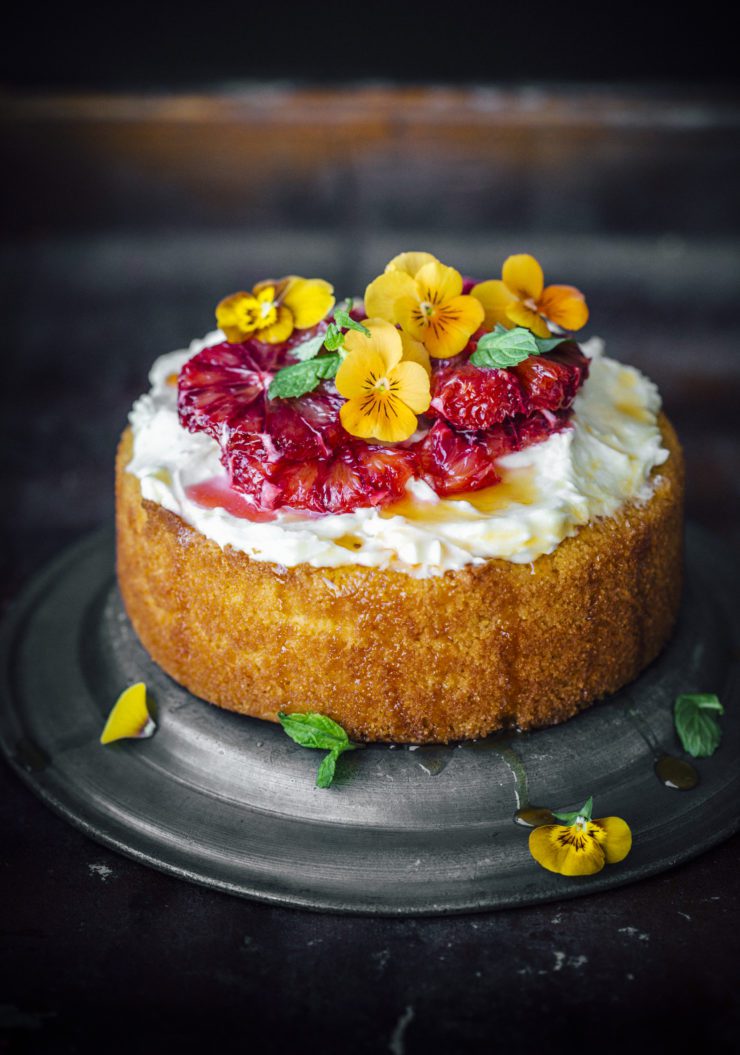 Blood Oranges just taste sensational with mascarpone cheese so I decided to top the cake with whipped Mascarpone which is pretty easy to make. A drizzle of blood orange syrup bursting with tangy-sweet flavour takes the cake to a new level. And finally, fresh blood oranges gives the cake a pop of colour.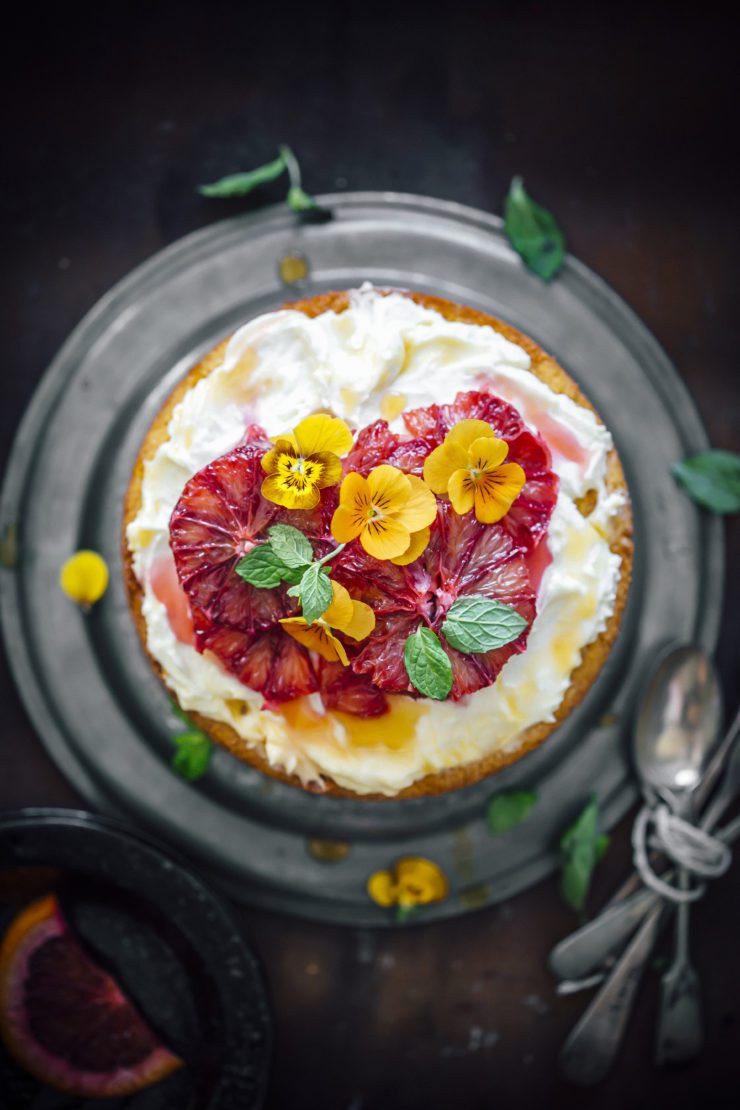 Can you believe it, it's just 4 months until Christmas? The reality is hitting hard now that my work has gone up by 3 folds. I'm working on Holiday recipes for my clients and it feels festive already!
Stay tuned, I'll be posting the Baked Ricotta Cake this Saturday. I know many of you are waiting but this one just had to go first as the Blood Orange season will end soon. See you soon!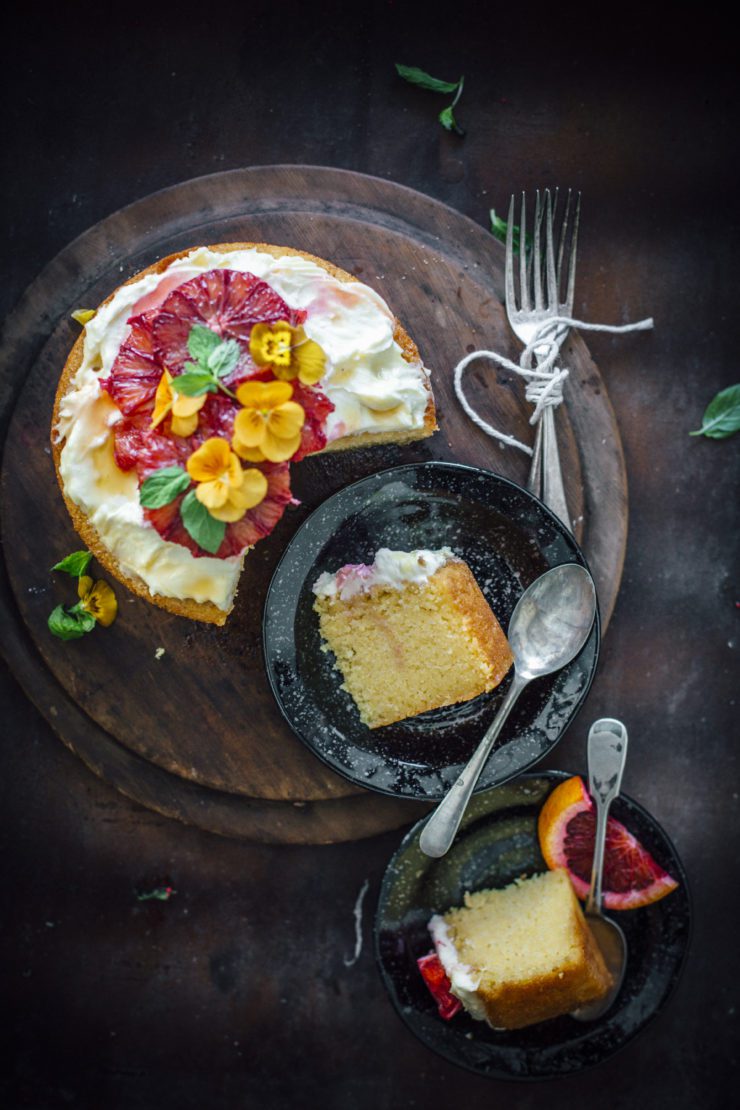 Blood Orange Polenta Cake
Makes a 7 inch round cake
180 g unsalted butter, room temperature
1 cup castor sugar
2 tbsp finely zested blood oranges
1 tsp vanilla extract
3 eggs
1 cup polenta
1 cup self raising flour
100 g almond meal
3/4 cup blood orange juice
Mascarpone Frosting
110 g mascarpone cheese
1/2 cup whipping cream
2 tbsp icing sugar
1/2 tsp vanilla essence
Blood Orange Syrup
1 cup fresh blood orange juice
3/4 cup castor sugar
Preheat oven to 170 degrees C. Grease the base and sides of a 7 inch round pan and line the base with baking paper.
Beat the butter, sugar, orange zest and vanilla extract together until smooth and creamy. Add eggs one at a time, beating well after each addition.
Place polenta, flour and almond meal in a bowl. Add the polenta mixture to the butter mixture alternating with the blood orange juice.
Pour into the prepared pan. Smooth the top with the back of a spoon. Bake for 50-60 minutes or until a skewer inserted in the middle comes out clean. Remove from oven, Set aside for 1o minutes. Turn out onto a wire rack to cool completely. Once cooled, spread mascarpone frosting, drizzle with orange syrup and top with sliced blood oranges and fresh mint.
To make the Mascarpone frosting : Beat mascarpone cheese,whipping cream, icing sugar and vanilla together in a bowl until smooth and fluffy. Refrigerate until needed.
To make the Blood Orange Syrup : Place the orange juice and sugar in a small saucepan and bring to a boil over low heat. Simmer for 5-7 minutes until the syrup thickens. Please note that the syrup will thicken further upon cooling.