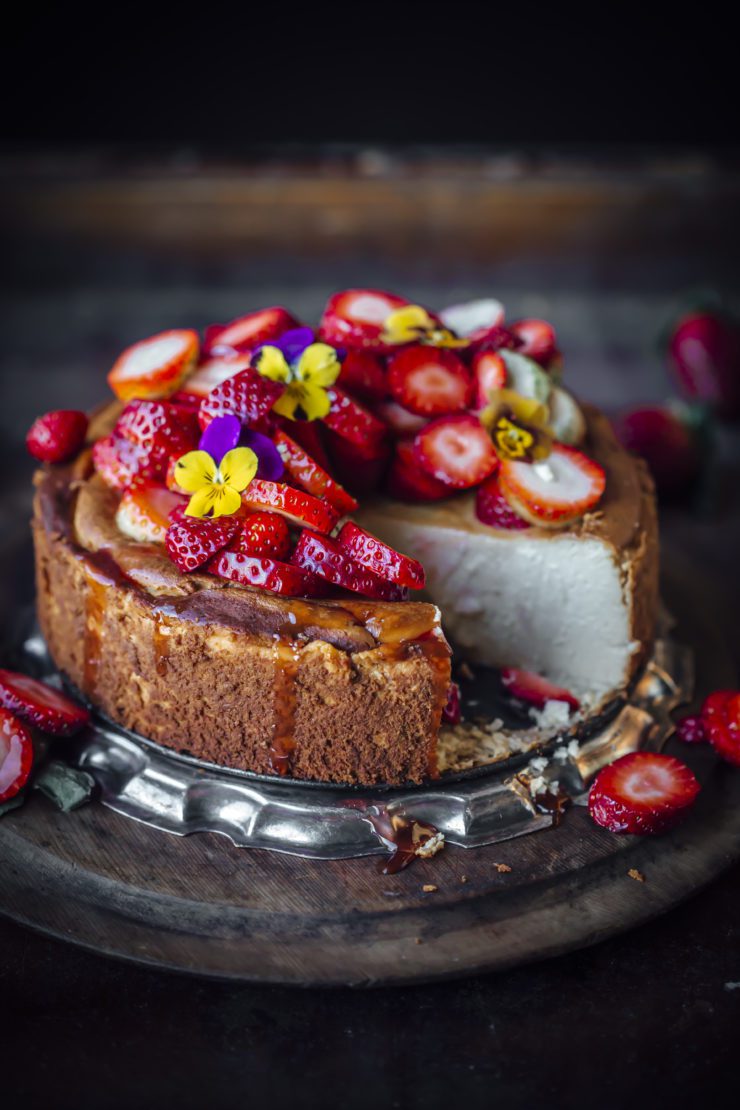 What do you do when you have left-over lemon curd and ricotta cheese at home? It happens, right? Especially the lemon curd. You throw them together, add in a few other ingredients (all of which are in your pantry) and voila…you have a cheesecake! It looks and tastes every bit like a lemon cheesecake but it's lighter, healthier and a whole lot simpler. Notice the golden crust all around? It's created by baking the ricotta. In other words, you completely skip the cookie crust or shortbread base and all the butter that goes with it and you still end up with a golden crust and a soft, creamy interior.
This Baked Ricotta Cheesecake is truely a delight to make and eat. If you've ever tasted baked ricotta otherwise, it's a healthy breakfast or dessert option. However, it is a bit bland and does not really have any flavour by itself. By adding lemon curd to the recipe, not only does it taste lemony and delicious but it's way more convenient than juicing and zesting lemons. I've used store bought lemon curd for mine to keep it quick and easy. You'll be done with the mixing in 10 minutes but the cheesecake takes a bit of time to bake. I don't remember last when I've opened my oven door to take a peek as many times I've done for this one to see the golden crust. And then you patiently wait for it cool and set which is such a torture I tell you. But hang in there for you will be rewarded soon. Top the cheesecake with fresh fruit, fruit coulis, nuts, chocolate shavings or anything you like.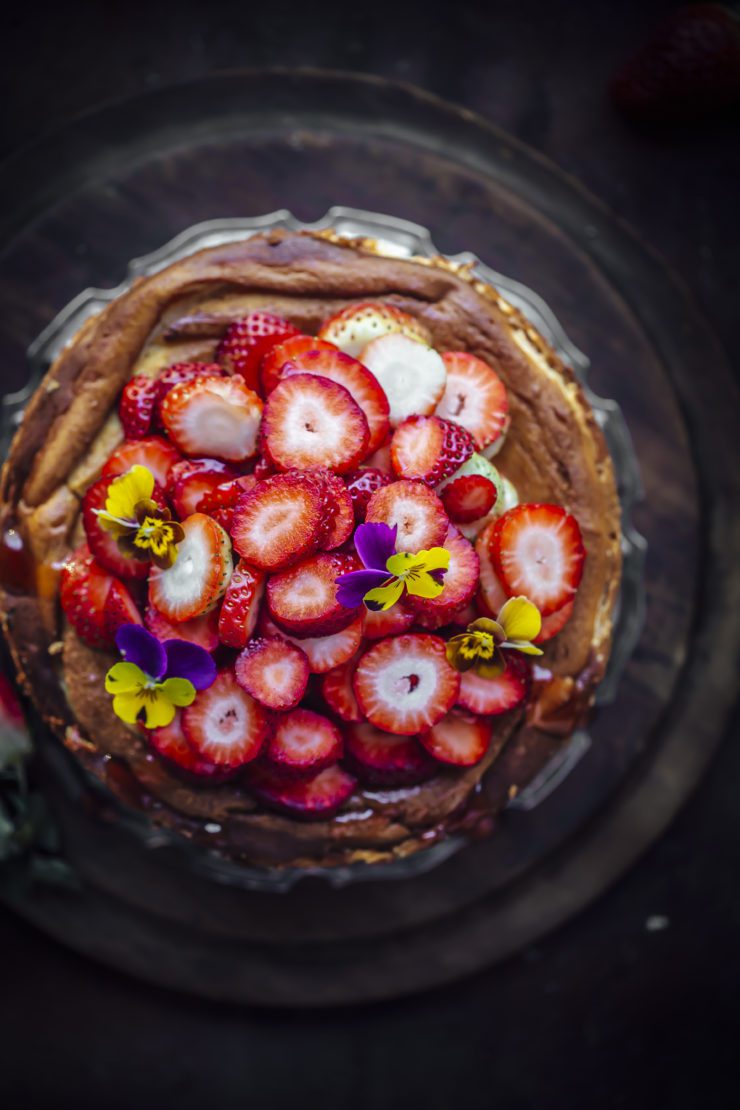 I've noticed that the cheesecake hardens up a bit if kept in the refrigerator, so it's best eaten at room temperature. If you are planning on making it ahead of any occasion, you could store in the fridge but let it sit at room temperature for 30 minutes before you serve.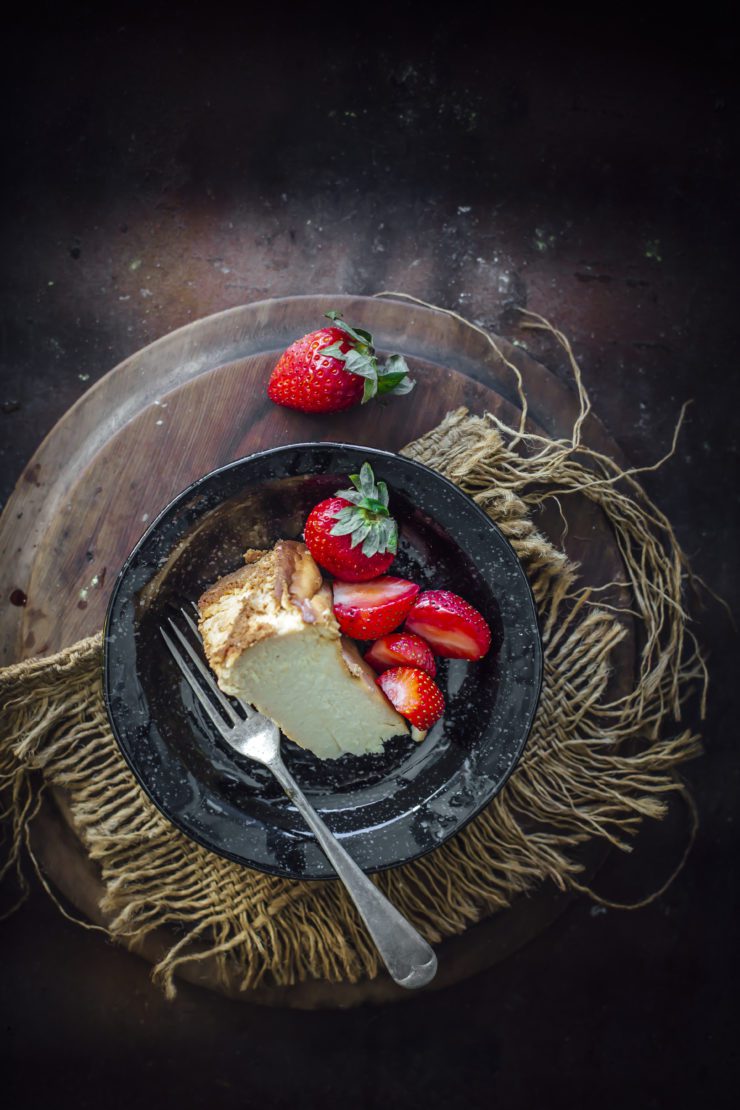 Baked Ricotta Cheesecake
Makes an 8 inch round cheesecake
1 kg fresh ricotta (full cream or low fat)
1 cup lemon curd (home made or store bought)
1 cup castor sugar (or more if you like it sweeter)
1 tsp pure vanilla extract
4 eggs, lightly beaten
Fresh strawberries, to serve
Strawberry coulis/sauce to serve
Preheat oven to 170 degrees C (150 degrees C for fan forced ovens). Grease the base and sides an 8 inch  springform pan.
With an electric mixer or an hand mixer, beat the ricotta, lemon curd, sugar and vanilla together till smooth. Add the egg, a little at a time and continue to beat till fully blended.
Pour the mixture in to the prepared pan. Smooth the top and tap the pan gently a few times on the bench top to get rid of air bubbles. Bake in the oven for 50-60 minutes or until a crust starts to form all over the cheesecake (the top will become golden) and a skewer inserted into the centre comes out clean. Turn off oven, leave the door ajar and let cheesecake cool completely before releasing the sides.
Served best at room temperature with fresh strawberries. and strawberry coulis.