Who doesn't love a decadent chocolate cake? We all do but not everyone likes to mess around with melted chocolate or rather the process of melting the chocolate. Multiple dishes, careful supervision and then chocolate is extremely sensitive to heat. It can seize, it can solidify quickly if added to cooler ingredients like cream so yes it's a bit tricky for the novice cook. Believe it or not, I get asked often as to how a chocolate cake can be made rich without adding melted chocolate. The answer is simple! A good quality cocoa powder (preferably Dutch processed) and lots of chocolate chips. Have you ever tried a warm cake with chocolate chips in it? Try it and let me know. The itsy bitsy pieces of chocolate when warm become like puddles of gooey decadence inside a cake and it's oh so delicious!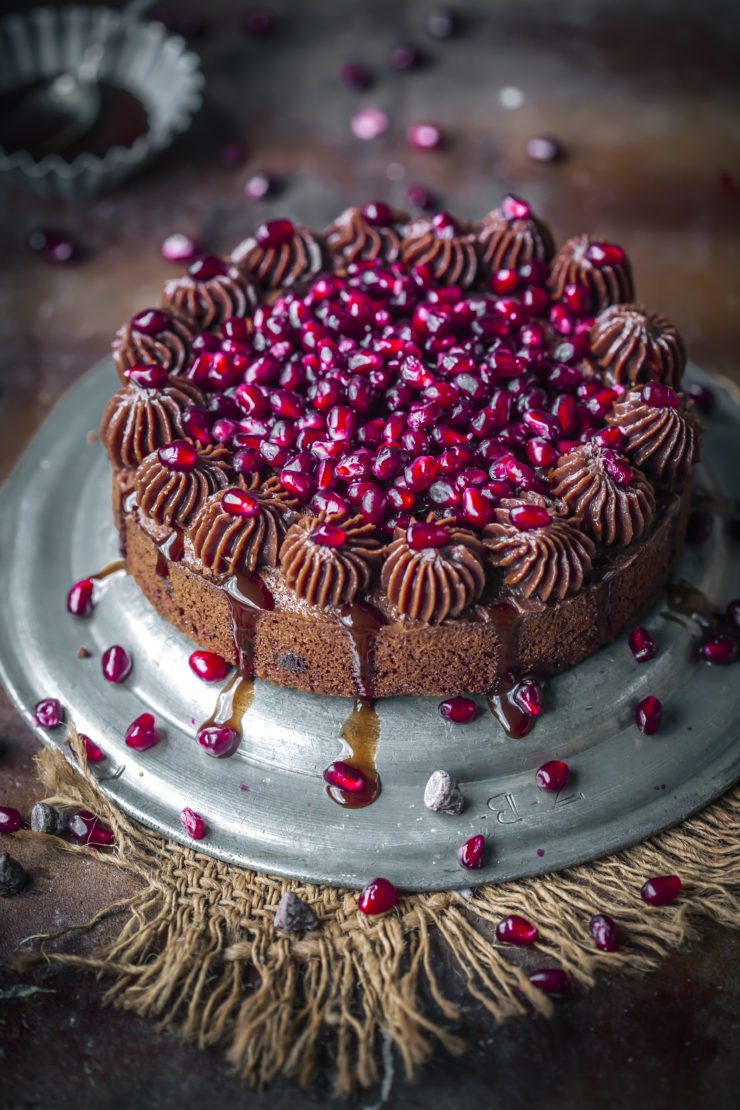 Like most of my recipes this is one bowl, easy, small (because when you experiment for the first time, you keep it short and sweet and just for family or close friends).  Double up if you want a bigger cake. All the decadence in the cake is balanced out by fresh pomegranate seeds that also gives the cake a fresh, tart flavour and a crunchy bite. It's all about the texture! If you do not like pomegranates, like some of you said to me on Instagram yesterday, by all means add berries, oranges or just top with chocolate chips (there's no such thing as too much chocolate, right?)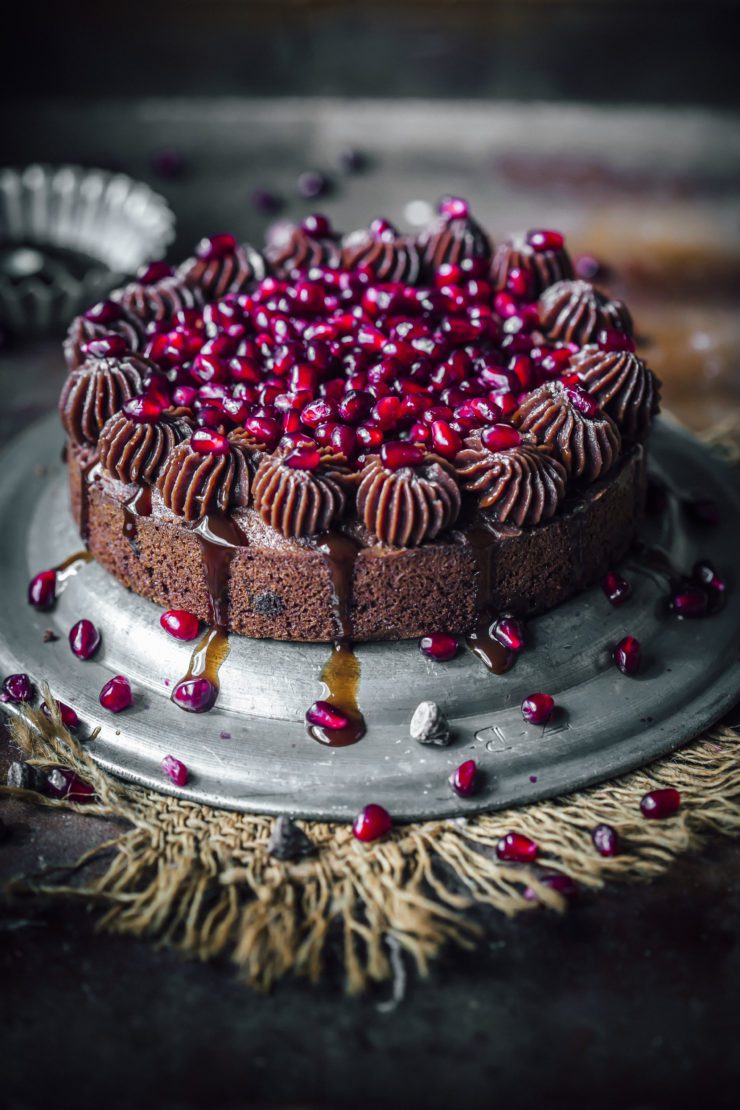 I made a simple buttercream for this recipe and not my usual Swiss meringue buttercream because I have budding bakers and novice chefs in my mind for this one. But the buttercream is still AMAZING! Really, you can't go wrong with cocoa either!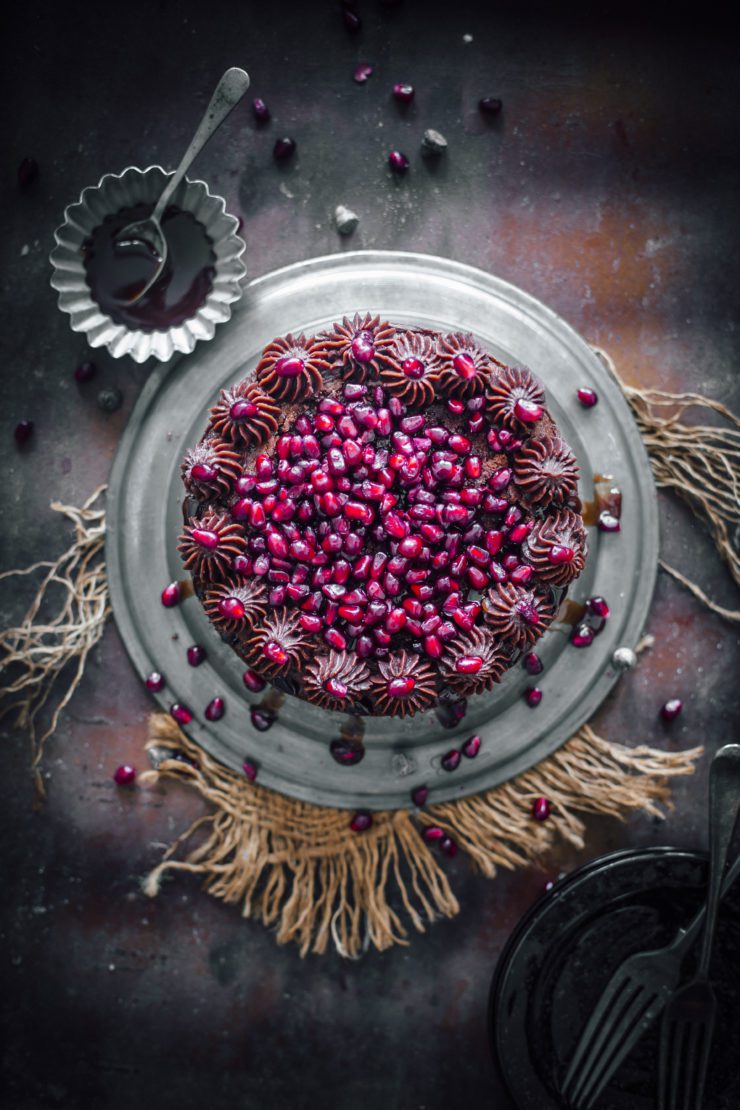 To my Aussie friends, Happy first day of spring! If you aren't already tired of hearing it, hear it once again..Spring is my favourite time of the year. It has always been associated with beautiful memories and happy times. Among the things I'm most looking forward to is my Mum's visit a week from now and the Tulip festival at the Southern Highlands which is short drive from Sydney. To the others, enjoy the mellow beauty that is Autumn. We are so lucky to be connected with people from around the globe in this amazing virtual world, allowing us to take a peek into each other's seasons and stories.
Chocolate Chip Cake with Pomegranate
Makes a 6 inch round cake 
65 g butter
1/2 cup castor sugar
1 egg
1 tsp vanilla extract
1 cup self raising flour
2 tbsp Dutch processed Cocoa powder
1/2  cup milk
1/3 cup dark chocolate chips
1/3 cup white chocolate chips
Cocoa Buttercream

125 g unsalted butter, softened
11/2 cups icing sugar
1 tbsp milk (more if needed)
3 tbsp Dutch processed cocoa powder
Preheat oven to 180 degrees C (160 degree C for fan forced ovens). Grease the bottom and sides of a 6 inch round pan and line the base with baking paper.
Beat the butter and sugar together till smooth and creamy. Add the egg and vanilla and beat till combined. Add the flour, cocoa powder and milk and mix to combine. Fold in the chocolate chips.
Pour into prepared pan. level the top with the back of a spoon.
Bake for 20-25 minutes or until a skewer inserted into the middle of the cake comes out clean. Remove from oven and leave in pan for 5 minutes. Turn out onto a wire rack to cool completely.
When cool, frost (pipe o r just spread)with cocoa buttercream. Top with fresh pomegranates. Drizzle with chocolate sauce. Serve at room temperature or warm.
To make the Cocoa Buttercream, using an electric mixer or a hand mixer beat the butter until pale and fluffy. Add the sugar, a little at a time beating well until fully incorporated. Add the cocoa powder and milk and beat again until no white streaks appear and buttercream is fluffy. If it is too thick, add another tbsp of milk to lighten up.