I can't seem to have enough of blueberries this season. These blue- purple berries are the easiest and a delicious way to decorate and flavour desserts.While I'm truely a fan of the entire berry family, I think blueberries are the most hassle free of the lot. No hull, no seeds just plain purple gorgeousness. If you didn't know already they are high in antioxidants, low in calories and come with a number of health benefits. Lavender on the other hand comes from the same family as some of our popular herbs like mint, rosemary and sage. I absolutely adore lavender in desserts. it took me a while to master the right proportion and right pairings. You know the concept of 'how much is too much'! It is so important. We don't want a dessert that smells like soap.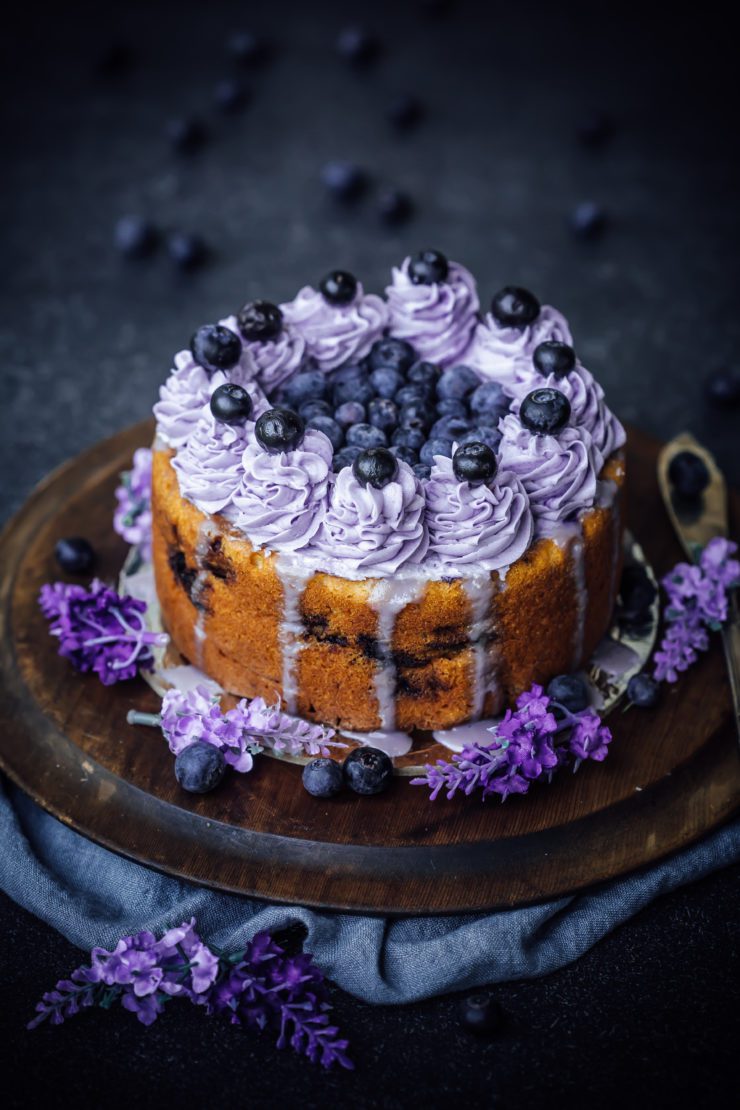 Culinary lavender is available in quite a few stores as well as online in Sydney. I bought mine over 6 months now and it is till fragrant and very easy to use.  I've made this cake a few times, with and without lavender. In fact I put it into my children's lunchboxes without the frosting. Depending on the type or brand of yogurt I use, I've noticed a difference in the texture or rather thickness of the batter. A very thick batter is generally not what I'm after. So in that case, a little milk helps to lighten it up. You will notice that I've mentioned that in the recipe.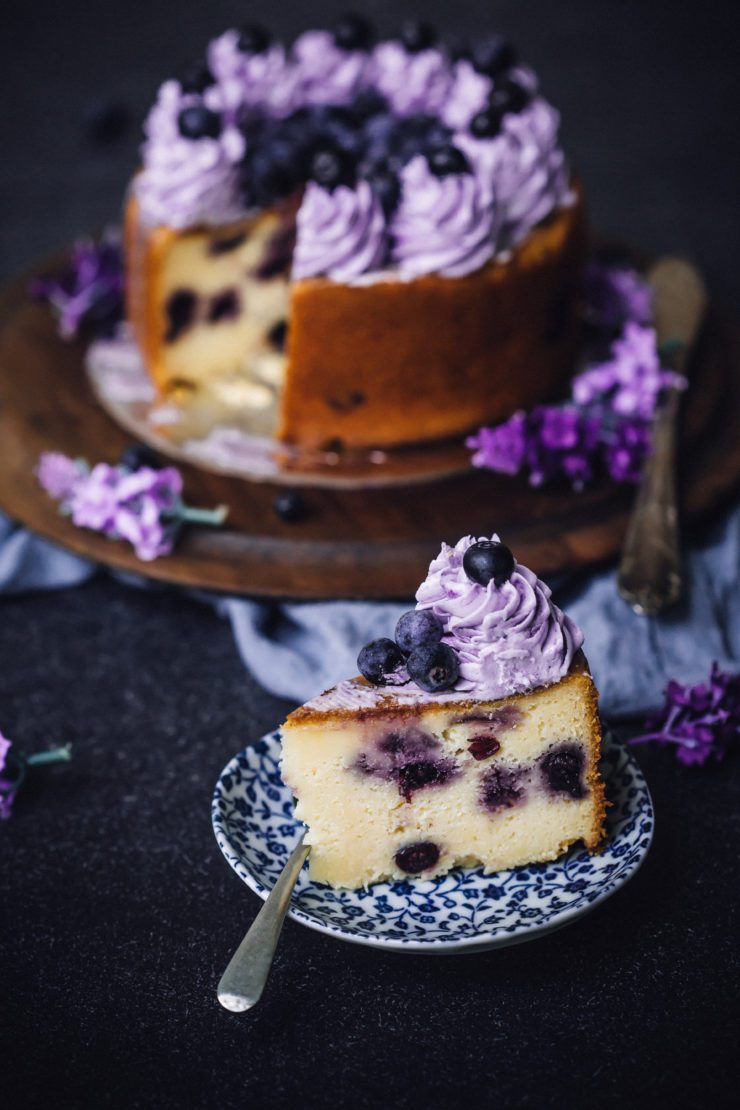 Overall, it's a simple cake with great results. The lavender adds a beautiful , subtle aroma to the cake (almost like Earl Grey) whilst the blueberries add a moist, flavour packed bite within the cake. You could skip the buttercream and just serve the cake with a drizzle of icing sugar. I have to admit, this is one of those cakes that I look forward to having with my coffee every now and then.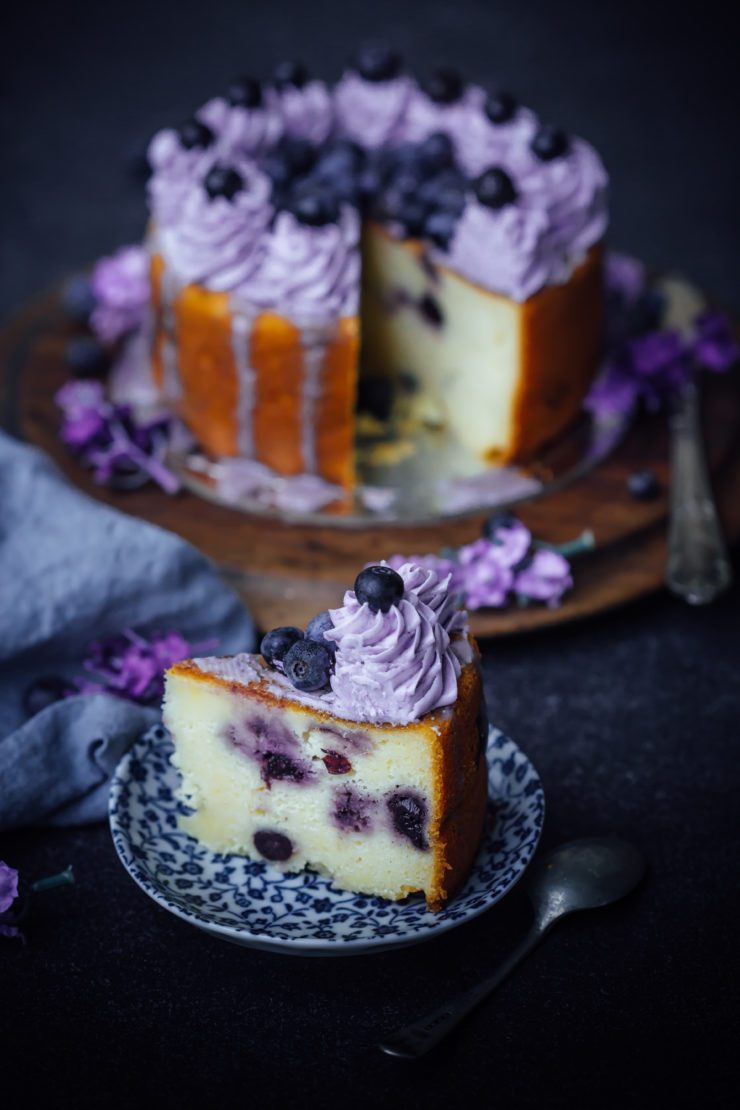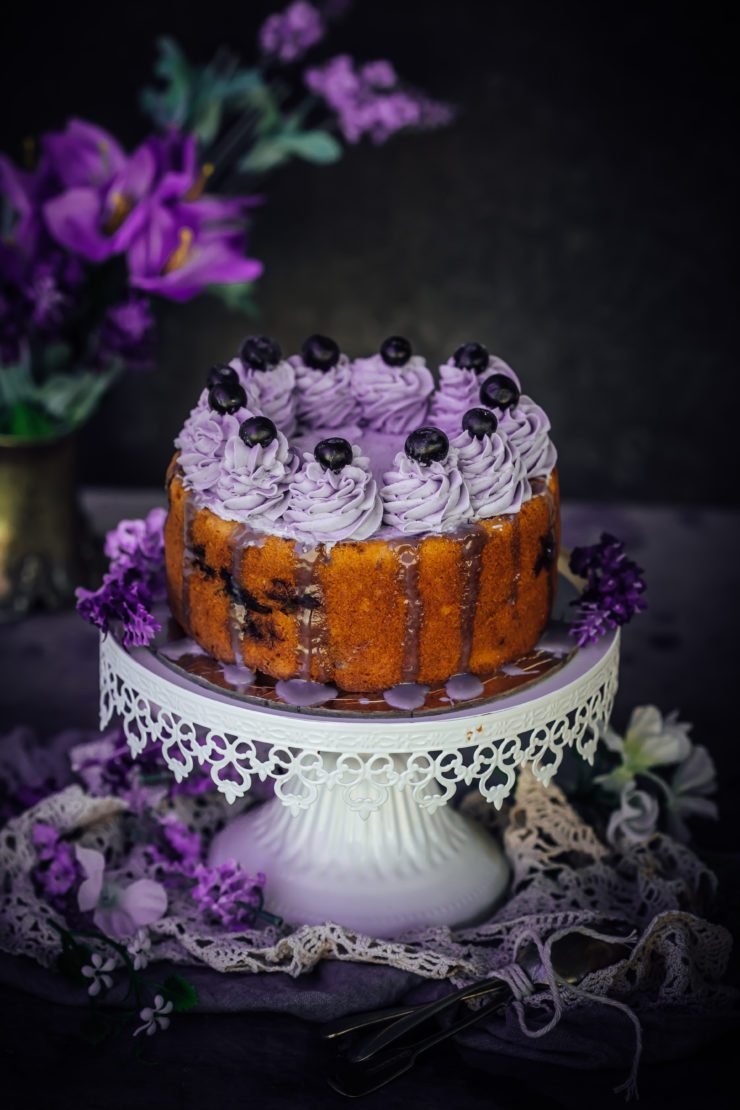 Blueberry and Lavender Cake
Makes a 6 inch round cake
150 g unsalted butter, room temperature
3/4 cup castor sugar
2 eggs
1 3/4 cup self raising flour
200 g Greek yogurt
1/4 cup milk (optional, if batter is too thick)
1 tsp culinary lavender
1 cup blueberries, fresh or frozen
Preheat oven to 180 degrees C (160 degrees C for fan forced ovens). Grease the base and sides of a 6 inch round baking pan and line the base with baking paper.
Using an electric mixer, or by hand beat the butter and sugar together in a large bowl until pale and fluffy. Add the eggs, one at a time, beating well after each addition.
Add half the flour and half the yogurt and fold to combine. Add the remaining flour and yogurt and milk (if batter is too thick.)
Stir in the lavender and blueberries and just fold one or twice to combine.
Pour the batter into the prepared pan. Bake in the preheated oven for 40-45 minutes or until a skewer inserted into the middle of the cake comes out clean.
Remove from the oven. Leave aside for 10 minutes.  Slowly turn out cake onto a wire rack to cool completely. Once cool, frost with lavender frosting and decorate with blueberries.
Lavender Frosting
1 tsp culinary lavender
2 tbsp milk
125 g unsalted butter, softened
11/2 cups icing sugar
A tiny bit of mauve food coloring gel
Place the lavender and milk in a microwaveable cup and microwave on low until it is about to boil (do not boil). Remove and leave aside to infuse for 1-2 hours. Strain the lavender buds and reserve the milk for the buttercream.
Using an electric mixer, beat the butter till pale and fluffy. Gradually add the icing sugar, a little at a time and continue to beat till incorporated. Add the lavender infused milk and beat to combine. Add the food colour if using, and mix till fully incorporated.