Easter is upon us, though I think I'm slightly early this year. But believe me, I have already eaten my entire weight in hot cross buns. Who can resist them? Slather them with butter or cream cheese, turn them into sandwiches, grill them or eat them plain. I've tried so many things with them and I've still not had enough. My favourite bakery, Bakers Delight has the most amazing, melt-in-your mouth buns busting with flavour and every time I'm on a grocery trip, I try to look away as they're so irresistible!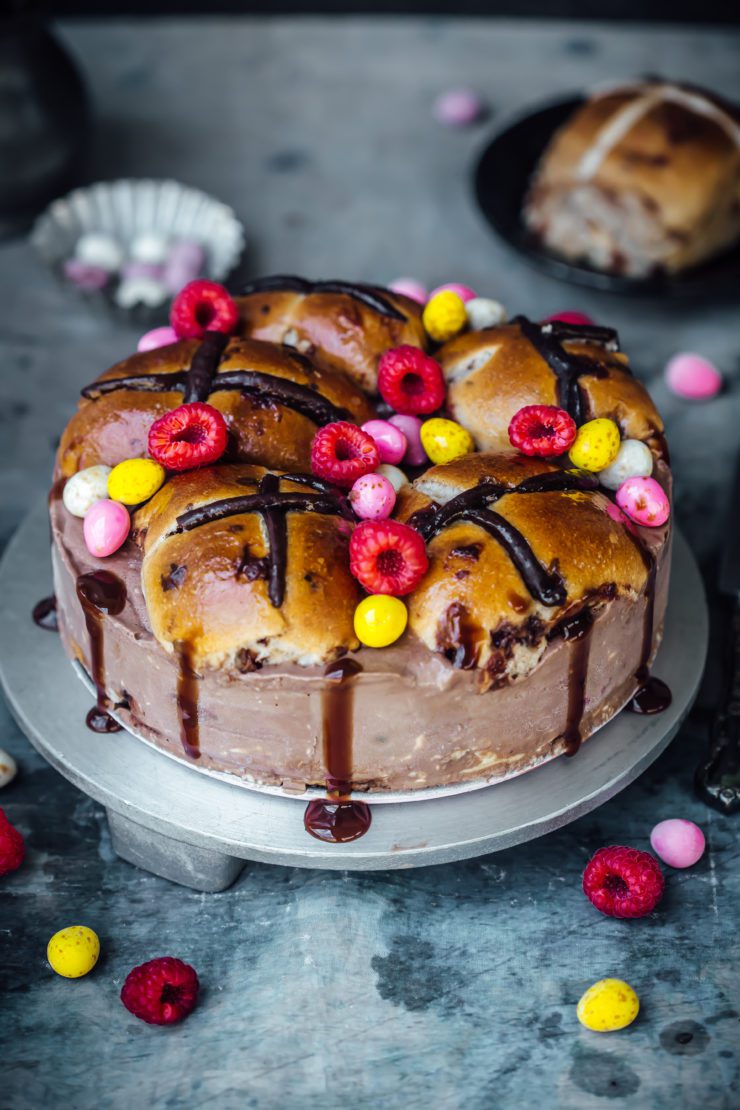 Last week I was having  a Choc Chip hot cross bun with ice cream when the thought of making an ice cream cake came to me. I love ice cream cakes but they become runny even as you slice them so a better version was a frozen cheesecake. Simple and so delicious! It's officially Autumn in Australia but the weather is warm and sunny. But who needs a reason to eat ice cream, right?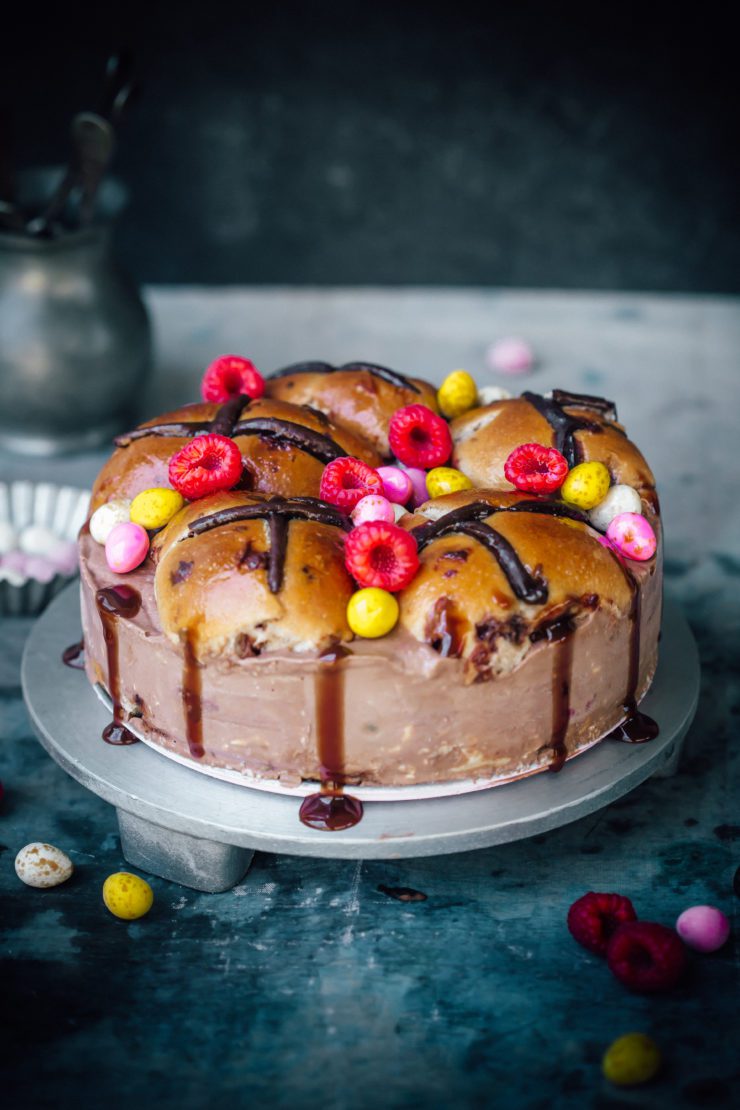 If you've ever tried a Hot Cross Bun ice cream sandwich, this is just a large version of it. The base and the top are the buns. Sandwiched between them is a filling of cream cheese, chocolate ice cream, berries and pieces of hot cross buns. Since the buns already have tonnes of flavour in them, especially cinnamon, the resulting combo is just out  of this world. To make it bright and fun, of course we need to top them with chocolate eggs. And that's it! The perfect centrepiece for your Easter Table with barely any effort.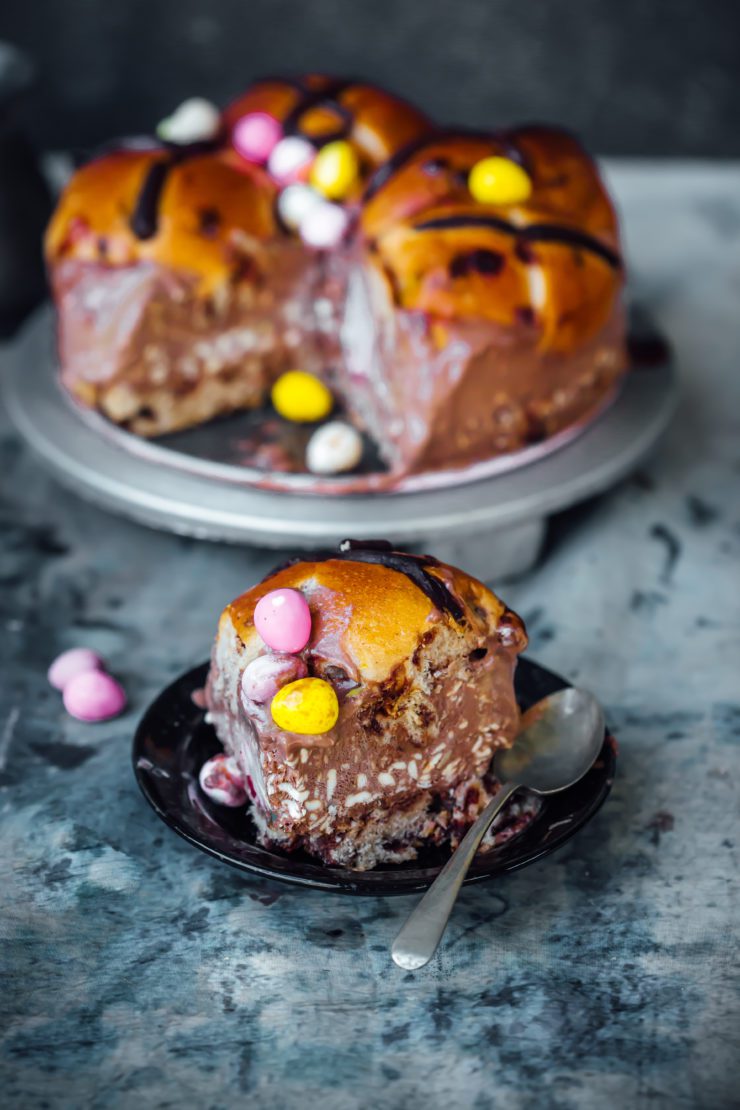 Notes:
This will work with any flavour of hot cross bun or ice cream so go ahead, have fun with your choices
I use my old, trusted springform pan for such recipes so I never feel the need to line the insides with cling wrap. If you are not confident, first line the base and sides with cling film before making the base. It will ensure easier removal of the cheesecake.
This is an easy recipe but the most important step is to ensure,you take the cheesecake out mid way while freezing just before it is about to set. Otherwise the bun tops will sink into the mixture and won't have the look (they will still taste delicious though)!
Hot Cross Bun Frozen Cheesecake
Makes a 19 cm round cheesecake
6-7  Chocolate Chip Hot Cross Buns (I bought mine from Bakers Delight)
2 tbsp castor sugar (or to your taste)
500 g cream cheese (2 tubs), room temperature
500 ml chocolate ice-cream, softened (store bought)
1 punnet fresh raspberries
chocolate sauce, to drizzle
chocolate eggs, to decorate,
Split 5 hot cross buns in half horizontally. Tear the other buns into small pieces.
Line the base of a 19 cm springform pan with the bottom half of the buns. If there are gaps in between, fill them up with small pieces of buns to ensure the base is covered completely.
Beat the cream cheese and sugar in a large bowl with a mixer or a whisk until well blended. Add the ice cream and mix well.  Fold in the torn hot cross buns pieces and the raspberries (leaving a few for decoration). Pour the mixture onto the prepared springform pan.  Place in the freezer for 1 hour -1.5 hours. The cheesecake should have solidified slightly but not set.  Remove from freezer and top with the top half of the hot cross buns. Press down slightly so they  snugly fit in. Freeze for at least 6 hours, preferably overnight.
Remove from freezer 30 minutes before serving. Drizzle with chocolate sauce, Top with fresh raspberries and chocolate eggs. Slice and enjoy!