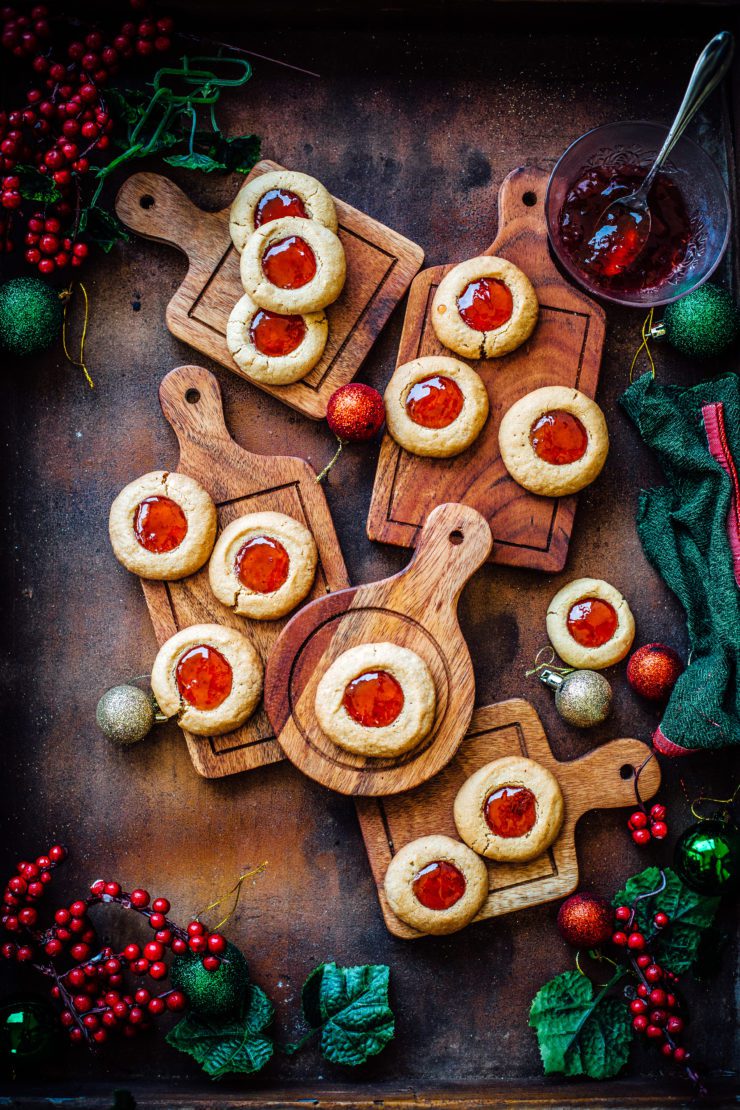 A very short and quick post today. I had promised to share the recipe for these Peanut Butter and Jam Thumbrints over the weekend but my blog started giving trouble and I thought it was best to hold on until it was resolved. There is no better time to bake and share the love of cookies than now. Cookies are not only easy but make everyone so happy. In other words, they are for everyone. So get ready for heaps of cookie recipes coming your way. These thumbprint cookies are a favourite at home. Who can resist a classic combo like peanut butter and jelly.
What are your favourite cookies? Do you enjoy making cookies around Christmas?
Peanut Butter and Jam Thumbprint Cookies
Makes approx 20 cookies
1/2 cup Peanut Butter (I used crunchy)
110 g unsalted butter, softened
1/2 cup castor sugar
1/2 cup brown sugar
1 egg
1 tsp vanilla extract
1 & 3/4 cup plain flour
1 tsp baking soda
A pinch of salt
Extra castor sugar for rolling
Strawberry/raspberry jam for filling
Method : preheat oven to 180 degrees C (160 degrees C for fan forced ovens) Line 2 large baking trays with baking paper. Place 2 tbsp of castor sugar in a shallow plate.
Using a stand mixer or with an electric mixer, mix everything (but the last two) together till a smooth dough is formed.
Cover with cling wrap and refrigerate for 45 mins-1 hour. When dough is workable and slightly stiff, form 1 inch balls using the palm of your hands. Roll balls in castor sugar and place in prepared cookie trays. Bake for 10-12 minutes or until golden and slightly cracked. Working quickly using the back of a citrus reamer/wooden spatula or your thumb make a small impression in the middle for the filling.
Fill with strawberry jam. Allow to cool. Enjoy!