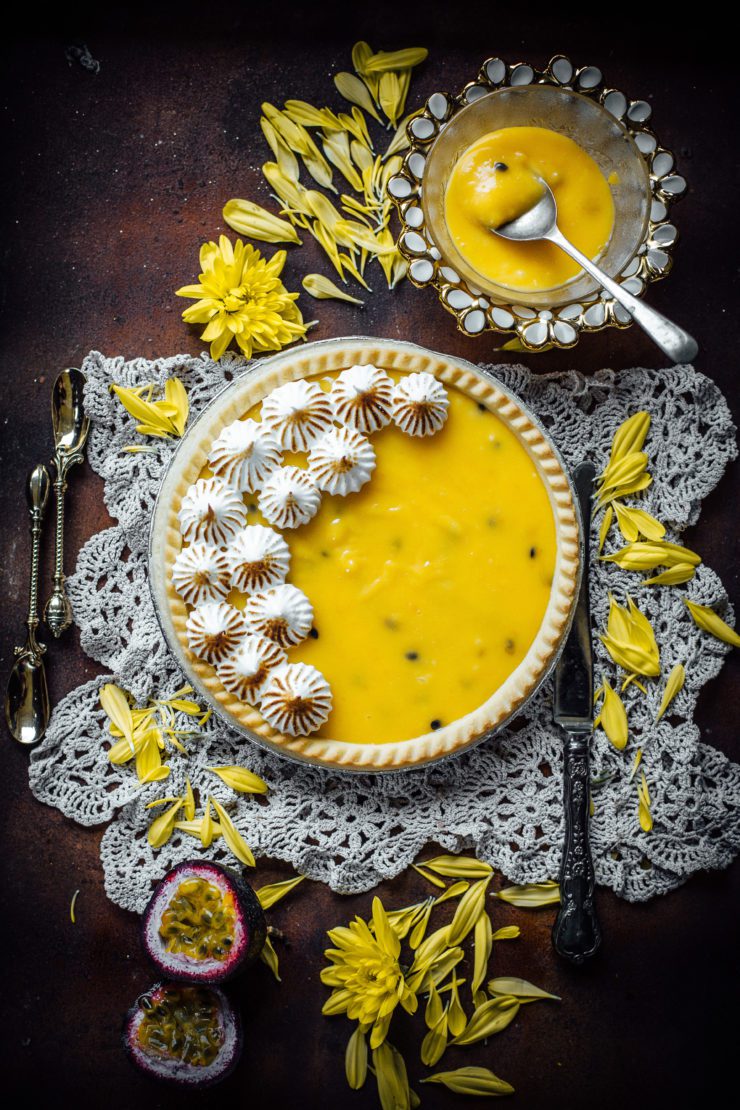 What does an Aussie Christmas look like? So many people ask me this question. It is hard for people to envision Christmas at a beach or drinking wine in the backyard while firing up the barbie (barbecue) as we call it. Food on the table is bright, fresh and extremely colourful. The options are unlimited as summer is at it's peak during Christmas. So it is not uncommon to choose berry pies, stone fruit trifles and passionfruit tarts over mince pies and panettone.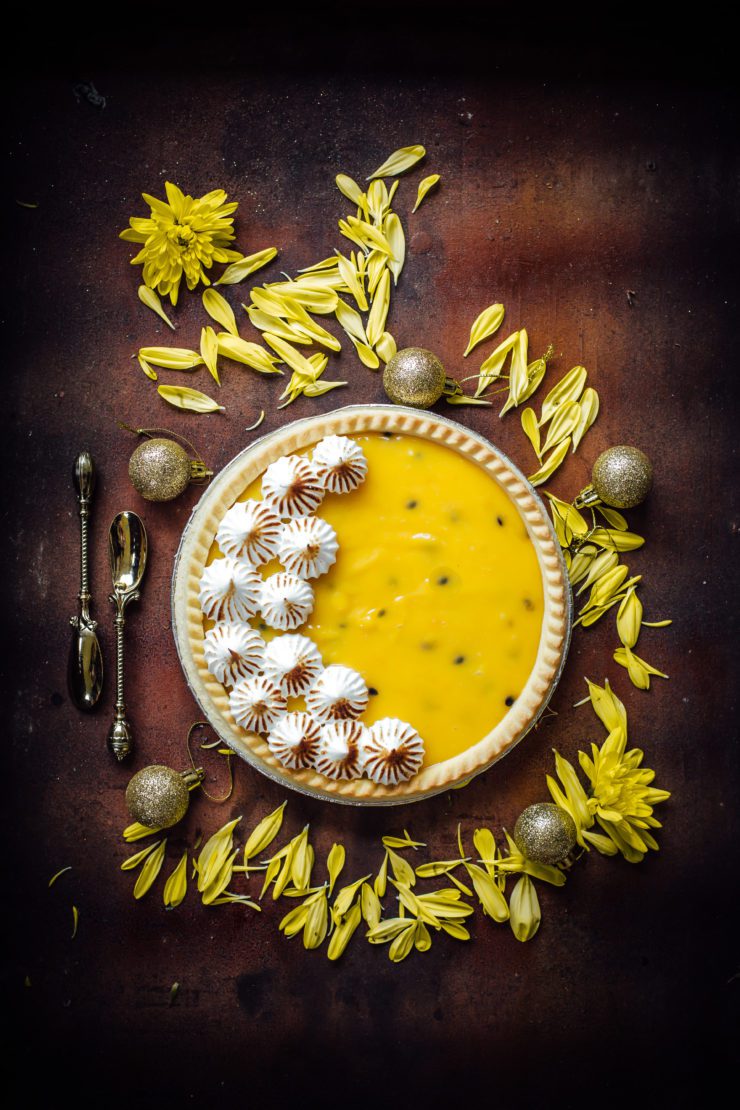 I've made passion fruit curd a number of times but it never occurred to me until now that a tart would be a lovely idea. If you haven't tried passion fruit before, I  would really urge you to. It is something so unique, so intense and absolutely gorgeous to taste.  If fresh passion fruit is not available where you are, you could look for the canned purees. Topping it with meringue was a last minute thought, one that I was very glad I did. Passionfruit curd is generally of a thick, silky consistency but not thick enough to set nicely in a tart shell especially when you think of slicing the tart into portions. A little gelatine helps and the result is an oh so flavourful, divine little tart. For this recipe I used a ready crust/base. If you want to make your own, you can check this recipe.
Passionfruit Curd Tart
Makes a 7 inch round tart
1, 7 inch home made or store bought pastry crust
125 g unsalted butter, chilled, roughly chopped
3/4 cup passion fruit puree
3/4 cup castor sugar
4 egg yolks
1 tbsp lime juice
1.5 tbsp water
1.5 tbsp powdered gelatine
Meringue topping
1 egg white
1/4 cup castor sugar
Place butter, passion fruit, sugar and egg yolks in a medium saucepan. Over low heat, cook stirring constantly until mixture thickens (approx 14-15 minutes). Remove from heat. Add the lime juice and stir.
In a small bowl, place boiling water and sprinkle powdered gelatine. Allow to bloom (1-2 mins). Pour the gelatine mixture into the saucepan with passion fruit curd. Mix well till gelatine dissolves.
Allow to cool for 10 minutes, then pour over the tart base. Refrigerate until set (3-4 hours). Serve as is or top with meringue.
To make the meringue decoration : Beat the eggwhite with electric beaters until soft peaks form.Gradually add  the sugar, beating until stiff peaks form, then pipe (using an open star nozzle) or spoon over the filling. Brown meringue with a kitchen blowtorch.