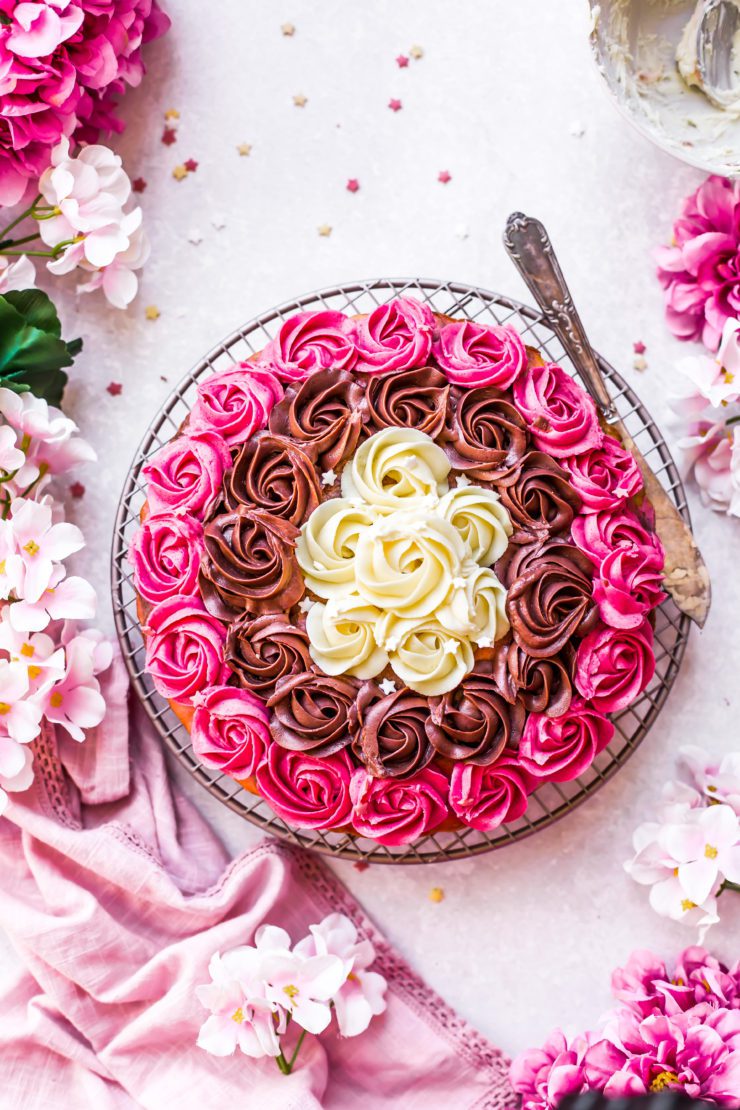 Spring is in the air! The days are warmer and longer. Though the nights are still pretty cold, the flora and fauna is an absolute reminder of the gorgeous season. In Sydney, spring is a riot of pinks and purples, especially where I live on the hills. I love driving around the neighborhood where the same gloomy trees are bursting with colour and on the weekend I find every one tending busily to their gardens. Needless to say, that is exactly what I was thinking about when I baked and decorated this cake.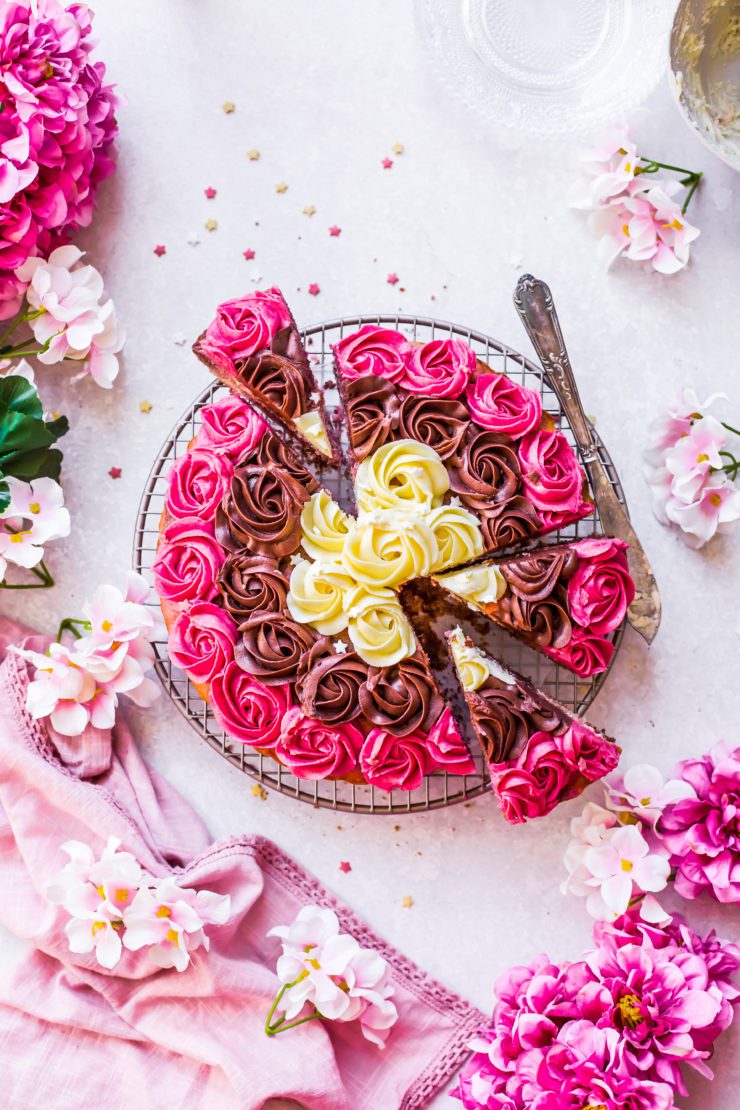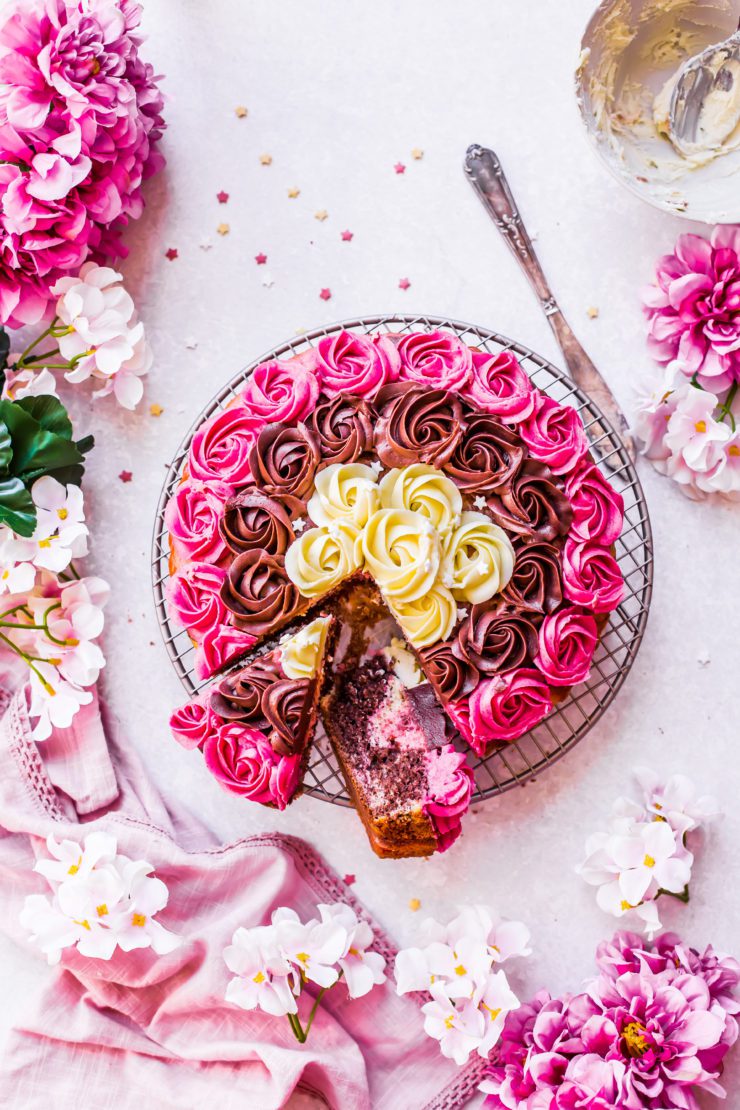 If you haven't heard of a Neapolitan cake, it is the best of 3 delicious worlds. The combination of all the 3 classic flavours, vanilla, chocolate and strawberry! Why choose one when you can have all of them in a single slice. Though it looks like a lot of work, it actually isn't quite that difficult. Because the batter and the buttercream are made in one bowl and then divided to flavour with the different flavour profiles, it's not really a whole lot of dishes or effort.
Overall, it's a delicious cake that looks really impressive whether it's for a birthday party or a special get- together. I decided to make it into a larger one layer treat than a multi layered cake as I lately love the simplicity and convenience of a single layered centrepiece.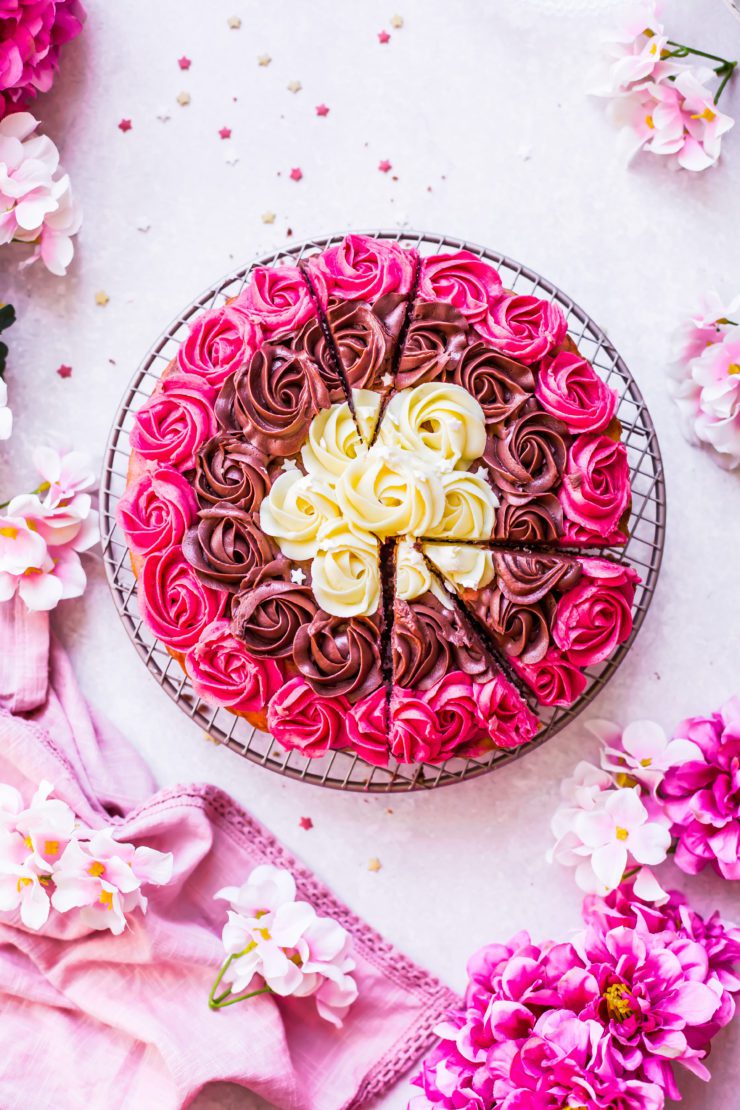 Neapolitan Spring Cake
Makes a 9 inch round cake
250 g unsalted butter, softened
1 cup CSR Sugar Caster sugar
1 tsp vanilla extract
3 eggs
2 cups self raising flour
1/2 cup milk
1 tbsp cocoa powder
1 tbsp milk
Pink food colour
Buttercream frosting
250 g unsalted butter, room temperature
3 cups icing sugar
1 and 1/2 tbsp milk
1 tsp vanilla extract
1 tsp strawberry extract/freeze dried strawberry powder
2-3 drops pink food colouring
1 tbsp dutch processed cocoa powder
Preheat oven to 180 degrees C (160 degrees C for fan forced ovens. Grease the base and sides of a 9 inch round pan and line the base with baking paper.
Beat the butter, sugar together until pale and fluffy. Add the eggs, one at a time. Add the flour and milk, alternating in batches until just combined.
Divide batter into 3 portions (I did it in the same bowl). Add the cocoa powder and extra milk to one portion. Add pink food colour to the second portion. Leave the 3rd portion as it is.
Spoon batter in portions onto the prepared pan. Using a wooden skewer or the back of a spoon, create a marble effect.
Bake for 40- 50 minutes or until a skewer inserted in the middle comes out clean. Remove from oven. Cool in pan for 5 minutes, turn onto a wire rack to cool.
Once cooled, fill up 3 piping bags fitted with 1 M tips with the different buttercream using. Pipe roses in the pattern as shown in the photo.
To make the vanilla, strawberry and chocolate buttercream frosting : Using an electric mixer, beat butter in a bowl until pale. Gradually add icing sugar mixture and milk, beating constantly until combined.
Divide the buttercream in between 3 bowls. Add vanilla extract to the first one, beat until well combined.
In the second bowl, add the strawberry extract or strawberry powder and pink food colour. Beat well until combined.
In the 3rd bowl, add the cocoa powder and beat until combined. If required, add a tsp of milk to make it smooth.