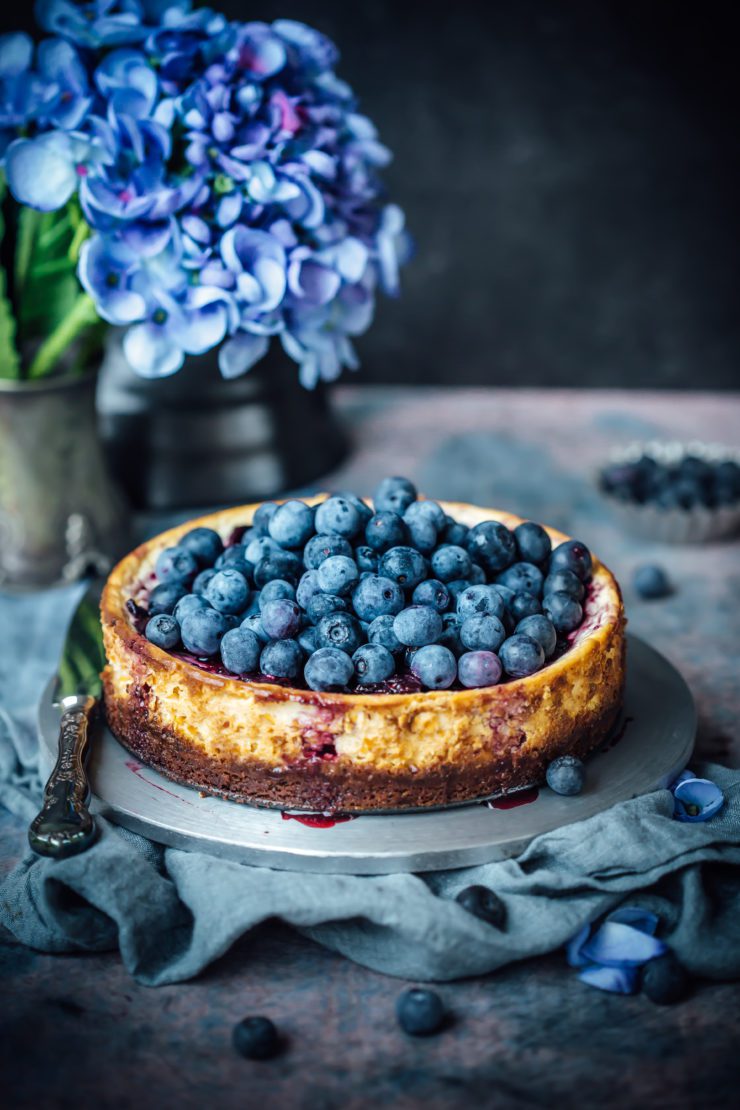 Is it too late to wish you a very Happy New Year? I hope not because I'm still very much in holiday mode and I feel the year has just taken off. I've only just started making resolutions and setting goals for the year. Do you make resolutions? Speaking of resolutions, the one thing I think most of us have at the top of our minds, (myself included) is health and fitness. While we will continue to have naughty treats in this space, I'd also like to play around with a few healthy substitutes to regular ingredients this year. Wouldn't it be wonderful to enjoy some luscious desserts without having to worry about calories?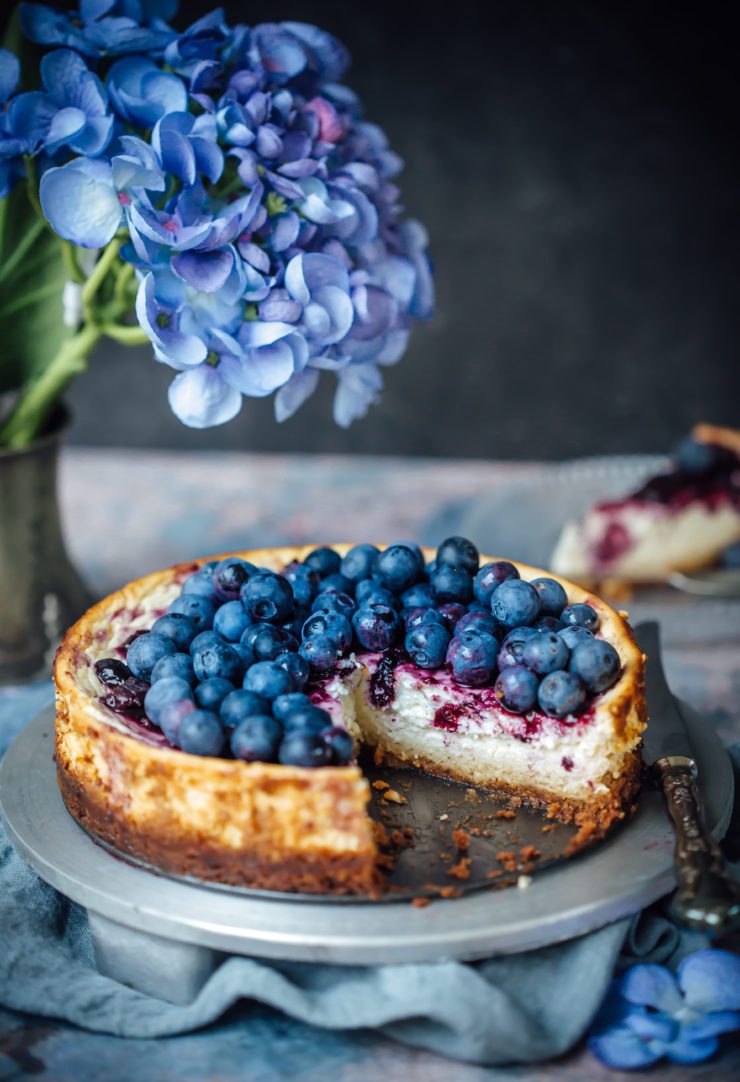 The core ingredient of this cheesecake is cottage cheese which is not as popular in desserts as it's cousin, ricotta cheese despite being creamy, highly nutritious and low in fat. It is a low calorie source of protein and calcium that is pretty versatile whether you use it in sweet or savory recipes.  I chose a gluten free almond crust for this cheesecake to make it available to a wider audience. The filling is light and delicious but naturally does not have a lot of flavour on it's own. You have the option of having it as is or topping it with fresh fruits, grated chocolate or a compote like the one I've used here. Blueberries are at their seasonal best right now, so I couldn't think of a better topping.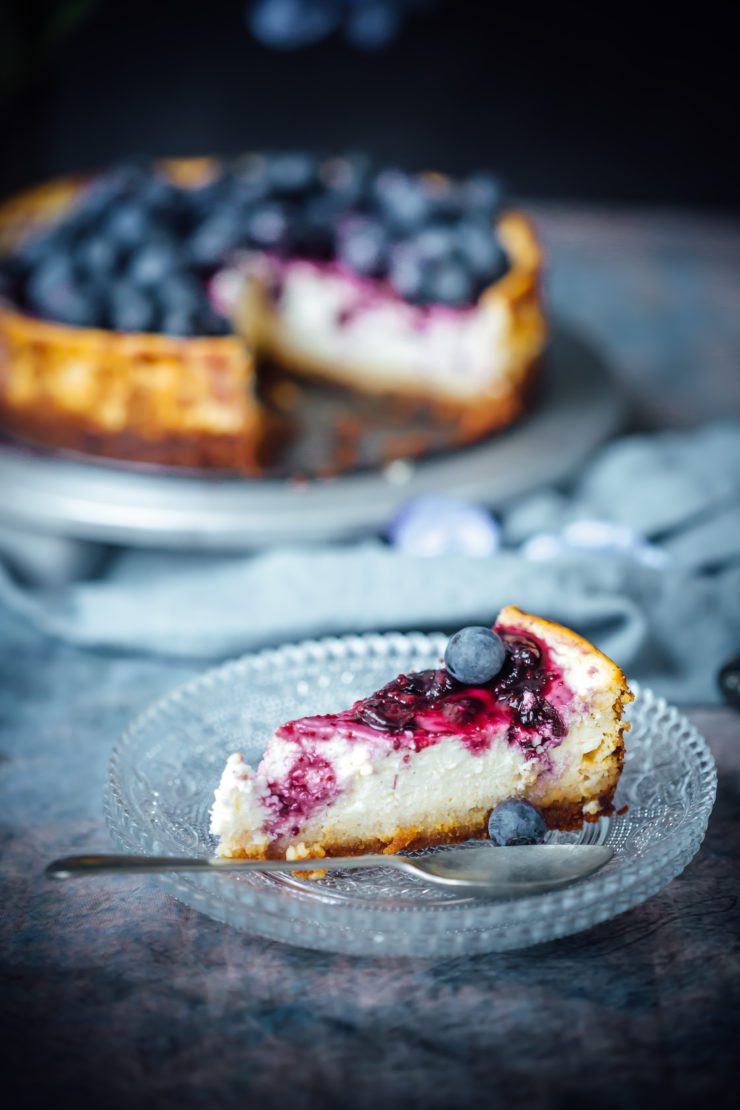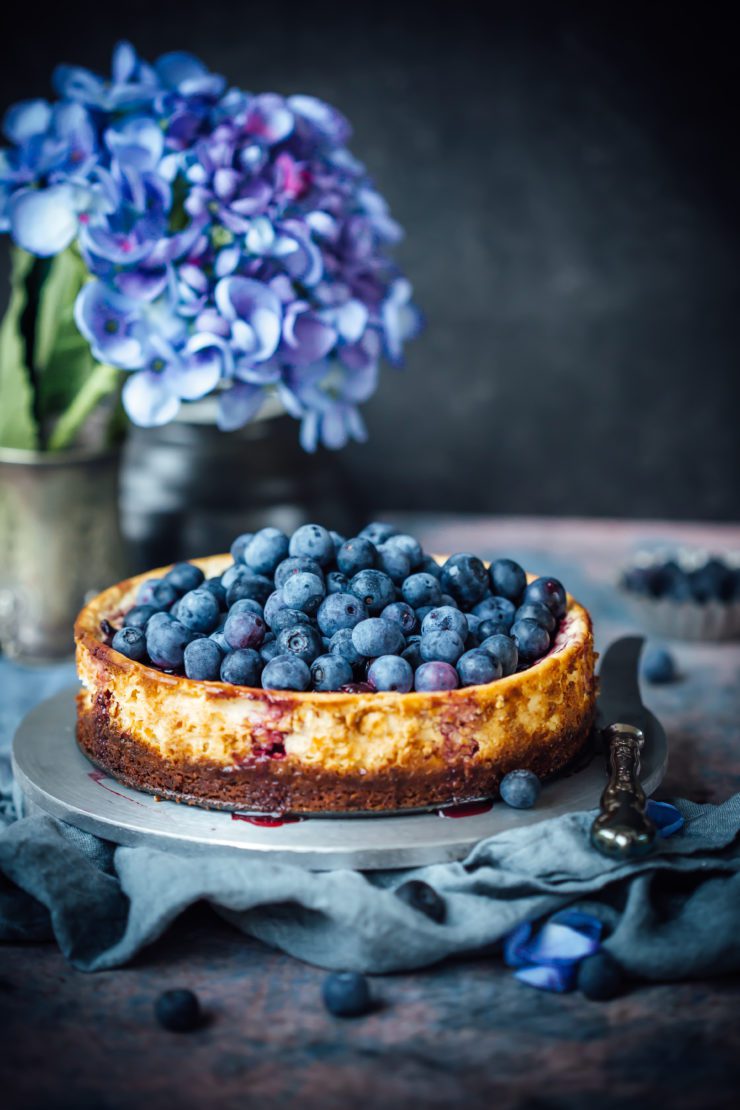 Skinny Blueberry Cheesecake
Makes an 8 inch round cheesecake
For the crust
11/4 cups almond meal
2 tbsp brown sugar
75 g unsalted mutter, melted
For the filling
500 g cottage cheese (preferably smooth)
1 cup Greek Yoghurt
2 large eggs, lightly whisked
1/4 cup castor sugar
2 tbsp cornflour
1 tsp vanilla bean paste (can use vanilla extract)
For the blueberry compote
150 g blueberries (fresh or frozen)
1 tbsp castor sugar
1/2 tsp fresh lemon juice
Preheat oven to 180 degrees C.  Place almond meal and sugar in a medium bowl. Add in the melted butter.  Using your fingers, press into the base of an 8 inch Springform pan that has been placed on a baking tray (for ease of movement in and out of the oven). Bake for 10 minutes. Remove from oven and cool to room temperature. Reduce the oven temperature to 160 degrees C while you make the filling.
In a food processor or using a blender, blend the cottage cheese and yogurt together until smooth. Add the eggs and sugar and blend again. lastly add the cornflour and vanilla paste and mix together until smooth and blended. Pour the filling into the pan over the crust. Bake for 1 hour 10 minutes or until cheesecake is almost set (the centre is very slightly jiggly). Remove from oven, let cool to room temperature, then refrigerate overnight (or at least for 6 hours).
When ready to serve, top with blueberry compote and fresh blueberries.
To make the blueberry compote, place blueberries, sugar and lemon juice in a small saucepan and cook stirring for 8 minutes or until syrupy and thickened slightly. Remove from heat, cool and refrigerate until needed.