I love using almonds in my cakes. I am always looking for recipes where I can substitute flour with almond meal or any other nut meal. Not only is it healthy, but it gives an amazing texture to the cakes. Rich but not heavy. Last time I paired it with orange to make a gluten-free treat but this time I wanted a recipe that would also use up the flaked almonds lying in my cupboard. The rhubarb almond crumb cake is sweet, tart, moist, crunchy all at the same time.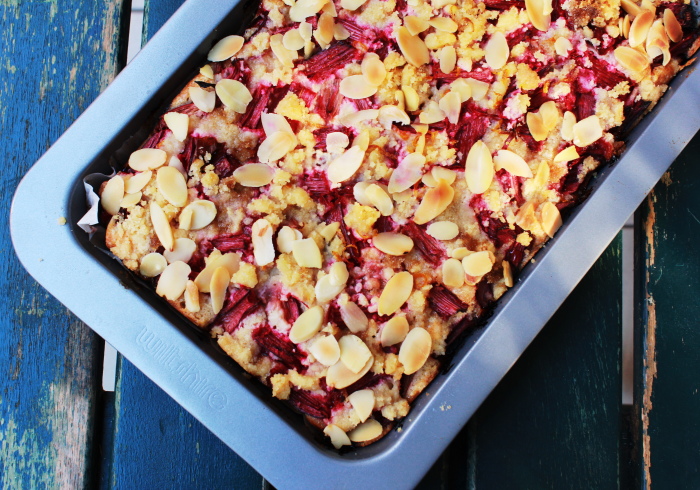 I made it for my friends who were coming over for afternoon tea. And everybody like it. The best thing about this cake is its different textures…the cake with the rhubarb and then the crumb topping. And the flaked almonds. This is one of those fuss free cakes where you just toss everything into a bowl and mix. I love recipes where you don't need to cream the butter.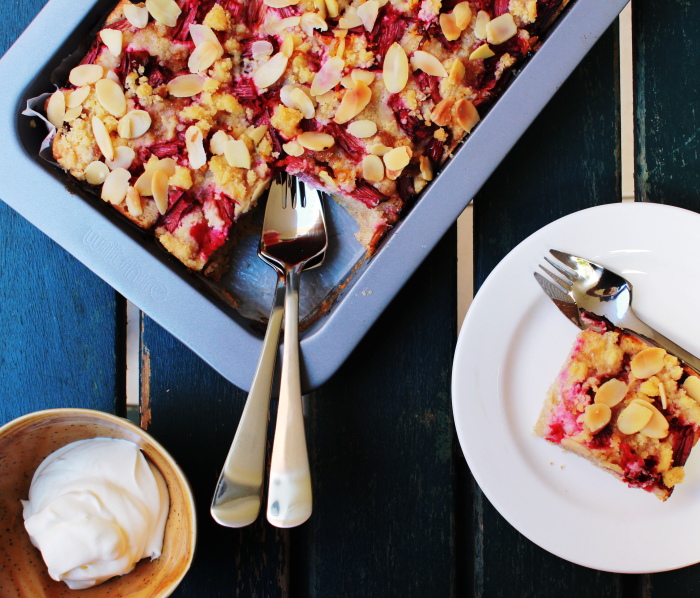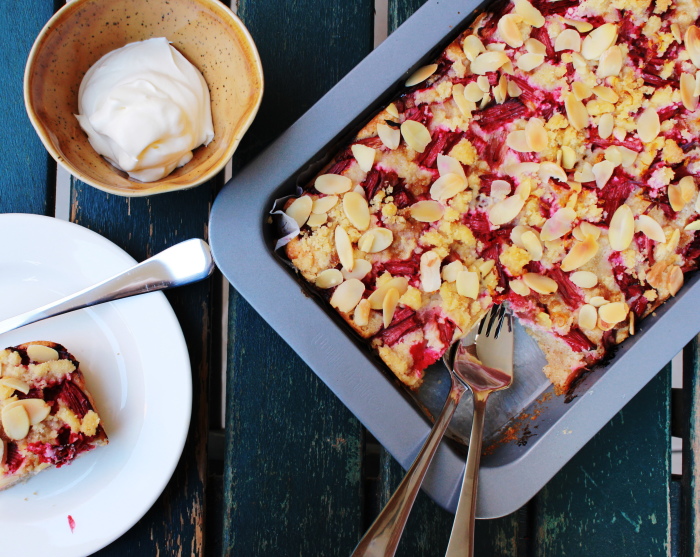 Rhubarb can at times be quite tart but in this recipe it just balances out. Being a colour fanatic, I also love the way it looks. Rustic brown and pink. I kept the styling to a minimum as I thought it didn't need any. The cake is best served warm with some whipped cream on the side. Alternately, you can use hulled, chopped strawberries, peaches, apricots or any other fleshy fruit.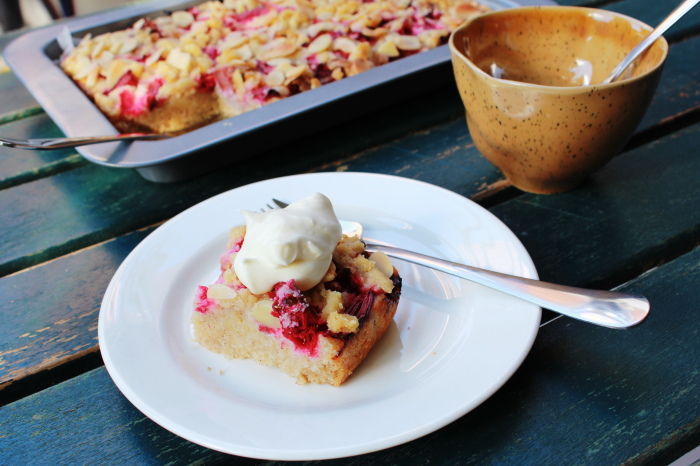 Not very long ago, I had a reputation of making everyone wait at the table because I had to photograph the dish. Especially warm dishes. I would end up on a guilt trip after that. And though I actually make loads of savoury dishes, I stopped photographing them. Gradually, I am learning the different tips and tricks of the trade.
This one however, came out of the oven and was a breeze.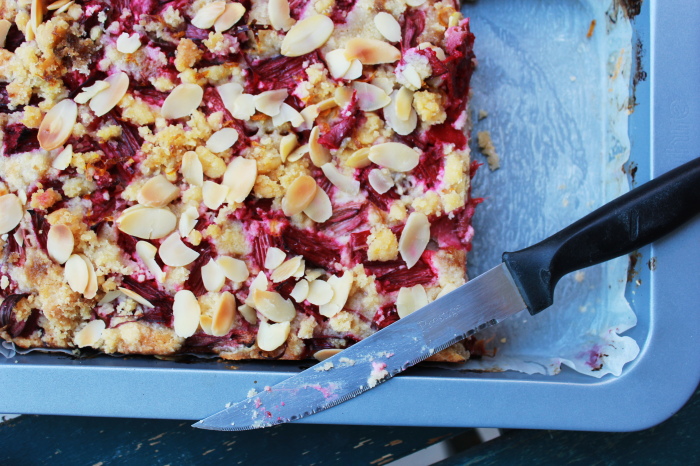 Rhubarb Almond Crumb Cake (adapted with variation from Taste.com)
Serves 8-10
1 (550g) bunch young rhubarb
240g (1 1/2 cups) icing sugar
50g (1/2 cup) plain flour
1 1/2 teaspoons ground cinnamon
125g almond meal
185g unsalted butter, melted
6 egg whites
1 1/2 tablespoons Demerara sugar/brown sugar
Crumb topping
40g castor sugar (3 tbsp)
60g plain flour (1/2 cup)
40g unsalted butter, softened
Finely grated zest of 1 orange
60g sliced/flaked almonds
For topping, combine sugar and flour in a bowl, then rub in butter until mixture forms clumps. Rub through the orange zest until evenly combined.
Trim leaves and ends from rhubarb and discard, then cut into 2cm lengths.
Preheat oven to 190°C. Grease a 24cm square cake tin (or a rectangular tin, 32cm by 16 cm) and line with baking paper. Push sugar, flour, cinnamon and almond meal through a coarse sieve over a bowl, then stir in butter and egg whites until just combined. Spoon into tin, scatter with half the crumb topping, then rhubarb, then remaining topping. Sprinkle with sliced almonds and demerara sugar and bake for 40 minutes or until firm. Cool in tin for 10 minutes.
Serve warm or at room temperature.