When I posted my Candy Cake recipe a couple of weeks back, I almost forgot to share a recipe which has been such a huge personal favourite. Talking about candies and not thinking about Turkish Delight…certainly a sin in my eyes! So, without wasting a moment I made these simple fragrant, doughnuts that are filled with Turkish Delight and coated with a Rose flavoured glaze.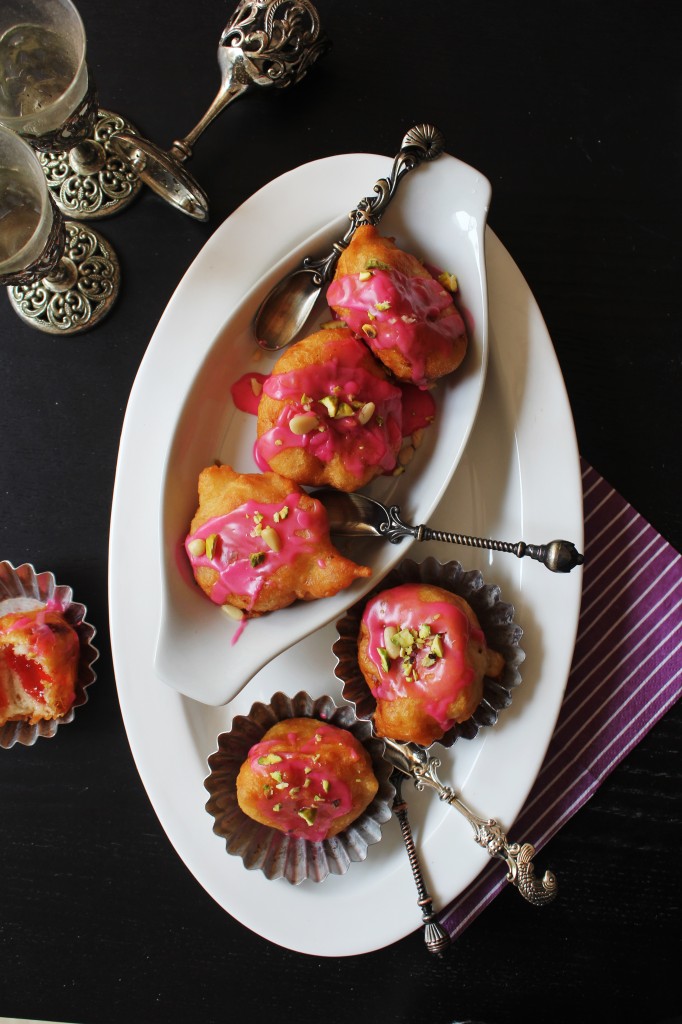 If you are unfamiliar with Turkish Delight, these are beautifully scented Middle Eastern candies or confection, generally  flavoured with rose, lemon or bergamot orange. They are slightly chewy, jelly like…and coated with icing sugar. What sets them apart are they unique flavours! The rose flavoured ones remind me of a rose drink I loved as a little girl called Rooh-afza. Did I tell you how much I adore Middle Eastern flavours and spices!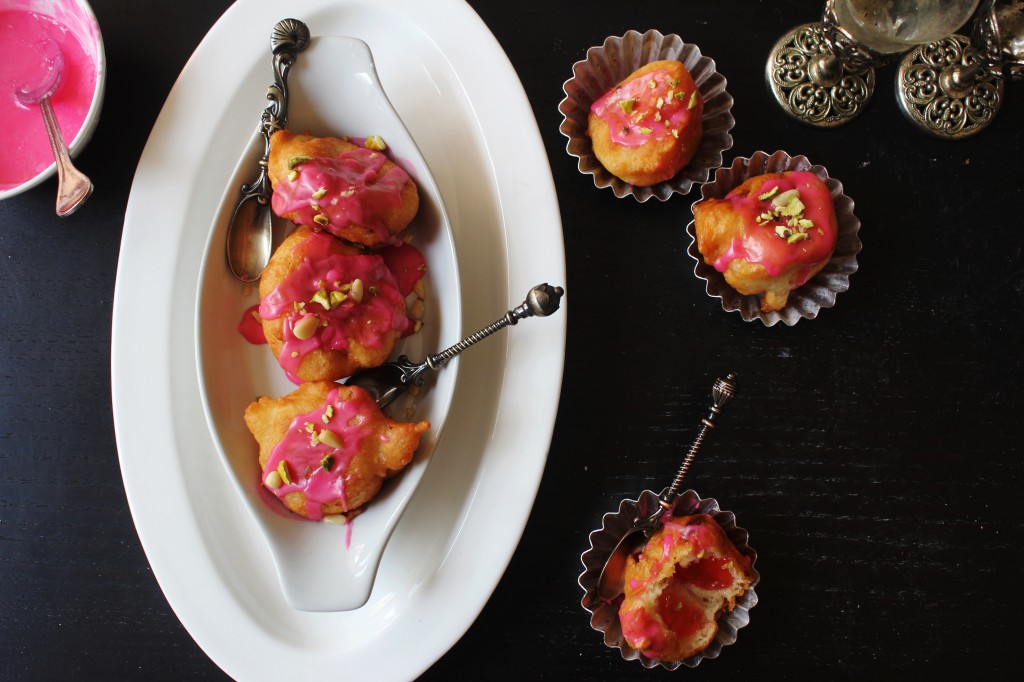 Another reason why I love this recipe is that part of it is a creation of one of my favourite chefs, Shane Delia. His modern approach to Middle Eastern food is captivating and I have lost count of the number of recipes I have bookmarked for later. The doughnut recipe is from this video. The glaze and decoration are my own creations.
It is actually a very simple recipe (so few ingredients and no eggs) but the only thing I have to warn you about is that the dough is very sticky and difficult to work with. The first time I had made these doughnuts, I had followed the process shown in the video but coating the candies in dough was difficult and I was left arm deep in dough. The second time, I used a different method..I used two tablespoons. This one worked for me and I was happy I didn't have to touch the dough with my hands. Don't worry about having an even coat around the candies. All you need to ensure is that they are covered in dough. Once they hit the oil, they kind of even out as they melt within the doughnut shell.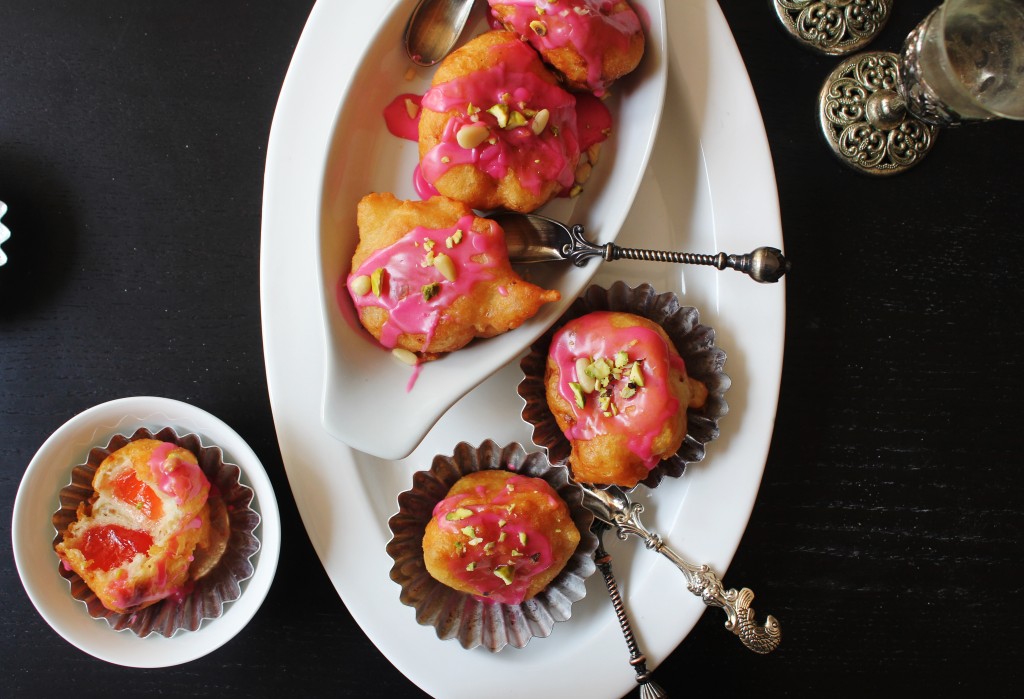 The original recipe calls for tossing around the fried doughnuts in honey. Rose, for me also means bright rose-pink so I couldn't resist making a rose flavoured glaze instead. They taste great either ways.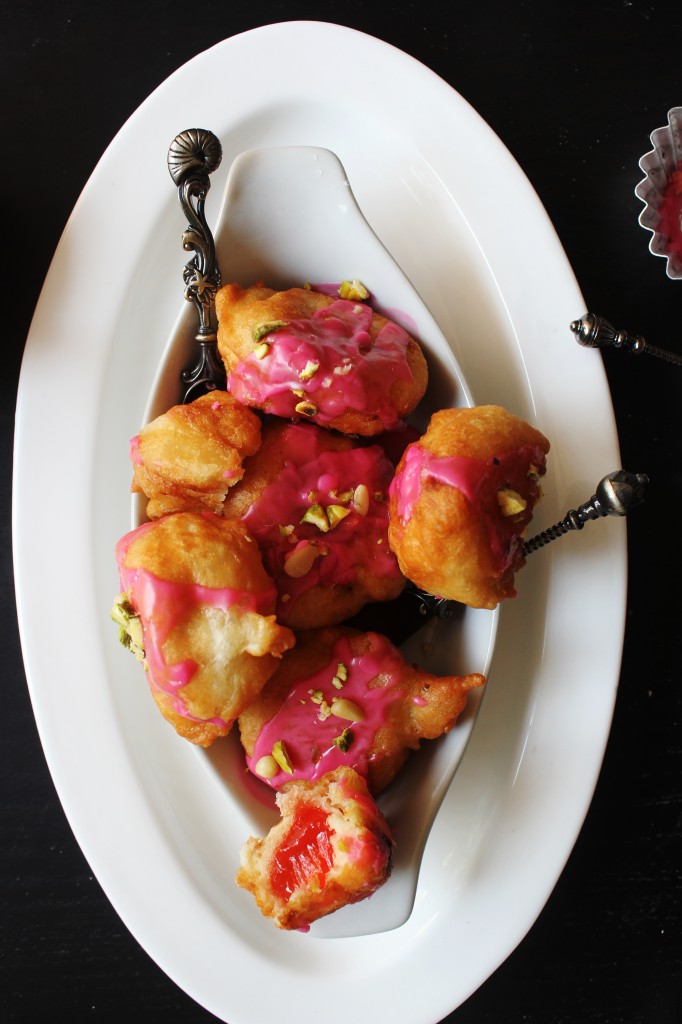 Turkish Delight Doughnuts with Rosewater Glaze
Serves 6
For the Doughnuts
2 cups (300 g) plain flour
2 sachet (15 g) dried yeast
2 tsp castor sugar
150 g rose-flavoured Turkish delight, diced into 1 cm pieces
Vegetable Oil for deep-frying
Pine nuts and chopped Pistachio nuts for serving (optional)

For the Rosewater Glaze
1 cup icing sugar
1 tbsp rosewater
1 tbsp room temperature milk
3 drops pink food colouring
Combine flour, yeast, sugar and ½ tsp salt in a bowl, and gradually whisk in 300 ml lukewarm water until combined and smooth, then stand in a warm place until swollen and foamy (30 minutes).
Heat vegetable oil in a deep fryer or a deep-frying pan. Working with one piece of Turkish delight at a time, coat and mould each piece in a tablespoonful of doughnut batter and deep-fry them, in batches, turning occasionally, until golden. To do this, take a little dough in a big spoon(tablespoon) in your right hand. Place the turkish delight on top with your left hand. Next spoon up some more dough with your left hand in another spoon. Place on top of the turkish delight. Even out like how you would do when you make a quenelle with the help of two spoons. Drain on absorbent paper, then transfer to a serving plate.
Make the Rosewater glaze : Make the glaze ready when the doughnuts are proofing. Place the sugar, milk, rosewater in a bowl and stir together till smooth and evenly blended. Add a few more drops of rosewater, depending on how thick or thin you want the glaze to be. Add the pink food coloring and stir till uniformly coloured.
To Serve: Place the warm doughnuts on serving plates. Drizzle with rosewater glaze and sprinkle with pine nuts and pistachios, if desired.