On my blog birthday, I was excited like a child. I wanted to do all things blog. Fortunately, the kids were at the day care so there wasn't much coming in the way. Having the day to myself, I created and photographed 4 recipes. The caramelised white chocolate cheesecake was already sitting in the refrigerator. I wanted to cut the cake on the same day so picture taking was left till the last minute. Since, I wanted the berries to be as fresh as possible I had to pick them up on the same day too. With boxes of strawberries, raspberries and blackberries at hand and not wanting to waste them (Not using precious berries for recipes especially photography has been considered 'wasting' at our place since the time this blog came into being) I wanted to make a few desserts.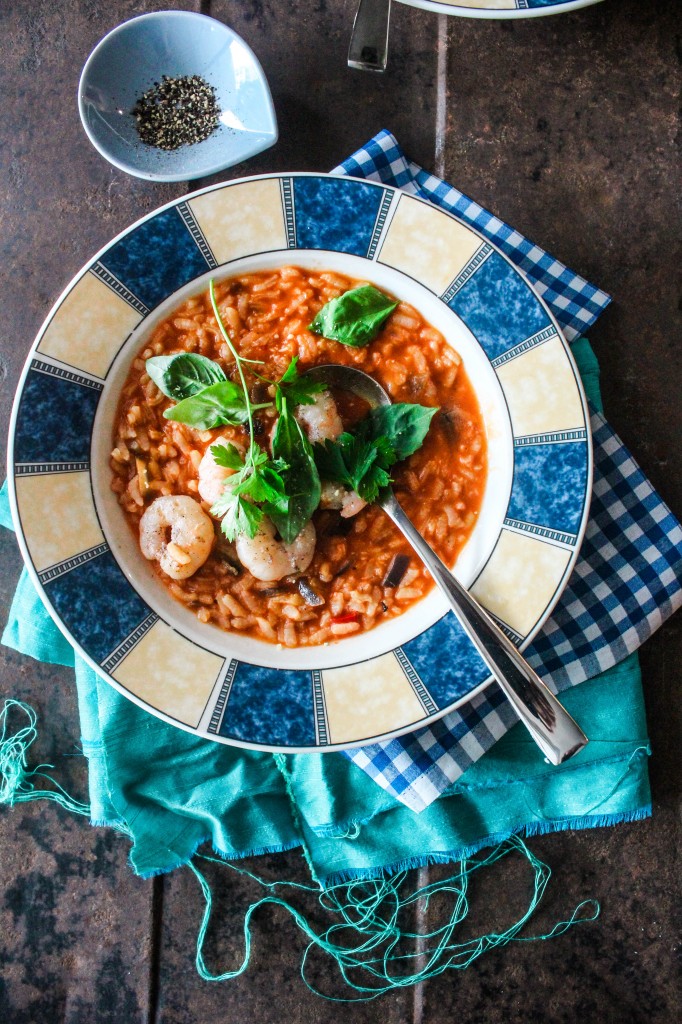 By lunch time, there were bowls of batter everywhere. Baking trays kept going in and coming out of the oven. My clothes had stains of cocoa and meringue. There were sweet things in excess and no lunch. I have no shame in admitting that had it been me alone I would be happy to lunch on cake batters and dessert. But since it was a question of feeding others…that too parents-in-law, I knew I had to switch gears to savory.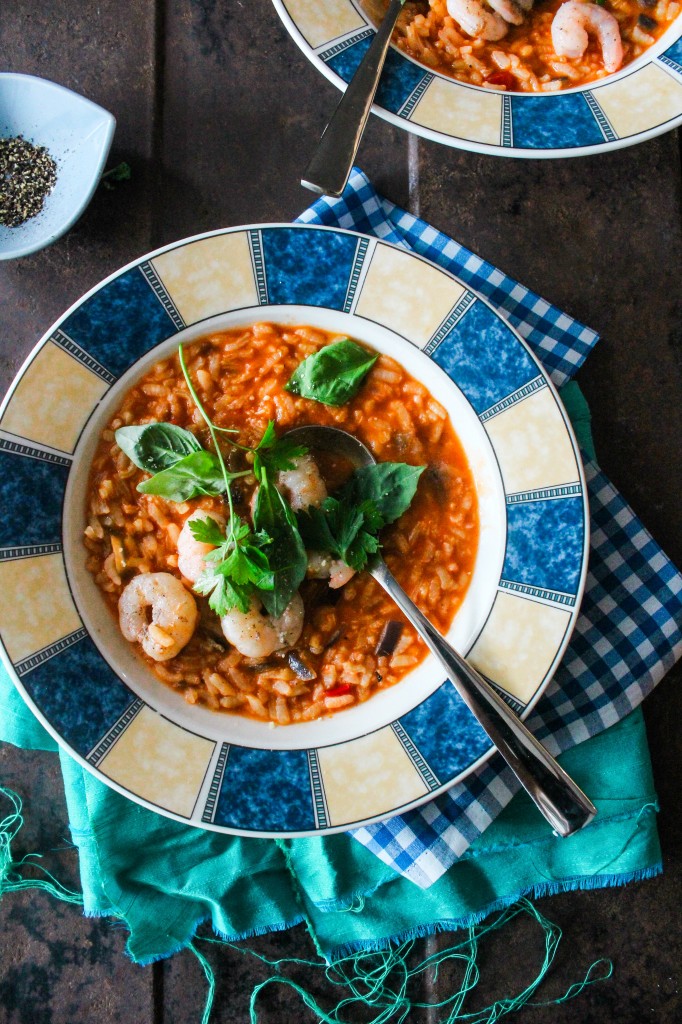 Like most times, lunch came out of tins and cans. Some pasta sauce, Arborio rice, frozen prawns, a splatter of parmesan, fresh herbs from the garden and lunch was on the table. Risotto is made frequently at our place. We are rice lovers so I stock up on all kinds of rice. Since risotto can be easily turned into warm and filling one pot meals, I can cook up one at a short notice.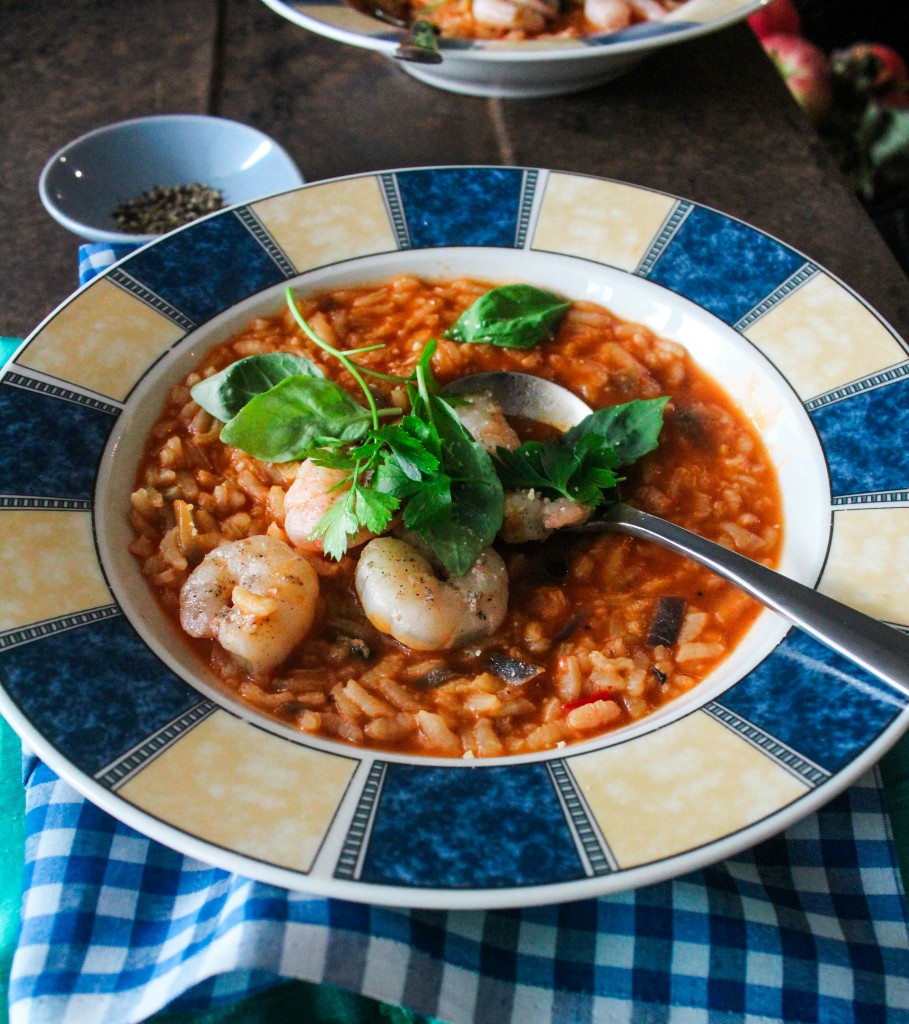 I have used frozen prawns on account of convenience. Fresh is always a great option. I usually prefer to keep a pasta sauce with chunky vegetables to add nutrition to the meal. You can go with your preference.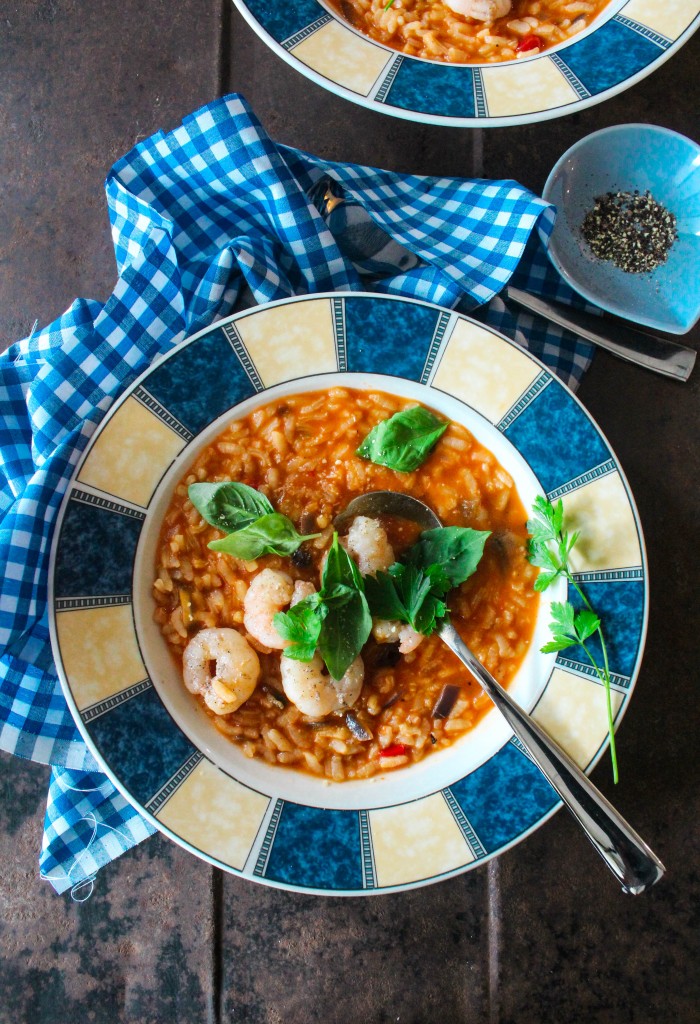 Tomato Garlic Prawns Risotto
Serves 4-5
3 cups salt-reduced chicken stock
1 cup tomato pasta sauce
2 tablespoons olive oil
1 small brown onion, finely chopped
2 garlic cloves, crushed
1 1/2 cups Arborio rice
1/2  cup finely grated parmesan
20-22 frozen prawns
salt and pepper, to taste
a handful of fresh basil and parsley leaves
Place stock, pasta sauce and 2 cups cold water in a saucepan over medium heat. Cook for 6 to 7 minutes or until mixture starts to simmer.
Heat 1 tbsp. oil in a large pan. Add onion and garlic. Cook, stirring, for 2 minutes or until softened. Add rice. Cook, stirring, for 1 to 2 minutes or until rice is coated. Add 1/3 cup stock mixture. Cook, stirring until stock has absorbed. Repeat with remaining stock, 1/3 cup at a time, until liquid has absorbed and rice is tender.
Meanwhile, heat the remaining oil in a frying pan and add the prawns. Stir fry for 2-3 minutes or until cooked through.
Add prawns to the rice. Stir to mix. Season with salt and pepper. Stir in 1/4 cup of the parmesan. Top with basil, parsley and remaining parmesan. Serve.