I experience a unique thrill when I am posting a cake. More than satisfaction…more than excitement. Some kind of inexplicable joy. Right from the planning…the cake pans…dressing the cake, the props that will go alongside…the mood…the post processing to actually eating the cake. It's almost like painting a picture. I finish with one and before that I am thinking about the next one.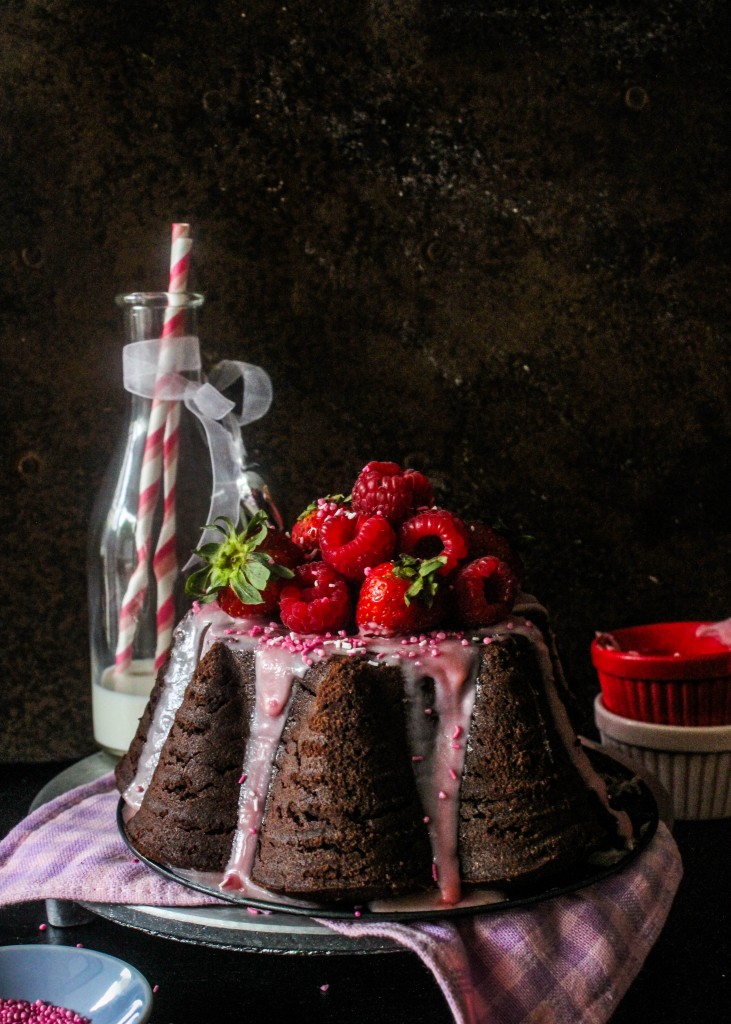 When I made the Chocolate Raspberry Brownie Cake, I remember telling myself that there wasn't going to be a red-brown combo my blog for a while. I was worried I was giving you an overdose of chocolate and raspberries in my posts. I even resisted the urge of pouring luscious chocolate ganache over the brownie cake. And maybe that's why I had good reason to post a sauce dripping chocolate cake this time.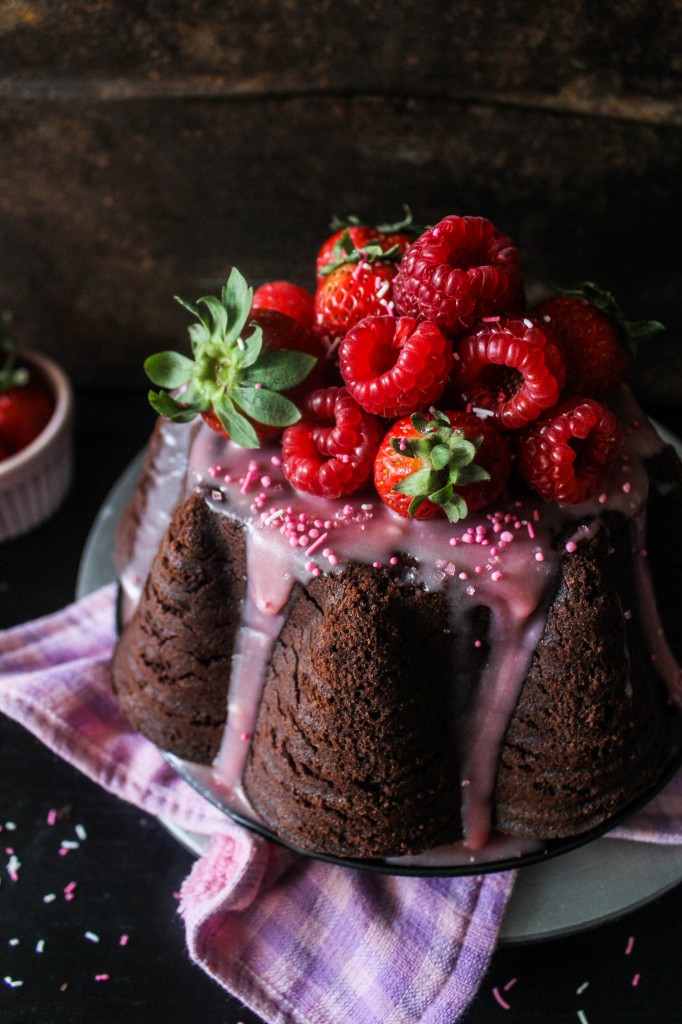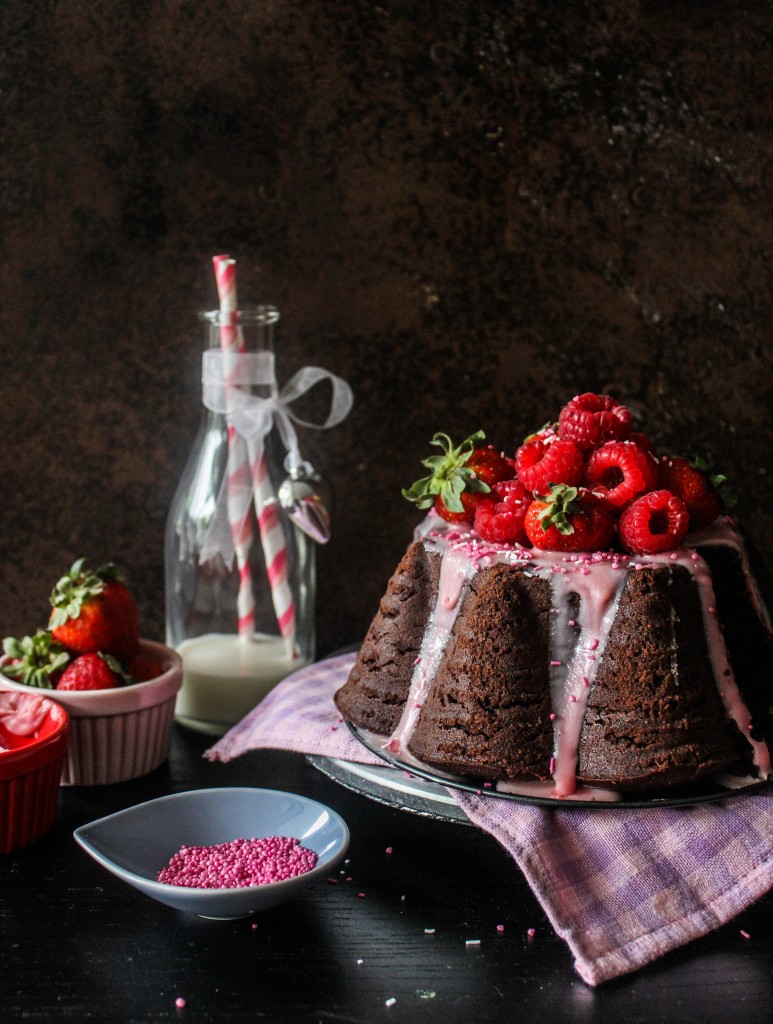 This a fudge cake therefore it is rich. The sweet berry ganache pairs well with the bittersweet fudgy cake. Pink is such a beautiful colour . And the sprinkles make it shine. Overall, this is quite simple to make with a great outcome. The texture is great for a bundt cake pan as it holds shape well.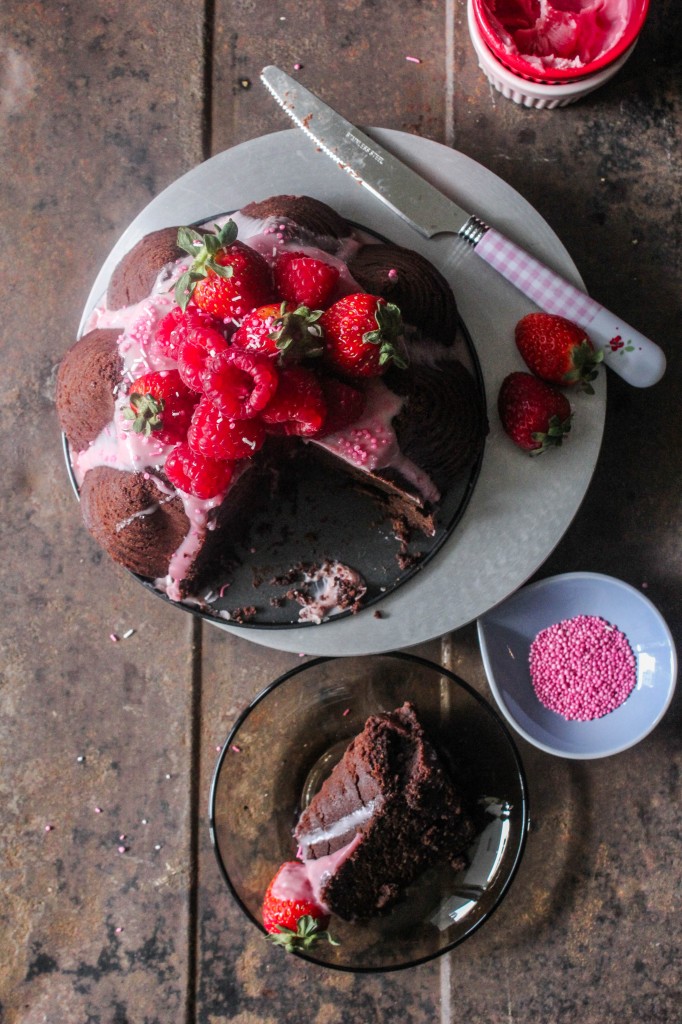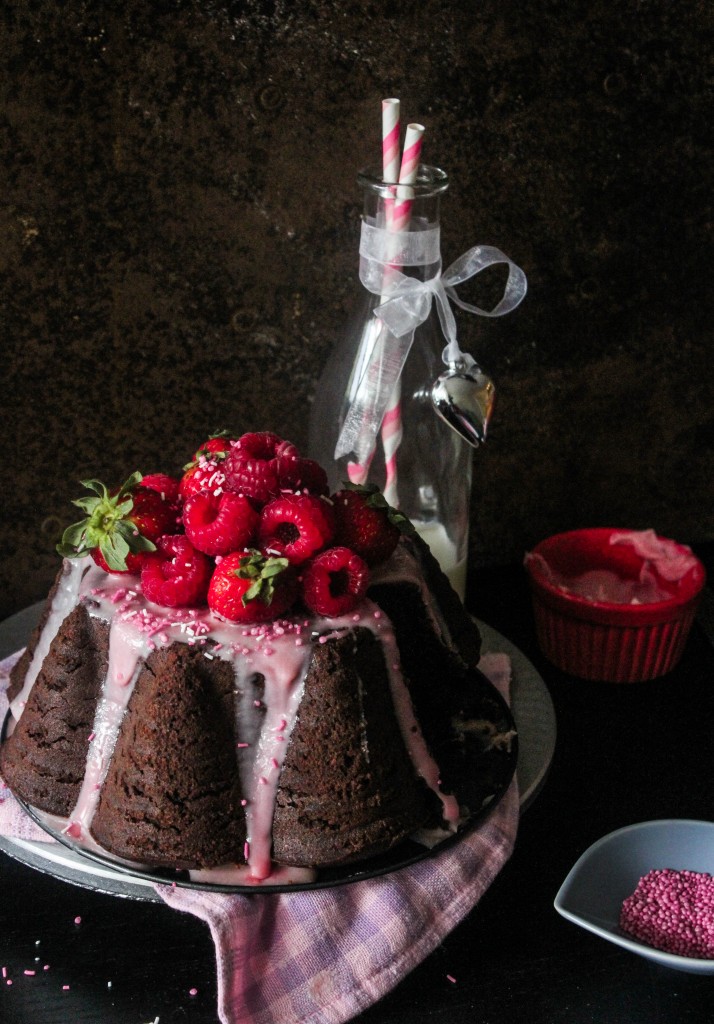 Chocolate Fudge Cake with Red Berry Ganache
Serves 6-8

Chocolate Fudge Cake (adapted with variation from Taste.com)
250g butter, chopped
200g dark chocolate, chopped
1 cup castor sugar
1/3 cup cocoa powder, sifted
2 cups, cold water
2 eggs, lightly beaten
1 1/2 cups plain flour, sifted
1 cup self-raising flour, sifted
Fresh Strawberries and Raspberries, to decorate
Pink Sprinkles, to decorate
Red Berry Ganache
10-12 Strawberries and/or Raspberries (I used a mix), cleaned and hulled (fresh or frozen)
100 g white chocolate, roughly chopped
1/3 cup thickened or heavy cream
2-3 drops of pink food colouring (optional)
Preheat oven to 160 degrees C. Lightly grease a 20 cm bundt cake pan.
Place butter, chocolate, sugar, cocoa and 2 cups cold water in a saucepan over medium heat. Cook, stirring, for 8 to 10 minutes or until melted and smooth (do not boil). Remove from heat. Cool for 20 minutes.
Add eggs. Whisk to combine. Add plain flour and self-raising flour. Whisk until smooth. Pour into prepared pan. Bake for 40-50 minutes or until a skewer inserted in cake comes out clean. Cool in pan for 20 minutes. Turn out onto a wire rack to cool completely.
To make the ganache: Puree and strain the berry mixture to discard seeds. Combine chocolate and cream in a heatproof bowl and place over a saucepan of simmering water (don't let the bottom of the bowl touch the water). When chocolate is about halfway melted, remove bowl from pan. Stand, stirring occasionally, until chocolate has melted and mixture is smooth. Add the strained berry puree and stir till well blended. Add food colouring if using. Cool for 10 minutes and pour over the cake. Ganache will thicken and set on cooling. Top with fresh berries and decorate with sprinkles.