Talk about inspiration! It peeks right through my window. It stares me in the face and then disappears on a whim. Dreamy clouds, cotton candy clouds, dark stormy clouds, invisible clouds, cloud babies (that one is a contribution from the boys) and wispy clouds. Clouds are a constant companion in my new high-rise home. I don't know about you but I find them enchanting and magical. As a little girl, I was fond of a book called 'The Faraway Tree' by Enid Blyton. Most of you would have loved it as dearly as I did but in case you enjoy a bit of nostalgia, this was a story about a giant tree in the woods, inhabited by fairy-folk. The topmost branches of this tree lead up to the clouds beyond which exists magical lands. The story is about 3 children who come to live near the tree, the lands they explore and their magical adventures. I read this book over and over again, almost slept with it every night and re-read it as an adult deriving the same thrill and happiness that I felt as a child. Call me a child-at-heart. A romantic, maybe? I am fine with that.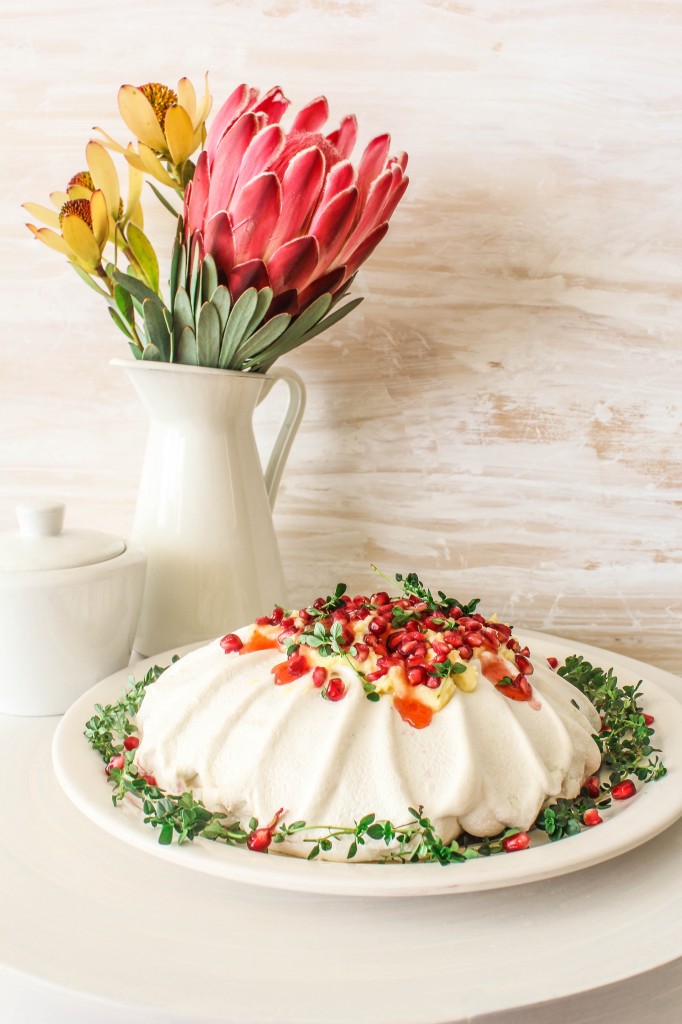 As a person who eats, dreams and loves pastry, clouds remind me of meringue. You know I love meringue. If you share the love, type 'meringue' in the search tab on the right sidebar and you will find a host of meringue based treats. Just like the clouds in the sky, meringue is my mood-uplifter, my spring-in-the-step bringer, my pastry love. I can make meringue every day. And store away the egg yolks in different containers to be forgotten and only during a fridge clean to be reminded how many egg-whites I have cooked with in a month. A pavlova was long due on the blog after this one.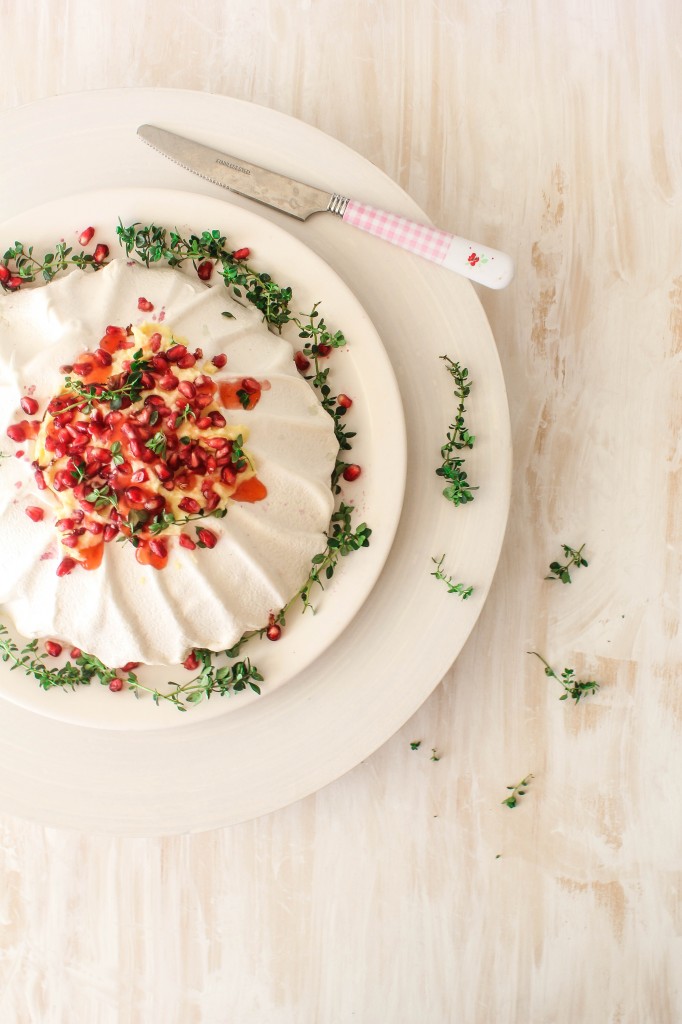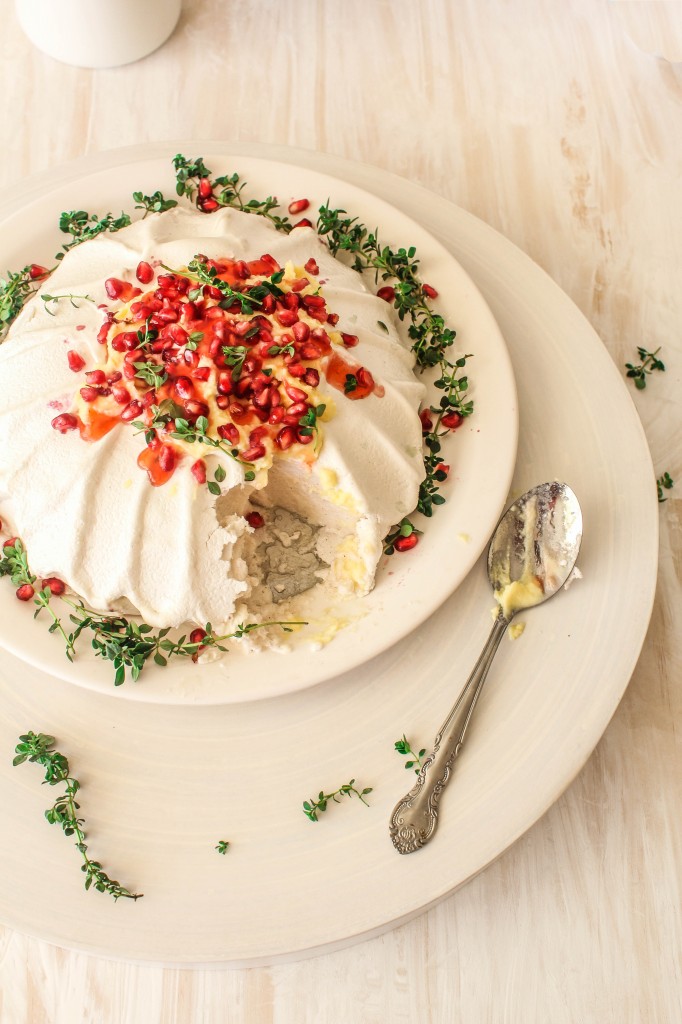 I went to pick up beautiful nectarines that are flooding the markets right now but came back with a pomegranate instead. On an impulse I decided to pair pomegranate, lemon thyme and mascarpone. It turned out to be a great combination of crunchy, marshmallow-y, creamy, tangy goodness. You can do so much with a Pavlova. Load it up as you like, shape it into the shapes of your dream without a cake pan for support and crack open its exterior to discover secrets inside.
If you don't have mascarpone, you can use double the amount of whipped cream and of course, decorate it with any fruit of your choice. This is a great gluten-free alternative to a celebration cake.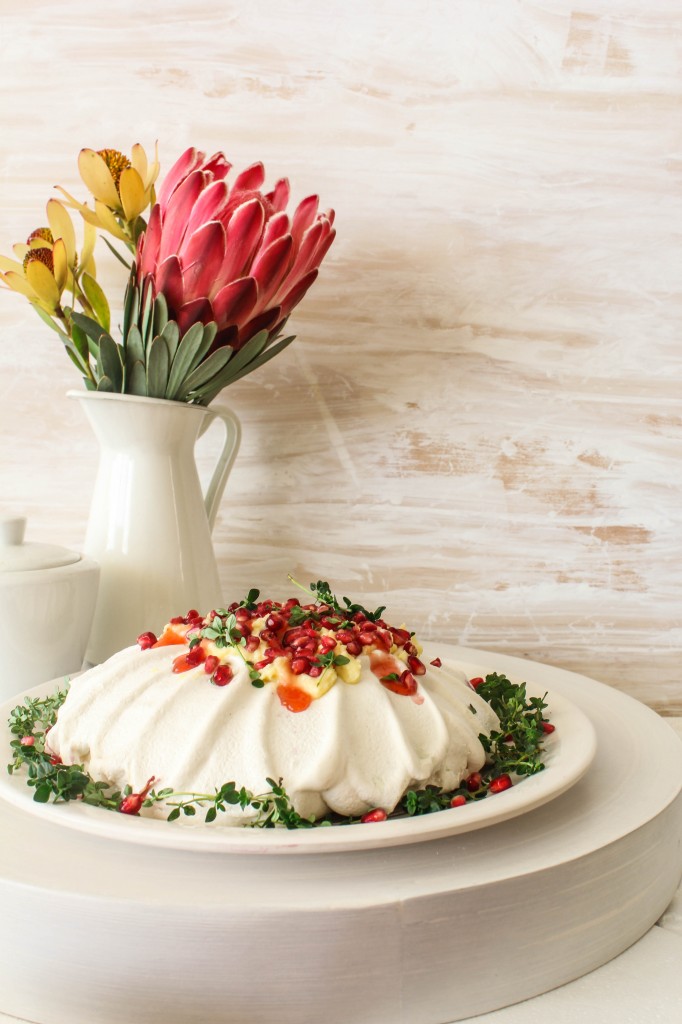 Pavlova with Mascarpone, Pomegranate and Lemon Thyme
Serves 6-8
11/2 cups castor sugar
11/2 teaspoons corn flour
1/2 teaspoon ground cinnamon
5 large egg whites (or 6 regular egg whites)
1/2 cup heavy cream, whipped to soft peaks
3/4 cup mascarpone cheese, softened
2 tbsp. icing sugar
1 pomegranate, seeds removed
a few sprigs, lemon thyme
Berry Sauce, 2 tbsp. (optional)
Preheat oven to 130 degree C. Line a baking tray with baking paper. Draw a 20cm (diameter) round on the paper and place the paper pencil side down on the tray.
Combine sugar, corn flour and cinnamon in a bowl.
Using electric beaters, whisk the egg whites in a clean, dry bowl until firm peaks form. Gradually add the sugar mixture, 1 tablespoonful at a time, until the sugar dissolves and the mixture is thick, glossy and holds stiff peaks. Spoon the meringue onto the prepared tray within the circle traced earlier. Shape the meringue with the back of the spoon, leaving a hollow in the centre for the filling. Bake for 1 hour, then leave to cool in switched-off oven for 1 hour. Remove from oven and cool completely.
Combine cream, mascarpone and icing sugar in a bowl. Stir gently to combine (do not over-mix, or mascarpone will curdle). Gently fold in half the pomegranate seeds and torn lemon thyme leaves. Spoon mixture onto the meringue shell. Sprinkle with rest of the pomegranates and lemon thyme leaves. Top with berry sauce if using. Serve.